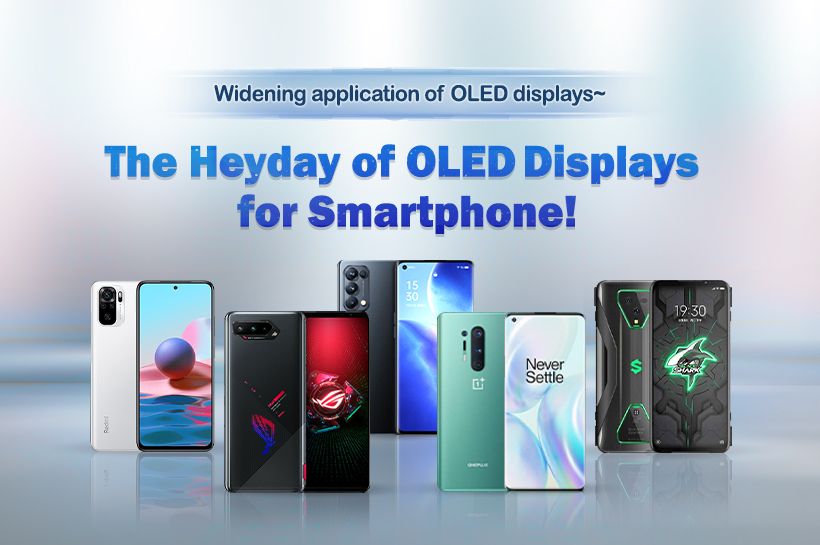 A number of market research companies predicted that the global smartphone market would recover, driven by the proliferation of 5G smartphones and unleashing pent-up demand after COVID-19 crisis.
TrendForce, a world leading market intelligence provider, analyzed that smartphone sales will increase by 9% year-on-year to 1.36 billion units. Another global market research firm, IDC, forecast that smartphone market volume in 2021 will grow by 11.4% year-on-year as market is widened with 5G smartphones at accessible price and foldable smartphones.
As such, the expected growth in the smartphone market is fueling anticipation of the expansion of smartphones featuring OLED displays that vary from premium smartphones with new form factors to mid-range ones at highly accessible price points. In today's Samsung Display newsroom article, let's look at various smartphones with OLED screens we can expect this year.
Market share of OLED displays for smartphone continues to grow year by year
OLED displays are rapidly gaining revenue share in the global smartphone market.
In a recent report, Omdia, a global technology research firm, analyzed that the revenue of OLED displays in the smartphone display market has been increasing year by year from USD 19.7 billion in 2018 to USD 24.1 billion in 2020, taking up 58.3% of market share last year.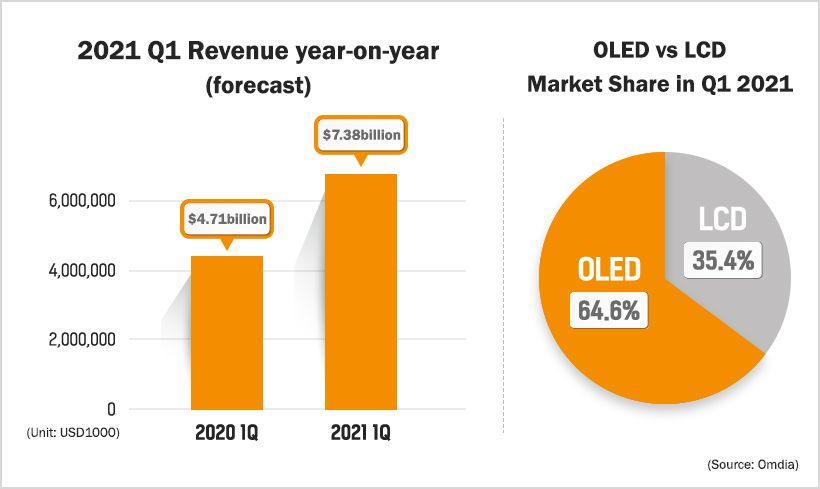 Moreover, as the revenues of OLED displays for smartphones in the first quarter recorded USD 7.38 billion, marking a sharp rise year-on-year, it is projected that the market share of OLED displays will outstrip that of LCD, capturing 64.6%. As such, it analyzed that OLED displays will gain accelerated growth momentum in 2021the smartphone market.
Which OLED smartphones have unveiled in 2021 Q1?
OLED displays are expanding their presence in smartphone market, leveraging their feasibility to various form factors that can be curved or folded as well as excellent image quality. Moreover, with unmatched display technological expertise, Samsung's OLED displays lead the OLED display market for smartphones and have been adopted to several flagship smartphones.
In the first quarter of this year, Samsung OLED displays are marking a more significant impact in the smartphone market, as major global smartphone manufacturers adopted Samsung OLED displays in their products not only from premium smartphones but also essential feature-centered smartphones at an accessible price point and to gaming phones with optimized features for the game.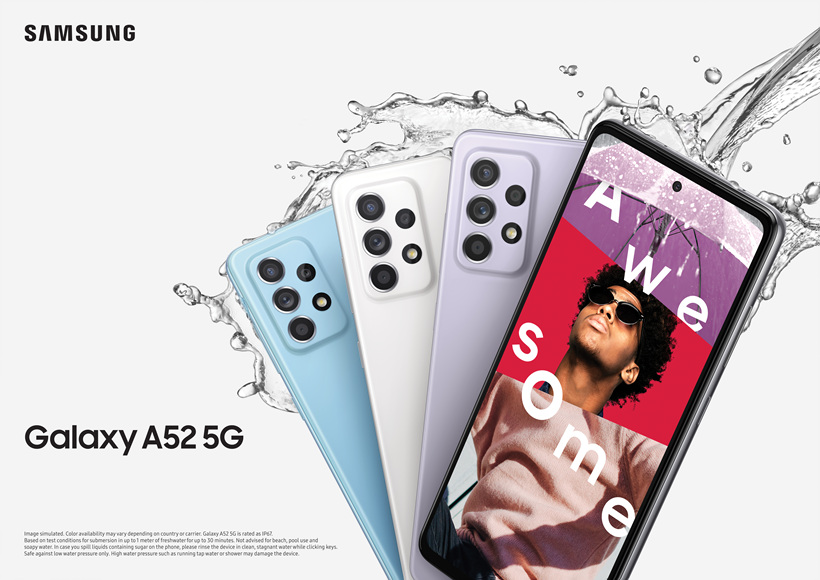 Samsung's Galaxy A series unveiled on March 2021 consists of 3 models: 'A52', 'A52 5G', and 'A72'. All models feature an OLED display to offer smooth and vivid screen images. Both 'Galaxy A52' and 'Galaxy A52 5G' are equipped with a 6.5-inch FHD+ OLED display, while 'Galaxy A72' houses the largest 6.7-inch screen in the series. Especially, the 'Galaxy A52 5G' has a 120Hz refresh rate to enable virtually seamless and smoother screen transition when enjoying games or video content.
The OLED displays adopted on Galaxy A series support 800nits luminance enabling exceptional outdoor visibility and certified 'Eye Care' by SGS, a global certification firm. In particular, the OLED displays deliver a comfortable viewing experience by automatically adjusting the display's color temperature based on smartphone usage patterns to reduce eye fatigue with the 'Eye Comfort Shield' mode.

OPPO, a Chinese smartphone producer, unveiled Reno 5 series this January. 'Reno5 5G' and 'Reno5 Pro' adopted a 6.43-inch and a 6.55-inch OLED screen, respectively. Both models come with a 90Hz refresh rate and a punch-hole display to deliver a seamless video screen and more immersive viewing experience.
Both 'X60' and 'X60 pro', the X60 series models Vivo released this year, mounted a 6.56-inch FHD+ OLED display. In particular, X60 pro runs at a 120Hz refresh rate enabling sharp and fast screen transition. Last month, Vivo rolled out the 'S9' model, also featuring a 6.44-inch OLED display.
Meanwhile, Xiaomi packed in a 6.43-inch OLED panel on 'Redmi Note 10' and a 6.67-inch panel on 'Redmi note 10 pro', while Oneplus mounted a 6.55-inch OLED panel on 'Oneplus9'. Likewise, a number of phone manufacturers are introducing smartphones featuring OLED panels.
With fast response time and less blue light emission, OLED displays optimized for gaming smartphones!
Recently, electronic device manufacturers are scrambling to launch new IT devices to serve a soaring number of online gamers. Smartphone producers also release gaming smartphones featuring OLED panels with fast response time and less blue light emission to offer image quality as befitting gaming contents.
The ROG Phone 5, a gaming smartphone unveiled by ASUS last March, features a 6.78-inch OLED display. The display with a refresh rate higher than 120Hz is optimal for gaming content with fast screen transition. It is certified as a 'Seamless Display' by SGS for virtually seamless and smoother-looking visual.
Xiaomi, after the launch of its gaming smartphone 'Black Shark 3' last year, unleashed Black Shark 4 last month. Mounted on Xiaomi's latest gaming phone, the 6.67-inch OLED display supports a refresh rate higher than 120 Hz, delivering a lifelike gaming experience.
New smartphones featuring double upgraded OLED displays have launched in series in the first quarter of 2021 to continue the momentum in this year. Samsung Display leads the display market with unrivaled OLED technology, including 'Adaptive Frequency' introduced last year. Stay tuned to Samsung Display's OLED panels which will tirelessly drive in the smartphone market!