What is OLED?
An organic light-emitting diode (OLED) is a light-emitting diode with an emissive electroluminescent layer of a film made up of organic molecules. When an electrical current is applied, a bright light is emitted naturally.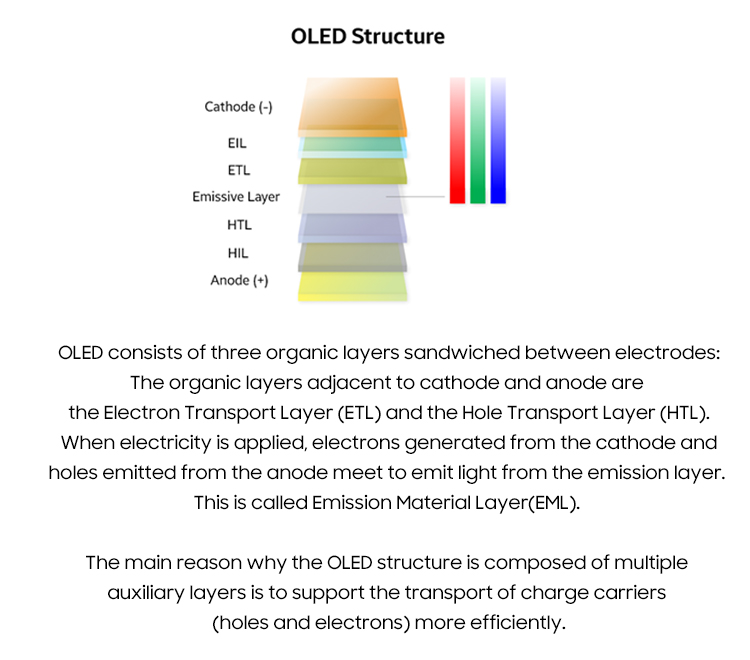 Why OLED displays?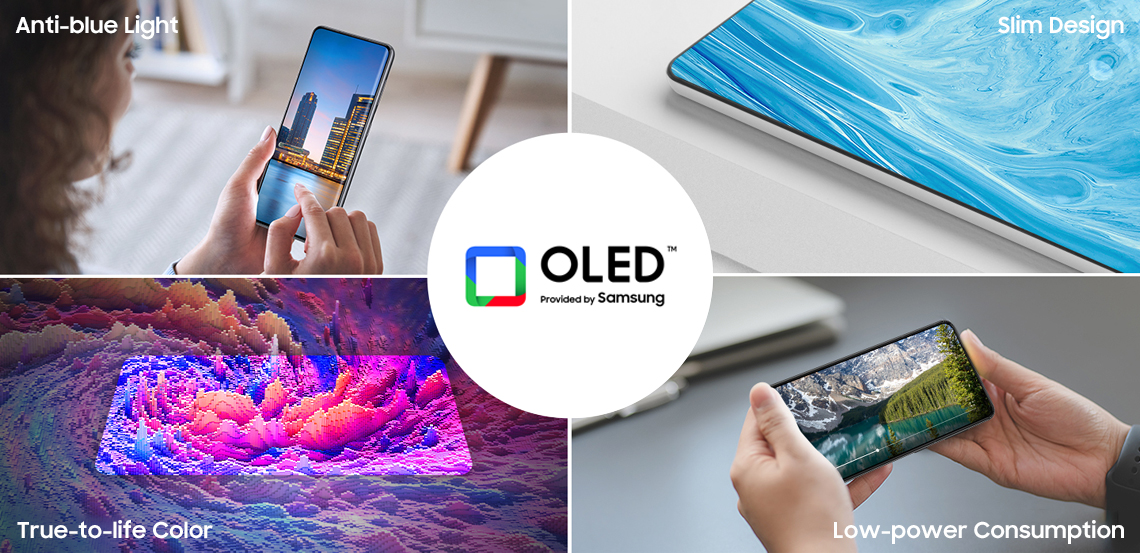 True-to-life Colors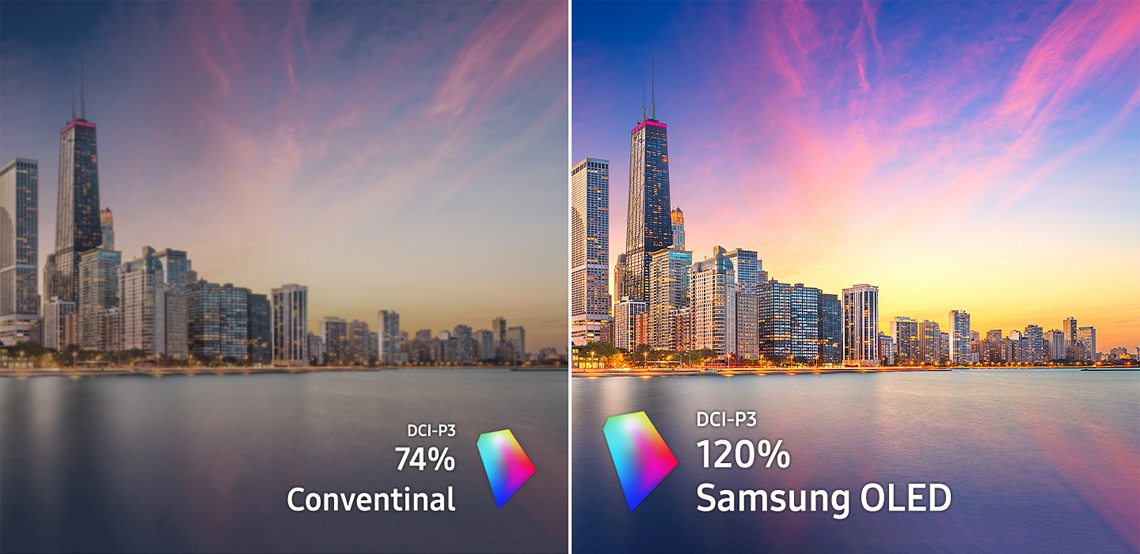 Samsung Display received DisplayMate's Best Smartphone Display Award – earning DisplayMate's highest ever Display Performance Grade of A+ and setting 11 Smartphone Display Performance Records. Samsung Display also achieved an 'Ambient Color Gamut' rating of 73 percent of the DCI (Digital Cinema Initiatives)-P3 standard, and a peak brightness of more than 1,500 nits by UL, the global independent safety science company. With Samsung Display's newest OLED display validated as having exceptional sunlight visibility, its OLED technology is deemed to be particularly well suited for 5G devices.
Adaptive FrequencyTM
Samsung Display's Adaptive FrequencyTM technology minimizes power consumption by automatically adjusting a display's refresh rate for the application being used at any given moment. Ranging from 10-120Hz, the adaptive refresh rate enables the OLED panel to reach 120Hz when playing a fast-moving mobile game, 60Hz while streaming a movie, and a refresh rate below 10Hz when the smartphone user is looking at photographs and other still images. This remarkable flexibility can sharply reduce the total amount of power consumed each day
Committed to lead the low-power OLED technology space, Samsung Display has earned certification of 'Eye Care Display' from SGS and validation of 'Energy Savings' from UL, for successfully lowering blue-light emission and power consumption, respectively.
Dark Mode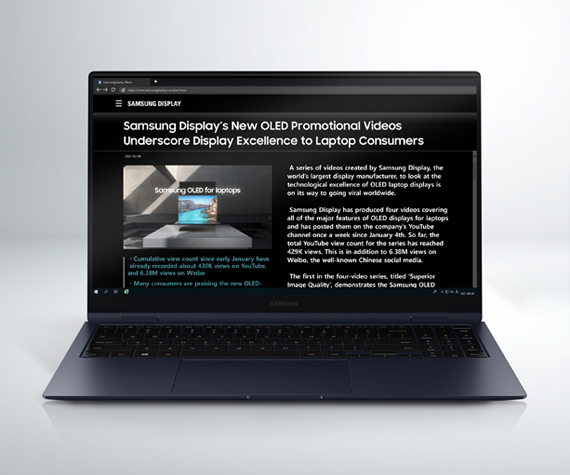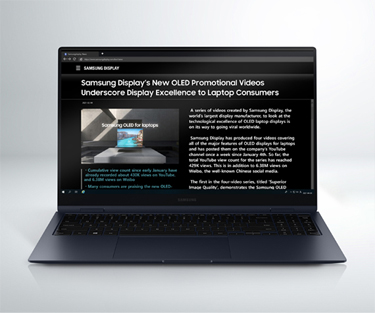 'Dark Mode' is an eco-friendly low-power panel technology that allows you to change the background color of an app window to black. Its key benefits include protecting user eyes and lowering power consumption. Dark mode reduces the luminance emitted by displays, lowering the On Pixel Ratio (OPR)* and reducing energy consumption by 20%. As a result, users can enjoy extended battery life of 15% – lasting 1.5 hours longer than light mode.
* On Pixel Ratio (OPR): The ratio of working pixels to total display pixels
Anti Blue-Light Technology
Samsung Display has built-in anti blue-light technology that filters the potentially harmful blue light rays produced. This technology has reduced the percentage of harmful blue light wavelengths emitted from displays to one-third of the amount from conventional displays. With deployment of 5G technology being the industry standard, users can protect themselves from eye fatigue even with increased media consumption time.
Slim Design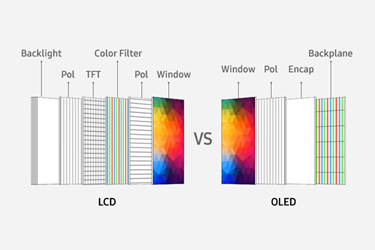 OLED depicts colors through a proprietary light-emitting process that does not need backlight and color filters used in LCD:
It is about 30% thinner and lighter than LCD, which is an enormous advantage that enables ultra-thin and ultra-lightweight smartphones.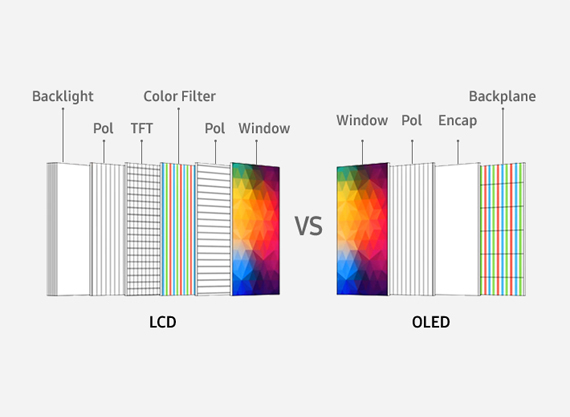 Samsung Display's Competitive Advantage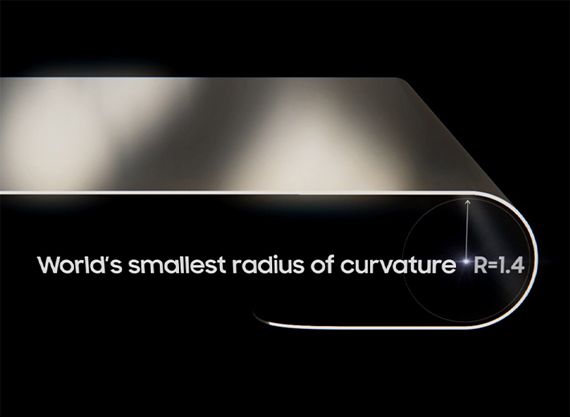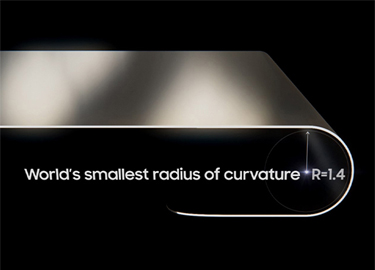 Samsung Display commercialized a foldable OLED display with the world's smallest radius of curvature, 1.4R.

While 1.4R refers to the degree of bending of a circle with a radius of 1.4 millimeters, the smaller the value of the radius of curvature (R), the less empty space a folded part has, making a device perfectly folded.

Samsung Display was certified by Bureau Veritas for Ultra Thin Glass durability. Samsung Display's cutting edge technology passed a folding test of 200,000 display panel folds, a criteria that serves as a universal yardstick to verify the strength of foldable panels.
Display for Inclusivity
Since 2014, Samsung Display has been committed to making technology more accessible for people with disabilities. People with colorblindness – scientifically known as color vision deficiency (CVD) – can enjoy the SeeColors app where users can test the level and type of color blindness they have and have the app automatically adjust colors.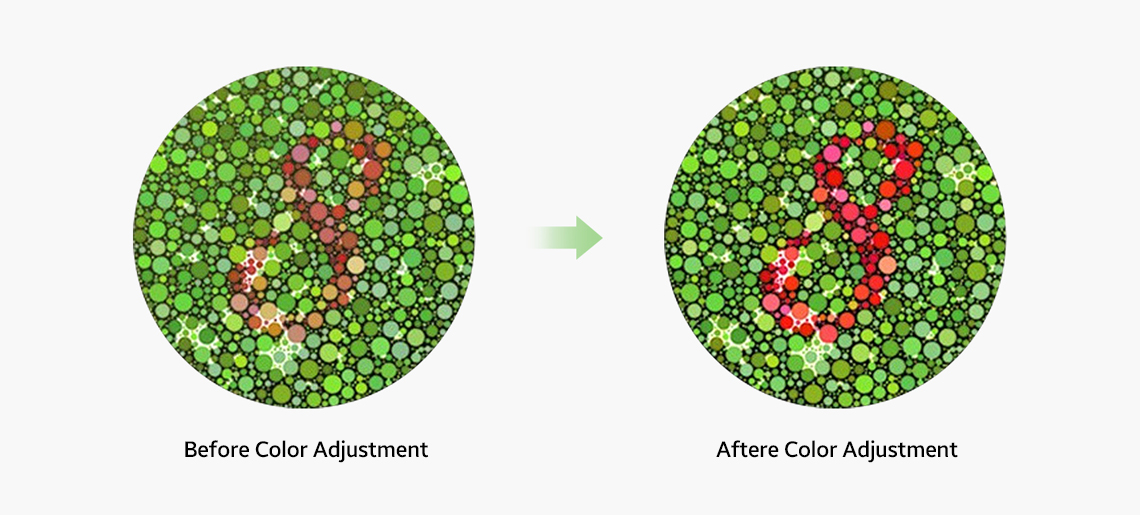 Certification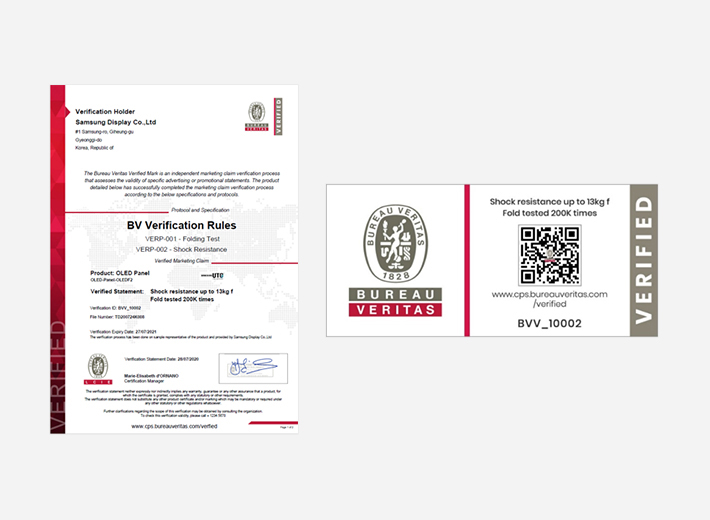 Samsung UTGTM
Certified by Bureau Veritas,
the international certification
agency in France, for the durability
of Ultra This Glass (UTG).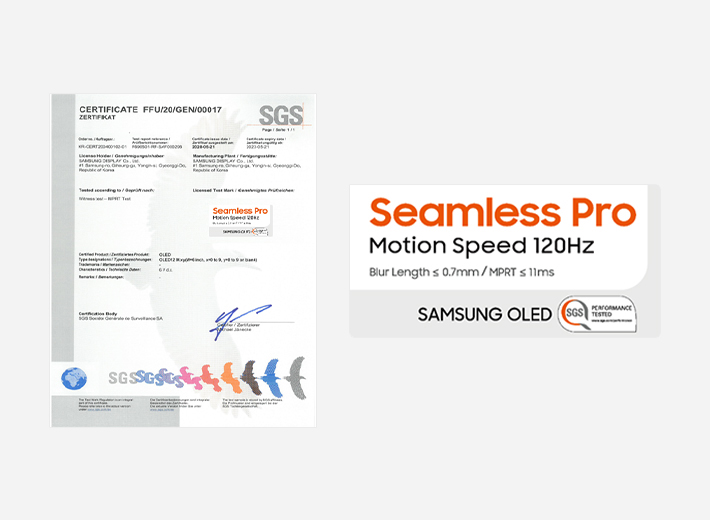 Adaptive FrequencyTM
Certified by SGS (Societe Generale de
Surveillance) as 'Seamless displays,'
featuring a blur length of less than
0.7mm and an MPRT (Motion Picture
Response Time) of fewer than
11 milliseconds (thousandths of a second).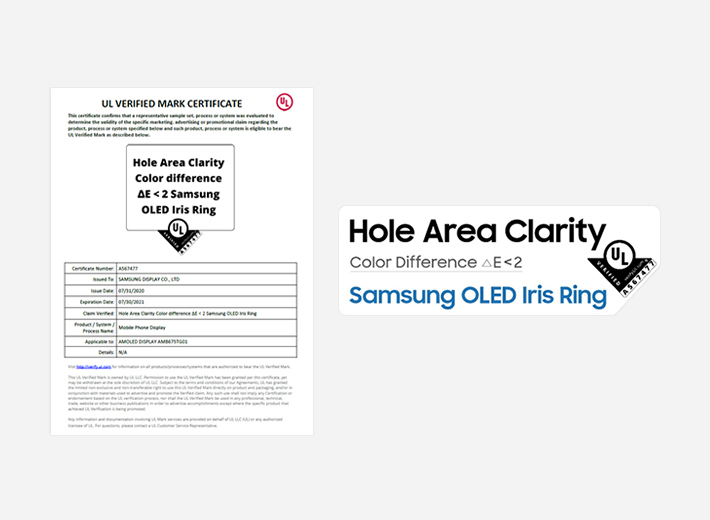 Iris RingTM
Verified the 'Hole Area Clarity'
for having image quality low
in color deviation by UL, the global
independent safety science company.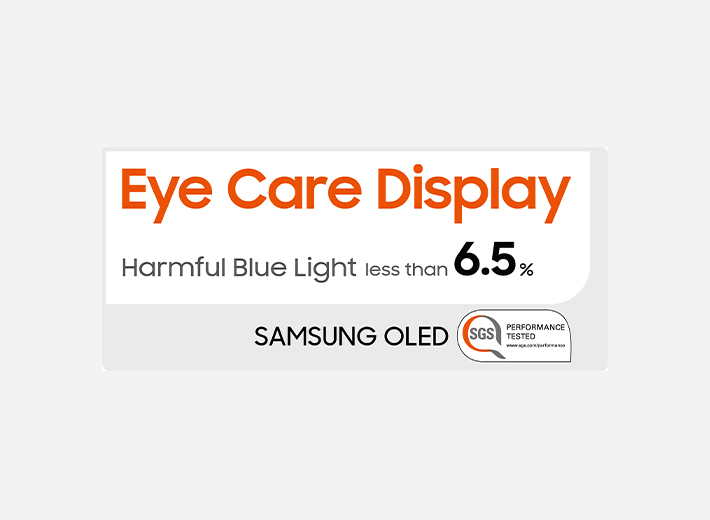 Eye Care Display
Earned certification of
'Eye Care Display' from SGS
(Societe Generale de Surveillance)
for successfully lowering blue-light
emission.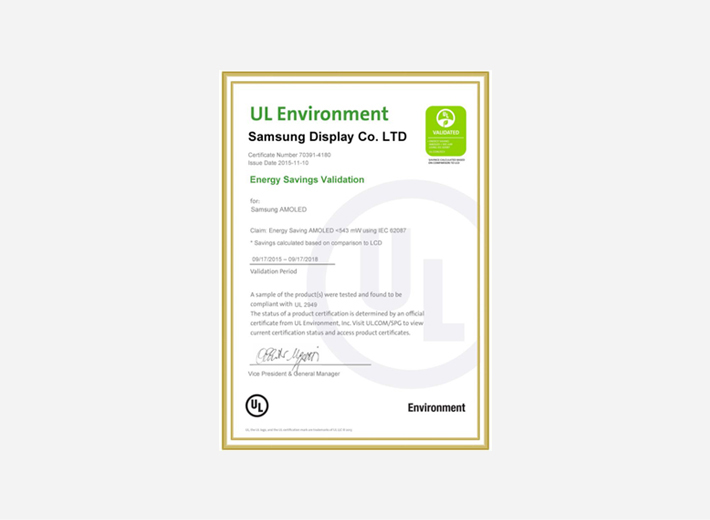 Energy Saving
Received Energy Savings Validation
from Underwriters Laboratories (UL)
for significantly reducing power
consumption of Samsung OLED.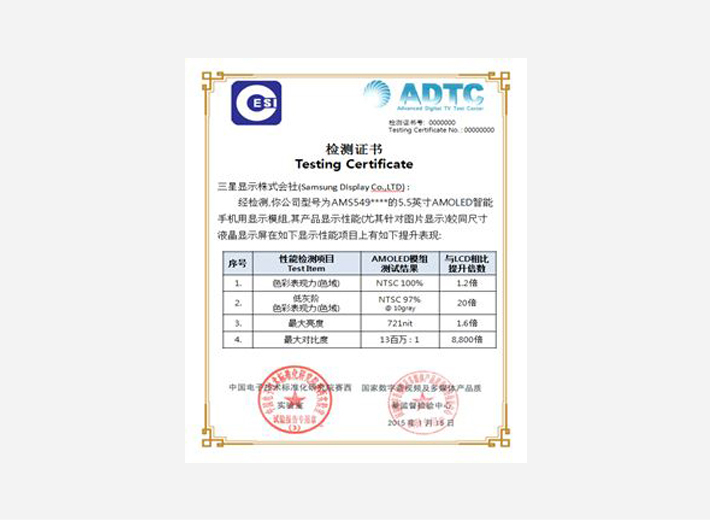 Remarkable
Color Reproduction
Certified remarkable color reproduction
by the CESI (China Electronics
Standardization Institute), a branch
of the Ministry of Industry and Information Technology of China.