What is Quantum Dot?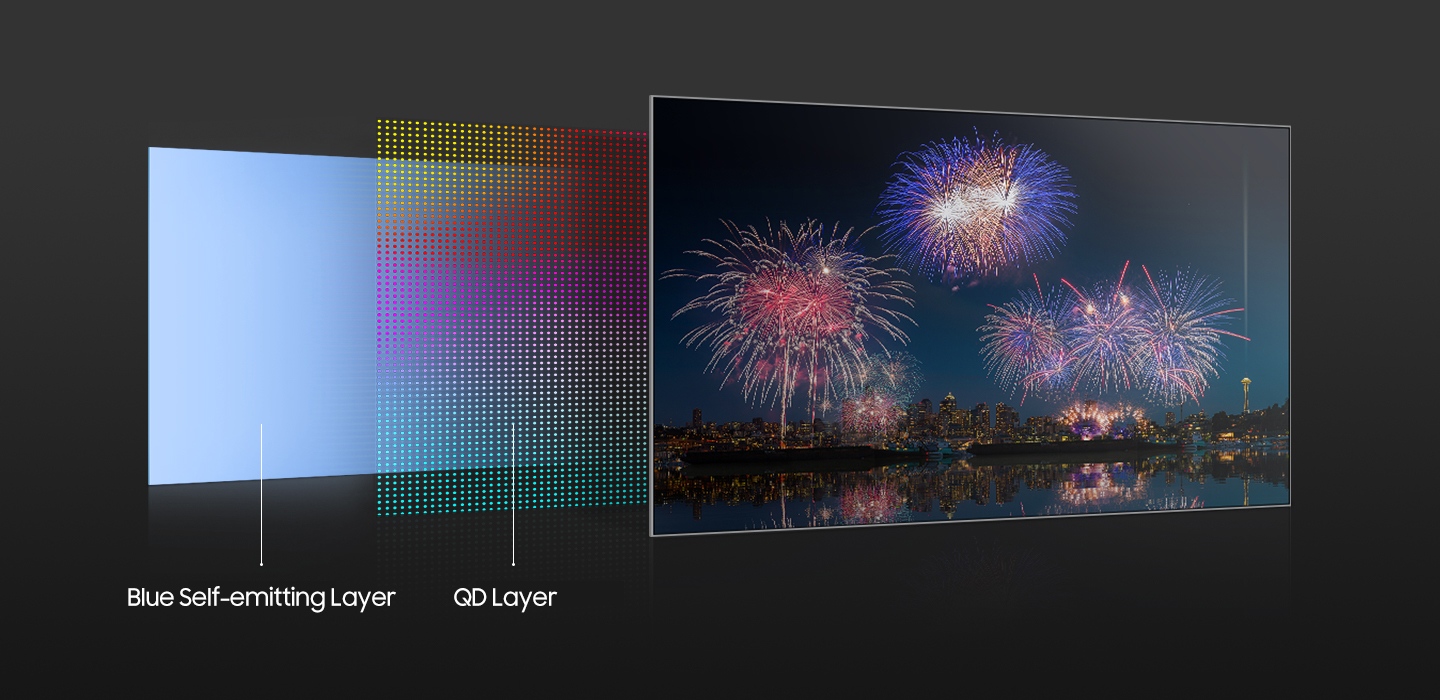 QD Layer
Using Quantum Dots means the range of colors
and their accuracy is maintained even at peak
brightness, while other display technologies like
OLED might was our colors when scenes full
brightness. The result with qauntum dot display is
acuate, rich and detailed colors on displays, in any light.
Blue Self-emitting Layer
Samsung's quantum dot display uses blue OLED material,
which has the strongest light energy, as a light emitter
to achieve relatively bright luminance than a conventional
display. When the light emitted from the blue OLED emitter
reaches the QD emissive layer, the quantum dot material
converts itself to red and green colors to emit light.
Quantum Dots are nanoparticles – ranging in size from two to 10 nanometers – with the size of the particle dictating the wavelength of light it emits (color). When Quantum Dots are hit with a light source, each dot emits a color of a specific bandwidth: Difference in wavelength makes the difference in colors.
Why QD-Display?
Wide Color Gamut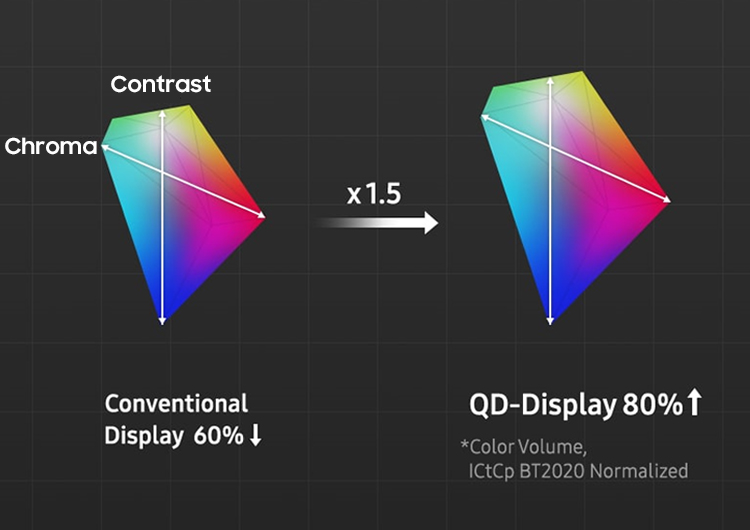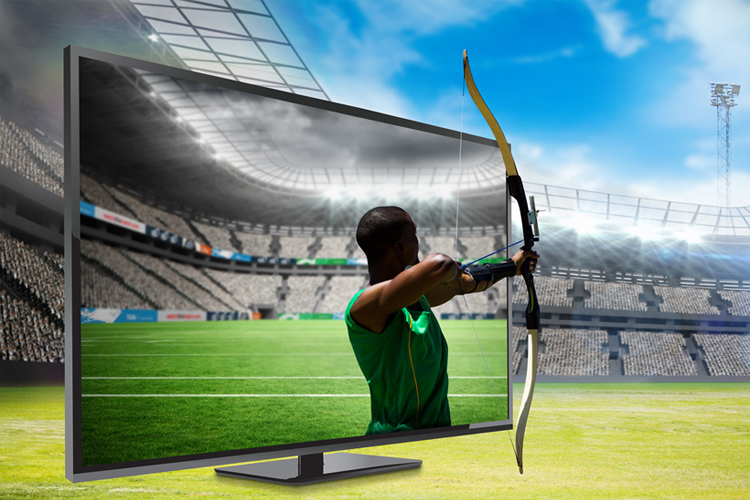 The QD-display is considered to have the widest range of color expression among the existing display technology. It can also express a wide range of colors at any brightness, from dark to bright. QD-display can achieve >80% BT.2020 color gamut while conventional displays usually reach less than 60%. Increase in color gamut coverage delivers immense value to users as it portrays more "lifelike" visuals.
⁠Constant Luminance Over All Angles
QD has a characteristic that radiates uniformly in all directions, minimizing the change in image quality based on the viewing angle. LCDs typically have less than 40% luminance at the viewing angle of 60 degrees compared to the twelve o'clock viewing, while QD-display has the smallest luminance change of more than 70% even with angle changes.

Low-reflection Display
Designed for bright viewing conditions, Samsung's anti-glare technology can reduce the effect of glare and reflections, for great pictures with unbelievable brightness and colour under almost any lighting conditions. Daytime or night. With the lights on, or off.

Glare and reflections on display screens can make it hard to see images clearly, especially in dark scenes where depth and detail is most difficult to discern. With extremely low light reflectivity, QD-display delivers incredible brightness and impeccable contrast across a wide variety of lighting environments.
High Contrast Range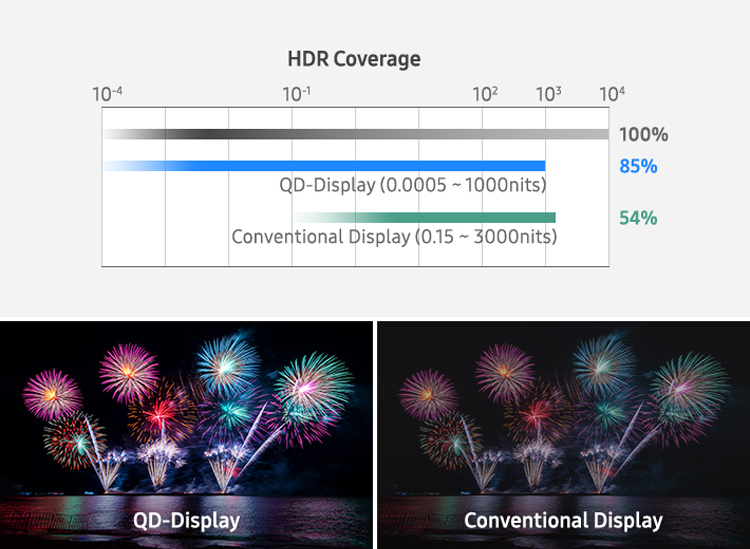 Conventional displays often have limitations such as power consumption interfering with brightness levels. LCDs that use the backlight unit as a light source are almost impossible to adjust brightness individually for each pixel. Unlike LCDs, the blue light source of QD-display can be adjusted by individual pixels. QD-display with 4K resolution can control approximately 8.3 million (3840 x 2160) light sources separately. The perfect black of QD-display boosts a higher contrast ratio of 1,000,000 to 1, presenting users with exceptional quality.
Less Blue Light Emissions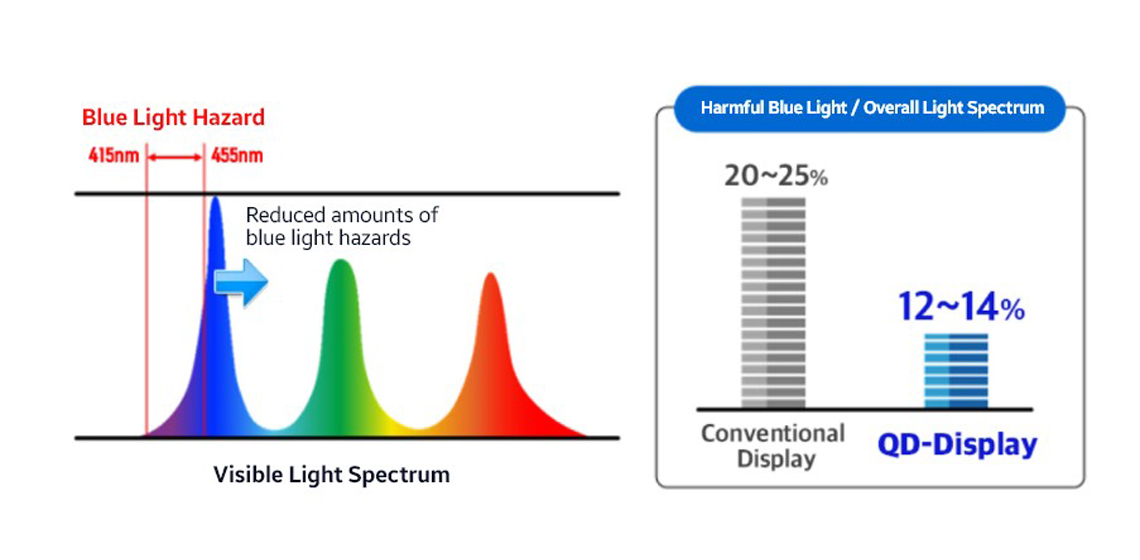 With 40-50% less harmful blue light than LCD, QD-display currently has the lowest level of harmful blue light emissions among current display options.
Black Uniformity
Black uniformity refers to how evenly a TV can display black across the screen. Issues surface, especially when displaying a bright object over a dark background, such as clouding or flash lighting. LCD displays often highlight black uniformity issues, but QD-display can produce virtually perfect blacks thanks to their proprietary light-emitting process. Therefore they don't have the same limitations caused by improper backlight implementation.

Perceived Display
From the user's perspective, brightness of the display is not only affected by the physical brightness but also by the evenness of black and color saturation. Even at the same luminance, light and shade can change depending on the background.