Life at Samsung Display is a bimonthly introduction of exceptionally talented employees at different campuses around the world.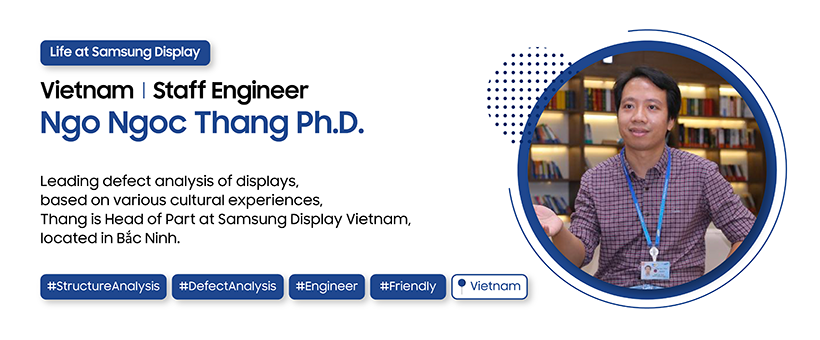 Tell us about yourself.
Hi, I'm Ngo Ngoc Thang (English name is "victory"), and as Head of Part at Samsung Display Vietnam, I conduct defect analysis of displays to improve production yield. The display is a complex system, and it is a pleasure to see every detail through a microscope, spectrum, and electric test in order to search for the broken point. That is why I enjoy working in my laboratory. Lately, we have been focusing on next-generation technologies with new form-factor, such as foldable displays.
When I am off duty, I usually spend time with my wife and a little son. Sometimes when the weather is nice, I like to go out bicycling. I am always trying to balance between work and family, the two most important things for me.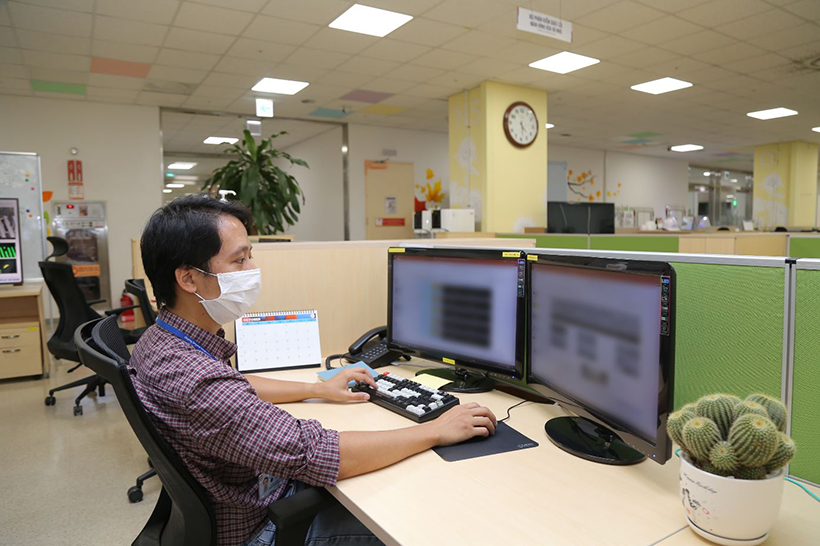 Tell us more about your life before joining Samsung Display.
I was an organic chemist (researcher) at the Institute of Chemistry, Vietnam Academy of Science and Technology. At the beginning of my career, I focused on the synthesis of drugs, especially antiviral drugs. I then moved to Germany for my Ph.D. at the University of Rostock* and studied Domino reactions for synthesizing organic light-emitting compounds.
I have many memories from pursuing my studies at Rostock, a large port city in northeastern Germany. The Rostock Gedser ferry route connects Germany with Denmark and has a beautiful beach (Warnemünde). Since everything closes down during the weekends in Germany, people usually spend time with their families and friends and relax. I miss reading and drinking beer at the beach; there is a unique sense of calmness in the city that makes it unforgettable.
*University of Rostock: Founded in 1419, it is the third-oldest university in Germany.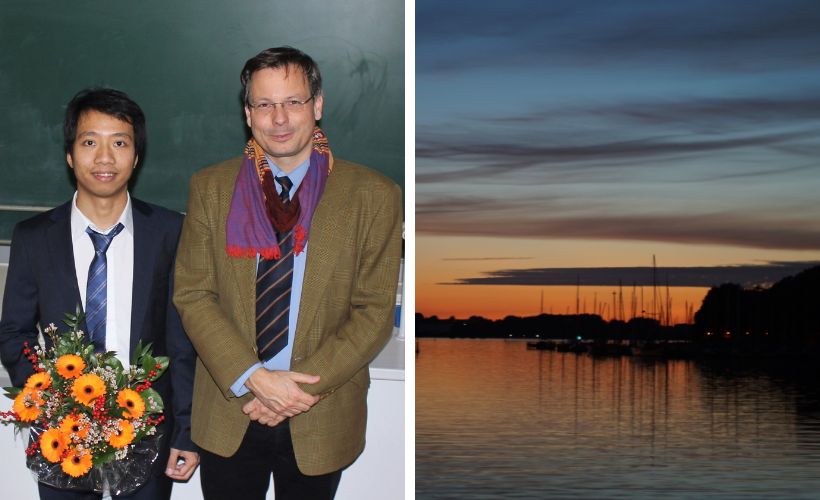 What made you join Samsung Display?
At the time when I graduated, I realized that Vietnam was experiencing rapid growth, which meant that there would be more opportunities for graduates like me at the time. Once I made the decision to come back, Samsung Display was offering a position that was most suitable to me, and I took the challenge.
What are your daily responsibilities at Samsung Display?
As part of the Defect Control Group in our big Yield Enhancement (YE) Team, we analyze all kinds of display defects (particle, screen error, surface scratches, etc.) that can be produced not only during the manufacturing process but also from end-users. Providing the root cause of each defect and suggesting improvements to fix the processes or to change materials if needed are the two primary outcomes of our work at Samsung Display!
The ability to make the right decisions in a short amount of time is the most essential trait of my team. The production lines need to be run non-stop, so we have to make decisions as soon as possible to minimize the downtime and losses. In addition, to keep the manufacturing line running smoothly and without delays, we need to work efficiently and quickly. Honestly, it can sometimes get quite stressful when we run into complex cases of defects.
But what makes my work so interesting is the fact that I get to work on the newest technologies on a micro-level. I get to see every detail of defective parts, like a doctor observing his patient. Since we deal with the final stages of solving problems within Samsung Display Vietnam, I can't describe the sense of accomplishment at the end of each analysis which makes it meaningful.
Everyone in my team aspires to be part of the best Defect Analysis Center, where we solve and prevent all types of defects. In the future, we want to minimize the loss and produce a zero-defect display in the market!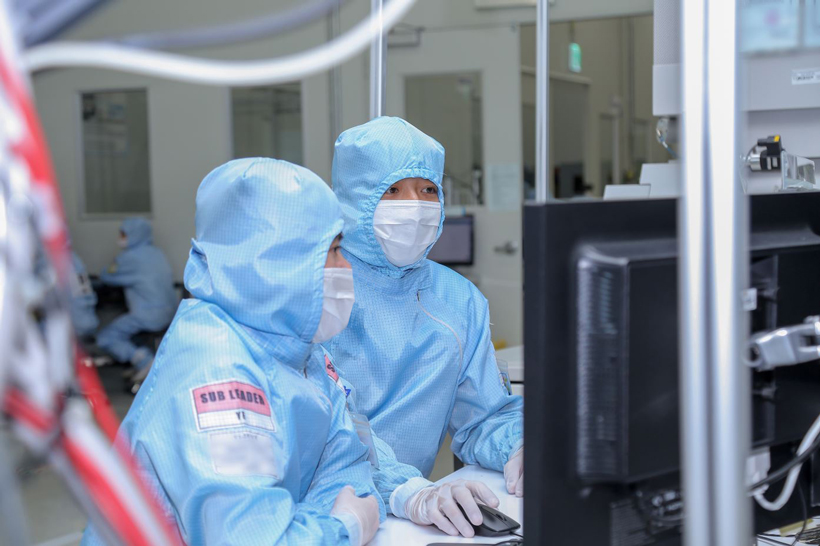 Tell us more about your work environment.
I am currently working at the Bac Ninh campus, which is around 30 km away from Hanoi. Our campus is basically a small city: I can take a walk and spot everything I need – from the cafeteria, football field, fitness center, supermarket, bank, library, and small park… Even though it's a factory, the environment makes us feel at ease and helps us save time when running personal errands.
One of my favorite spots among all the facilities is the small library on the first floor. It's because, personally, it makes me feel warm every time I walk past it on my way to the office. Our team also has many memories at the football field running competitions, so that's another favorite outdoor campus spot of mine.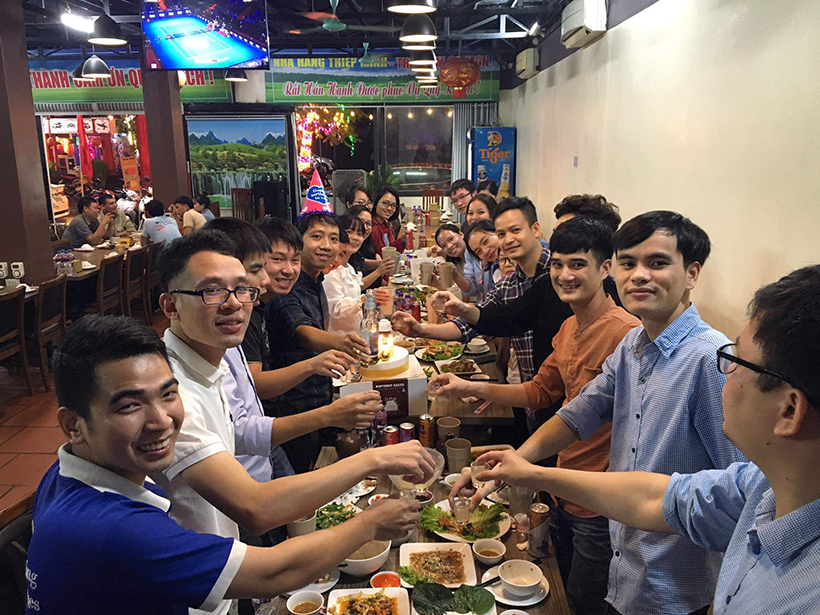 What do you like the most about working at Samsung Display?
Emphasis on developing people is one of the key strengths of the company that I deeply appreciate and experience here in Vietnam. Besides providing a good working environment, the company also encourages us to pursue higher education at many levels. For instance, there are opportunities for our engineers to fly out to Korea for higher technical training or get higher education degrees such as Master of Science or even doctoral programs.
I took a Korean course provided by Samsung and also participated in the Global Director Course (GDC). GDC* is a program that selects and nurtures next-generation leaders from Samsung's affiliates. Originally, we were supposed to conduct the program in Korea, but due to COVID19, everyone got together online. I got to interact with global colleagues from all over the world and discuss leadership and management skills. Gaining practical tips that I could apply in our workplace was really great, not to mention keeping in touch with my fellow GDC colleagues from India, China, United States, and Australia even after the program ended.
*Candidates are selected among Level CL3 and CL4 (managers) who are group/part leaders.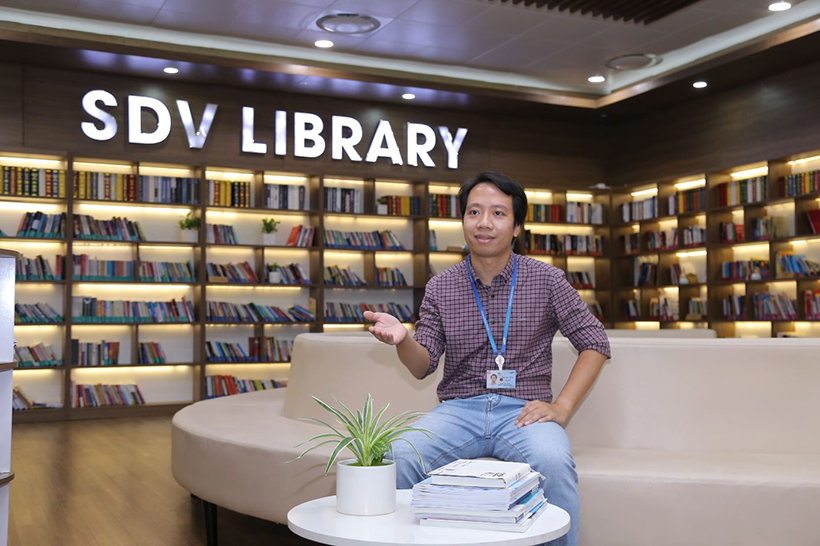 Because you have such a global background, we have to ask: What are some notable differences among Korean, Vietnamese, and German work cultures in your opinion?
In my opinion, Germans give prominence to productivity and effectiveness in working. They are punctual and make clear plans, scheduling meticulously before doing the actual work. They always keep everything organized and foresee risks. Vietnamese work culture depends more on emotions and relationships compared to Germans. They are hard-working with the strong will to learn and change. Koreans are also very hard-working, always full of energy.
Working in different cultures has made me realize my strengths and weaknesses more deeply, helping me adapt quickly to different working environments.
Any last words for those reading the article?