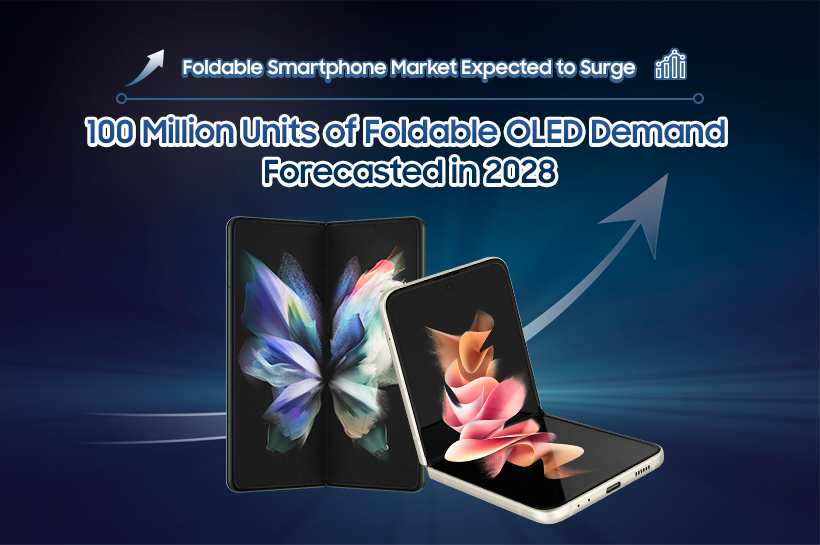 According to Yonhap News Agency and Arirang News, foldable OLED panel shipment is expected to surpass 100 million units in 2028. Having reached one million units of sale in just 39 days in Korea alone, the popularity of Galaxy Z Fold3 and Flip3 helps explain the hype around foldable phones. As anticipated by the warm public reception of Samsung's third generation foldable series, foldable phones are expected to stir up the stagnant smartphone market with its dynamic technology. Curious to learn what the future of the foldable OLED market looks like? Let's dive into details:
100 Million Units of Shipment Expected in 2028!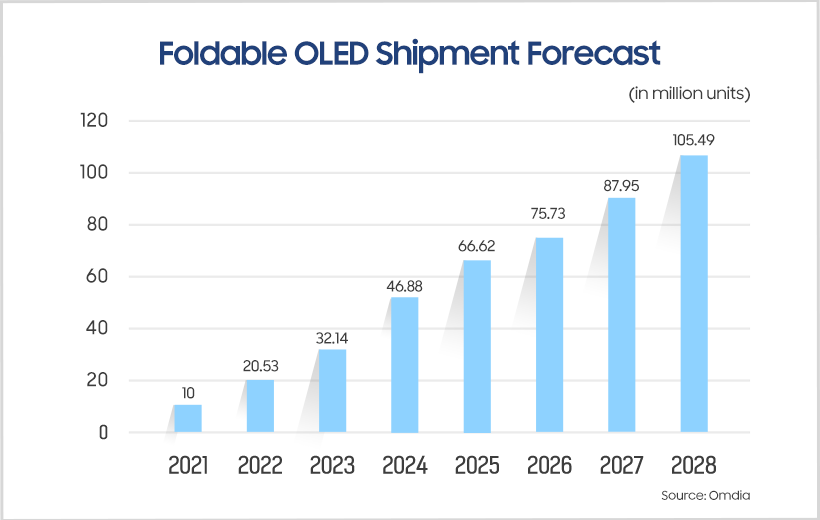 According to Omdia, a global technology research firm, foldable OLED shipments are expected to increase tenfold in 2028, reaching 15.49 million units compared to 10 million in 2021. With a strong compound annual growth rate (CAGR) of 40%, annual sales are also expected to reach $10 billion (12 trillion KRW).
Foldables take up approximately 1.6% of the overall OLED display market at the moment. It is expected to reach 12.4% in 2028, which means at least one out of ten OLED smartphones will be a foldable OLED.
If we take into consideration that conventional smartphones' annual growth rate averages around 3.1%, foldable OLEDs' anticipated growth rate of 40% seems promising as the next growth engine for the smartphone panel market.
Samsung Display Leading with a Market Share of 94%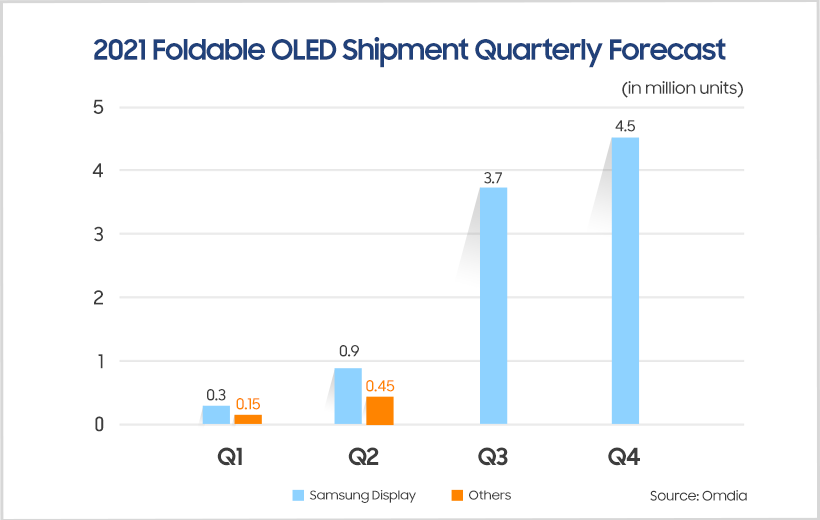 Foldable OLEDs are mostly produced by Samsung Display. According to Omdia, Samsung Display is expected to ship 9.4 million units in 2021 (Q1: 300,000 units; Q2: 900,000 units; Q3: 3.7 million; Q4: 4.5 million). This is the equivalent of 94% of the total market share, which is expected to increase due to the popularity of the Galaxy Z series.
Foldable OLEDs require exceptional quality and durability that withstands Samsung's folding tests unlike the conventional foldable displays. With the release of the Galaxy Fold1, Samsung Display continues to challenge the industry norms with innovative strides based on comprehensive research such as the development of Ultra Thin Glass (UTG) and optimization of folding structures.
With a vision to create future displays beyond imagination, here at Samsung Display, we hope to unfold a future with even bigger breakthrough innovations.