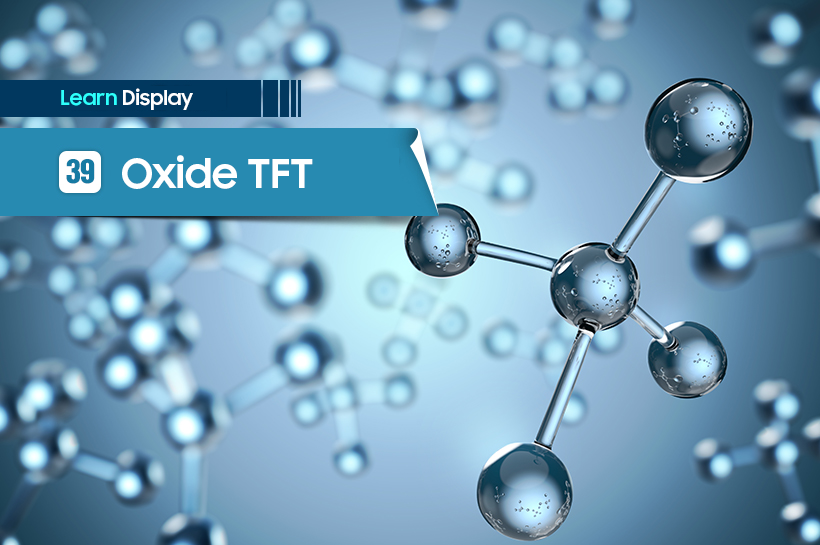 An oxide thin-film transistor (TFT) is one of the TFT technologies. Depending on the semiconductor material and properties, TFTs can be classified as amorphous silicon (a-Si), LTPS, and oxide TFTs. An oxide TFT is also used for switching and adjustment of pixel brightness. An oxide TFT, in the manufacturing process, converts 'Indium-Gallium-Zinc (In-Ga-Zn)' source material into an oxide that has the properties of a semiconductor (In-Ga-Zn-Oxygen), and hence the name an 'oxide' TFT.

As with amorphous silicon (a-Si), an oxide TFT is amorphous. However, the electron mobility in an oxide TFT is roughly 10 times as fast as the ones in amorphous silicon (a-Si), and therefore, an oxide TFT has a greater ability to manufacture displays with higher resolutions. Thanks to the high electron mobility, an oxide TFT has an advantage in integrating TFT circuits, increasing the usable space, and making the bezel thinner.
Compared to the low-temperature polysilicon (LTPS), the electron mobility in an oxide TFT is slower, but a significant portion of equipment used for the existing a-Si manufacturing process can be used for oxide TFTs, giving the oxide TFT a comparative advantage in production costs. In addition, an oxide TFT — unlike the LTPS — does not involve the excimer laser annealing (ELA) process, which removes restrictions in size that arise from the crystallization process, and the great uniformity thanks to its amorphous nature makes an oxide TFT suitable for large-sized displays.