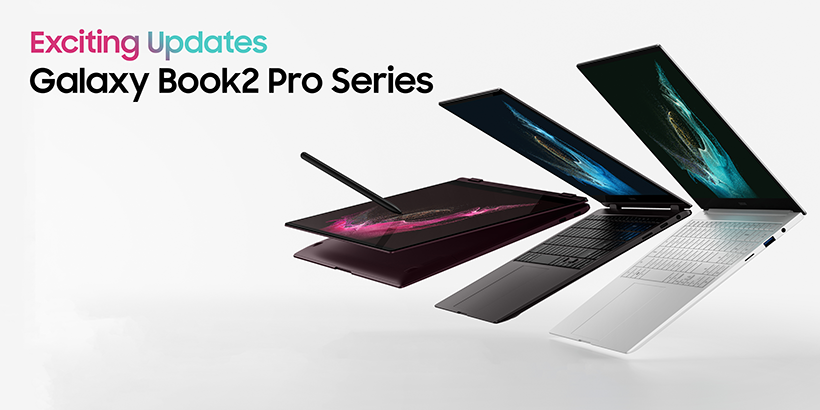 During the Samsung Galaxy Mobile World Congress (MWC) Event on February 27, 2022, Samsung's new Galaxy Book2 Pro lineup was unveiled. With improved specs and endless possibilities, Samsung's flagship PC lineup redefines the PC.
Exhilarating Possibilities With Top-Quality Displays
The Galaxy Book2 Pro lineup consists of the Galaxy Book2 Pro 360 with S Pen support and the Galaxy Book2 Pro with 5G support. Both laptops are perfect for the next generation learning and workplace culture – equipped with various features powered by outstanding performance and portability.
Bright full HD (1920×1080) OLED panels on the 13.3-inch Galaxy Book2 Pro 360 and 15.6-inch Galaxy Book2 Pro provide a vibrant screen.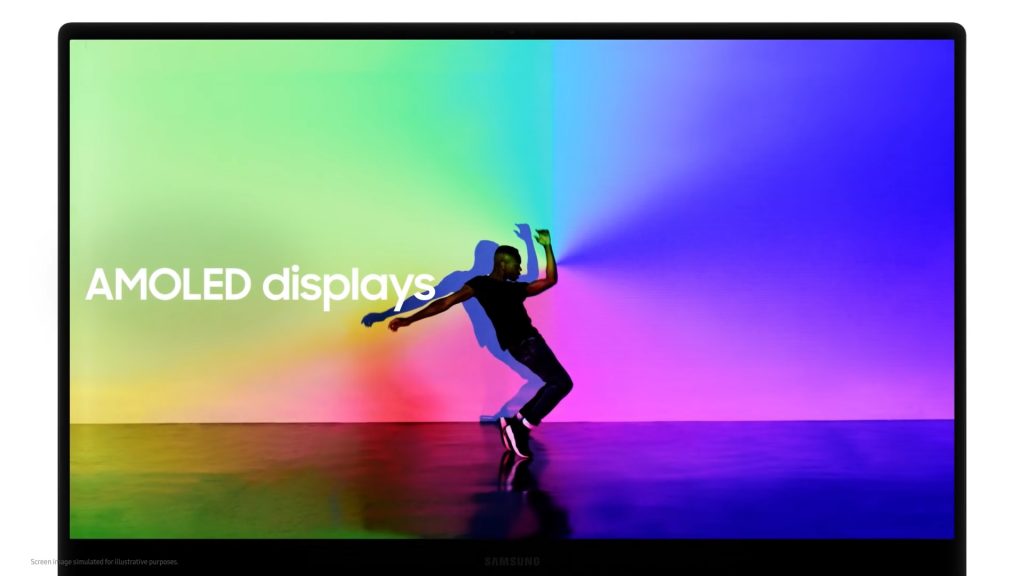 The series' brightness can go up to 500 nits, which is 33% brighter than the first-gen models. The displays also showcase 120% Color Volume (DCI-P3) as well as "infinity to one" contrast ratio displaying perfect blacks on screen.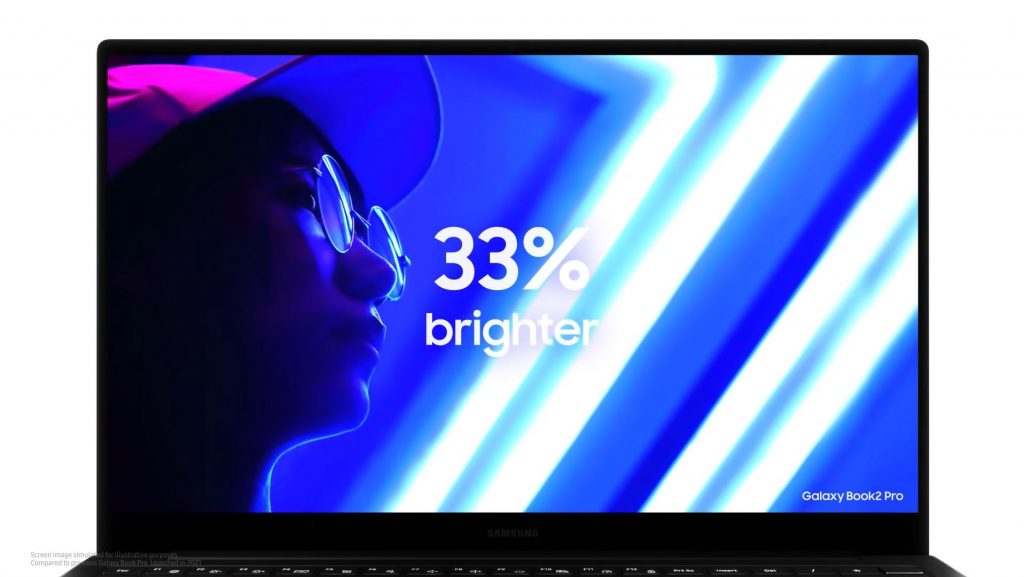 The new Galaxy Book2 Pro series' OLED panels also received the GREENGUARD gold certification by the Underwriters Laboratories (UL), a global safety certification company.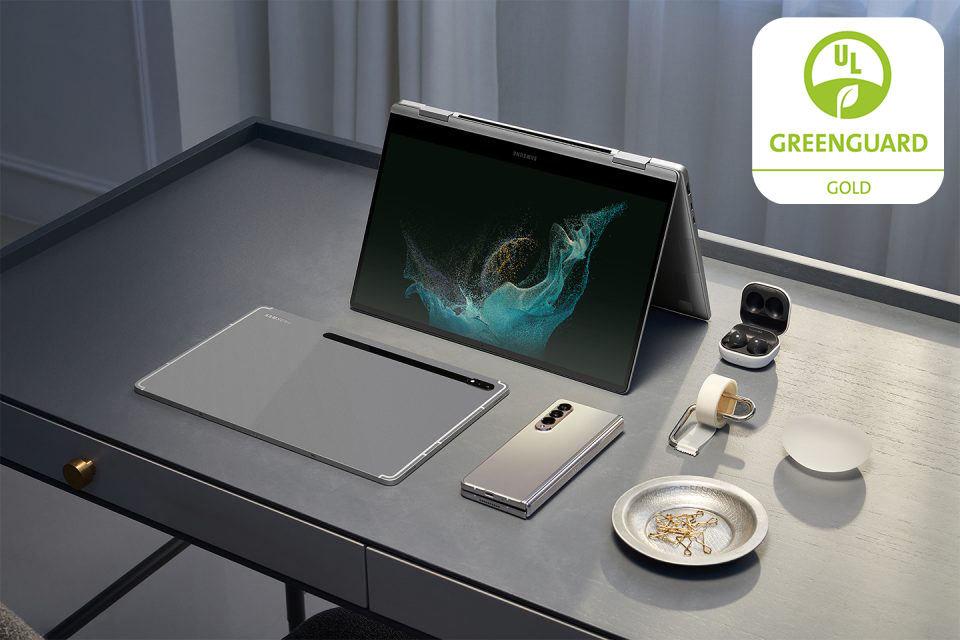 'GREENGUARD Gold' certification is awarded to electronic/medical devices that meet environmental emission standards from testing chemicals and VOC emissions. With more people spending time indoors during the pandemic, there are health concerns over pollutants in indoor air known as volatile organic compounds (VOCs) emitting from the use of plastic substrate sheets in electronic devices: Samsung Display's OLED technology minimizes the usage of these sheets, making the displays more eco-friendly.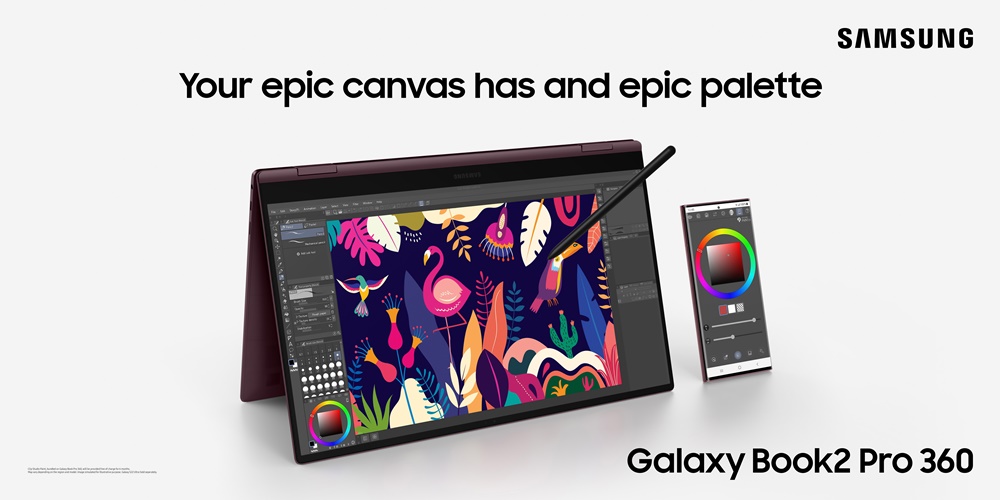 The Galaxy Book2 Pro 360 also comes with the smoothest S Pen yet with a natural pen-to-paper experience highlighted by its faster response time.
A Truly Modern PC Experience with Dynamic Performance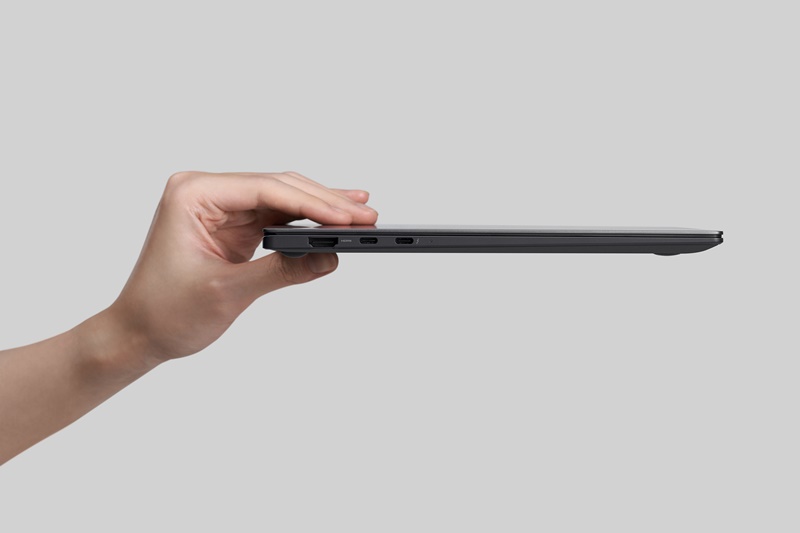 Thanks to the OLED displays, the Galaxy Book2 Pro series is one of the lightest and thinnest laptops in the market. All of the Galaxy Book2 Pro series are as thin as 11mm, with the Galaxy Book2 Pro 13.3-inch model being 11.2mm thick and weighing 870g. The laptops also come with fast charging that lasts for 21 hours on a single charge.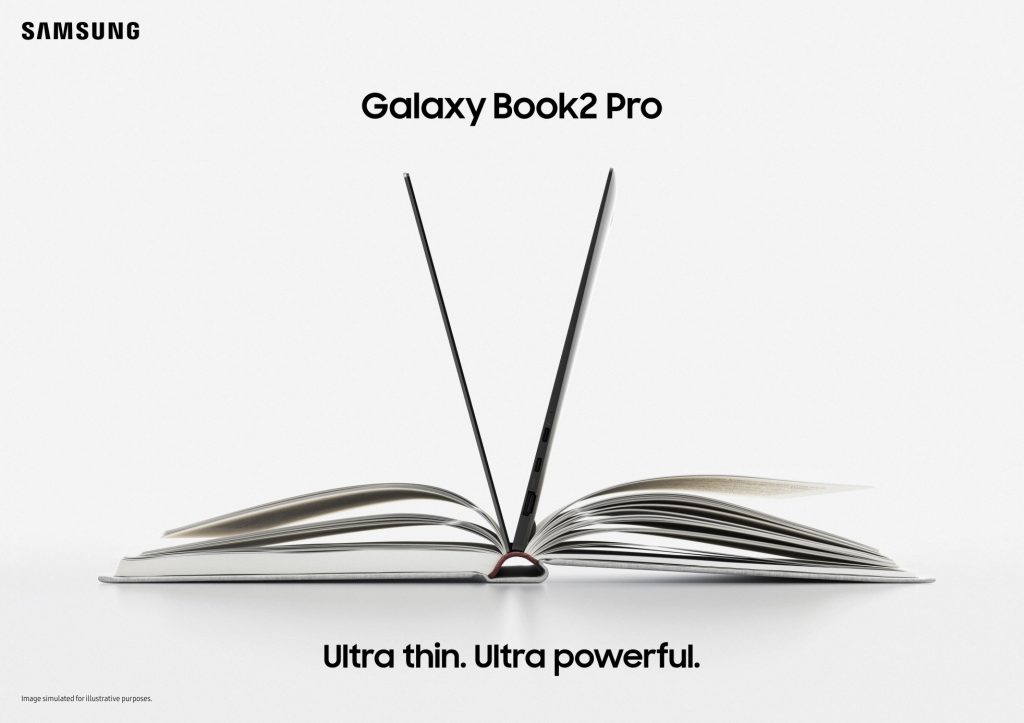 Video calls have become a part of our daily lives, and the Galaxy Book2 Pro series is optimized for that. Imagine yourself in a call with a 1080p FHD webcam that provides up to 87° viewing angle: This professional quality of video calling delivers crystal clear visuals. There's also Auto Framing, which centers you in the given frame no matter how frequently you move around under any light or background.
Audio is an important aspect of video calls, and the Galaxy Book Pro2 series also upgraded that feature. Bi-directional AI noise canceling gets rid of any distracting noise that you or other video call participants may be facing. If this is not impressive enough, the Max 5W output Smart Amp that produces balanced and loud volumes along with AKG·Dolby Atmos speakers make for an impressive sound technology.
First Microsoft Secured-core PC-certified Laptop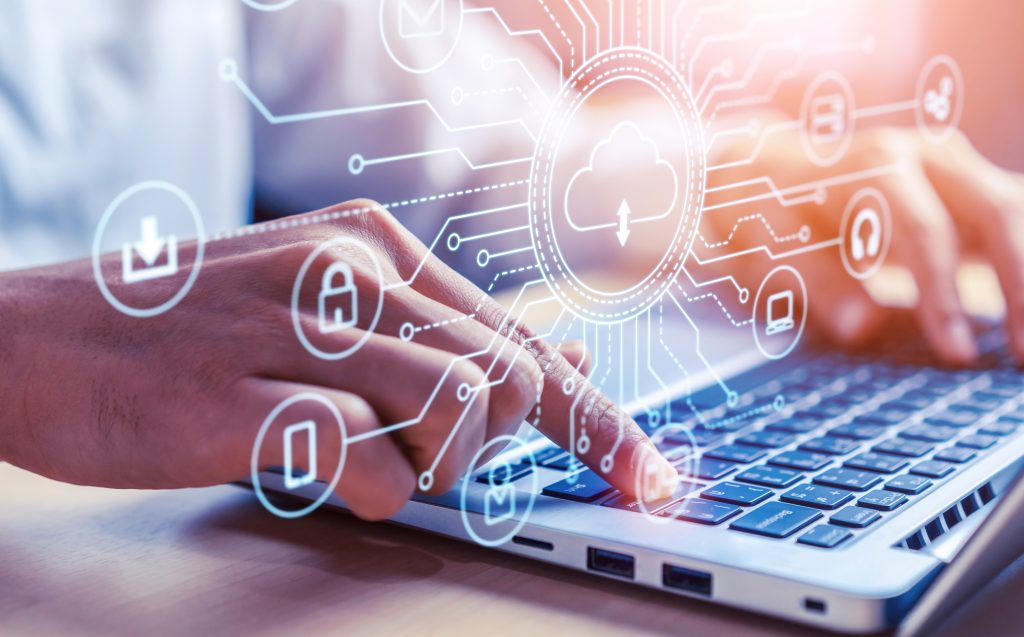 The Galaxy Book2 Pro series is the first consumer PC lineup meeting Microsoft's secured-core PC requirements, enabling a higher level of data privacy.
Recently, more people have become accustomed to either fully remote or hybrid work environments. Secured-core PC designation is an enterprise-grade security solution used in industries such as finance, healthcare and government. It delivers the highest level of Windows 11 protection, guarding against sophisticated cyber attacks with hardware∙software∙firmware level security in place.
Enterprise security on Galaxy Book2 Pro series unlocks unprecedented portability and connectivity. With Wi-Fi 6E standard that has faster speeds than earlier wireless networks, you can now download videos more effectively or turn any place into a live conference room with lower latencies.
Optimizing Life with Connected Experiences Inside the Galaxy Ecosystem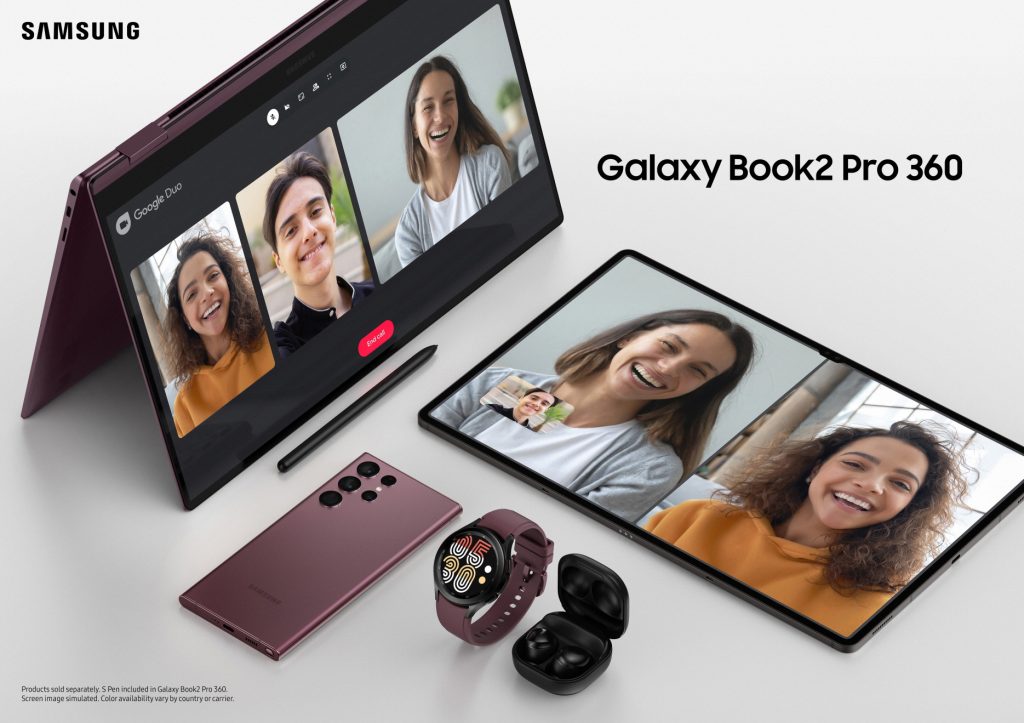 Pursue a seamless user experience between different devices by taking advantage of the Galaxy ecosystem. With the Galaxy Book2 Pro series' Galaxy Book Experience, you can receive helpful tips and enjoy unique Galaxy features. With Galaxy Book Smart Switch, you can quickly transfer favorite photos, movies, files, apps and even settings from a Windows PC to your laptop. Samsung's One UI, a custom interface for Android, also helps you to control your devices more intuitively.
The Galaxy ecosystem is not only intuitive but also extremely convenient. Whatever app you were using on your phone will automatically open on your laptop too by using the 'Link to Windows' app. With the SmartThings Find feature, you can easily find your misplaced Galaxy device. Last but not least, with Samsung Multi Control, you can use the new Galaxy Book2 Pro series' keyboard and touchpad to use your Galaxy Tab S8 tablet as a secondary screen.
Discarded Fishing Nets Repurposed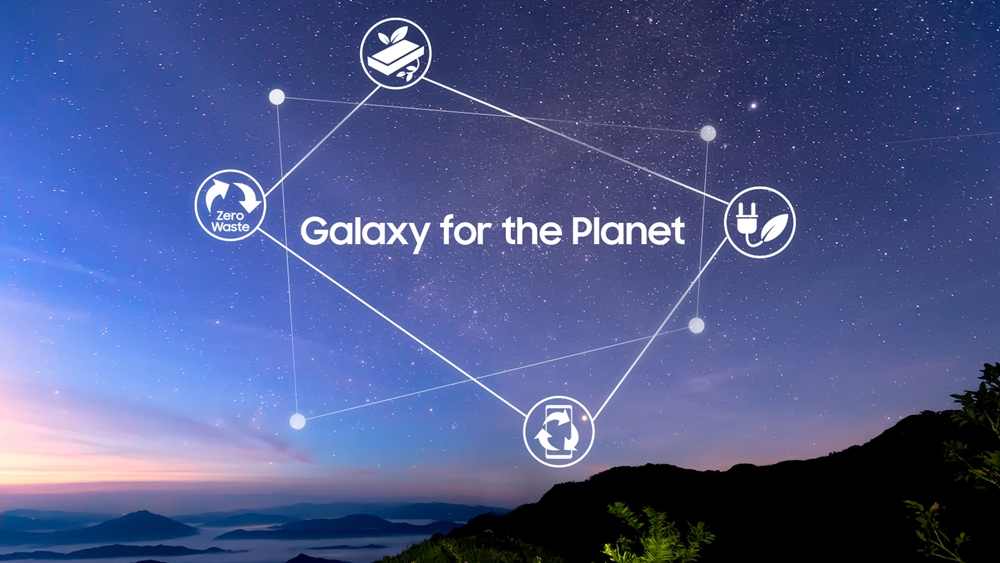 You may have heard about Samsung's new eco-conscious material made from repurposed discarded fishing nets featured on the Galaxy S22 and Galaxy Tab S8 series; It has been also used for the touchpad holder and the inner bracket of the Galaxy Book2 Pro series. Samsung's use of recycled ocean-bound plastics on upcoming Galaxy devices reflects commitment towards its sustainability vision 'Galaxy for the Planet'. Other sustainable practices to minimize environmental impacts such as new algorithms extending the battery lifecycles and lower standby power and paper-based packaging can be found on the Galaxy Book2 Pro series.
Samsung's latest flagship PC lineup will become available for pre-order March 18 ahead of its April availability at retail. What are your thoughts on the highly anticipated Galaxy Book2 Pro series?