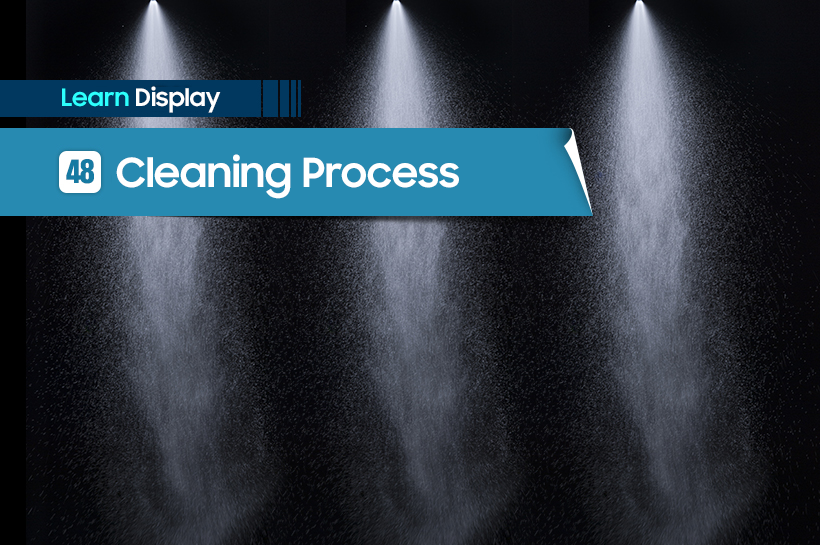 The cleaning process in the display industry includes removing contaminants or particle pollution, which is undoubtedly one of the key processes during manufacturing.
Even the tiniest particle/dust can cause critical damage to the product such as defects in circuit patterns or insulating layers due to the fact that displays undergo microfabrication*. Product quality and yield* can be ensured by the removal of particles/impurities created during the display manufacturing process.
Cleaning occurs before and after multiple manufacturing steps – from the minute the glass substrate is placed in the Fab* to the LTPS, deposition, encapsulation, and module processes.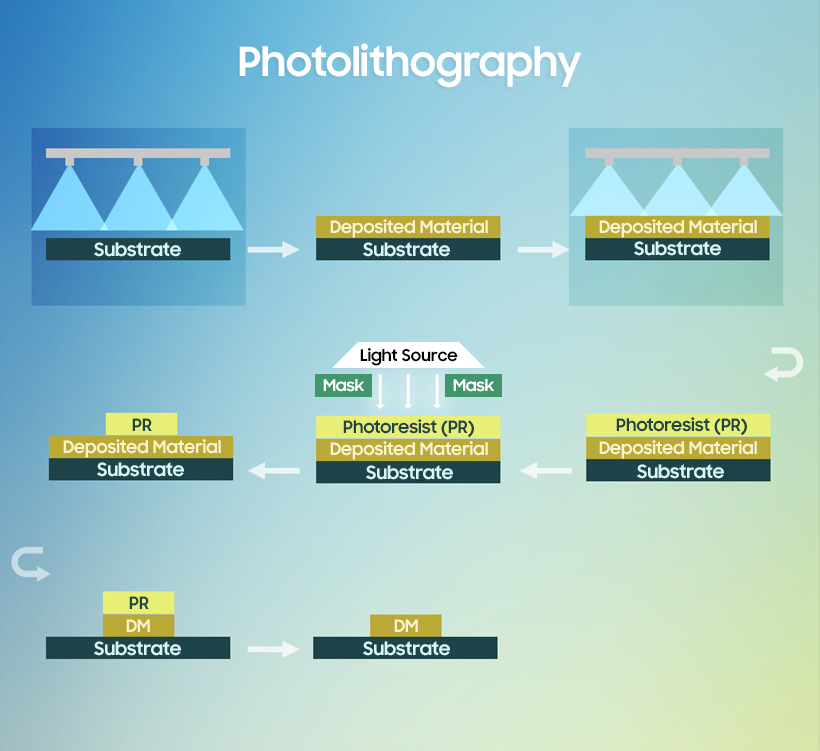 This is to eliminate residues and impurities – such as PR residues from the photolithography process, residual oxide film from the etching process, or various particles in the air that are stuck on the surface of the TFT.
There are three types of cleaning: Wet, dry, and vapor cleaning. Wet cleaning uses liquids such as chemical solutions, while dry cleaning uses a medium such as plasma or laser that is not liquid. Vapor cleaning is the middle ground between wet and dry cleaning.
Wet cleaning costs less and employs a relatively simpler process, which is why it is frequently used in the manufacturing process for semiconductors and displays.
Different combinations of cleaning methods occur for each manufacturing process. For example, wet cleaning combines physical and chemical cleaning methods with rinsing and drying as part of the completion.
Physical cleaning uses a water jet, roller brush, or megasonic vibration method. A water jet cleaner is a high-pressure cleaning tool that mixes carbon dioxide gas. This physically removes particles by vertically shooting small droplets of pure water at the glass substrate. A roller brush cleans the glass substrate through the physical contact with the surface. The megasonic method removes particles by creating acoustic waves at a frequency of 1.5Mhz.
In contrast, chemical cleaning removes impurities by using alkaline cleaning solutions, ozonated or hydrogen water, or excimer UV*.
During the rinsing stage, ultra pure water is used to clean the glass substrate, which is then dried by clean dry air.
---
*Microfabrication: Process used in manufacturing objects with dimensions in the micro~millimeter range
*Yield: The percentage of products working properly out of all that was manufactured
*Fab: A manufacturing plant that deposits display circuit on the glass
*Excimer UV: A form of UV radiation