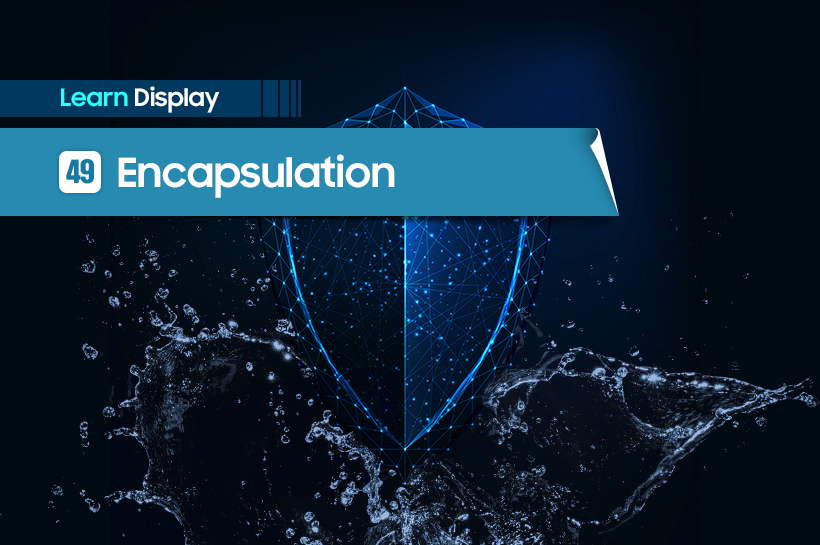 Encapsulation is the process of sealing an OLED panel that aims to ensure its durability by protecting it against external factors.
The organic materials and electrodes in an OLED display are very sensitive to oxygen and moisture, which can damage the light-emitting properties once they penetrate into the organic layer—hence the need for a technology to block them off.
Encapsulation extends the life of an OLED product by sealing up the panel to protect the organic materials inside against oxygen and moisture. Penetration of oxygen and moisture creates a phenomenon where pixels cannot emit light (dark spot). Encapsulation is a crucial process as insufficient encapsulation of an OLED panel can expose it to constant influx of oxygen and moisture, creating dark spots that continue to grow and spread across the display.
Encapsulation of a regular OLED panel (rigid type) is a process that places encapsulation glass on top of the OLED panel that has undergone the evaporation process and seals up the edges.
In order to prevent oxygen and moisture from penetrating between the encapsulation glass and the panel layer, glass frit is applied, which is then melted via a laser to bind the encapsulation glass and the panel. This blocks oxygen and moisture off so that the organic materials in the OLED panel can perform their functions properly.
Encapsulation is done both at the cell level and on the larger mother glass* and follows the four steps in general: ① Production of cell seal glass → ② Application of seal to the mother glass → ③ Joining the cell seal glass with the panel → ④ Laser sealing.
The cell seal glass process is encapsulation at the cell level.
Cell seal, a binding substance, is applied around the edges of each cell, which is then dried and heated so that the properties of the cell seal are modified in a way that allows laser sealing later on.
Once the cell seal glass process is complete, additional sealing takes place around the edges of the mother glass. Afterwards, the glass panel with TFT is joined with the cell seal glass. Then, a UV light equipment hardens the sealant around the mother glass so that oxygen and moisture cannot penetrate into the panel and the internal pressure level can be maintained.
Finally, the region of the sealant around each cell on the integrated glass panel is treated with a laser so that the seal can be instantly melted and hardened.
Following these four steps creates an OLED mother glass.
---
*Mother Glass refers to a large piece of glass that lays the groundwork for display production.