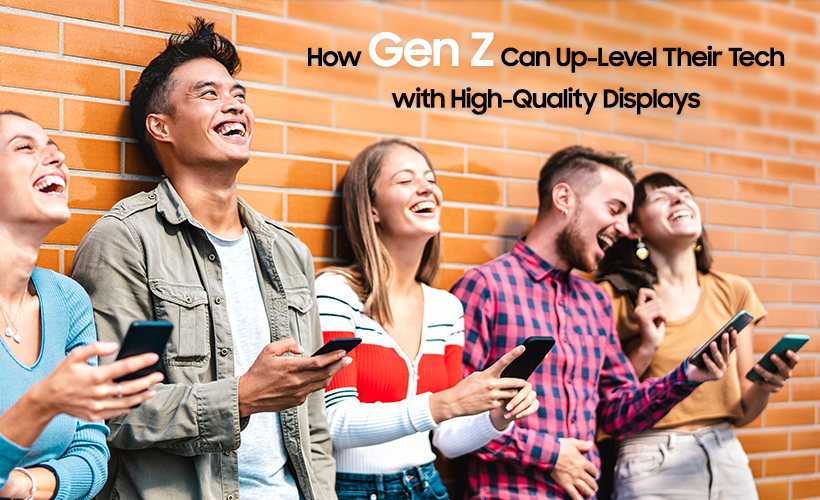 Technology Shaping Gen Z
As the generation that grew up with an abundance of new technology and personal devices available at their fingertips, it's no surprise that Gen Z spends the most time on screens. In fact, 58% of this generation can't go without internet access for more than 4 hours without being uncomfortable and 64% expect the internet to help drive daily decisions[1]. Since technology is ingrained in Gen Z's daily behaviors, high-quality displays are going to be more important to get the most out of their devices, whether they're consuming or creating content.
[1] Source: WPE-Infographic-GenZ-2020-Outlined-v09 (wpengine.com)
Gen Z and Smartphones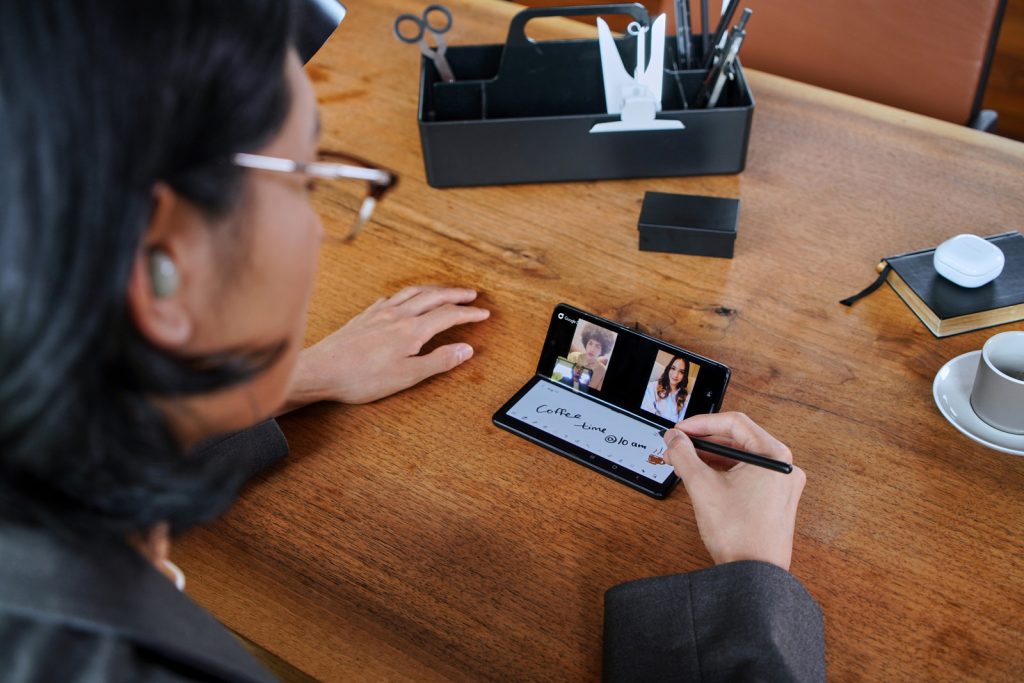 Gen Z predominately communicates through smartphones, staying connected through video chatting and social media. With opportunities to interact with people, culture and trends globally, Gen Z uses smartphones to express their creativity and contribute to change on an unprecedented scale.
As teens, a whopping 95 percent of Gen-Z have access to a smartphone, and 45 percent say they are almost constantly online[2].
Video calls are how Gen Z prefers to spend time with loved ones – especially in a post-pandemic world. With Samsung foldable displays featuring UPC technology, users have increased screen area for a better viewing experience.
Since Gen Z is dubbed the "creator class," larger displays make for an immersive experience perfect for content creation and video consumption. Seamless transitions between multiple applications allow for increased productivity in editing, uploading, and more.
Samsung OLED displays for smartphones offer a high refresh rate up to 120Hz, which delivers a smooth and clear image on the screen. Additionally, Samsung's 'Adaptive Frequency™ technology extends battery life when streaming content by automatically varying refresh rate from 10 to 120Hz for applications used.
[2] Source: Teens, Social Media & Technology 2018 | Pew Research Center
Gen Z's Dynamic Experiences on Laptops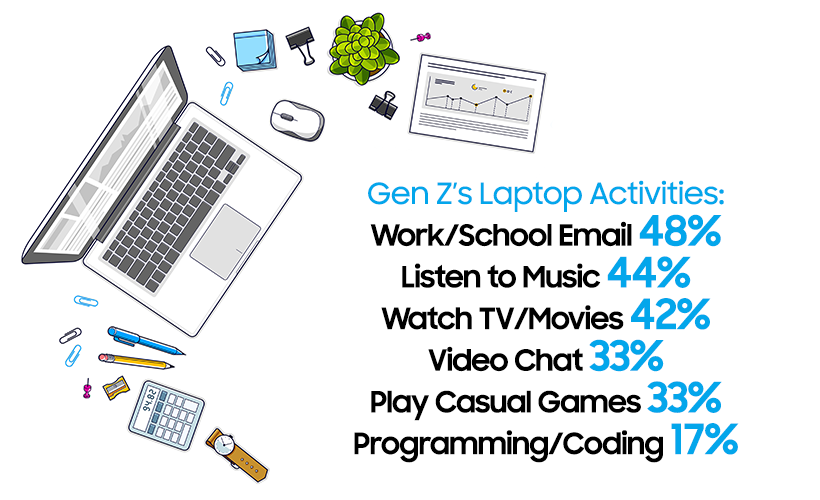 Gen Z uses laptops for a wide range of experiences, including for work and school, streaming movies and TV shows, listening to music, gaming, video chatting and more[3]. Gen Z relies heavily on their laptops to seamlessly access the things most important to them.
Gen-Z expects a responsive laptop with longer battery life, faster performance, adaptive features and seamless connections to other devices for content creation, multimedia entertainment and gaming [4].
To bring these experiences to life, Samsung Display's technologies offer smoother picture quality and reduced blur length to instantly capture every motion of live TV and movies; fuller color volume than LCD and true black, with dazzling HDR for a more vibrant and immersive viewing experience; Dark Mode for additional power savings, so you can enjoy entertainment longer without worrying about your laptop dying; reduced blue light that's easier on your eyes, so you can keep binging your show without compromising your eye health; and the thinner design means your laptop is more lightweight and portable – perfect for at home or on the go.
[3][4] Source: Intel and Samsung Deliver Dynamic Laptop Experience for Gen-Z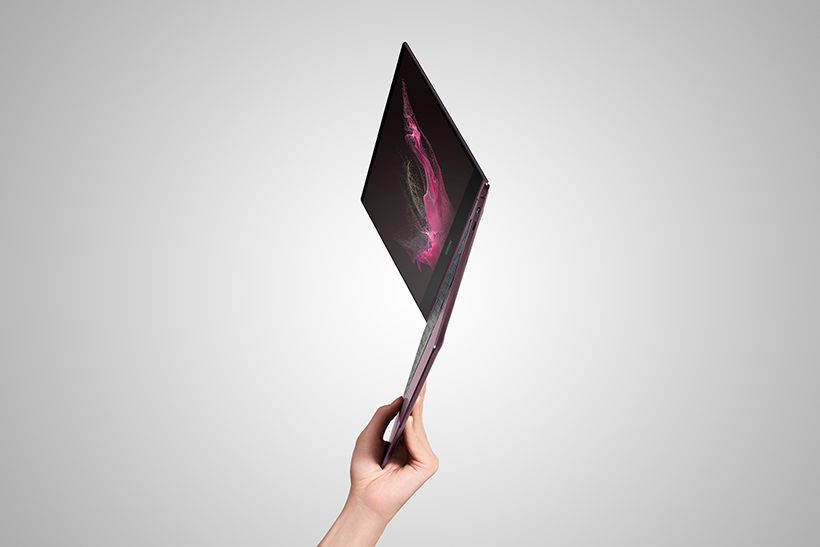 Gamer Generation on the Rise
Gaming is a crucial part of day-to-day social life and identity for Gen Z since gaming today means much more than just playing. Socializing, watching, learning and engaging are also critical.
Gen Z has different entertainment preferences compared to other generations. Among Gen Z consumers in the U.S, video games are the No. 1 entertainment activity[5].
As the main source of entertainment for Gen Z, OLED displays in the latest Nintendo Switch OLED model have become the latest phenomenon due to fast response times and bright highlights. Samsung's OLED technology provides unmatched image quality that pushes boundaries for an immersive and responsive gaming experience.
Additionally, recently released QD-Display monitors have received worldwide recognition since their debut at CES 2022. They've been praised for their outstanding picture quality, high purity and high brightness, and recognized for their exceptional gaming performance, including fast response times, a maximum refresh rate of 175Hz and overall gaming experience.
[5] Source: Digital media trends survey | Deloitte Insights
Find out more
Samsung Display will continue efforts to meet consumers' demands including those specific to Gen Z. Last year, short videos that describe the advantages of OLED were created and have since received many views from those interested in developments within Samsung's OLED technology. We invite you to keep up with the latest Samsung Display news and technologies for innovative displays.