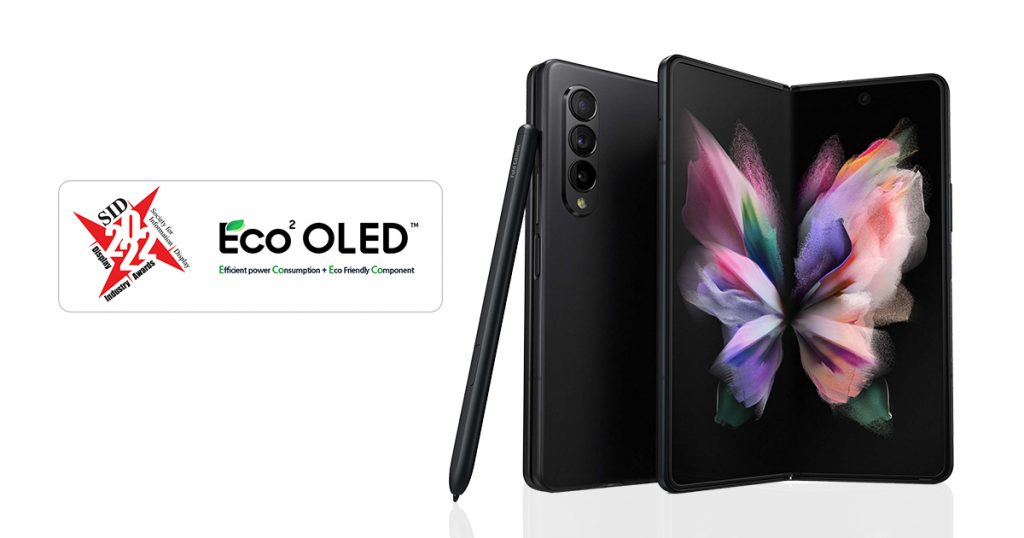 Display Industry Awards by SID
Samsung Display announced that the company was awarded Display of the Year from the Society for Information Display (SID*) for its Eco² OLED™ technology.
*Society for Information Display (SID): an industry organization for displays, generally electronic displays such as televisions and computer monitors.
Display of the Year is regarded as the most prestigious honor among the three Display Industry Awards categories awarded to a display product that had the most significant technological advances or outstanding features in the given year.

With Eco² OLED™ technology, Samsung Display received a total of 5 Display of the Year awards since 2014:
● 2014: 5.68-inch flexible OLED
● 2015: Bended OLED
● 2017: Quad-bended OLED
● 2020: 7.3-inch foldable display
● 2022: Eco² OLED™
What is Eco² OLED™?
"The Eco² OLED™ is a groundbreaking technology that significantly lowers power consumption by improving traditional panel design that has been the industry norm for years."

Sungchul Kim, President and the Head of the Mobile Display Business for Samsung Display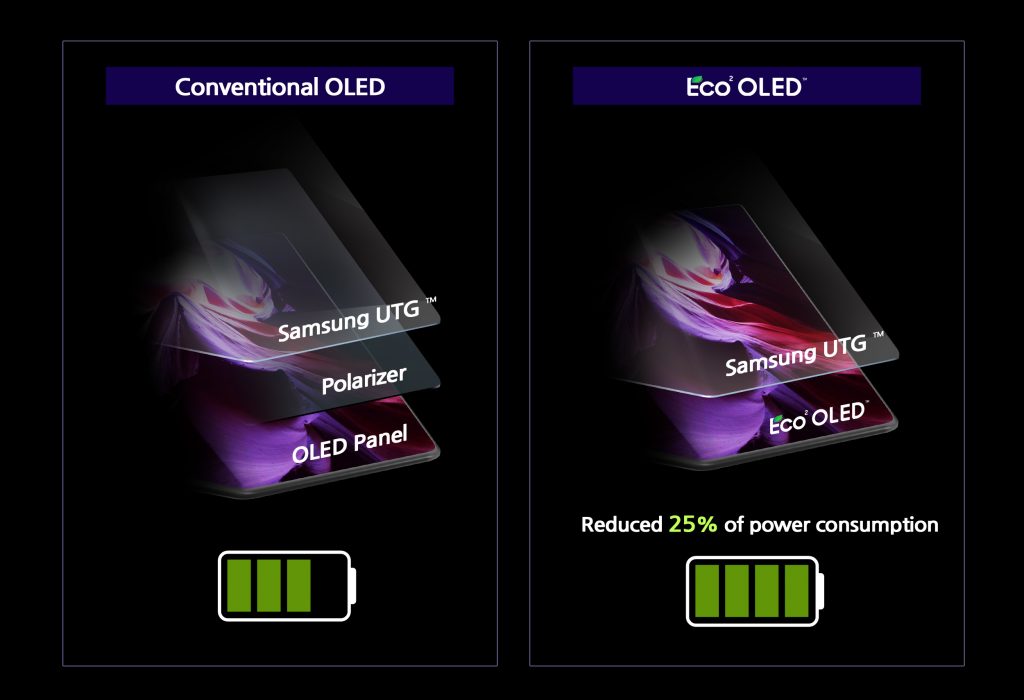 First introduced to consumers via Samsung's Galaxy Z Fold 3, Eco² OLED™ is a first-ever integrated polarizer OLED panel technology developed by Samsung Display. Typically, OLEDs require an additional polarizer layer, an opaque plastic sheet, to prevent the panel from reflecting external light. Without the polarizer, OLEDs experience lower image quality as any external light entering the panel ends up reflecting light by the metal lines in the panel. However, display panels with a polarizer also experience a transmittance rate reduced by over 50 percent, resulting in poor light efficiency. However, Samsung Display's Eco² OLED™ technology improves transmittance rate by 33 percent while consuming up to 25 percent less power when compared to previous versions with a traditional polarizer. This new panel structure innovation also boasts high color reproduction that realizes true-to-life colors on display.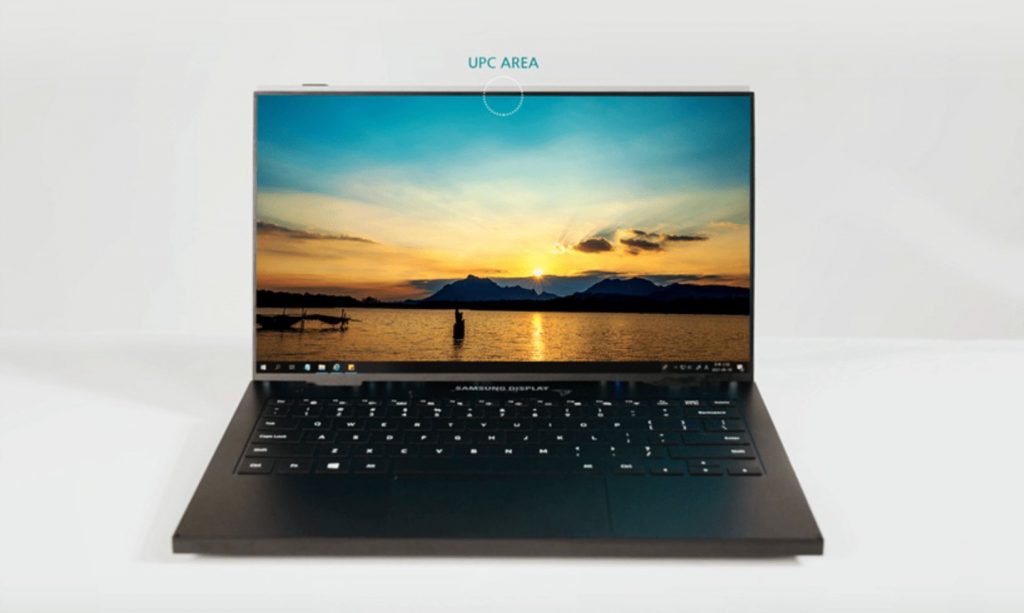 Eco² OLED™ is a term combining 'Efficient Power Consumption' and 'Eco-Friendly Component.' In addition to low power consumption, Eco² OLED™ is also celebrated as an eco-friendly technology. The polarizer layer is made of plastic sheets and most of the plastic components in displays are known to emit volatile organic compounds. Unlike conventional OLED, Eco² OLED™ cuts down on plastic use to provide users with a healthier and more environmentally friendly product. Not only that, it contributes to the commercialization of Under Panel Camera (UPC). By eliminating the traditional polarizer, more light is exposed to the display panel – thereby increasing transmittance on the camera module.
"Eco² OLED™ receiving the prestigious industry award is a meaningful achievement for us. As a company, we have relentlessly pursued innovations in low power consumption by researching and developing organic materials, improving material performance, and redesigning the pixel structure of panels. This recognition will reinforce our commitment to lead eco-friendly display technology development and industry innovations," said Sungchul Kim, president and head of the Mobile Display Business for Samsung Display.
Future of Eco² OLED™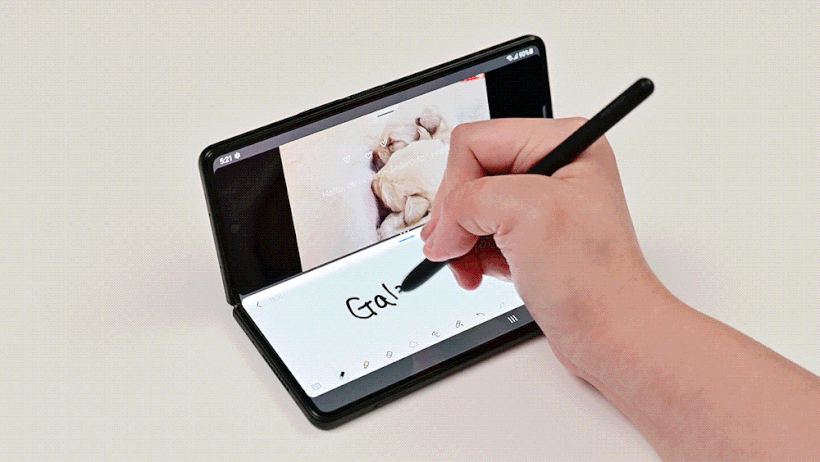 Innovation continues as Samsung Display explores the further application of Eco² OLED™ in IT devices beyond foldable phones. Look out for this award-winning technology in your upcoming tech products in 2022!
For more OLED-related information, please visit our OLED-Era Microsite: