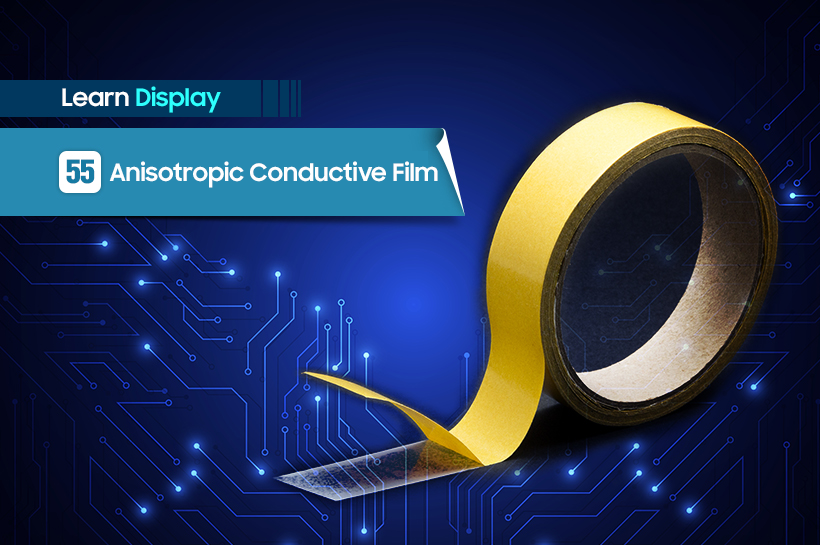 What is an anisotropic conductive film (ACF)? ACF refers to a film-type conductive adhesive designed to have electrical connection only in certain directions. ACF is known to have been first commercialized by Japan's Sony Corporation in 1977, when the company manufactured electronic calculators.
ACF is a thin film that combines an adhesive that does not have electrical conductivity with conductive particles; once placed between the components that are to be interconnected and compressed, ACF ensures that the components are electrically interconnected.
The particles within ACF are minuscule with a diameter that ranges from 3-15µm and account for 0.5-5% of the total volume of ACF. These particles are made by coating polymer particles with conductive metals such as gold (Au), nickel (Ni), and palladium (Pd).
Another key component of the ACF is an adhesive, which can be classified into thermoplastic materials (e.g. styrene-butadiene and polyvinyl butylene) and thermosetting resin (e.g. epoxy resin, polyurethane, and acrylic resin). Between the two adhesive types, thermoset materials are widely used.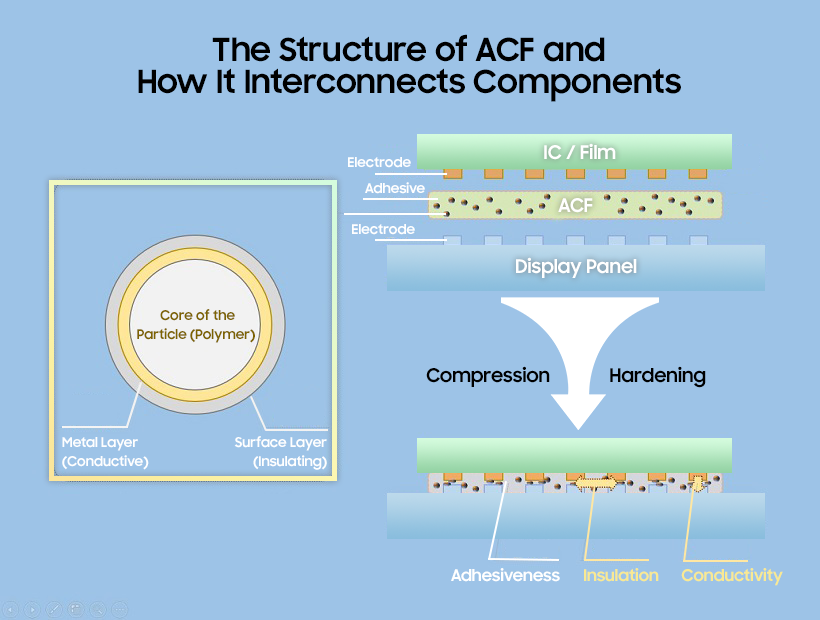 Three main traits of ACF include conductivity, insulation, and adhesivity.
As seen in the illustration above, the main characteristic of ACF is that it is conductive vertically towards compressed areas and insulative horizontally. In other words, electrical conductivity varies depending on the direction — hence the name "anisotropic," meaning having a different conductivity when measured in different directions. ACF is also adhesive, which helps bond the electrical components tightly to ensure the uninterrupted flow of electricity between them.
As ACF is basically an electrical wire in the form of a thin film, it is used for a wide variety of thin and intricate IT products. When manufacturing displays, ACF is used in the module process when display panels are connected to electrical components such as display driver IC (DDI), printed circuit board (PCB), and Flexible Printed Circuit Board (FPCB).