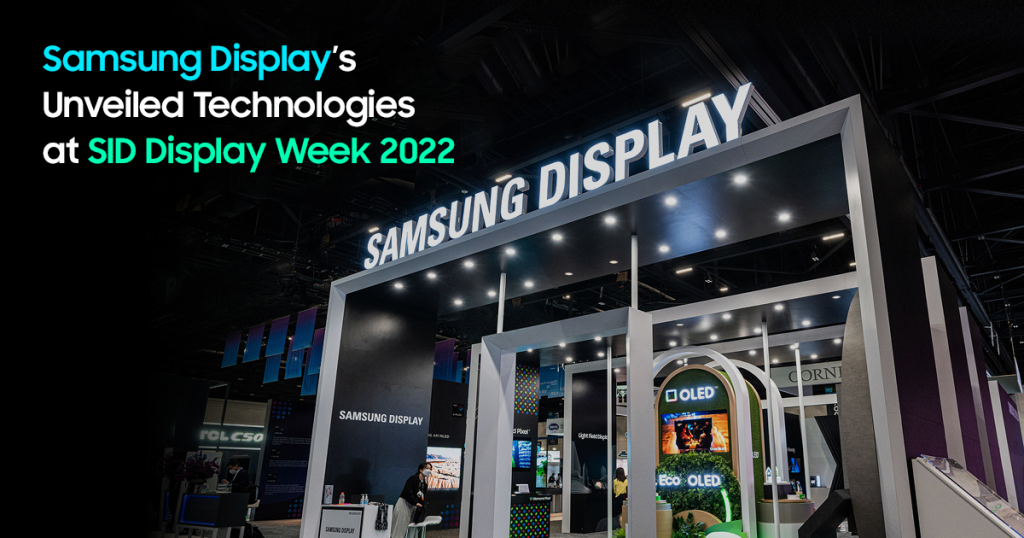 The Society for Information Display (SID), the world's largest display industry organization, launched its "Display Week 2022" event on May 8-13 in San Jose, California. With an overarching theme 'Meet amazing techverse in Samsung Display', Samsung Display's exhibition booth that ran between May 10-12 welcomed visitors with its bustling excitement around future display technologies. From OLED to QD-Displays, meet some of our groundbreaking products unveiled at SID Display Week 2022:
Eco-Friendly Technology: 'Eco² OLED™' Zone
Samsung Display's booth layout is divided into six specific zones. Before entering the "techverse", you'll notice the monumental entrance arch layered with squares, which signifies "doors" to a new era of display. Let's imagine you walked past the arch: Ready to explore the techverse?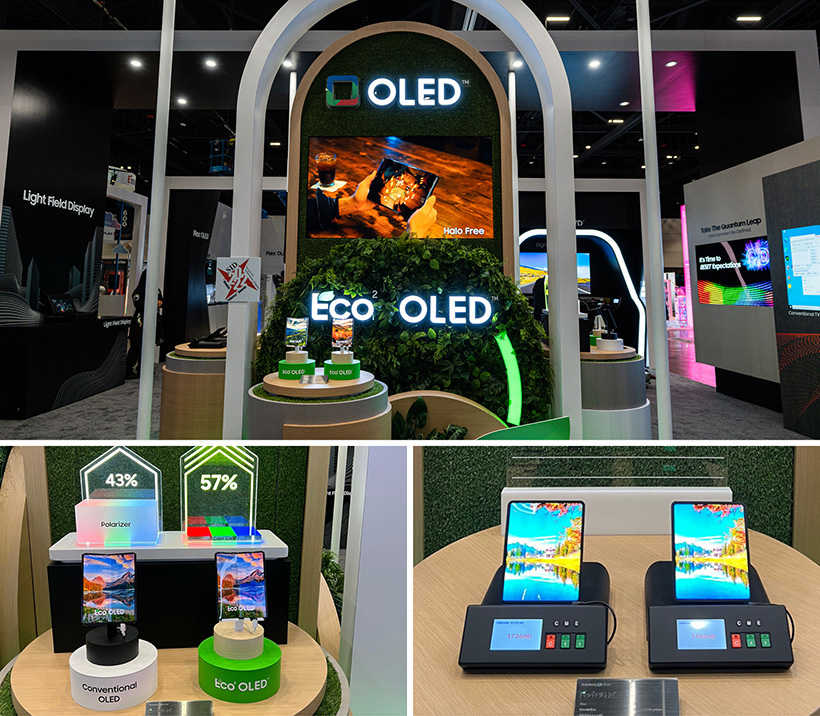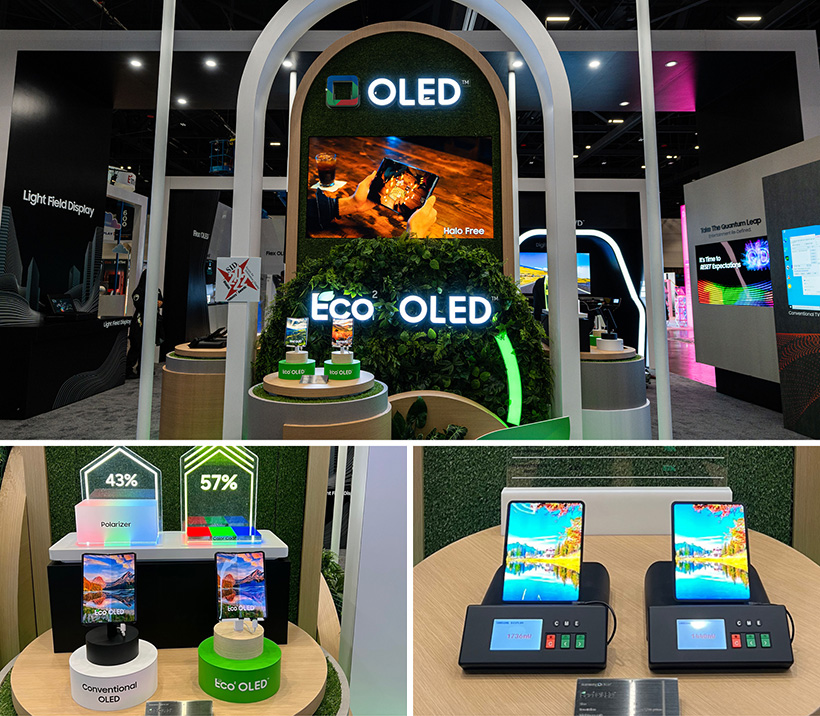 It's hard to miss the splash of green awaiting you at the Eco² OLED™ zone, where you can see eco-friendly OLED products portraying the company's commitment to sustainability. You can visually see the difference between the Galaxy Z Fold3 (featuring Eco² OLED™ technology) and Galaxy Z Fold2 (without Eco² OLED™) here: Eco² OLED™ technology is the first integrated polarizer that eliminates the need for an additional polarizer layer used to prevent external light reflections. This new low-power Eco2 OLED™ improves light transmittance rate by 33 percent, while consuming up to 25 percent less power when compared to previous versions with a traditional polarizer. In other words, this new eco-friendly panel structure makes your screens brighter with less power required. Breezy right?
'Eco² OLED™' Awarded 'Display of the Year'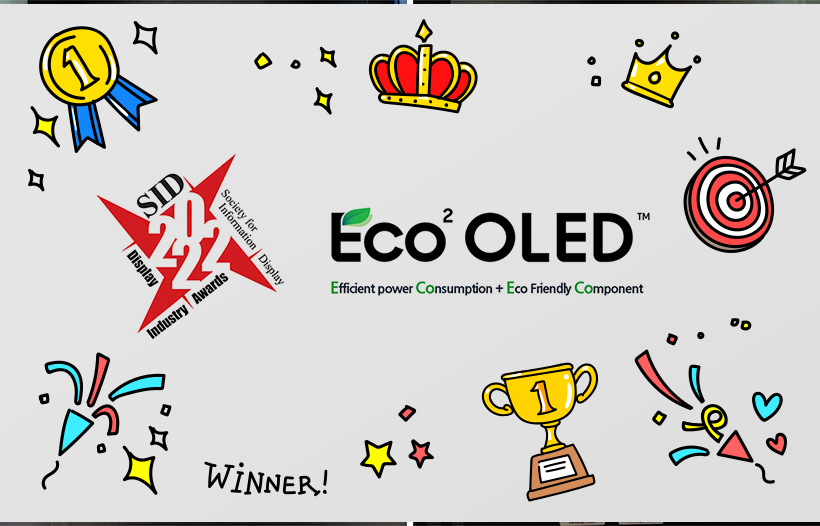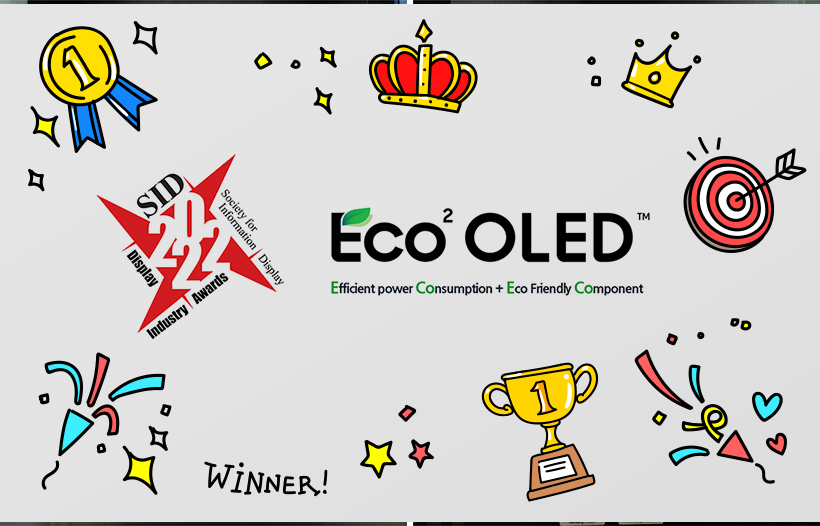 Sustainability is at the heart of Samsung Display's technologies, but so is innovation: The Eco² OLED™ technology was awarded 'Display of the Year' by the Society for Information Display (SID). Display of the Year is an annual recognition regarded as the most prestigious honor among the three SID Display Industry Awards categories.
Foldable display technology continues its rapid pace of improvement.

Society for Information Display (SID)
Debut of Slidable Displays: Flex OLED™ Zone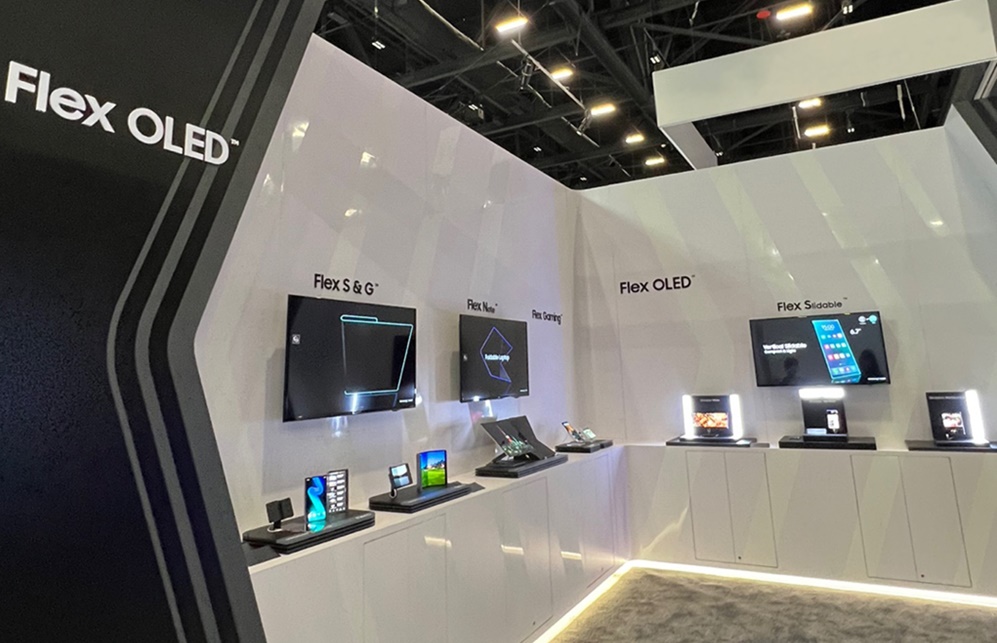 The Flex OLED™ zone will make you stop for a minute with its 'FlexG' (display folding inwards twice) and 'FlexS' (display folding both inward and outward) technologies.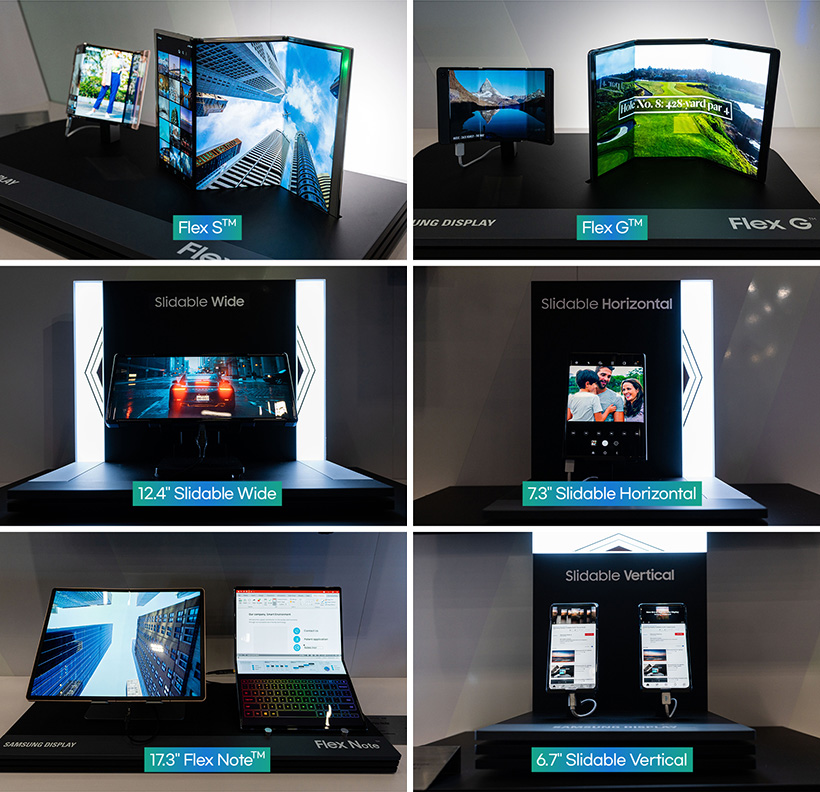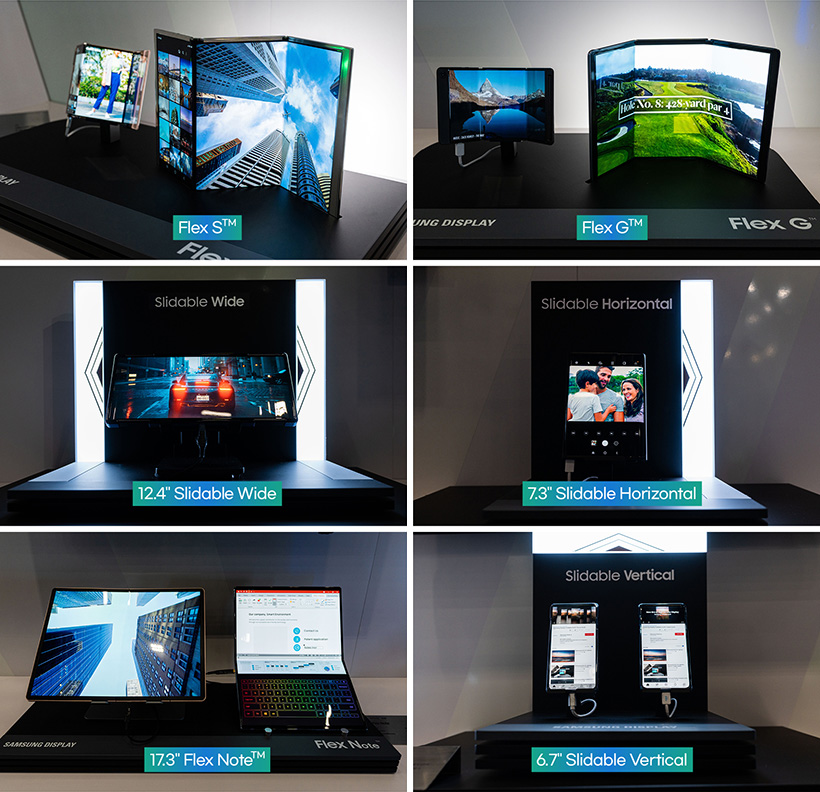 In addition to the flexible displays, Samsung Display debuted slidables as well: Shown for the first time in public, Samsung Display's 6.7-inch 'Slidable Vertical' extends the screen upwards. Imagine surfing the web or working on your documents with this phone! With another slidable technology, the 12.4-inch 'Two-way Slidable', you can either keep it compact as a 8.1-inch device or extend the screen horizontally up to 12.4-inches, making it really enjoyable to watch videos or multi-task!


Next, we have an impressive foldable gaming device guaranteed to charm your curious eyes. With game controllers on both sides, this display folds in and out of sizes designed for your specific needs: You could fold it and carry it around as a smartphone or unfold it completely while gaming. If you hold it vertically, a multi-display setup shows up with the controller at the bottom and screen on top, creating an ideal gaming environment for you to indulge.
Envisioning Digital Cockpit in Future Vehicles: OLED EVD™ Zone


What is a digital cockpit? Step inside the OLED Eco-friendly Vehicle Display (EVD)™ Zone, where you feel like you're behind the driving wheel of an actual car. The digital cockpit provides accurate driving information and settings without any image sticking, but it is also aesthetically astounding. The glass-based OLED multi-screen available in different sizes (7, 12.3, 15.7 inches), this futuristic automotive technology will elevate your driving experience with its true blacks, slim bezels and sophisticated curves.
Eye-Catching Explosion of Color Expression: QD Zone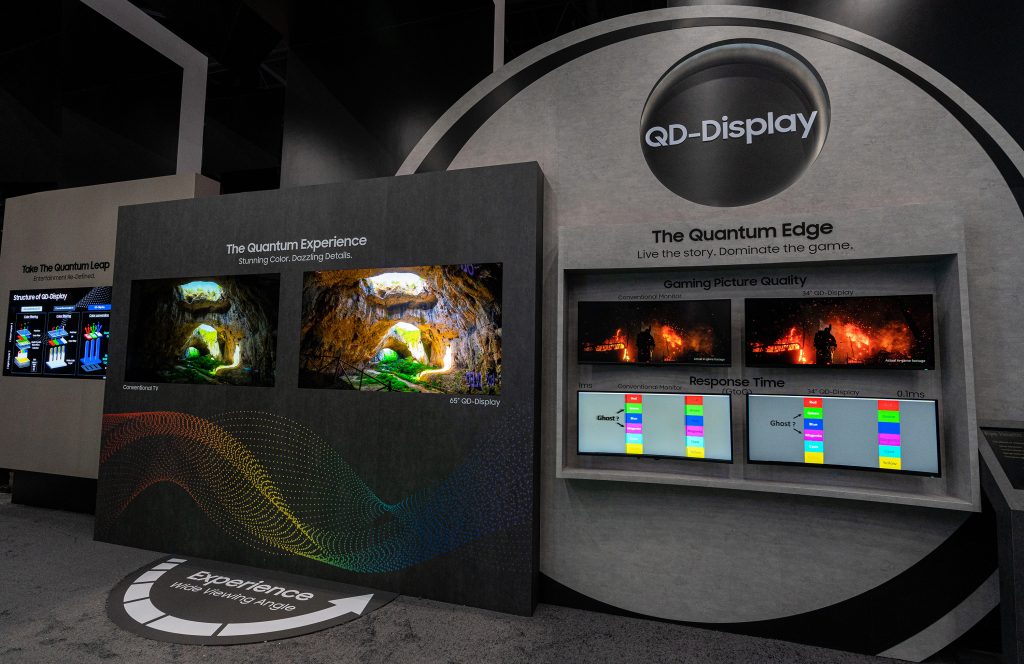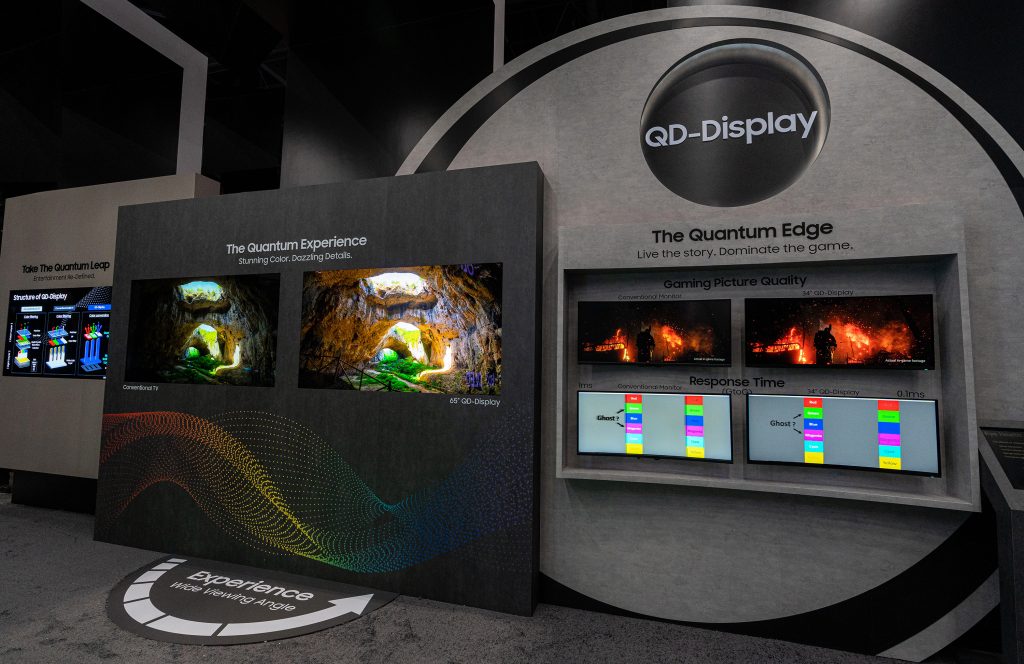 As the world's first self-luminous display with internalized quantum dot technology requiring no backlight, QD Display is a next-generation technology that has been winning positive tech reviews globally. In the QD zone, you'll be able to witness everything exceptional about QD Display with its vibrant color performance (gamut·volume·luminance·gradation) and wide viewing angle.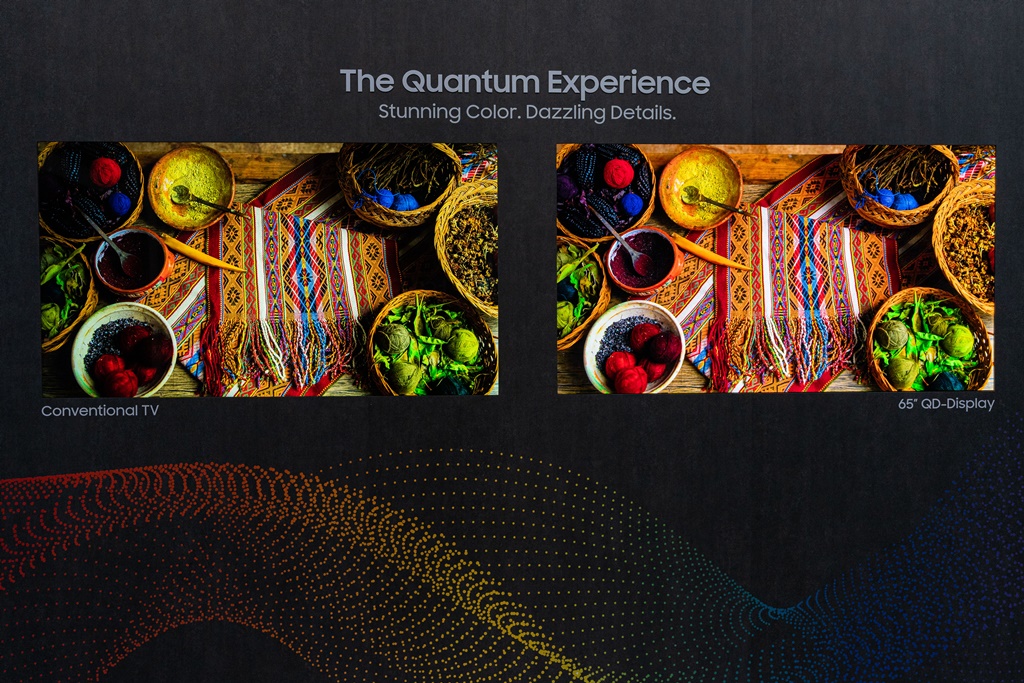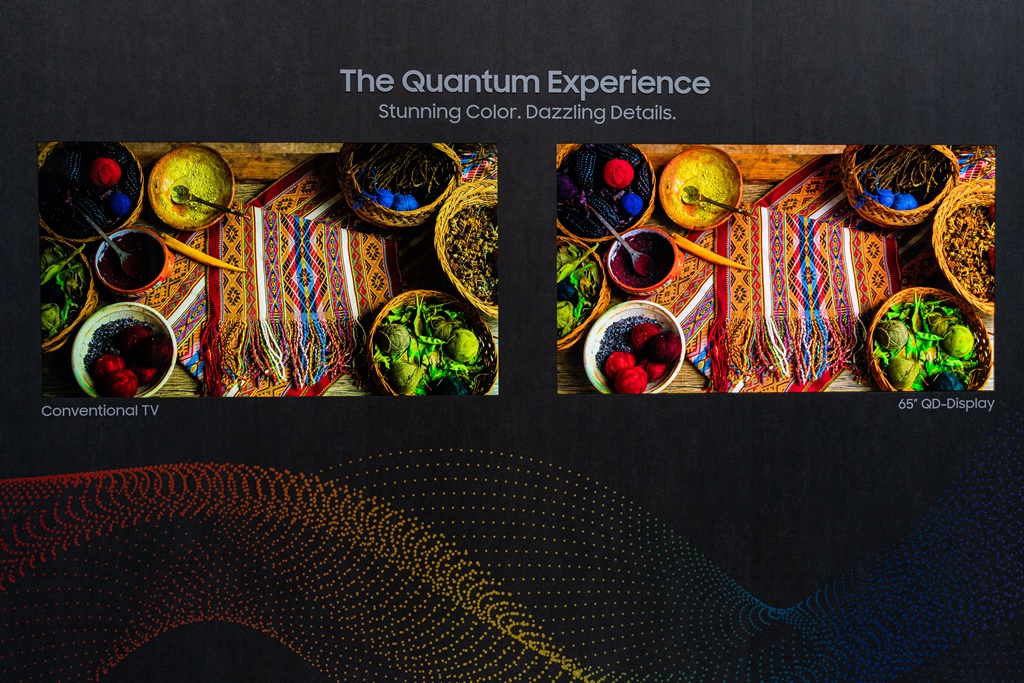 In this zone, you can see for yourself how impressive the technology is by comparing the clear picture quality between 65-inch panels for TVs and comparing the high response time and high refresh rate between LCD and the 34-inch QD-Display monitors. With its excellent color performance, high contrast ratio, and fast response time delivering high-quality resolution, QD-Display is touted as the industry's best gaming performance display that supports the widest color gamut in the industry.
Also of great interest, Samsung Display will display the comparison of the extremely clear picture quality between 65-inch panels for TVs and compare the exceptionally fast response time of QD-Display to the same size of a 34-inch monitor using high-performance liquid crystal display (LCD) technology.
Pixel Structure Behind Future Display Technologies: Diamond Pixel™ Zone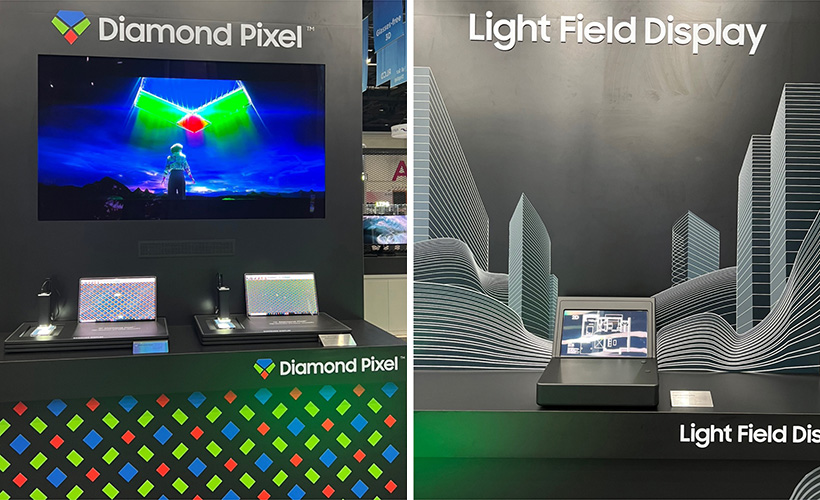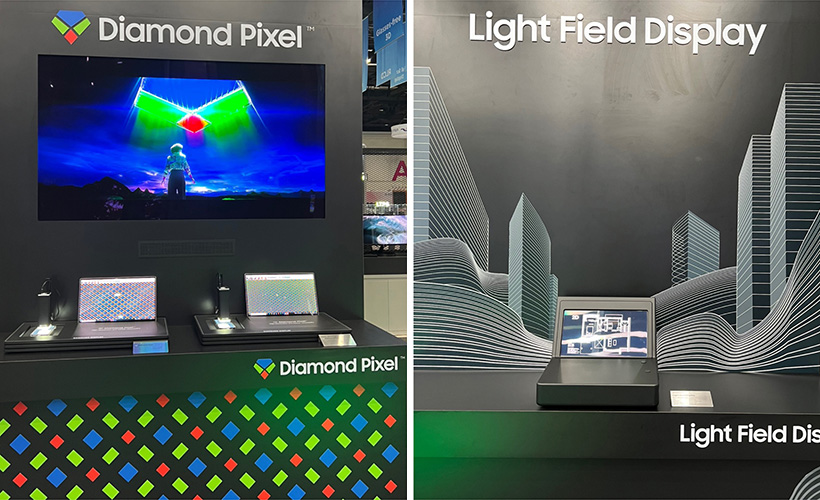 Samsung Display's drive towards perfection can be witnessed even on a microscopic level: Its Diamond Pixel™ technology has been optimized by considering the number, size and even arrangement of pixels on screen. With Diamond Pixel™, you will no longer see blurry lines around the pixels of complex characters or curves.
Next to the Diamond Pixel™, you'll see the 15.6 inch 2D/3D switchable light field display (LFD). In the 3D space, the light field consists of the total of all light rays: When implemented onto OLED panels, glass-free 3D displays are realized. Market feasibility may be tested in the future on markets in need of 3D technology such as education, entertainment, and kiosks in restaurant industries.
World's First 240Hz Variable Refresh Rate: OLED Sync™ Zone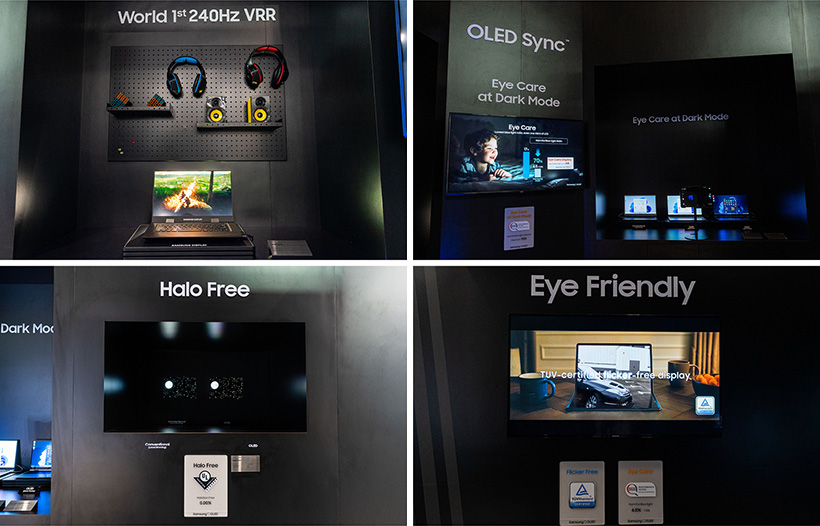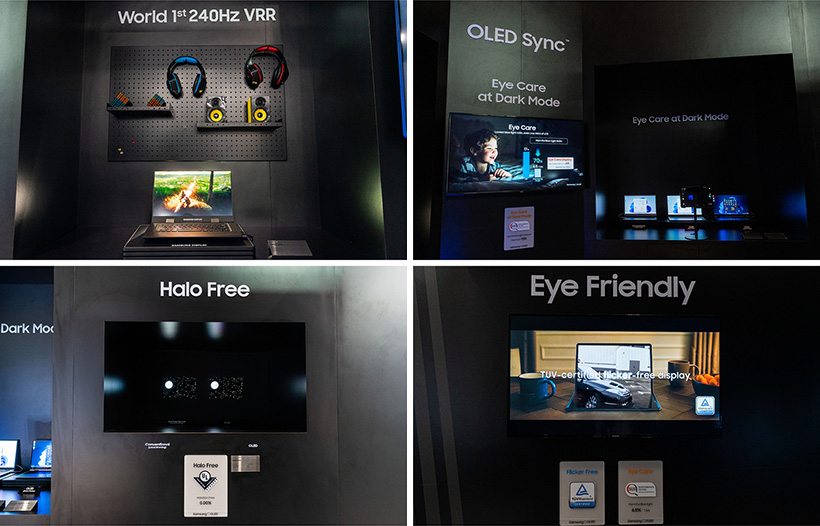 The world's first 240Hz variable refresh rate (VRR) stands out in the OLED Sync™ zone. On this 15.6 inch 240Hz VRR laptop product, you experience a clean and smooth video viewing with minimized afterimage. Its use among gamers is much anticipated as it offers game immersion that draws players into the virtual world.
Last but not least, your walk-through at Samsung Display's booth ends with Eye Care at Dark Mode, Flicker Free, and Halo Free™ technologies exhibition.
Did you enjoy the introduction of our latest technologies unveiled during SID Display Week 2022? We hope you are just as excited about the upcoming trends shared in this article as we are committed to bringing your dreams into reality.