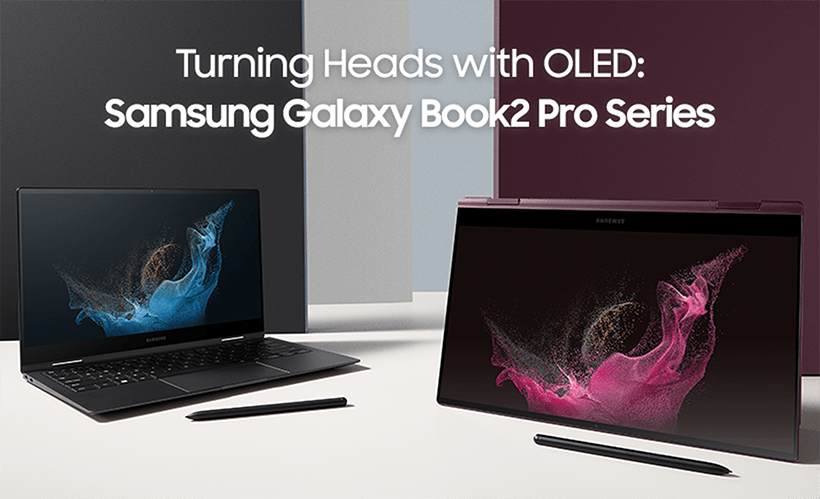 "Samsung Galaxy Book2 Pro 360 has one of the best displays among Windows laptops."

– Gadgets Now –
Meet Samsung's Galaxy Book2 Pro Series
Samsung's Galaxy Book2 Pro series were first introduced during the Samsung Galaxy Mobile World Congress (MWC) Event in February 2022 and they were officially released to the market from last month. With exciting updates, the latest laptop series are turning heads with Super OLED technology.
What You Should Know about the Galaxy Book2 Pro Series
① GREENGUARD-certified OLED displays, ② 120% DCI-P3 color gamut coverage, ③ 1080p FHD webcam, ④ Studio Mode, and ➄ AI noise canceling are some of the many reasons why you'll enjoy the Galaxy Book2 Pro series.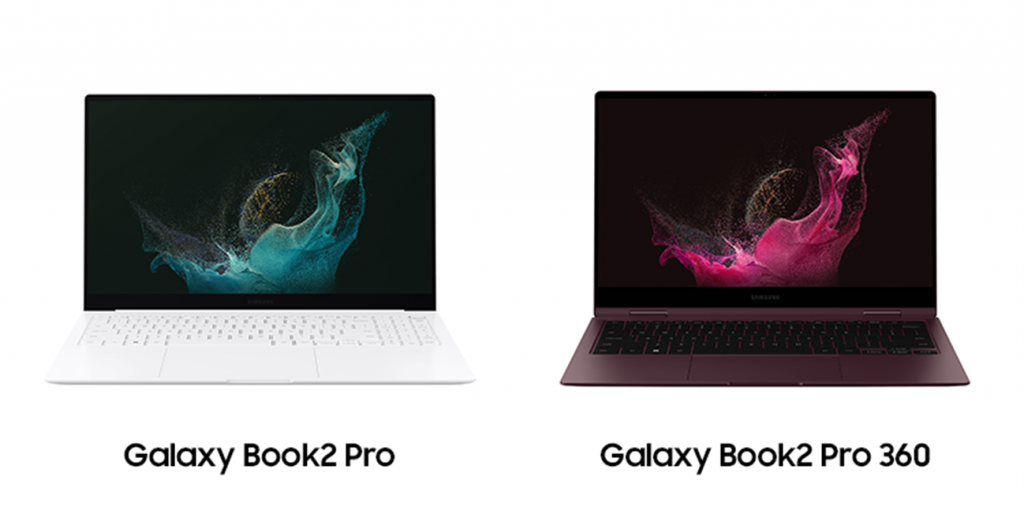 What are GREENGUARD-certified OLEDs? Volatile organic compounds (VOCs) are harmful emissions that infiltrate the indoor air we breathe and for the first time in the industry, Samsung Display's OLED laptop panels achieved UL's GREENGUARD Gold Certification for low chemical emissions such as VOCs. Samsung OLED also emits one-third less harmful blue light compared to LCD displays.
OLEDs are not only environmentally friendly but also beautiful. Samsung's OLED provides 120% color volume, which is 1.7 times better than existing LCDs. If you want to enjoy HDR to its fullest, the OLED displays on Galaxy Book2 Pro series are your best bet.
The laptops' front-facing camera sports a FHD webcam with 1080p resolution. When you're using the camera, it will automatically activate Studio Mode with various features that ensure high-quality call experiences. If the FHD webcam and Studio Mode take care of the visual aspects of any incoming video calls, you can depend on the Galaxy Book2 Pro series' bi-directional AI noise canceling to get rid of any distracting noise that you or other video call participants may be facing.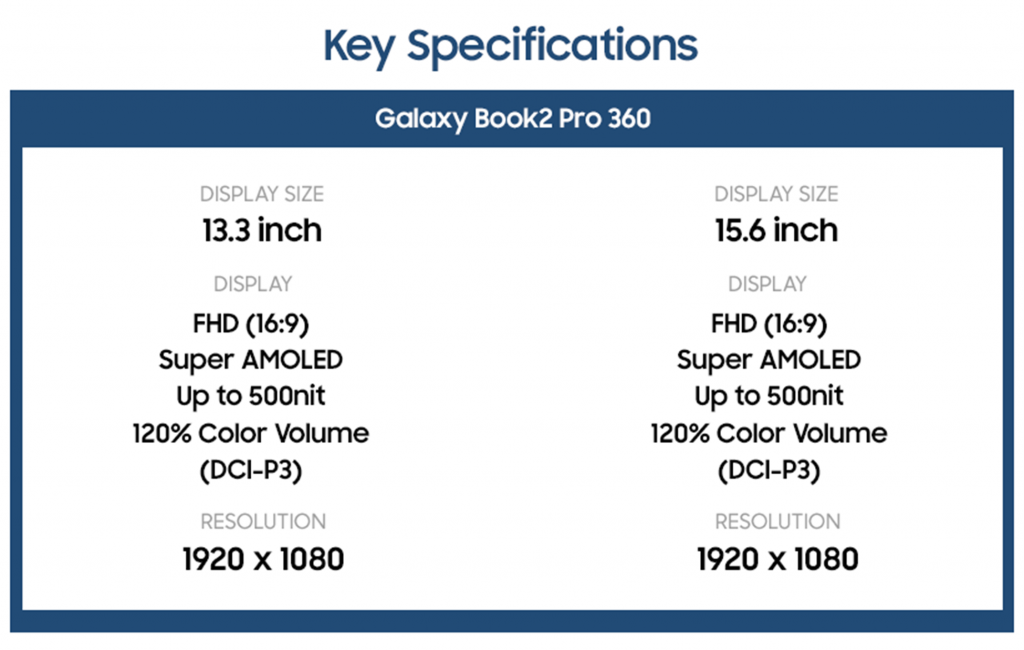 The consensus is that the Galaxy Book2 Pro series are high-end thin-and-light laptops perfect for upcoming meeting calls on your work calendar. You'll be impressed with their agility and connectivity in that ultra-portable form factor.
A Revolution in Resolution
"I love having the OLED display on my phone. I'm so happy Samsung's bringing their technology to their laptops because it just looks fantastic," according to tech reviewer Tim Schofield. He shares the earth view from space as an example of true blacks experienced with OLED in this video:
Tom Honeyands, one of UK's top technology YouTube channels, noted in his video how Samsung Galaxy Book2 Pro 360's 500nit OLED screen enables incredible contrast and deep inky blacks. In addition, he found the laptop interesting for the following features: Thin and light chassis, the 12th gen chips, the superfast RAM, a great webcam, top-notch connectivity and security, and a nice multi-device ecosystem.
Jason Cipriani by CNN Underscored said that he connected the laptop to an external 4K monitor, and "Even though the picture on the higher-resolution display should have looked better, I found myself moving windows back to the laptop's display because it had a better look to it."
Sean Riley from Laptop Mag noted that the OLED technology "Brings out the best in whatever content you put on screen." He used the trailer for Stranger Things season 4 as an example of how the display "handles the often chaotic imagery beautifully".
Perfect Grab for Everyday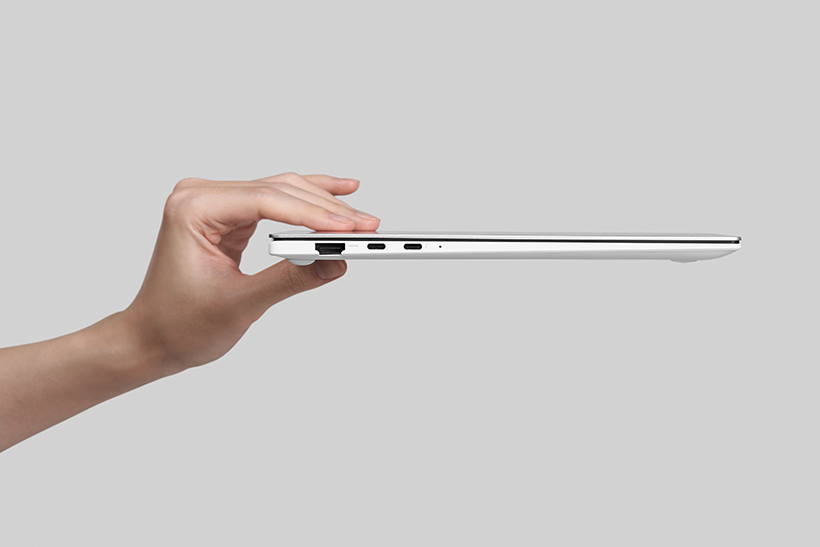 What is your first impression of Samsung's Galaxy Book2 Pro Series? If the words "light-weight", "thin", and "OLED" come to mind, you are not alone. The Galaxy Book2 Pro series are perfect for on the go. The choice is either to flip it with Galaxy Book2 Pro 360 or to go light with Galaxy Book2 Pro, weighing less than 2 pounds! Both options come with a stunning Super OLED display for you to enjoy superb contrast, wide color gamut, and a high peak brightness of 370 nits.
For more details about OLED, visit our Samsung Display OLED Microsite: