Projected to hit $9.2 billion in 2022, the movie industry in North America is a driving force with creativity and innovation for global movie productions. Whether it be 3D movies or AI-driven moviegoer behavior data analytics, the film industry bustles with technological advancements. That is why Samsung Display prepared a special Demo called 'Hollywood Reveal' from May 17th to 20th at the Sheraton Universal Hotel in Los Angeles to highlight how film industry leaders can envision the future of movie productions with the latest QD-Display and OLED technology.
Who Attended the Event?
A total of 12 major movie production companies such as Disney, Universal Studios, Warner Bros, and Netflix attended Samsung Display's Hollywood Reveal Demo. After experiencing QD-Display demo sessions, the industry experts shared valuable insights about their current pain points and expectations from QD-Display. SDC expects to build upon this foundation and activate more collaboration opportunities with the studios and professional content creators.
This event allowed the film industry leaders to experience the representative products of Samsung Display: QD-Display and Foldable OLED. For the QD-Display, it was exhibited under two scenarios. As a production team creating the movie and as a consumer watching the movie at home. The event tried to re-create both viewing environments with a 34-inch QD-Display monitor* and 65-inch QD-Display TV.
The rich color expressions displaying over 90 percent of the BT.2020 color space, the Widest Color Volume (Over 100% of DCI P3), and perfect HDR performance delivered by QD-Displays impressed the attendees.
*A 34-inch LCD high-end gaming display was also prepared for attendees to visually compare the performance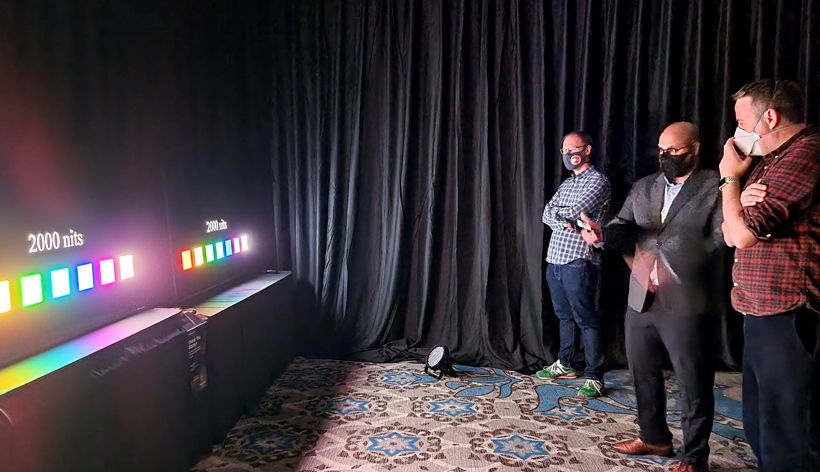 QD-Display: Exceptional Color Gamut and Perfect HDR Performance
"Image Quality of the QD-Display is amazing, the clarity and depth are very impressive" was the common reaction from the industry experts who participated in the 'Hollywood Reveal' event. They also added:
"Finally, a display that delivers the brightness, color, and deep blacks! I am impressed with the color accuracy and uniformity. As content creators, QD-Display delivers a new level of performance with its immaculate viewing angle, vibrant colors, and HDR."
"QD-Displays make the details come alive, you feel more depth and the images look sharper and clearer with its immersive image quality enhanced with deep blacks and bright luminance."
"QD-Displays comes closest to the professional reference monitors I use in the studio, the color vividness is better than anything I have seen."

QD-Display reaches 120% of the DCI-P3 color volume and up to 90% of the BT.2020 color space, the widest range provided among commercialized panels in the market currently. Engineered as a True RGB (without any white boost) allows QD-Display to express a broader range of colors: QD-Displays provide some of the most extensive color gamut coverage among current displays. The ability to recreate more colors across the HDR range means that the images look more real and closer, almost life-like for users.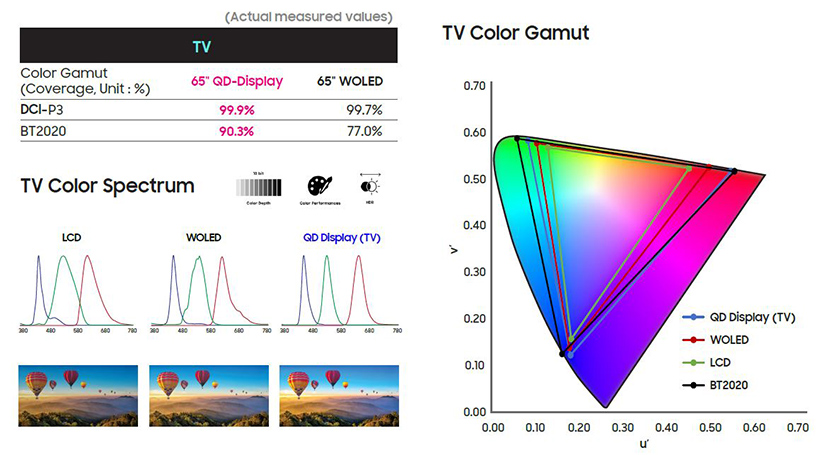 HDR (high dynamic range) is one of the most critical display performance metrics that determine the user experience. The wider the range between the brights and blacks, the better the experience. QD-Display offers industry-leading deep black (under 0.0005 nit) and also extends peak brightness capability (1,500 nits).
With QD-Display, your HDR content truly comes to life with all the bright highlights, smooth color gradients and deep blacks, ensuring that you don't just SEE but LIVE the story!
QD-Displays' performance and capabilities have been appreciated by the display industry leaders. Samsung Display's QD-Display recently won the "Best New Display Component" People's Choice Awards at the 60th Society for Information Display (SID)'s Display Week 2022.
Innovative new form factors with Samsung OLED
"Flex S and G products have full potential to unleash the new world where people enjoy high-quality content anywhere and anytime, leveraging the large screen."
Samsung Display also showcased new OLED form factors and innovations in the mobile and laptop display segments. Flex S and Flex G, which are new form factor display panels introduced during CES 2022, were available as well. Folding both inward and outward, Flex S, and Flex G which folds inwards twice, are expected to enlarge your bag capacity. With the commercialization of Samsung's Galaxy Fold series, these multi-foldable display panels are seen as the next evolution of foldable smartphones.

Event participants were also invited to see the full capacity of Full HD with a side-by-side comparison between a 13.3-inch FHD conventional display and OLED laptops. OLEDs outperform conventional displays by providing true blacks by turning off pixels independently, High Dynamic Range (HDR) with a 1,000,000:1 Contrast Ratio, and true-to-life colors with a cinema-grade 100% DCI-P3 color gamut. In the event, some of the industry experts said that they are already aware of the superiority of OLED after experiencing an OLED laptop for enough period of time.
There has been a shift in consumer behavior over the years, with more people relying on IT devices at home to stream movies. In fact, 36% said that they would much rather stream the film at home than visit a cinema in one study. Understanding this consumer behavior has led Samsung Display to develop Eye Care certified OLED technology with one-third of the blue light emitted by conventional displays.
Displays' Future in Movie Production Industry
QD-Display's excellent viewing angle, high contrast ratio, and wide color gamut as well as the innovative foldable OLED technologies were some of the many traits observed by participants during Samsung Display's Hollywood Reveal event. With more interactive discussions and long-term collaborations, Samsung Display will continue to build on relationships with movie industry leaders and empower them with technology that delivers phenomenal visuals on screen.