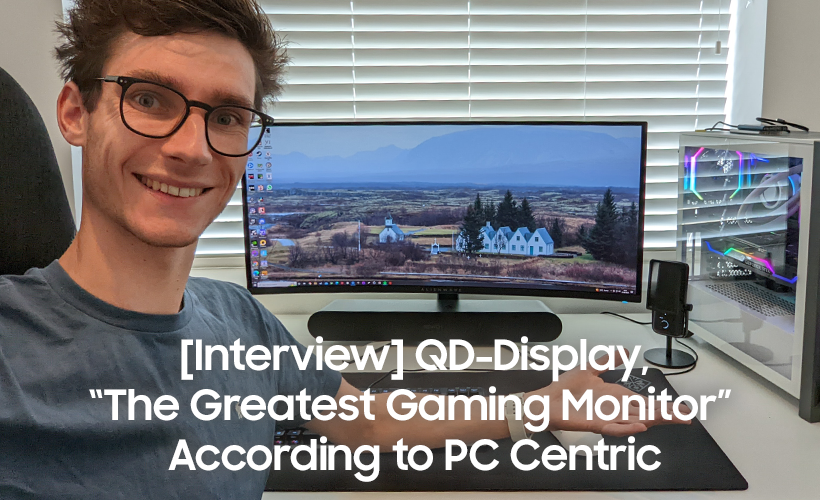 Ever since Samsung Display unveiled 'QD-Display' as its next-generation TV technology during CES 2022, it has captured a lot of attention from not only tech media but also gaming users. Meet Marcus Cole, also known as PC Centric on YouTube: This British PC gaming reviewer has reached people all over the world with a total of 87+ million views – his recent video "The Greatest Gaming Monitor ON THE PLANET 😱 – Alienware AW3423DW QD OLED Gaming Monitor Review!" garnering 80+K views. What did he think about the world's first Quantum Dot Display gaming monitor? We also wanted to know all the details and here is our interview with Marcus:
1. 87 million views! That's a lot of YouTube views: Can you introduce yourself to Samsung Display's global audience?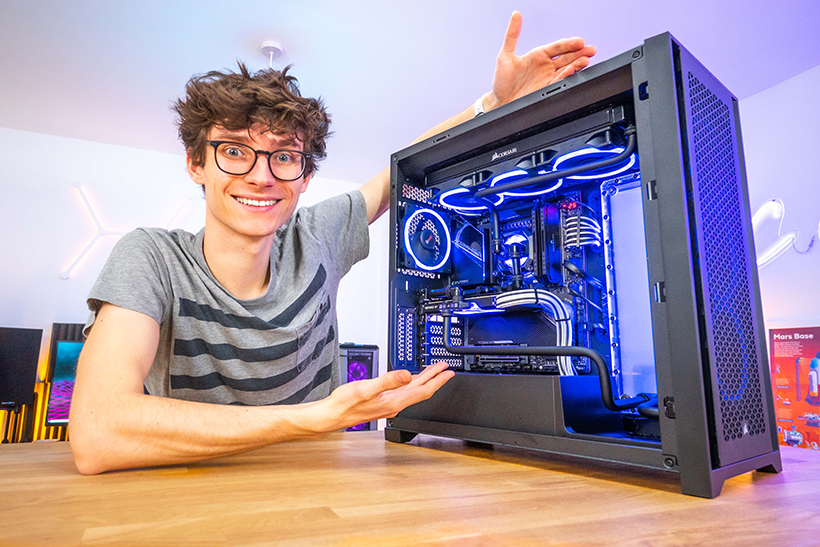 Of course! My name is Marcus Cole, better known on the Web as PC Centric. I have been creating for 10 years on YouTube now, and have built a lovely little community all around PC Gaming.
2. As a PC gaming content creator, how important is a monitor for PC gaming?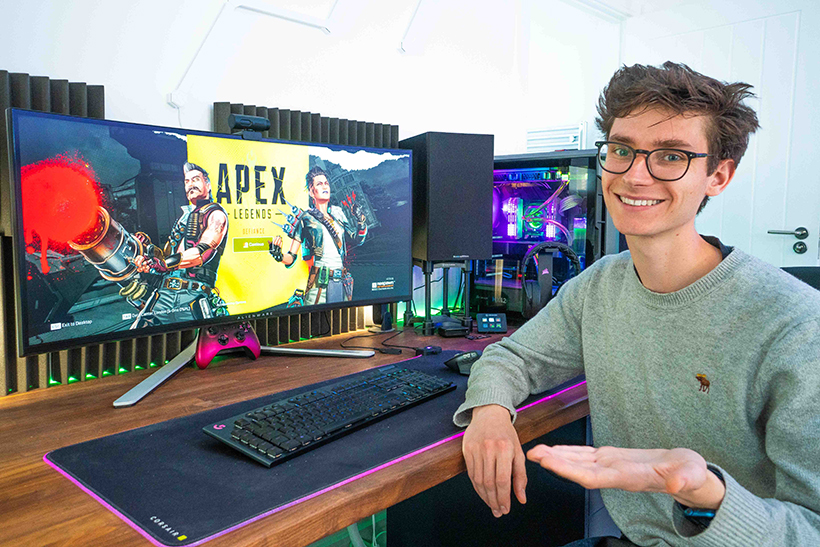 Oh massively – you can spend thousands on a gaming computer, but if you play games on an old 1080p 60hz screen, you're missing out on a lot! You spend all your time looking at the monitor, so please prioritize it!
3. In that case, can you tell us what makes a good PC gaming monitor?
Anything that brings you closer to the game – so wider, bigger sizes, higher resolutions, top class color reproduction & contrast, and most importantly, response time and input lag.
4. Can you explain what QD-Display is to other gamers and what your first experience was like?
We've had OLED screens in phones for years now, but we haven't really seen any on PC monitors due to costs and some worries compared to backlit LCD panels.
QD OLED takes the already brilliant OLED technology, and adds a thin layer of quantum dots, which – put simply; allows for brighter images and a wider color gamut, whilst still maintaining true blacks without any zoned haloing or blooming.
5. What was the most surprising thing about QD-Display in person?
The Contrast! I have used A LOT of gaming monitors over the last 10 years, but seeing the QD OLED technology in person is truly next level – the realism of HDR images in CD PROJEKT RED's Cyberpunk 2077 is just mesmerizing. After I finished my unboxing video, I just started at it for a good 5 minutes – it really is breathtaking!
6. For HDR on QD-Display, you said "This is what the next generation of PC gaming is supposed to be." Can you explain what you mean by this?
HDR gaming is a tough one to describe to people who haven't experienced it, as in a nutshell, it's the fusing of darker shadows, brighter highlights, and a wider gamut of color. Most monitors these days "accept" an HDR signal, but don't get bright enough to show the images properly, and end up a bit washed out.
QD OLED doesn't suffer this, and provides perfect contrast between the dark shadowy alleyways, and the super bright neon lights. And it does this without needing expensive backlighting systems like LED/LCD, that even now, still can suffer from blooming artifacts and slow dimming reaction times.

7. We spotted you playing various games like Cyberpunk 2077 and Age of Empires in your Alienware QD-OLED Gaming Monitor Review videos. Which games did you enjoy playing the most on QD-Display? And Why?
Oh Cyberpunk for sure; but everything has been excellent in its own way. The beauty of QD-OLED technology is just how quick the pixels are to refresh, resulting in more motion clarity, and a lot less blur to moving images.
This makes playing multiplayer games like Apex Legends or Fortnite an absolute delight, and at high frame rates, this could give you the edge on the battlefield for sure.
8. Did you know that QD-Display certified by SGS as "Eye Care Display" for its low emission of harmful blue light? How did you feel after playing games for a long time?
I can't say I did! But certainly no noticeable fatigue – I was on Call Of Duty for a good few hours last week, and happily went to bed feeling fresh – despite the fact it was 2am!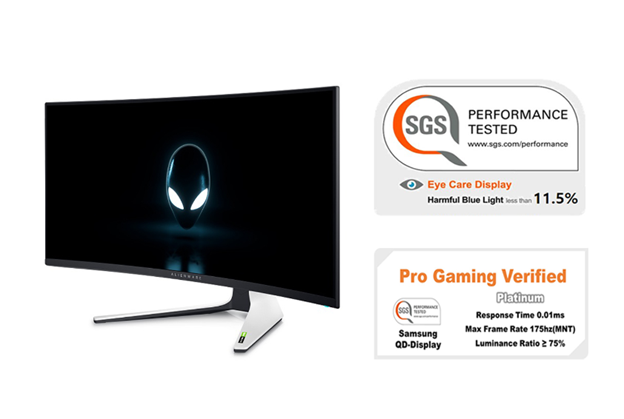 9. Samsung Display's QD-Display has several top advantages; ① True-to-life Colors ② Fast Response Time ③ Ultra-wide Viewing Angle ④ Low Blue-light. In your opinion, what makes QD-Display stand out from other gaming monitors and why?
It's the combination of EVERYTHING. There are other monitors out there that are perfect for one particular thing – huge size; super high refresh rate – the brightest HDR possible… but all of these come at the cost of something, and QD OLED is the only technology that seems to be good at everything all at once. And nothing can touch that OLED contrast.
10. You kindly shared that QD-Displays are "The Greatest Gaming Monitor ON THE PLANET" in your review video. What are the key traits you wish people would remember about QD-Displays?
I did – and I stand by it. The QD OLED panel offers an easy to use HDR experience, proper brights, inky blacks, and a response time that is as blur free as I've seen. If you want the ultimate experience in Monitor Tech right now – QD OLED is your best bet!