Towards Unlimited Future of Display Beyond LCD and OLED
Samsung Display's presence in the display industry for the past 10 years contributed to numerous innovations: There has been a major form-factor evolution for OLEDs (Glass-based OLED ➤ Flexible OLEDs ➤ Foldable OLEDs) as well as the mass production of QD-Displays stirring up the large display market. What else has happened since Samsung Display's establishment on July 1, 2012 under the vision "Display beyond Imagination"?
#1 Establishment of Samsung Display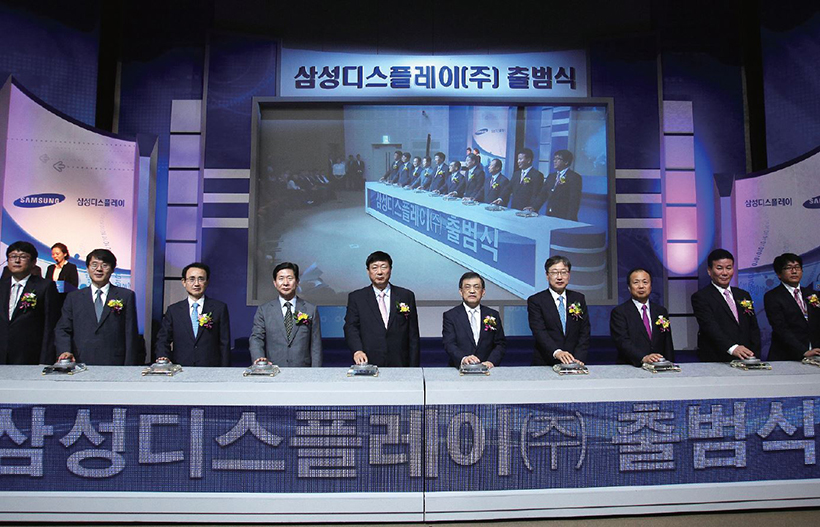 Samsung decided to establish a separate entity for the display industry under the Samsung umbrella in preparation of bigger and bolder future plans. On July 1, 2012, Samsung Display was officially established by combining Samsung Electronics' LCD Business, S-LCD Corporation (manufacturer of amorphous TFT LCD panels) and Samsung Mobile Display (Samsung's OLED arm which led the small and medium sized display industry with the world's first OLED mass production).
Under the vision 'Display beyond Imagination', Samsung Display focused on the research/development/sales of LCD panels for large TVs and later expanded its business to OLEDs. With its unparalleled quality and technology for LCDs and OLEDs, the newly formed Samsung Display quickly ascending to become the world's largest display company.
"Our combined strengths will guide Samsung's display business through the next decade and longer, in turning the many synergistic benefits of the company into far-reaching, tangible results."

Oh-hyun Kwon, Previous CEO of Samsung Display (2012)
#2 A Paradigm Shift Towards Flexible OLED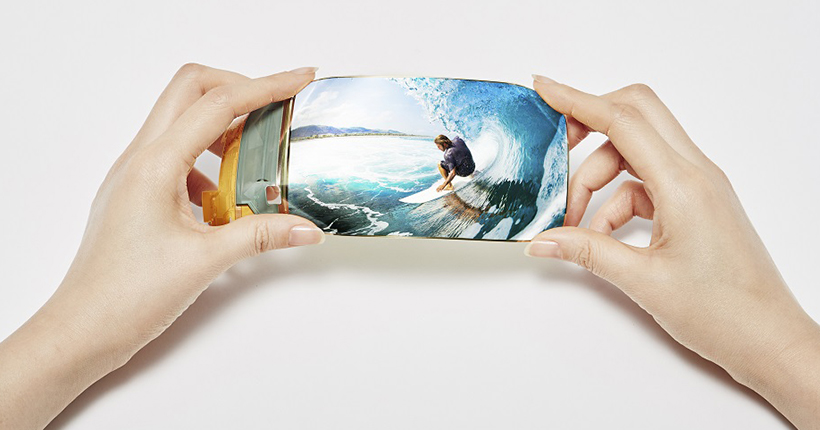 With mobile devices, OLEDs gained momentum in replacing LCD screens thanks to the globally acclaimed Samsung Galaxy smartphone series. At CES 2013, Samsung Display introduced the flexible display that expanded people's imagination and expectation of smartphone screens from rigid to flexible OLEDs.
Unveiled in October 2013, Samsung Galaxy Round was the first mobile form-factor to feature the flexible OLED display, which began mass-production in the same month.
Samsung Display's flexible OLED technology development took advanced stages ranging from dual edge to quad-edge flexible OLED display that can be bent on all sides. Such efforts helped the company win the Display Industry Awards at SID Display Week 2017. In addition, flexible OLED display experienced a market share of 51.1% in Q2 2017 – surpassing the portion of glass-based OLEDs for the first time (Source: IHS Markit).
#3 Foldable Displays Becoming Mainstream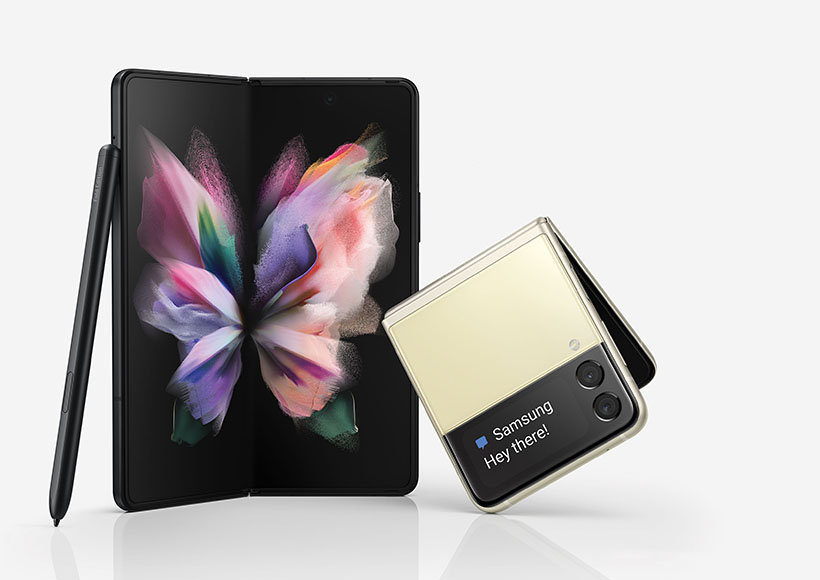 After the successful launch of flexible OLEDs, Samsung Display began showcasing its foldable display technologies. Realization of foldables relied heavily on finding the right material for cover windows protecting the panel screens. Polyimide (PI) was used to replace the protective glass in existing smartphones for foldable devices and Samsung Display began its mass-production of foldable displays in April 2019. By September 2019, foldable screens became publicly available with the release of Samsung Galaxy Fold. Samsung Display's relentless drive towards next-generation form-factor innovation was met with warm and enthusiastic encouragement, resulting in the company winning the Display of the Year Award at SID 2020.
"Foldable display is the result of valuable resources accumulated for a long time by our company, such as R&D and manufacturing. We must continue to innovate with state-of-the-art technology."

Dong-hoon Lee, Previous CEO of Samsung Display (2019) – [1]
Development of Ultra Thin Glass (UTG™) in 2018 led Samsung Display to take things one step further from its use of polyimide cover windows. Samsung Display's UTG™ featured in the clamshell-style smartphone Galaxy Z Flip for the first time was 30μm, leveraging the advantages of glass-like characteristics and flexibility at the same time. This new technology enabled even more variations of foldable devices!
#4 Mass Production of Large QD-Display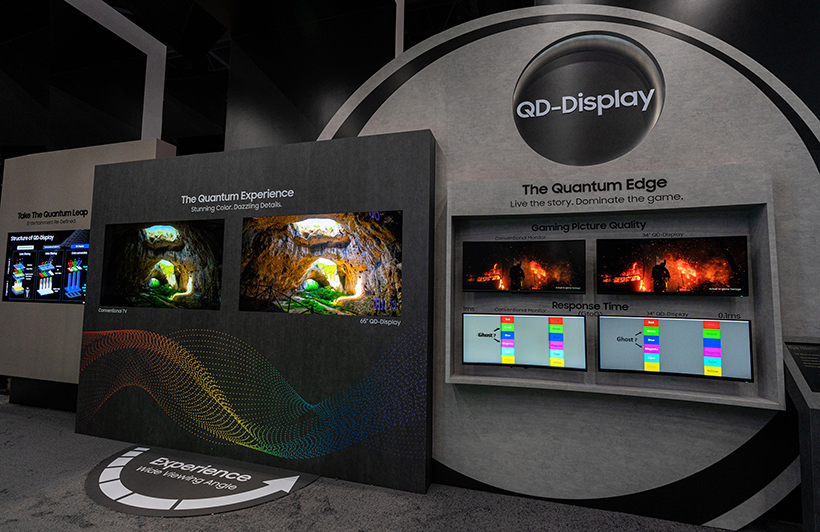 Samsung Display announced that it will invest $10.9 billion (13.1 trillion won) in Quantum Dot (QD) Display in October 2019, highlighting a future of another groundbreaking display innovation.
QD-Display offers one of the broadest color expressions among existing displays thanks to its high color purity with RGB. High color purity is achieved with the use of blue light generated from quantum dot particles, which have very high color purity: The red and green quantum dot that produces color by receiving the blue light also produces color light with high color purity.
Samsung Display started mass production of QD-Displays in November 2021 and announced QD-Display panels for TV (55" and 65") and for monitors (34") during CES 2022. Instead of a color filter, which is an essential part that defines image quality on non-QD displays, a QD light emitting layer made through Samsung Display's inkjet printing technology redefines the level of color reproduction, viewing angle, color luminance, and HDR performance with unprecedented excellence. QD-Display featured on products of top global brands like Sony, Samsung, and Dell won various acclamations such as 'The Best TV' by Forbes and 'Best New Display Component' of Display Week 2022's 'People's Choice Awards'.
#5 Driving Innovation Towards Next-Gen Displays
Advent of tech trends in metaverse and digital transformation in the age of covid-19 backed by the global 4th industrial revolution movement since 2020 places the display industry in a crucial period of evolution.
During the Society for Information Display's Display Week 2022 event in San Jose, CA in May, Samsung Display introduced a number of new concept products:
● Slidables extending the screen vertically/horizontally
● A digital OLED cockpit for automotives
● Large foldable displays for gaming
● Flex G display folding inwards twice
● Flex S display folding both inward and outward
"Samsung has always strived to not just bring people more vibrance and beauty, but to also provide a useful display experience. This is because we believe that displays are the windows that connect people."

Joo Sun Choi, CEO of Samsung Display (2021)
Samsung Display continues to lead the research and development of future-ready display products as upcoming technologies such as metaverse, autonomous car, augmented reality (AR) and virtual reality (VR) set new industry expectations.
Future of Samsung Display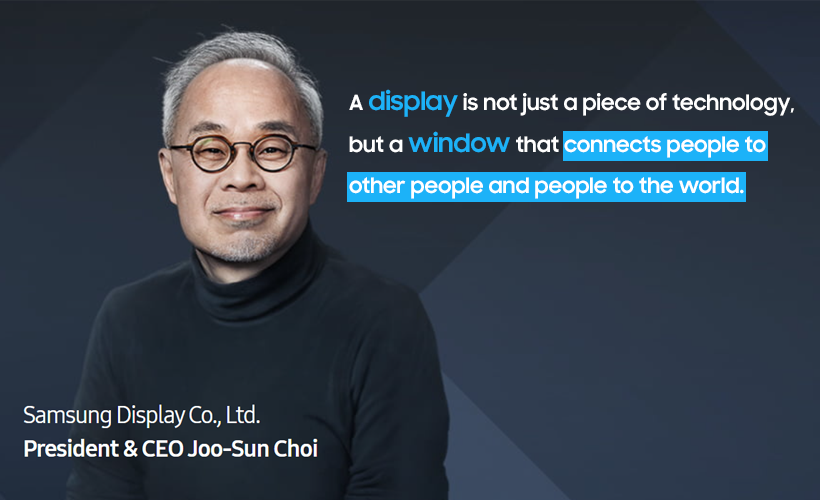 By pushing the limits of what is deemed "possible", Samsung Display will continue to develop sustainable values embedded in our daily lives by connecting people to other people and people to the world with next-generation display technologies.
10 Years of Samsung Display Key Highlights: