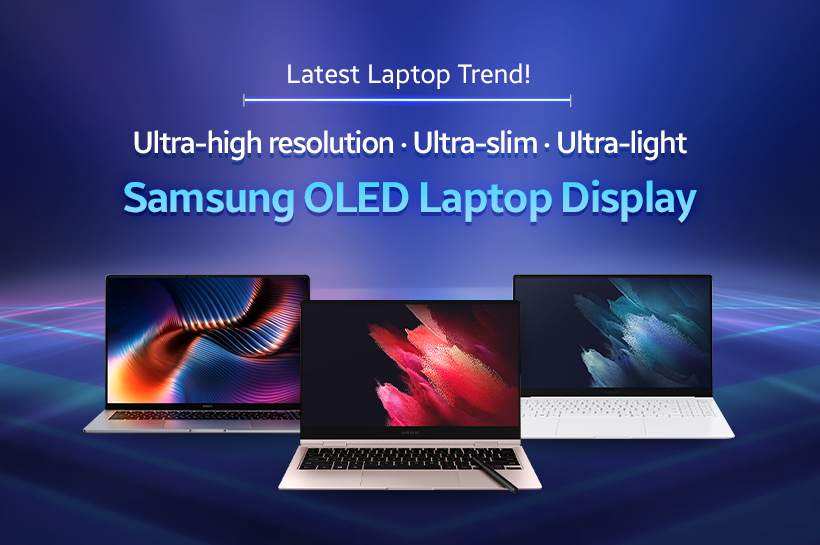 Samsung OLED displays are quickly making inroads into the laptop market, building upon popularity earned with smartphone displays that spotlight high resolution, fast response time as well as ultra-slim and ultra-light designs. Laptops have become the go-to device for comprehensive entertainment such as high-performance gaming, going far beyond simple work or education purposes. Consumers are also asking for diverse functionalities pivoting on picture quality. Let's take a look at why flagship laptops adopting OLED display are making a debut in the market.
Which laptops with Samsung OLED displays of which unveiled this year, caught market attention?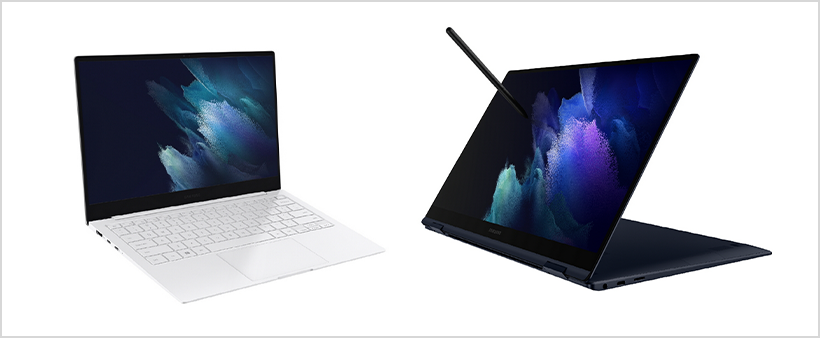 ▲ From the left, Samsung '13.3-inch Galaxy Book Pro', '15.6-inch Galaxy Book Pro 360' (Image: Samsung Electronics)
On April 28, the online 'Samsung Galaxy Unpacked' event unveiled the 'Galaxy Book Pro (13.3-inch)' and 'Galaxy Book Pro 360 (15.6-inch)', which mounted OLED displays for the first time among Galaxy book series.
Both 'Galaxy Book Pro' and 'Galaxy Book Pro 360' have a display that features FHD resolution (1920x1080), a high contrast ratio of 1,000,000:1, and outstanding 120% coverage of the Digital Cinema Initiatives P3 (DCI-P3) color volume. The device also has an 'Intelligent Color Engine', which preserves precise color details that the original content creator intended by automatically optimizing color spaces based on the content user is viewing. Also, the device earned a certification of HDR 500 from the Video Electronics Standards Association (VESA), thereby depicting high-contrast and overwhelmingly life-like images when watching HDR content.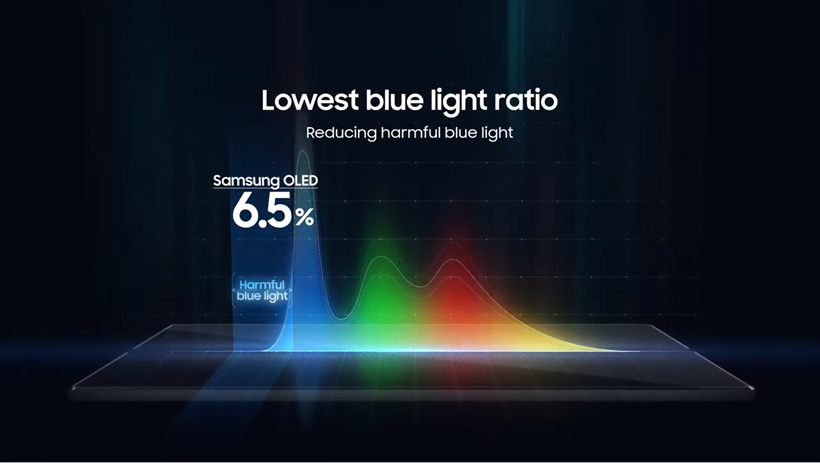 Meanwhile, the latest panel dropped blue light emission to 6.5%, almost one-third of blue lights emitted by conventional LCD panels. By significantly reducing blue light emission that can potentially be harmful to the eye, the OLED panel alleviates eye fatigue caused by prolonged use of laptops. Thanks to this eye-protective technology, the OLED panel earned the 'Eye Care' certification from SGS, the global certification company.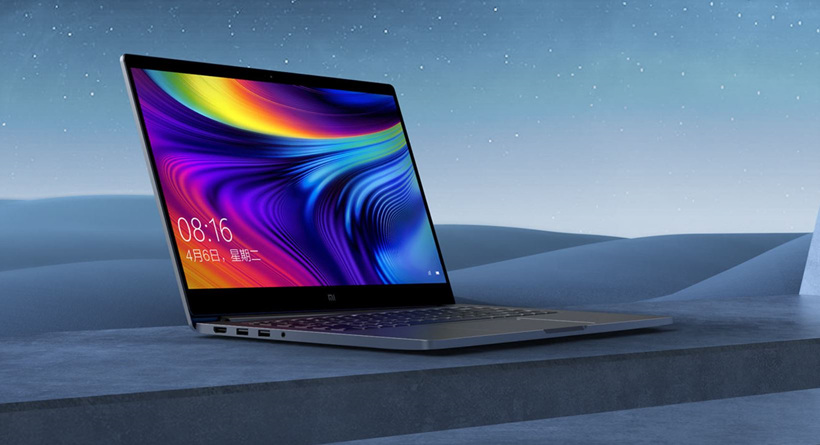 ▲ Xiaomi, 'Mi notebook pro 15' (Image: Xiaomi official web site)
Last March, Xiaomi released 'Mi notebook pro 15' on which Samsung Display's OLED display is mounted. The 15.6-inch display is not only thin and light but also has a 3.5K resolution (3456×2160) with 261 PPI pixel density. With a 1,000,000:1 high contrast ratio and a wide color gamut that meets 100% DCI-P3, 1.07 billion dazzling color displays render the screen look even more realistic.
What makes Samsung Display's OLED displays attractive for laptops?
As mentioned above, the latest laptops from major producers feature OLED displays, and such OLED display adoptions are expected to increase further. Then, what are the extraordinary advantages that laptops mounting Samsung OLED displays?
1. Enhance portability with a lighter and thinner design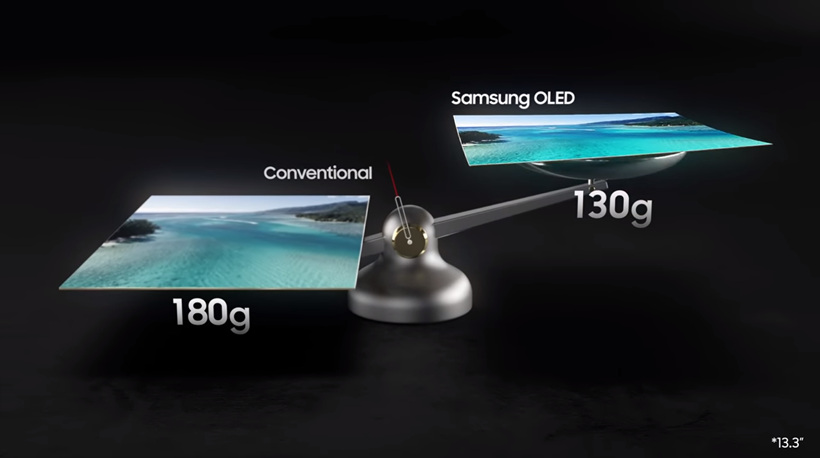 The latest 13.3-inch Samsung OLED laptop display is way lighter than conventional displays, weighing in at 130g, thus making a laptop lean. Given that laptops usually have a larger screen, the perceived weight difference per space is much larger than that of smartphones.

Moreover, at a mere 1.0mm of thickness, the OLED display has slimmed down by more than 50% compared to conventional displays. Such thinness and lightness sharply enhance the portability of a laptop, one of the key features.
2. Maximize immersiveness with 'Blade Bezel' that enables the full-screen display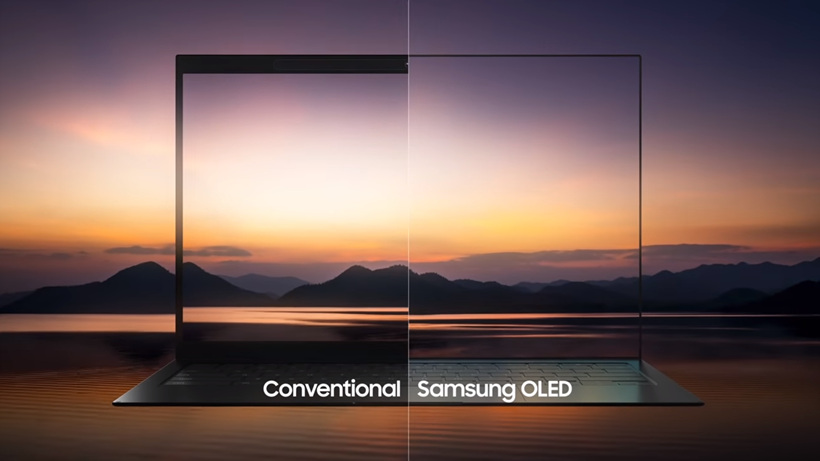 Samsung Display's proprietary 'Blade Bezel' technology increased the screen-to-body (SBR) ratio of the OLED displays up to 93%. Thanks to the significantly stretched realm of display in the screen, the laptop can offer a wider screen that is almost bezel-less. With the bezel-less screen, the OLED display can deliver maximized level of immersiveness for watching movies and playing games.
3. Bolster the pleasure of playing games with powerful gaming performance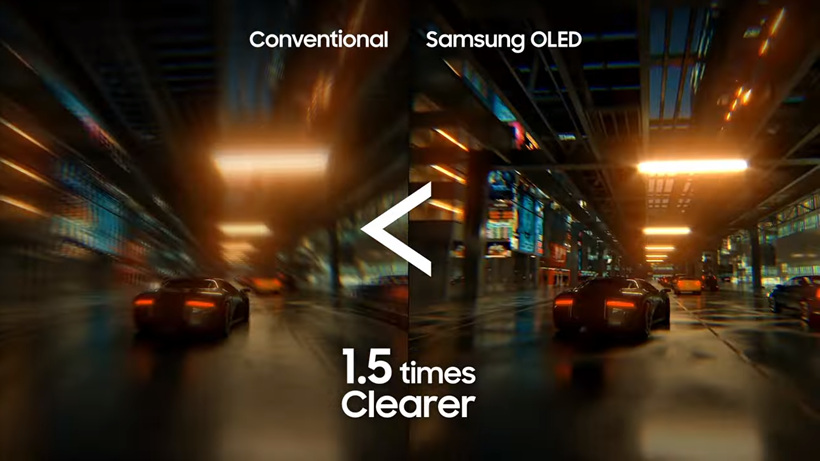 In addition to extremely precise color expression, fast response time makes the Samsung OLED display more attractive choices for laptops. When playing games with fast-paced motions, OLED display delivers a far more immersive gaming experience featuring smoother motion transitions and almost seamless gameplay. On top of this, in games where agile control for a fast-changing frame is the key, the self-illuminating display's fast response time offers a responsive environment for gamers to perform to their fullest potential.
4. As impressive as Cinema, recreating cinema screen exactly on laptop display!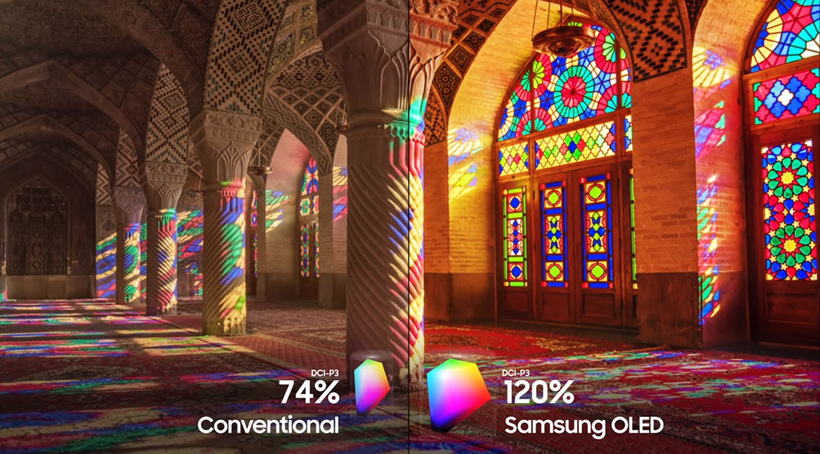 Samsung OLED displays can reproduce colors up to 120% coverage of DCI(Digital Cinema Initiative)-P3 color volume, which pushes the envelope of color representation on display. Also, Samsung OLED displays can express the details of figures in the dark to the lowest brightness level of 0.0005 nits, and so it's called the 'True Black' proprietary technology.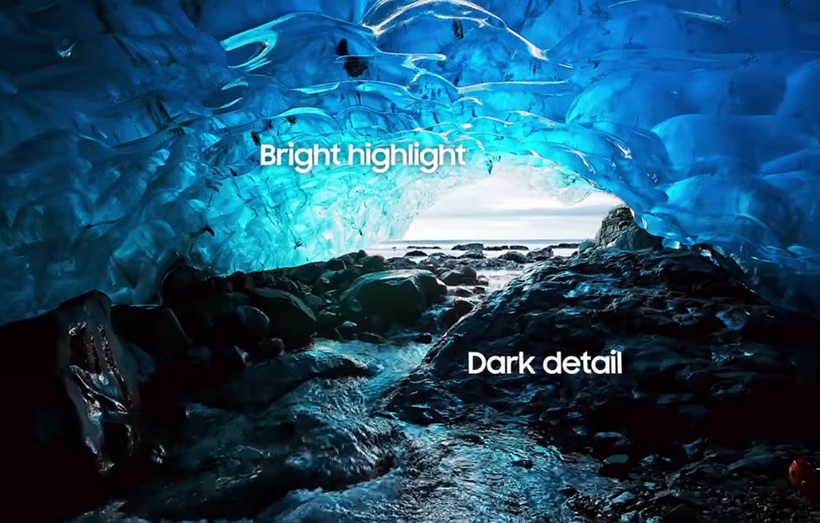 A combination of such enhanced picture quality technologies offers outstanding HDR capability and realistic high-contrast images, depicting bright highlights for the bright area and preserving dark details in the dark area. As such, the Samsung OLED display delivers a life-like screen as if we are in a small cinema.
According to the recent analysis from Omdia, the market research firm, the shipment of OLED laptop displays is forecast to record yearly growth from 980,000 units in 2020 to tripled 3.07 million in 2021 and 7.85 million in 2026. Indeed U. Laptops combined with Samsung Display's OLED technological expertise are expected to deliver not only slimmer and lighter design but also exceptional picture quality to satisfy consumers significantly.