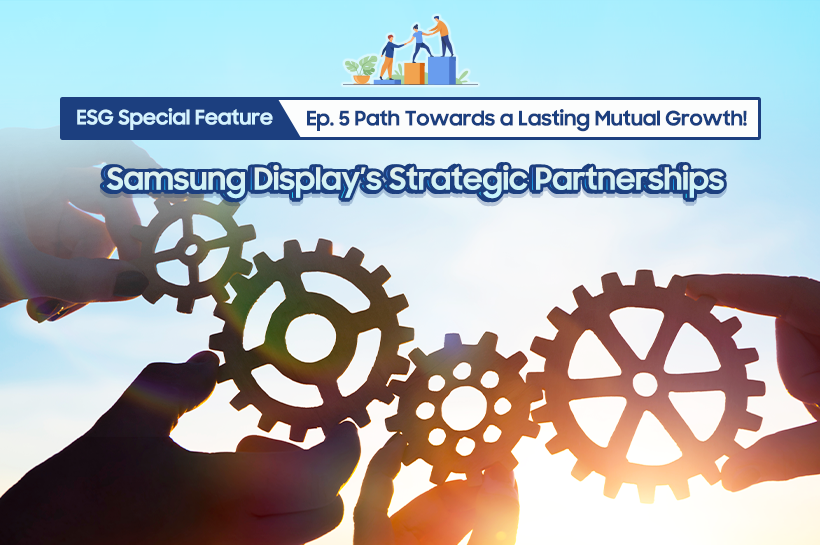 Now that interest in corporate 'social responsibility' is growing, there are keywords that Samsung Display focuses on while practicing ESG management: 'Together', 'Mutual', and 'Lasting'. In order to create a society where suppliers, local communities, and even the next generation can live together, Samsung Display is striving for sustainable management. In this article, we will uncover Samsung Display's way of fostering a true sense of partnership beyond collaboration.
Only Way for Growth is by Growing 'Together!'
Achieving global competitiveness requires companies to work together. Everything collapses if one of the key pillars supporting each other is not strong enough. In order to continuously grow in a rapidly changing world environment, 'cooperation' is necessary.
Since the advent of Covid19 last year, small and medium-sized enterprises have been subjected to a triple jeopardy status of cost increase, sluggish domestic demand, and export restrictions. The stable solution to responding to market conditions in the face of supply chain disruptions such as natural disasters and pandemics along with cost efficiency, lies in strengthening the competitiveness of suppliers. Impact for strategic partnerships shines through during the most challenging of times.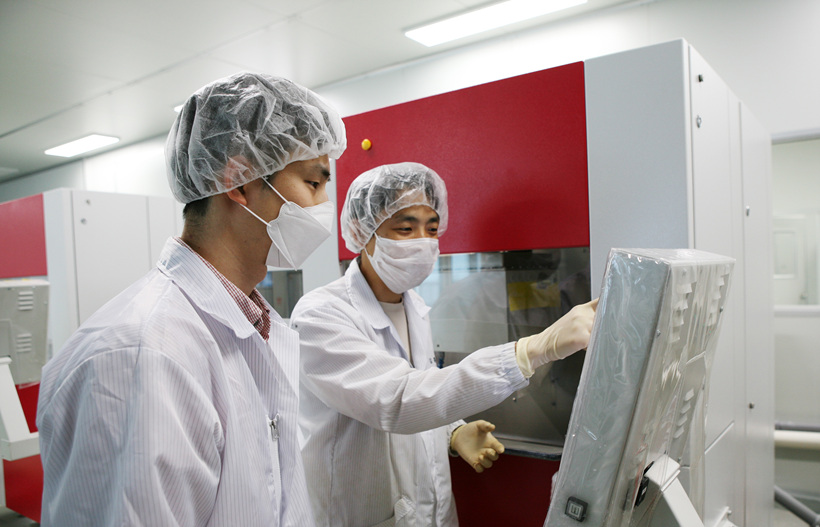 Thousands of raw materials undergo hundreds of processes to be transformed into a single display panel. Creating display panels means receiving raw materials from multiple partners and building processes and facilities with them. A company's competitiveness cannot be improved by independent efforts alone. A strategic partnership is the best way to maximize success.
Samsung Display is building a vision for shared growth management with partners such as establishing strategic partnerships with a growth strategy of 'small-sized but strong enterprises, creative cooperation, and fair trade'. R&D funding and support for smart factory construction for small and medium-sized partners are some of the various programs in place.
Strengthening Competitiveness of Display Industry Through 'Creative Partnership!'
Creative Partnership (CrePas), one of Samsung Display's partnership programs, supports technology and R&D funds to small and medium-sized companies with ideas and technologies.
Since 2010, Samsung's Creative Partnership has been more than just a business partnership; it has contributed to the localization of core technologies and the development of new technologies beyond business partners. Many talented small and medium-sized enterprises have grown into solid enterprises that support integral parts of the Korean display industry through this initiative. Samsung Display, along with the Korean government, has provided USD 46 million (52.5 billion KRW) to business partners for 82 projects, including free funding of up to USD 884,000 (1 billion KRW). The 'Creative Partnership' program not only contributed to building a world-class industrial ecosystem - allowing domestic display technology and industry players to become the best in the world - but also provided startups with growth opportunities. These efforts were recognized as exemplary business cases by the Fair Trade Commission in 2016.
Samsung Display has also provided financial support by establishing the Funding & Partner Lending Programs for business partners facing financial difficulties. Since 2017, Samsung Display has created a total of USD 442 million (500 billion KRW) in funds for approximately 100 partner companies for fluid usage of investment in facilities, R&D, and other necessary financial activities.
Defect Rate is DOWN, and Production Efficiency is UP: Smart Factories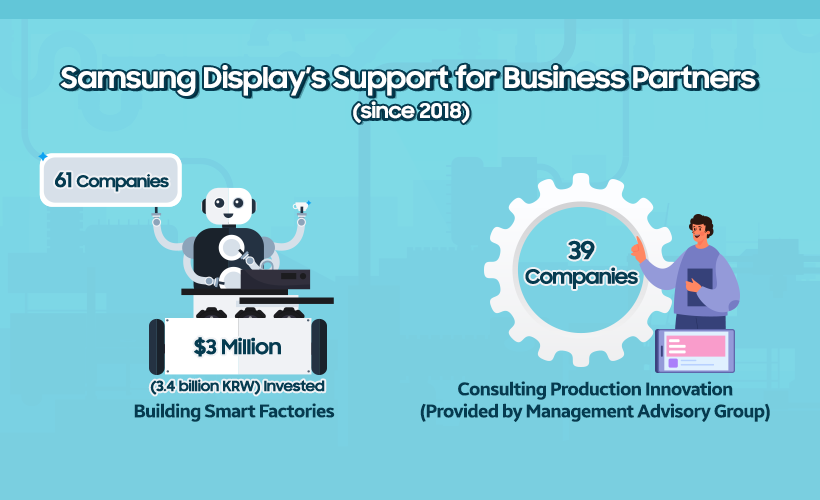 With the Ministry of SMEs and Startups*, Samsung Display has invested more than USD 8.8 million (10 billion KRW) for the past five years - helping companies build smart factories.
*A government organization in Korea whose objective is to strengthen competitiveness and support innovation of Small and Medium-sized Enterprises (SMEs) and Micro Enterprises (MEs)
USD 3 Million USD (3.4 billion KRW) has been invested in 61 companies since 2018. Real-time process management, integrated facility control, and integrated production management system are some of the many smart technologies integrated accordingly, and business consulting was also provided for overall manufacturing quality/environmental innovation. As a result, Samsung Display partners experienced 30-40% increase in overall production efficiency; process defect rates decreased and inventory costs dropped.
Samsung Display's future plans entail consistent and systematic support for its suppliers' fulfillment of smart factories - helping them develop more competitive advantages in business.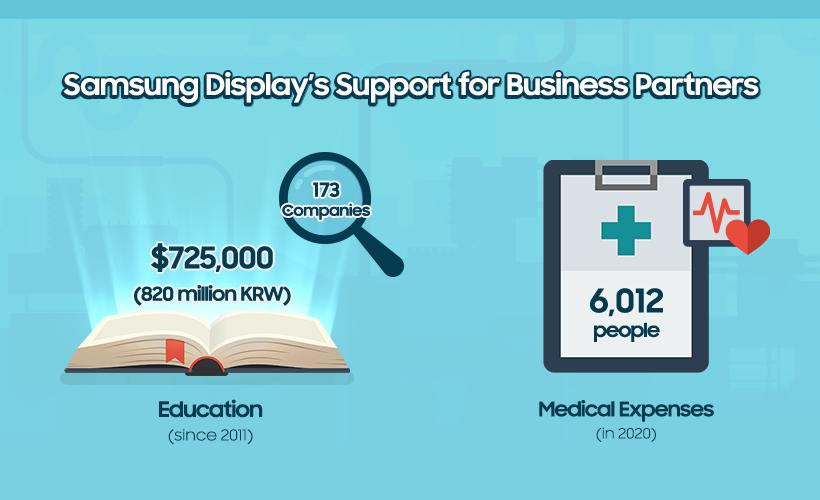 Samsung Display has supported its partners in various fields, including technical and economic support, as well as educational and medical support. From fully subsidizing online consignment training expenses to systematically learn management, leadership, and professional job training courses for employees, Samsung has provided high-quality educational opportunities to a total of 173 partner companies since 2011. It also plans to further expand the scale/target of support by implementing various educational/medical programs, such as providing free healthcare to its contractors.
Looking Beyond the Horizon 'Together'
In order to practice sustainable management and to maintain a more systematic and close relationship with suppliers, Samsung Display established a Strategic Partnership Center in 2020. Various support programs for business partners as well as supplementing existing programs showcase Samsung's commitment to form win-win partnerships. To promote transparency within transactional processes, Samsung operates a Voice of the Customer (VoC)* program and expanded compliance monitoring both locally and globally. These efforts led to Samsung Display being named the "best" grade in the "Win-Win Growth Index Evaluation**" announced by the National Commission for Corporate Partnership (NCCP) in three consecutive years since 2018.
* A market research technique capturing customer's expectations, preferences, and aversions
**An annual publication by the National Commission for Corporate Partnership (NCCP) calculating the shared growth index by combining the commission's comprehensive evaluation and the Fair Trade Commission (FTC)'s implementation evaluation of fair trade agreements.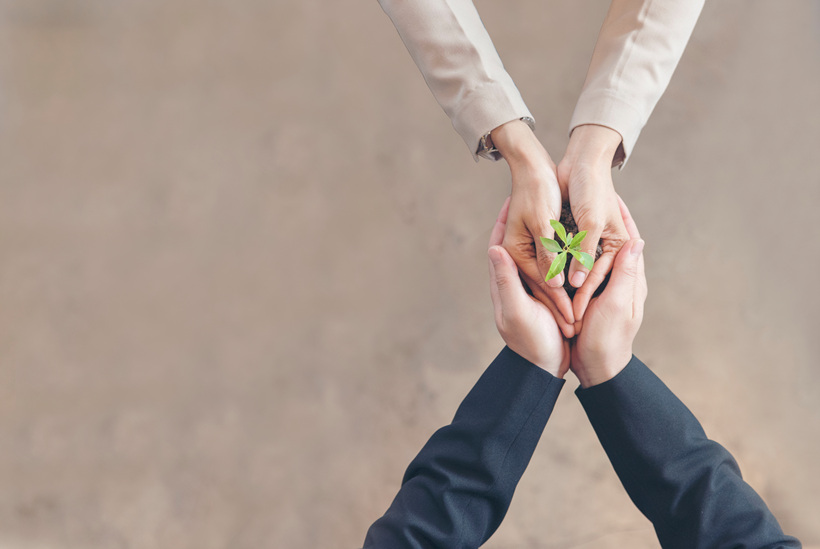 Samsung Display believes that brand competitiveness grows along with the growth of its partners. The company sees partnerships as analogous to that of a living tree instead of independent tree branches: Shared growth shapes the future of all businesses. That is why Samsung is determined to continue its path of 'lasting' and 'mutual' strategic partnership 'together' with its numerous business partners.