Latest OLED technology from Samsung Display sets new industry standard for smartphone market with its first-ever integrated polarizer
Samsung Display today unveils its new Eco2 (Eco Square) OLED™ technology, which further reduces power consumption and offers an improved Under-Panel Camera (UPC) – a first in a foldable device – and eco-friendly design. The name of the Eco2 OLED™ display itself – Efficient power Consumption + Eco-friendly Component – highlights these benefits.
Available first to consumers as a foldable display in one of Samsung's newly announced smartphones, the Galaxy Z Fold 3, this pioneering technology from Samsung Display will cater to an ever-growing demand for low-power consumption in the 5G era.
Thanks to its revolutionary, first-of-its-kind integrated polarizer, the Eco2 OLED™ eliminates the need for an additional polarizer layer, an opaque plastic sheet typically attached to displays to prevent the panel from reflecting external light, while increasing contrast and improving visibility. Instead, the Eco2 OLED™ minimizes reflection by leveraging its innovative pixel structure.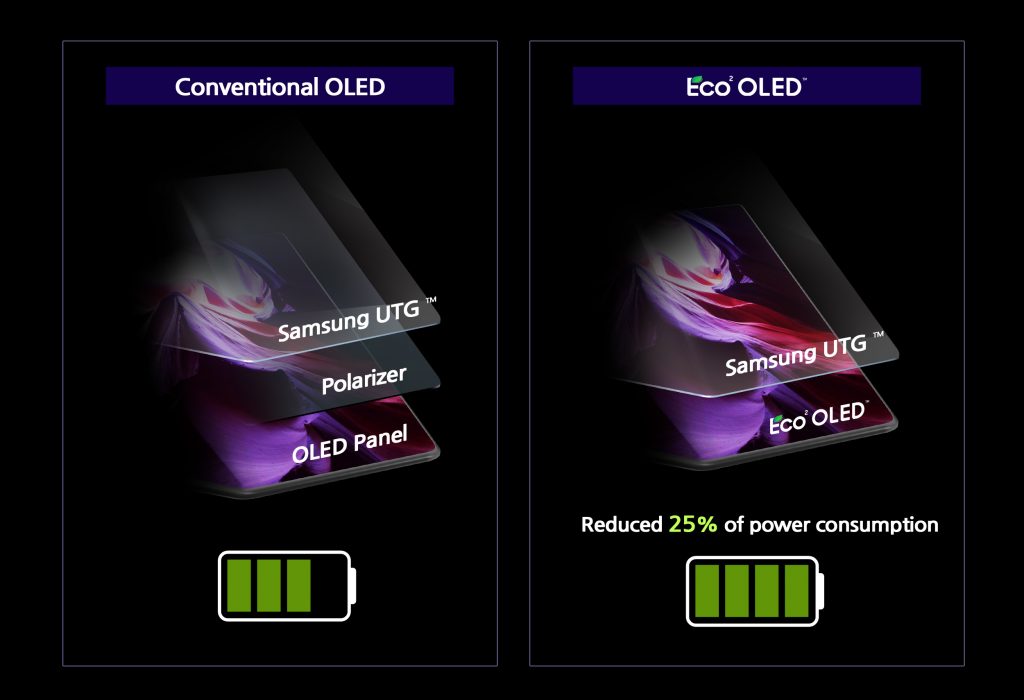 Since a traditional polarizer adds a dark layer of film on top of the panel, your device requires more light – and power – to effectively display, with the transmittance rate reduced by over 50 percent.
Based on internal tests, Samsung Display's new low-power Eco2 OLED™ improves transmittance rate by 33 percent, while consuming up to 25 percent less power when compared to previous versions with a traditional polarizer.The result is the best of both worlds – a brighter screen that drains less battery.
"The Eco2 OLED™ is a groundbreaking technology that significantly lowers power consumption by improving upon panel design that has been the industry norm for years," said Sungchul Kim, President and Head of Mobile Display Business for Samsung Display. "With the shift to 5G and devices with larger, foldable screens, the industry needs energy efficient components that offset the battery life concerns that these technologies can bring. In addition to the Eco2 OLED™, Samsung Display will continue to optimize technologies and produce organic materials that reduce battery drain."

An added benefit of the Eco2 OLED™ design is that it allows for an innovative, upgraded UPC – and the first UPC on a foldable device – with a seamless display that eliminates the need for distracting camera notches and bezels.
The Eco2 OLED™ panel not only optimizes the pixel density, but with the added benefit of eliminating the polarizer, more light is exposed to the UPC, thereby increasing transmittance on the camera module. And with minimal pixels applied on top of the camera hole, the Eco2 OLED™ provides a true full-screen design and increases viewable area so users have an unbroken canvas to access their favorite apps, entertainment, and games.
"The display industry has been striving to improve the screen-to-body ratio as the demand for larger smartphone displays increases," Samsung Display said. "This UPC is the closest solution for a perfect full-screen display, allowing for entirely new consumer experiences and playing a crucial role in commercializing UPC technology across the global mobile industry."
Finally, since the polarizer layer is made of plastic sheets – and with plastic components in displays known to emit volatile organic compounds – the Eco2 OLED™ cuts down on plastic use for a healthier and more environmentally friendly product. The Eco2 OLED™ is now a fully patented technology approved in seven markets, including the U.S., Korea, United Kingdom, China and Japan, marking a significant advance in Samsung Display's low-power technology development. The Eco2 OLED™ will allow Samsung Display to expand its leadership in the display market worldwide, and will serve as the foundation for the company's future product innovations.