Samsung Electronics' Galaxy Z Fold3, Galaxy Z Flip3 have been sweeping the industry with upbeat reviews, with the most eye-catching innovation being display upgrade. With ten years worth of hard work dedicated to this innovation, this article will cover the 'behind the scenes' stories of developers who carefully designed foldable into reality, with the latest third attempt being Galaxy Z Fold3.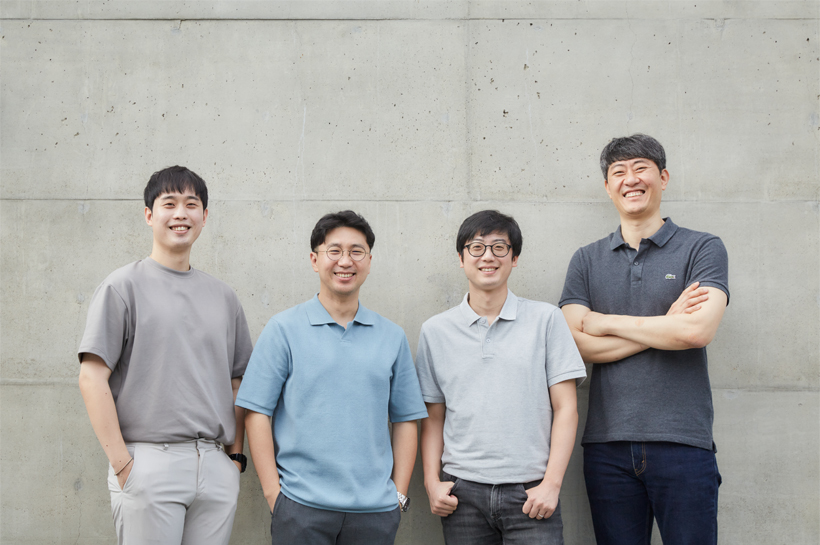 ▲ (from left) Seoin Han, Jinyong Sim, Jungeun Park, and Sung-Un Park, the foldable OLED developers for Galaxy Z Fold 3
Q1. What was the key objective for foldable panel development in 2021?
<Sung-Un Park, Product Development PM>
We wanted to highlight the best parts about foldable devices - which is still a fairly novel and unfamiliar technology to most people - by accentuating tangible innovations. Think of low-power technology, big screens, and enhanced user experience with S-Pen support!
Q2. Tangible innovation sounds fascinating. Why do you use that specific term?
<Sung-Un Park, Product Development PM>
To match public expectations of foldables, we focused on realizing display technologies that consumers could see and feel the difference themselves since display is one of the key elements that affect user satisfaction for smartphones.
▲ Sung-Un Park, Principal Engineer from the Product Development PM
Q3. Tell us more about low-power technology, one of the key technologies of foldables.
<Jinyong Sim, Mechanical Design>
Eco² OLED™, which was recently implemented on Galaxy Z Fold3, is the lowest-power technology created so far. By removing the need for an additional polarizer layer, an opaque plastic sheet typically attached to displays, the Eco2 OLED minimizes reflection by leveraging its innovative pixel structure. Its use improves transmittance rate by 33%, while consuming up to 25% less power compared to traditional methods. This is a promising display solution optimization for the future with 5G intensifying user screen time globally.
Q4. How relevant is lower power consumption of panels to the overall smartphone performance improvement?
<Jinyong Sim, Mechanical Design>
A lot of components are needed when building smartphones. Battery life is highly dependent on the panel of the display. Lowering panel power consumption is especially helpful for realizing overall smartphone performance or component efficiency. We can achieve heightened optimization and streamline our foldables' power distribution as a result.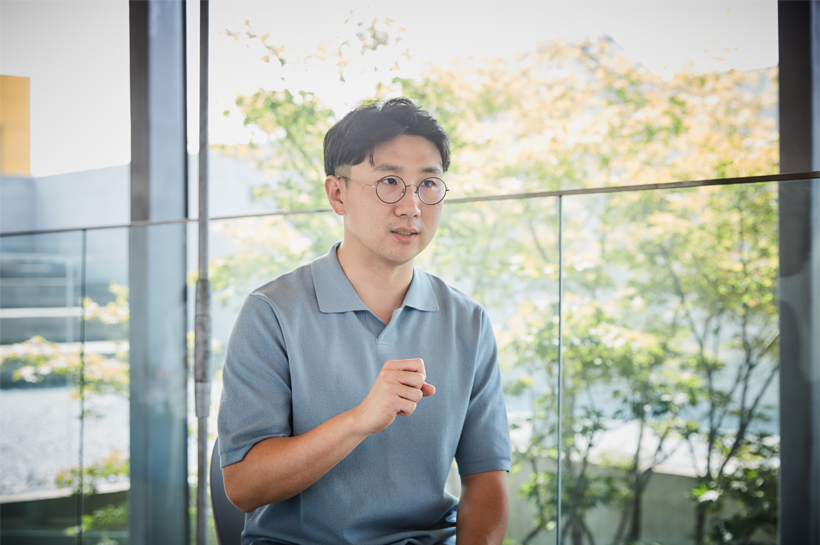 ▲ Jinyong Sim, Staff Engineer from Mechanical Design
Q5. What was the most challenging part about developing Eco² OLED™?
<Seoin Han, Module Development>
The biggest challenge with developing Eco² OLED technology was "Uncertainty." After all, we were completely changing the industry norm by removing the polarizer layer: Ensuring from reflection minimization, reliability, and life expectancy were all up in the air for us since it was an entirely new approach. From setting product specifications to deciding what exact components to improve - we honestly had no idea where to start! But with ten years worth of research and endless determination by our developers, we succeeded in mass-production and commercialization of this new innovation.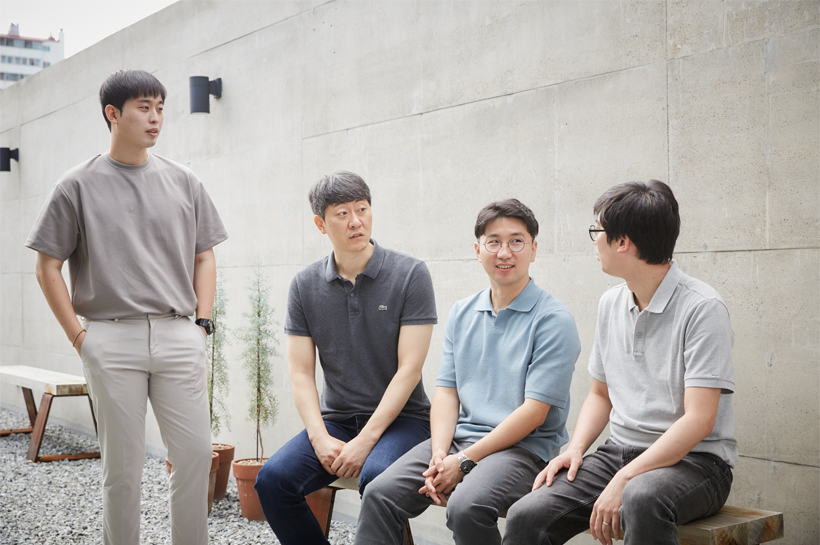 Q6. Everyone wants to know more about Under Panel Camera technology (UPC), which is Samsung Display's most recent implementation on foldables! Please tell us more about UPC!
<Jungeun Park, Module Process Architecture>
UPC is pretty self-explanatory: It literally means placing the camera under the display panel. However, what you should know is that unlike the previous versions of front screen designs, UPC enables pixel-activated above the camera hole area. We used to punch holes on panels out of necessity but now with the implementation of UPC technology, we can enjoy the entire screen 100% without any technical distractions such as camera placements. With UPC, we can finally experience full screen, which the display industry has been competing towards for many years.
Light transmittance rate is the bread and butter of UPC technology. We need to ensure that light from the outside effectively passes through the dense pixel area and reaches the camera module at the bottom of the display panel layer. In order to make this happen without a traditional polarizer layer, we need to provide an ideal camera shooting mode by increasing the light transmittance of the camera hole panel area without sacrificing image quality. Samsung accomplished that difficult feat by improving transmittance rate by 33% and maximizing aperture between pixels with the development of Eco2 OLED™.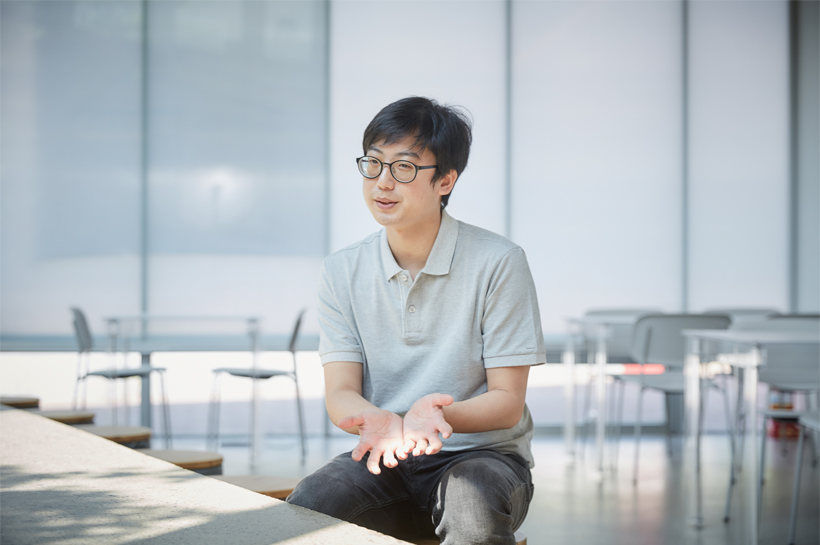 ▲ Jungeun Park, Staff Engineer from Module Process Architecture
Q7. It sounds like the technology behind the UPC camera hole and transmittance rate seem quite contradictory.
<Sung-Un Park, Product Development PM>
Are you surprised to know that there are completely different technical principles behind UPC's camera light transmittance and the camera hole quality performance? As you mentioned, there is a struggle to match both qualities: Lowering the camera hole pixels per inch (PPI) as an attempt to improve camera resolution can degrade the quality performance of the display panel, whereas increasing the PPI for the quality performance of the panel can negatively affect camera quality. Based on user experience and usability, we'll have to decide between the two options, but our ultimate goal to enhance both light transmittance and image quality by continuous optimization of the pixel structure of UPC.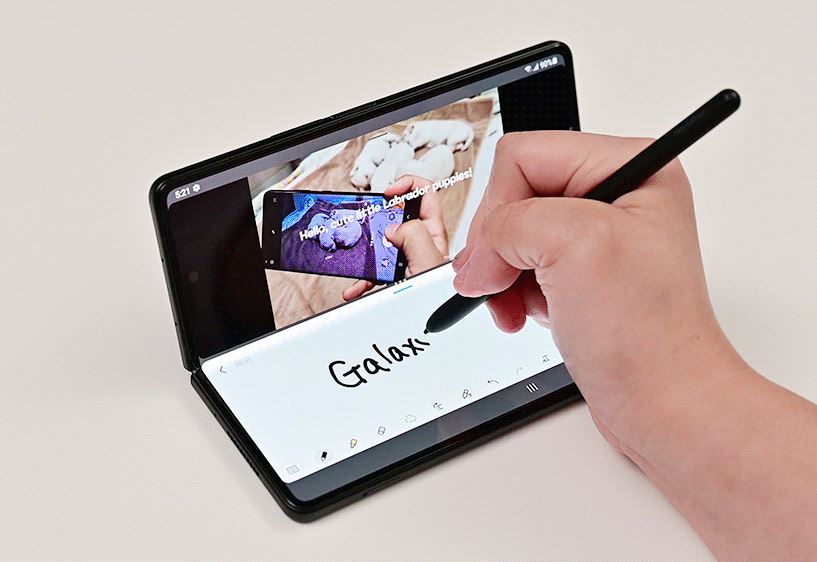 ▲ Galaxy Z Fold 3 with S pen support (Source: Samsung Newsroom)
Q8. S-Pen Support, which many Fold/Flip series users requested for, is finally provided in the latest foldables. What type of technologies were used to make this happen?
<Jinyong Sim, Mechanical Design>
An active digitizer under the display is needed for S Pen support. What is a digitizer? It's a component that keeps track of where the tip of the S Pen is by interpreting incoming inputs and converting them to digital signals. However, metal plates used under previous models of foldables prevented magnetic fields between digitizers and S Pens, causing recurring issues with pen performance. As a remedy, Samsung Display developed a new non-metal material and reaped success in implementing S Pen support on foldable phones. Non-metal materials are lighter than conventional metal materials, which helped reduce the overall panel weight by 7%. It was actually a huge contribution to the development of lightweight foldable smartphones.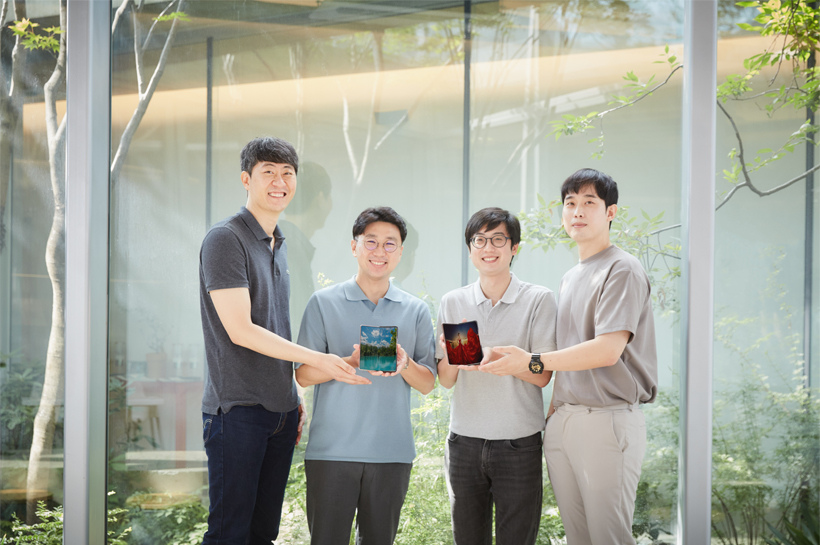 Q9. Samsung Electronics said it's making foldable phones a priority, aimed at bringing the premium form factor to a mainstream audience. What is Samsung Display's future strategy for foldables?
<Jungeun Park, Module Process Architecture>
Making foldables mainstream requires implementation of next-generation technologies as well as pricing competitiveness that outshines existing flagship smartphones. With our longstanding expertise in OLED technology, we will continue to develop new device components using the latest materials and further simplify the structure of our display panels - which we hope will contribute to driving costs down.
Q10. What was the most memorable moment during the 2+ years of development process?
<Jungeun Park, Module Process Architecture>
The final production process occurs in Vietnam once we finish all panel-production stages at Samsung Display's Asan campus in Korea. In the case of foldables, the module process, which is the final part of the production process, entails careful examination, so many of our engineers traveled to Vietnam and worked onsite. Unfortunately, with rising numbers of Covid cases, business restrictions and travel bans immediately took place. Our Korean developers and local engineers were pretty much confined to the Vietnam factory, preparing for Galaxy Z Fold3 production while eating and sleeping at the production plant. What could have been a complete disaster led to an effective and intensive output in the end with our production running in a timely manner.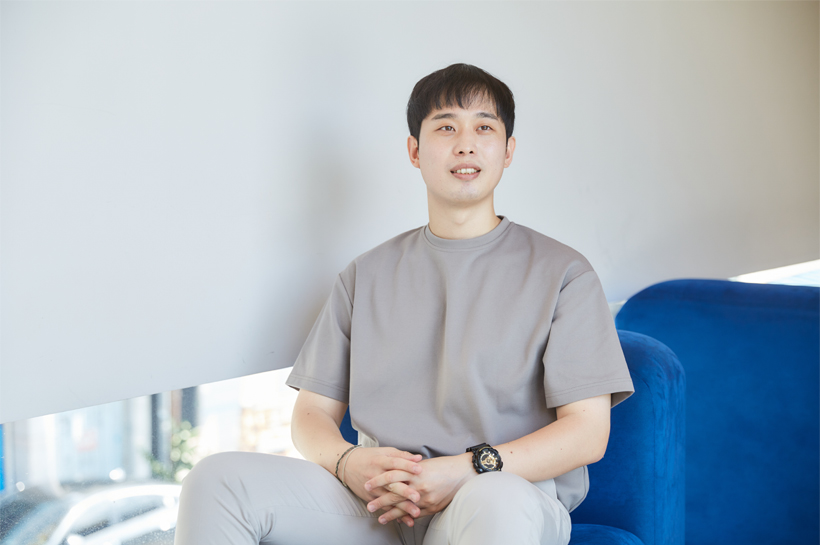 ▲ Seoin Han, Engineer from Module Development
<Seoin Han, Module Development>
I have to say collaborating with a client as a joint effort to support S-Pen for the first time on foldables is the most memorable for me. Samsung Electronics attaches a protective film on top of the display, and the previous models used TPU whereas Galaxy Z Fold3 uses a new PET material. With the change on the upper film layer, the dynamics of folding have changed, so it can cause stress on display panels. To secure product durability, we ran numerous simulations to find the perfect level of film properties and thickness. That's how we were able to produce a more durable foldable phone with S-Pen support provided!
Q11. What is the competitive advantage of Samsung Display's foldable display panels?
<Sung-Un Park, Product Development PM>
Back in 2012, we had no idea how a small project based on test samples prepared by a number of engineers would unfold into a ten-year initiative. After much trial and error, an official team was established for foldable development in 2019. We believe that foldable technology was brought to life with the finishing touches of exceptional technology by establishing irrefutable competitiveness in specific materials, which is one of our secret recipes.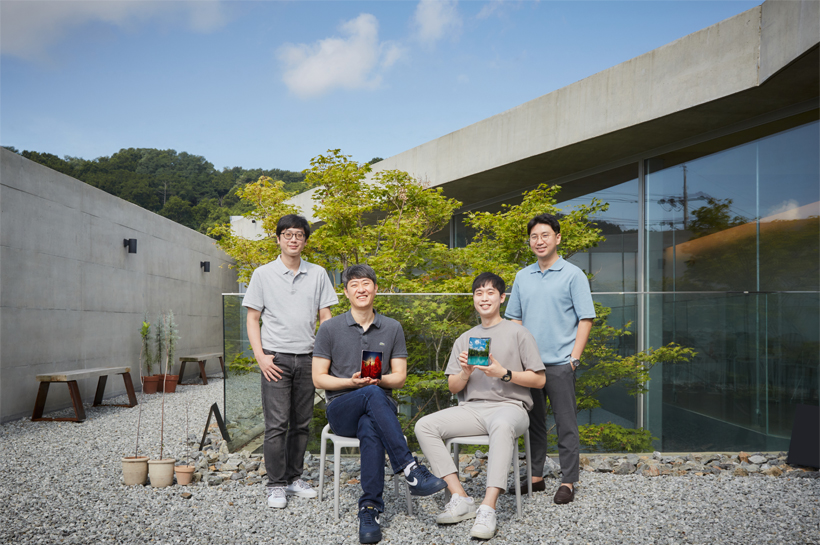 However, nothing beats ten years worth of commitment and know-hows from three cycles of mass production: Our engineers' expertise is no doubt the biggest contribution to the birth of foldables. We will continue to stabilize novel attempts and innovate with breakthrough technologies by encouraging close collaboration of engineers in varying backgrounds such as electrical, mechanical, chemical, physical, material engineering, and mathematics.