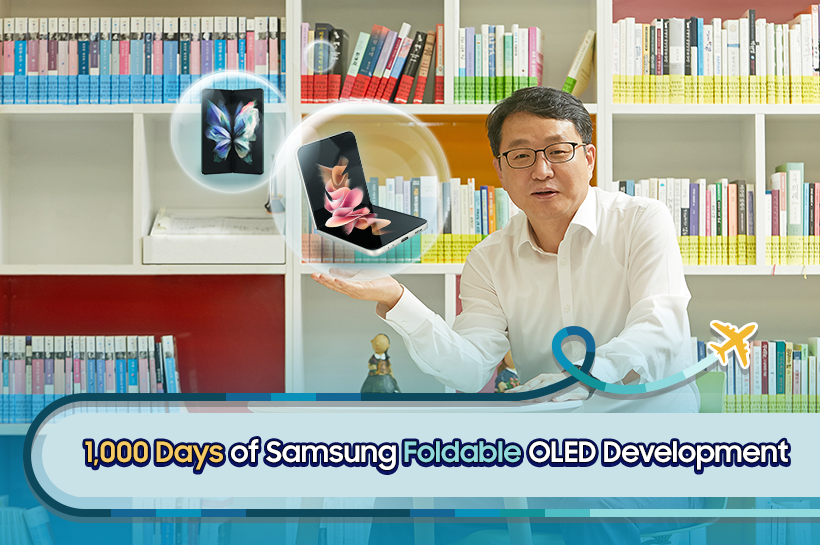 Both Galaxy Z Fold3 and Galaxy Z Flip3 have been making historical strides in the smartphone industry: Their sales recently reached 1 million units and sold 270,000 units each on the first day of sales in Korea, making it Samsung's highest first-day sales for smartphones to date among Korean consumers (ZDNet). With all of this excitement, Samsung Display's Foldable Development Team also recently celebrated a milestone - reaching 1,000th day of foldable OLED research and development since its establishment!
Want the inside scoop on what exactly happened during those 1,000 days? We got everything you might be curious about Samsung's OLED and foldable development process from Jung Il Yoo, team leader of the Foldable Development Team, in this article.
1) What was the main reason Samsung Display officially established the Foldable Development Team in 2018 instead of keeping it as part of the OLED product development division Task Force (TF)?
Jung Il Yoo: "The goal was clear: In July 2018, Samsung Display established the foldable Task Force solely dedicated to the brand-new technology to revolutionize the smartphone industry with unprecedented technology. We've been dedicated to developing foldable OLED for many years, but mass-production of the product was another level of matter. Therefore, we have come to the conclusion that we need to operate a brand-new department in charge of the foldable manufacturing process, materials, and parts that are completely different from the conventional OLEDs.
When mass production of the first foldable OLED was less than a year away, we officially launched the Foldable Development Team (with the slogan 'One Team One Body'). Additionally, research institutes, PAs, and manufacturing engineers with different personalities have joined one after another to achieve our key objective: Official release of foldable OLED."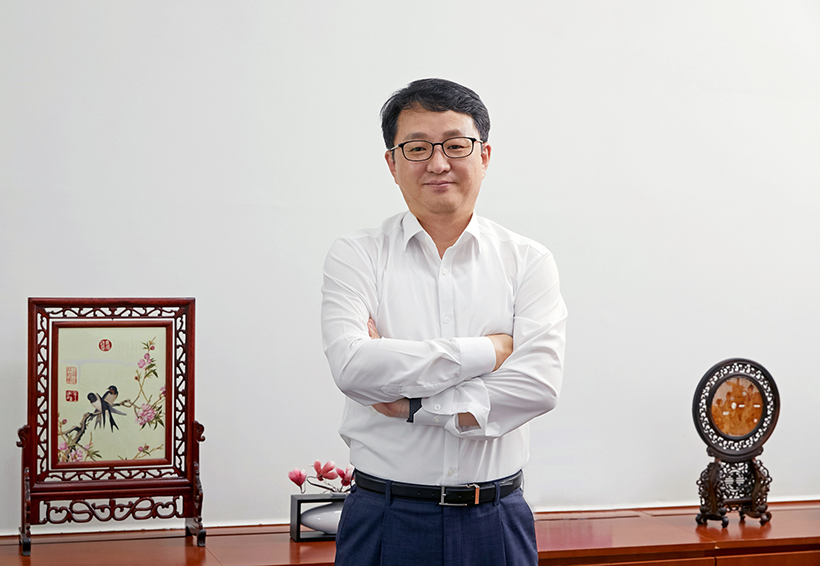 2) What was the level of foldable technology like back when you were first assigned as the Team Leader of the Foldable Development Team?
Jung Il Yoo: "I'm sure everyone understands that stages for research and commercialization are completely different. In 2018, Samsung had just completed the research for foldable technology and was getting started the commercialization process: It was a completely new era for us. Preparing a completely new technology for mass production where product quality and durability for our users could not be compromised was our biggest challenge back then."
3) What was your key motivation and goals back then?
Jung Il Yoo: "As you can imagine, we faced various issues that would unexpectedly surface during the realization of our foldable development towards mass production. In this given situation, our primary focus was on reaching out to stable production of foldable within the short term: We wanted to see our products out in the market in the hands of our users. Our team had the confidence to solve whatever difficulties we faced one step at a time thanks to the exceptional team players who had similar experiences from other technology development projects. It meant a lot to me personally to be able to celebrate our success with my teammates in the end as the Team Leader."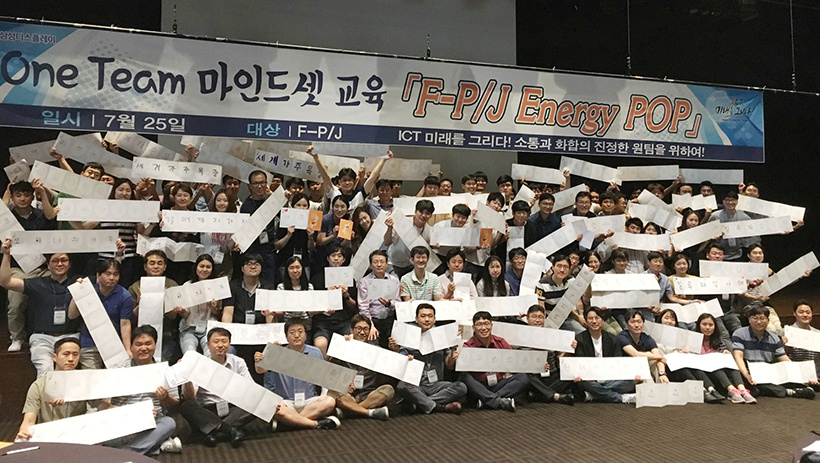 4) As a famous saying goes: "The first step is the hardest in every journey of dreams*." Would you like to share any particular moments about the Galaxy Fold1 development with the readers?
Jung Il Yoo: "There were so many variables that we didn't expect or even imagine with the first foldable development. We initially added the folding function to our existing durability test category well in use for conventional smartphones, but once we officially released the Galaxy Fold, we realized that the foldable device hinge faced a lot more exposure to various stress than we originally anticipated and led to problematic issues.
We simulated millions of extreme environments to complement the malfunction. We identified what we had to improve by undergoing trial-and-error and released the updated Samsung Galaxy Fold a few months later. To this day, I still think it would've been better if we could have implemented those changes beforehand."
*Quote by Moffat Machingura
5) How did the team celebrate when Galaxy Fold1 was officially released in February 2019?
Jung Il Yoo: "'It's finally out!' 'What is the public response?' 'Any feedback about the display?' I believe those were the very first words we exchanged as a team right after the unpacked event. We were thrilled yet terrified at the same time: We knew that the fact Samsung launched the world's first foldable phone was going to face strict assessments by our consumers. Our heads were rife with questions like: 'Did we miss out on any details?' and 'How can we improve?' instead of focusing on the product release with gratitude. Honestly, we didn't get to celebrate our accomplishments as much because of these anxious thoughts and I still regret the fact that I didn't share more warm encouragement and praise to my team members during that time."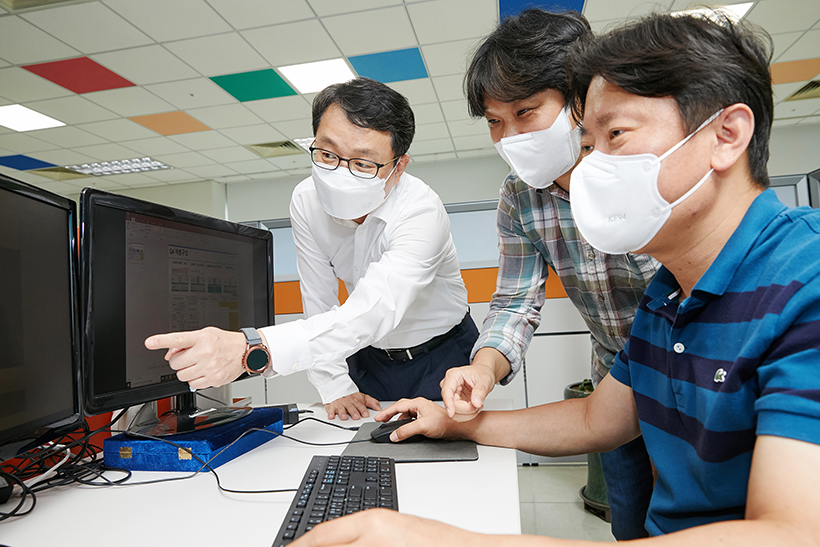 6) What was the biggest lesson gained from the first development of Galaxy Fold?
Jung Il Yoo: "Understanding the importance of converting experiences into data was a recurring epiphany I had during the development process. We literally had no reference/information to look up when we started this project. Optimizing our products and processes involved careful evaluation of all possibilities. For instance, a minuscule difference affects our components for foldables - causing defects - since they are dynamically used in the final product. Careful data implementation, analysis, and interpretation all proved to be effective methods for technology development efficiency and optimization rather than leaving everything to pure chance."
7) What was the key goal behind the development of the second generation of foldable devices such as Galaxy Fold2 and Z Flip?
Jung Il Yoo: "Implementing Ultra Thin Glass (UTG) on foldables! Our goal was to introduce the next generation of Galaxy Fold and Flip series that were both aesthetically and functionally better than the original ones. Positive market reception was definitely also in the back of our minds. With Galaxy Fold2 and Z Flip, we devoted ourselves to drastically improving screen durability and touch sensitivity."
8) How do you keep the team motivated despite the intense workload with developing state-of-the-art technology?
Jung Il Yoo: "For a few years, innovation plateau was being experienced by our consumers who reported that they weren't as excited about new mobile products. We needed a 'spark' that could stir up the seemingly stagnating market. Being the 'world's first' foldable display innovators was the biggest inspiration for us: We were convinced that once we succeed, we could potentially be driving the next wave of technological innovation within the mobile industry. Making something out of nothing is not an easy task - there were a lot of stressful situations involved with stabilizing product structure/components/durability as well as evaluation for mass-production past the research stage. I'm so proud and grateful for the fact that our team made it in the end by keeping our initial passion no matter what challenges we faced."
9) The latest version of foldable products has been receiving a lot of attention. In terms of performance, what aspect are you most proud of?
Jung Il Yoo: "'Foldables are too expensive', 'It's too heavy', 'Durability is questionable' were sentiments uniformly distributed among our users, and we had to change that status quo.
Our motto moving forward was to develop foldable panels that are lightweight, durable, and reasonably priced. By identifying and removing unnecessary components, we lowered both production costs and product weight. By improving foldable structure, we made our foldables more resistant to external factors. In my opinion, this is the most contributed improvements to popularity."
10) What is the goal Samsung hopes to achieve for upgrading foldable technologies?
Jung Il Yoo: "Integrating foldable devices with a layer of new innovation and witnessing another key evolution. It would be an underlying technology that can offer consumers completely new convenience, usability, and value. Think of next generation foldable technologies such as Rollerable/Slidable devices!"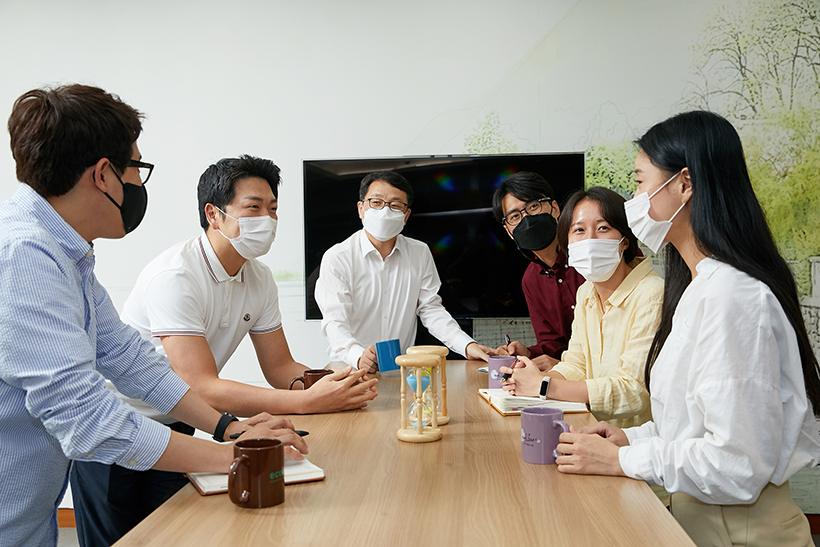 11) What is Samsung's greatest strength in the foldable OLED industry?
Jung Il Yoo: "Quality. Samsung guarantees product quality by running multiple tests during the commercialization stage. With foldable panels, we use a different testing standard than those of conventional displays. Given that the norm of foldable panels is to flex in and out and users interact with the products differently, it makes sense for us to conduct distinctive evaluations for product design and reliability. This involves close collaboration with other departments.
Strict process of quality evaluation is essential for our successful mass production of foldables. Knowing the amount of hard work carried out by multiple teams at Samsung, I can say with confidence that our competitive strength within the foldable industry is quality."
12) As the competition among key players in the OLED industry intensifies, what should be prioritized as key strategies in the competitive landscape?
Jung Il Yoo: "We face a lot of competition now. This drives our passion for continuing to pioneer the OLED industry with state-of-the-art technologies. We will pursue not only product performance improvements such as image quality and power consumption but also disruptive technology such as novel form factor development such as rollable and slidable devices. Investment in accelerating these future advancements are imminent since these technologies require high-level requirements."
13) Future display technologies such as S-Foldable and Flex Note have been teased on various occasions, but when can we expect the official release of these products?
Jung Il Yoo: "Developing future technology is genuinely a thrilling experience. It's hard to pinpoint exactly when we will be able to release our next products, but we promise that you won't be disappointed. We hope to be two steps ahead, providing the best type of innovation for our users at the right time."
---
Samsung Display Co., Ltd. is an industry leader in providing cutting-edge display solutions around the world. The company diversifies its display markets to not only smartphones, TVs, laptops, and monitors but also smartwatches, VR, game consoles, automotive applications, and PID. Furthermore, it has close partnerships with a variety of global manufacturers.
Known for its innovation, Samsung Display is leading the foldable display market by enabling the world's first mass-production of OLED and endeavoring to develop next-generation technologies such as high image quality QD (Quantum Dot), rollable and stretchable panels to provide extraordinary experiences and endless possibilities for consumers.