With the improvement efforts on the five Code of Conduct, Asan 2 plant in Korea and Dongguan plant in China achieved the highest level of the RBA Validated Assessment Program (VAP)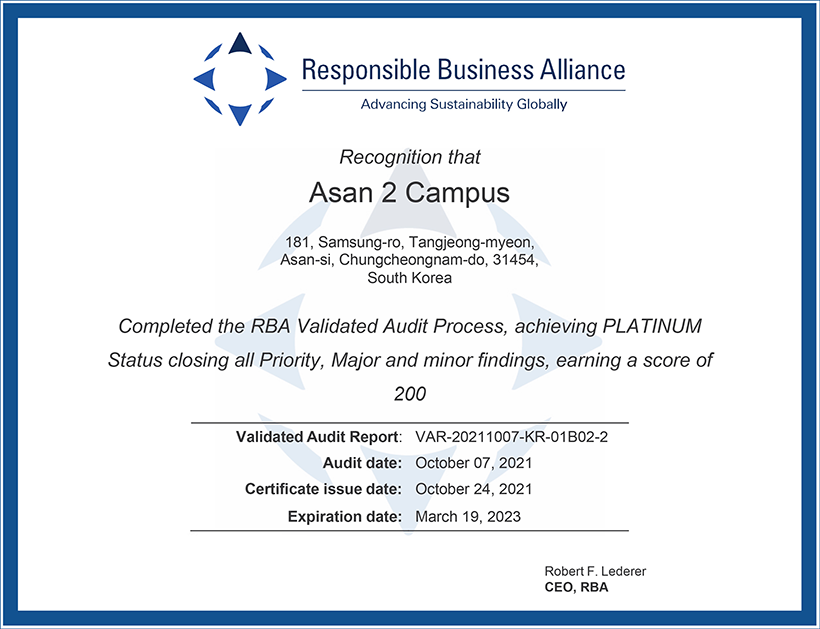 Samsung Display became the first display company in Korea to achieve the RBA Validated Assessment Program's Platinum status.
Samsung Display announced that its Asan 2 plant in South Korea, where the OLED production line is located, and module plant in Dongguan, China received the highest level of accreditation 'Platinum' for recognition of a socially responsible manufacturing company.
With a visionary drive to lead its ESG strategy, Samsung Display has conducted onsite compliance audits since joining the RBA in February 2021, and independent third-party audit firms completed the assessment of compliance with the RBA Code of Conduct.
The Responsible Business Alliance (RBA) is the world's largest industry coalition dedicated to corporate social responsibility in global supply chains. It offers status accordingly through close evaluation of whether its members have implemented social responsibilities in the manufacturing process or have operated businesses in consideration of social, environmental, and ethical conditions.
The RBA Platinum certification demonstrates that Samsung Display discovers vulnerabilities in the five critical sections of the RBA Code of Conduct - Labor, Health and Safety, Environment, Business Ethics, and Management Systems - and makes a strategic effort in improving the working environment, especially for employees.
Samsung Display said, "We will continue to grow our business and reputation as a socially respectable company by providing the highest level of ethical standards across all display production and business management processes."