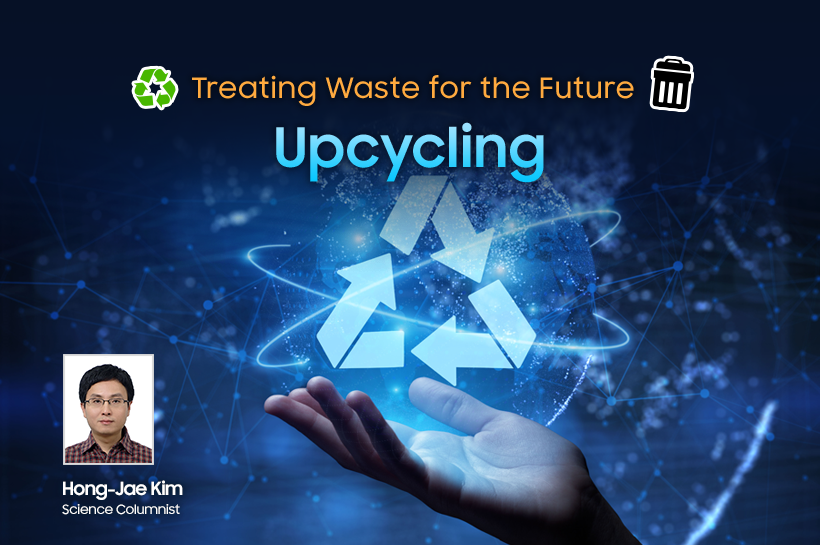 Household and industrial wastes, which most countries are currently struggling to deal with, are being transformed into valuable resources and products. Enabling this is 'upcycling' - an upgrade from waste recycling.
Recycling as we know it is the process of mechanically and chemically separating reusable materials from waste to turn them into raw materials. For instance, paper waste has been used as the source material to produce recycled paper while empty cans have been used as part of scrap metal to produce steel products. However, materials that have been recycled and products created using these materials tend to have lower quality and generate extra costs that undermine the overall value of the products — it is why recycling is often referred to as 'downcycling.'
On the other hand, upcycling refers to the process of transforming useless products/waste and repurposing them into something more valuable than what they originally were. While downcycling does not give any new purposes to the recycled items, upcycling utilizes state-of-the-art technologies or sophisticated designs that completely transform them into something completely different with added value.
From Clothing to Race Fuels: Infinite Possibilities of Waste Transformation!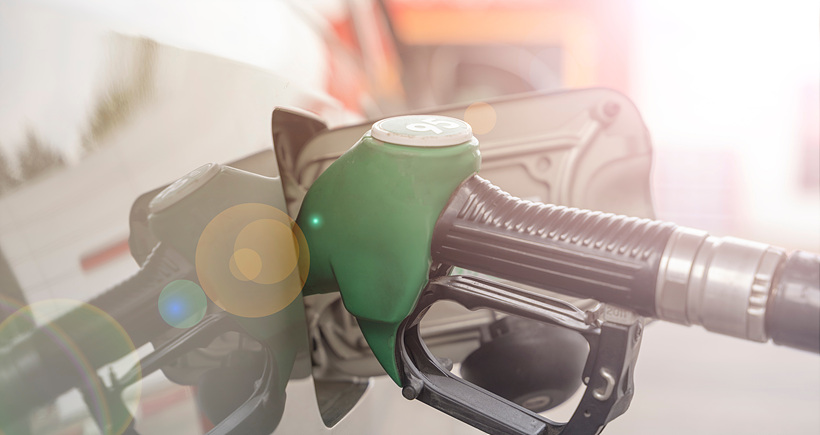 The term upcycling was first used by German industrial designer Reiner Pilz in 1994 as 'old products given more value.' The first instance that fits into the concept of upcycling appeared in the fashion industry. Truck tarps turned into bags and rubber/plastic bottles upcycled to clothes are some of the notable examples. In September 2021, BTS - one of the most iconic K-pop bands - drew global attention by attending the 76th UN General Assembly in upcycled suits.
Upcycling technologies for a sustainable future is especially garnering a lot of attention within the energy industry. They are seen as a way to kill two birds with one stone by treating waste and producing renewable energy. While a great amount of research is being done across the world, significant accomplishments are being made in Korea. In June 2019, the Department of Clean Fuel & Power Generation at the Korea Institute of Machinery & Materials (KIMM) successfully developed a technology that transforms used coffee grounds into bio-crude oil. It uses the fast pyrolysis process where coffee grounds are rapidly heated up to 500℃, and vapor is created in order to produce bio-crude oil with a high calorific value.
In November 2019, the research team at the Research Center for Environmental Resource Recycling at the Korea Institute of Civil Engineering and Building Technology (KICT) developed a technology to produce solid fuel for heat using food waste. Food waste has been recycled partially as animal feed or manure so far. However, production of animal feed made from food waste was halted as it was cited as one of the key causes of bird flu and African swine fever (ASF), and the manure made from food waste could not be used widely as the sodium content in the waste hardened the soil. The research team used the pyrolysis technique in the absence of oxygen to decompose food waste and turned it into bio-char with a concentrated amount of carbon and a high calorific value.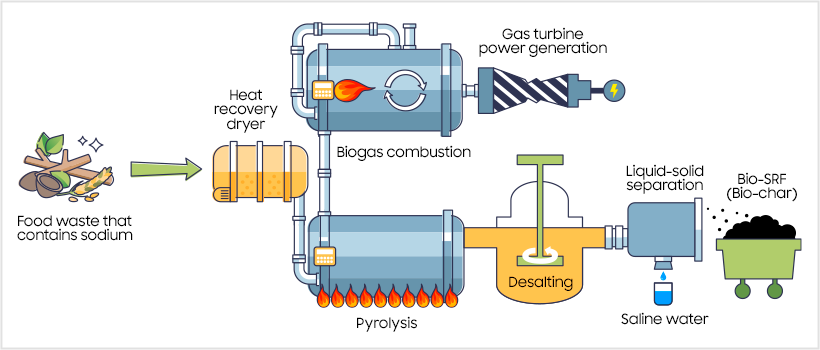 ▲ Flow diagram for the facility that uses food waste to produce clean fuel for heat
Research continues on upcycling waste into fuel. In June 2020, the research team at KIST's Clean Energy Research Center successfully developed a technology to turn wood wastes into high carbon aviation-grade fuels. Despite the existing limitations of producing viscous and low-quality oil during the pyrolysis process, the research team continuously applied high temperature and high pressure after adding hydrogen and successfully generated aviation-grade fuel, which offers a high level of energy density and added value.
Transformation of waste into fuel is moving beyond research and expanding into practical application in industries. TotalEnergies, a French energy company, plans to provide the bioethanol basis generated by upcycling residues from the wine industry such as grape pomace to world-leading motorsport competitions. TotalEnergies is set to introduce 100% renewable fuel in 2022 FIA* World Endurance Championship.
*International Automobile Federation, the governing body of world motor sport
Packaging Turned into Pet Products and Small Furnishings  
Korean electronics manufacturers that offer their products to consumers around the world are seeking various ways to apply upcycling to their products. One of the wastes that are drawing the most attention from these companies is product packaging. The cardboard boxes for expensive electronic products such as TV and refrigerators are made sturdy for enhanced protection. However, these boxes are thrown away the moment the products are delivered to the consumers. It can be considered as a missed opportunity to simply discard these boxes when they are not only big but also well built.

▲ Samsung's eco-packaging allows consumers to turn cardboard boxes that used to house your appliances into pet houses or a small piece of furniture (Source: Samsung Electronics)
Samsung Electronics' introduction of eco-packaging has been received with great acclaim as it allows consumers to transform its TV cardboard boxes into cat houses or small furnishings. The boxes are marked with dotted patterns and provided with instruction manuals on how to build a variety of small furniture. This seemingly simple idea is a great practical way of reducing waste. In fact, Samsung was recognized as a CES* 2020 Innovation Award Honoree in the category of Sustainability, Eco-Design & Smart Energy for the Samsung Serif Eco-Package
*The world's largest electronics trade show.
Modern Day Alchemy of Mining Gold from Waste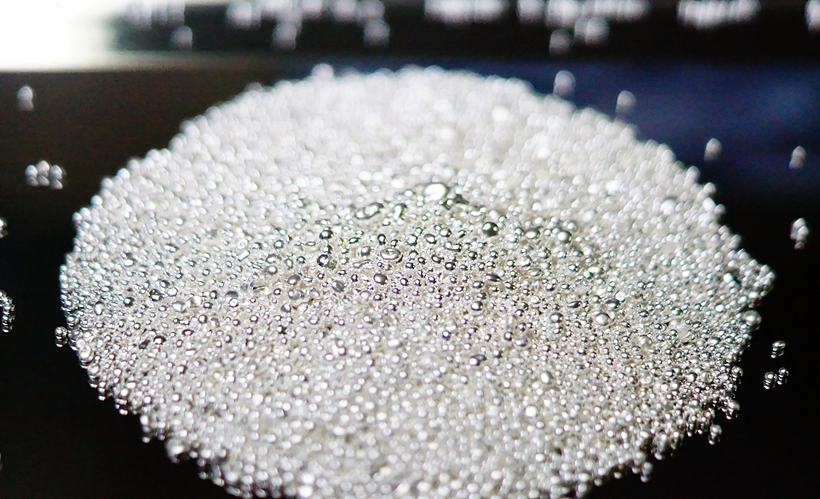 ▲ Pallets of silver (Ag) extracted from disposed etchant by Samsung Display
IT and display industries are successfully upcycling waste by extracting valuable resources and using them to create new products. In 2021, Samsung Display discovered a treasure in waste from the display manufacturing process. Production of a display requires a chemical solution called etchant to render display panels thin enough in granted shapes. Dozens of tons of etchant is used and disposed of in this process on a daily basis. Samsung Display successfully developed a technology that extracts silver powder of 99.999% purity from used etchant by adding in sodium chloride (NaCl) and ascorbic acid. The highly pure silver is not only used for various purposes that it is traditionally intended for, but also contributes to protecting the environment by reducing the need for additional mining of silver. The technology is particularly valuable in that it paved the way for resource circulation by upcycling the material for light reflection in OLED displays.
Samsung Electronics signed a partnership with the Danish premium textile brand Kvadrat to offer phone covers made of polyester yarn extracted from discarded plastic bottles. Two 500mL plastic bottles provide enough material to produce one phone case. Paper packaging for the product also stands out from the rest and delivers an eco-friendly value to consumers.
Irrefutable Transformation of Smartphones
Due to the fact that it is used by 95% of the population and replaced every two years on average, smartphones are one of the key targets of upcycling in Korea. It is estimated that 19 million new smartphones are produced and almost an equal number of smartphones are discarded every year in Korea. Most smartphones are thrown away even though they are functioning simply because the newest model comes out; similarly, older smartphones, while their performance may have been reduced, usually can still provide basic features.
At CES 2021 last January, Samsung Electronics outlined its 'Galaxy Upcycling at Home' program, which repurposes old smartphones into Internet of Things (IoT) devices, and captivated the public by its recent launch of the beta service in Korea, the United States, and the United Kingdom. The system utilizes the sound sensors built-in used smartphones to detect sounds from a baby or a pet and alert the users while using the light sensors to measure ambient brightness to turn off the lights or TV when it becomes dark. It is expected to popularize upcycling by adding new value to outmoded smartphones.

▲ Samsung Galaxy smartphones upcycled and used as medical diagnosis cameras (Source: Samsung Electronics)
The use of upcycled smartphones extends to the medical field. Partnering with the International Agency for the Prevention of Blindness (IAPB) and Yonsei University Health System (YUHS), Samsung Electronics has been carrying out a project to support countries that are struggling with a shortage of medical devices by upcycling Galaxy smartphones that are to be discarded. Under this project, used Galaxy smartphones are connected to the EYELIKE™ Platform, where scans of the fundus of the eye taken by medical professionals are analyzed by artificial intelligence (AI) algorithms in the Galaxy smartphones to detect any signs of diseases. This helps doctors confirm their final diagnoses, from diabetic retinopathy to glaucoma and macular degeneration. Having been kicked off in Vietnam in 2020, the program is also available in India, Morocco, and Papua New Guinea today.
Retired smartphone devices are given a second life in the area of security as well. The Ministry of Science and ICT in Korea partnered with DELI-I, an AI-based video analysis platform provider, to repurpose donated old smartphones as security cameras for people with disabilities and senior citizens who live alone. Even the outdated smartphones offer better video resolutions compared to most regular security cameras, and by default, are equipped with telecommunication features, providing dual advantages.
Upcycling is emerging as one of the most sought-after technologies in modern-day industries as it is perfectly suited to address today's rising demand for sustainable products as a way to combat global environmental issues such as global warming. As ESG — short for the environment, social, and governance — has become a crucial imperative for business, companies are accelerating the efforts towards green business management, including various upcycling projects. Consumers' focus on smart consumption, as well as eco-friendly and ethical aspects, is expected to drive up the demand for upcycling even further.
※ This article holds the editor's opinion, and Samsung Display Newsroom's stance or strategies are not reflected.