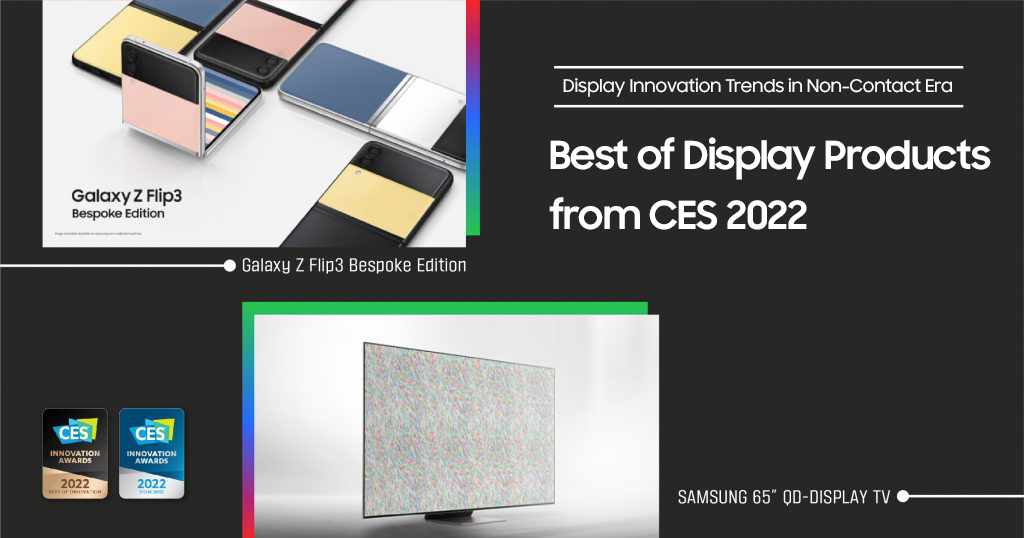 With digitalization taking place rapidly in the Pandemic Era, the display industry went through a momentous shift. Nearly all lifestyle culture became virtual, which means people's expectations and interests in display products also transposed equally, if not more. Display innovations swept the latest CES 2022 event, and in this article, meet some of the arresting display devices that have been named 'Best Innovation Awards'.
Mobile: Galaxy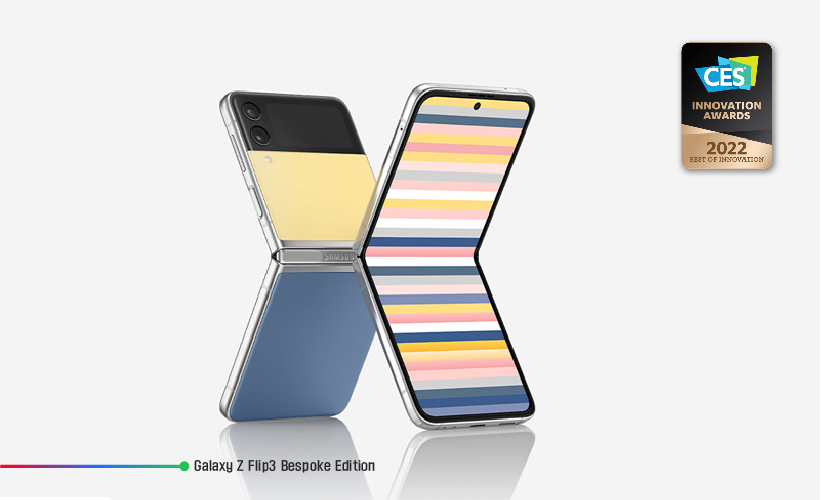 ▲ Galaxy Z Flip3 Bespoke Edition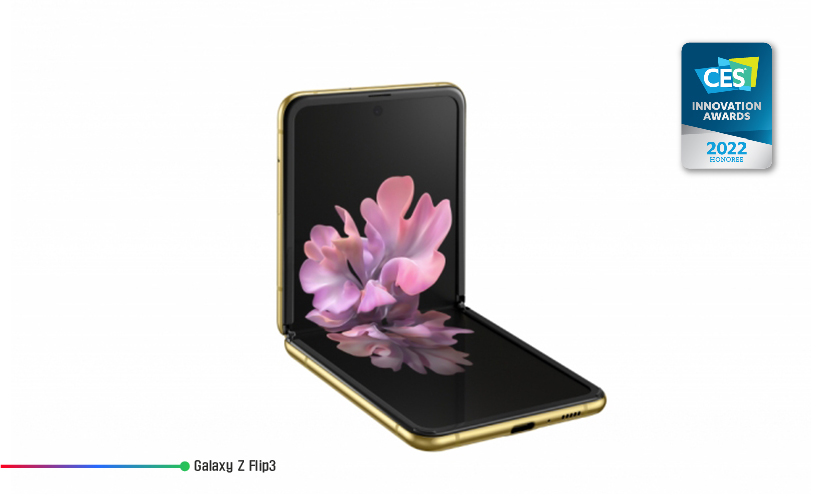 ▲ Galaxy Z Flip3
Galaxy Z Flip3 Bespoke Edition (Best of Innovation) and Galaxy Z Flip3 (Best of Innovation Honoree) gained ground at CES 2022 in the mobile device category. In the case of Galaxy Z Flip3 with beautiful compact design, its cover screen is four times bigger than the preceding Flip as well as its compact design - with new features like 120Hz refresh rate, improved touch sensitivity and an addition of protective film layer that makes the phone 80% more durable. According to CES, the Galaxy Z Flip3 Bespoke Edition's 49 design combinations are leading the trend towards smartphone customization where "you have the power to personalize each part of that design to truly express yourself".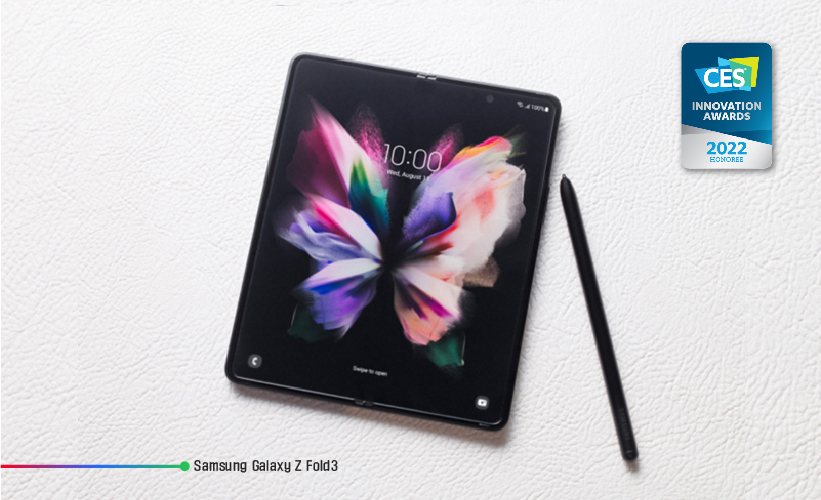 ▲ Samsung Galaxy Z Fold3
With the Under Panel Camera (UPC) that realizes a full screen, Samsung Galaxy Z Fold3 provides a unique experience where filming and display viewing can simultaneously work on the same screen. Other notable innovations such as its low-power Eco2 OLED™ technology improving transmission rate and IPX8 water resistance being the highest rating assigned to full waterproof devices simply cannot be missed.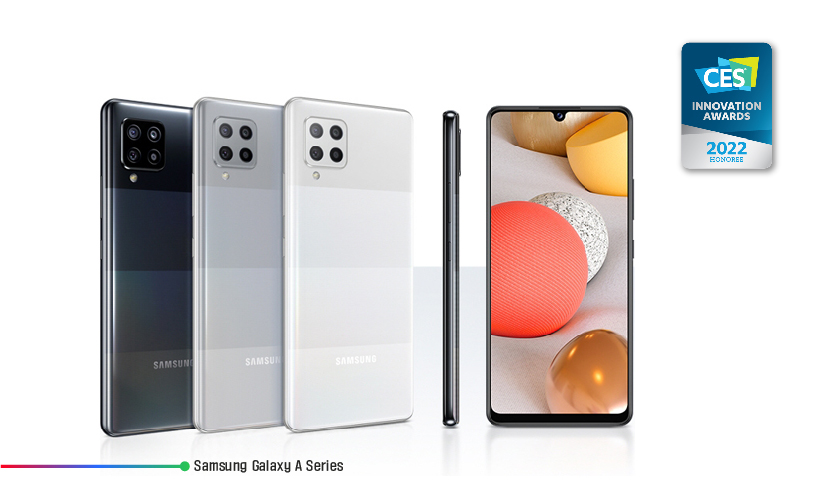 ▲ Samsung Galaxy A Series
The Samsung Galaxy A series is a line of smartphones with flagship entry level features such as big screens, high quality cameras, and long lasting batteries. With its reasonable price and impressive performance, "the A series makes some of the most popular Galaxy innovations available to all."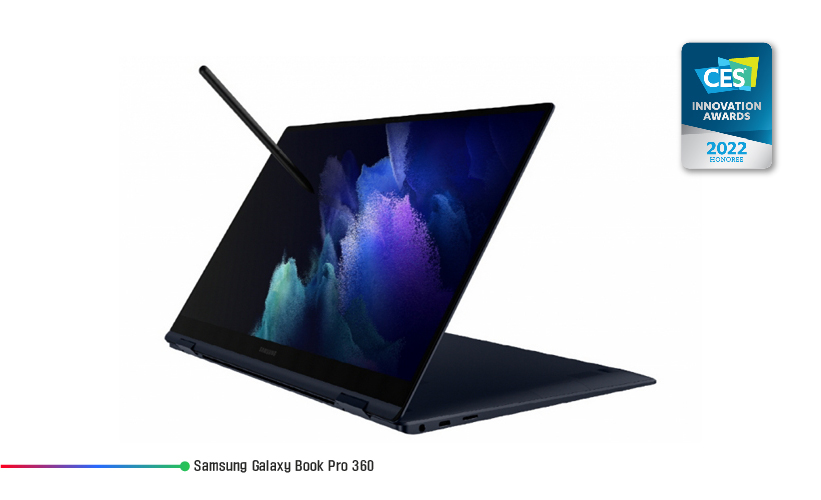 ▲ Samsung Galaxy Book Pro 360
CES 2022 Innovation Award Honoree, Samsung Galaxy Book Pro 360 is a 2-in-1 device (laptop/tablet PC) designed with a 360° hinge. Its ultrathin design was made possible with an OLED display backed with a touch screen function. Galaxy Book Pro 360 offers better eye protection to users with its VESA-certified Display HDR 500 and SGS-certified Eye Care Display for reducing blue light emission to 6.5%.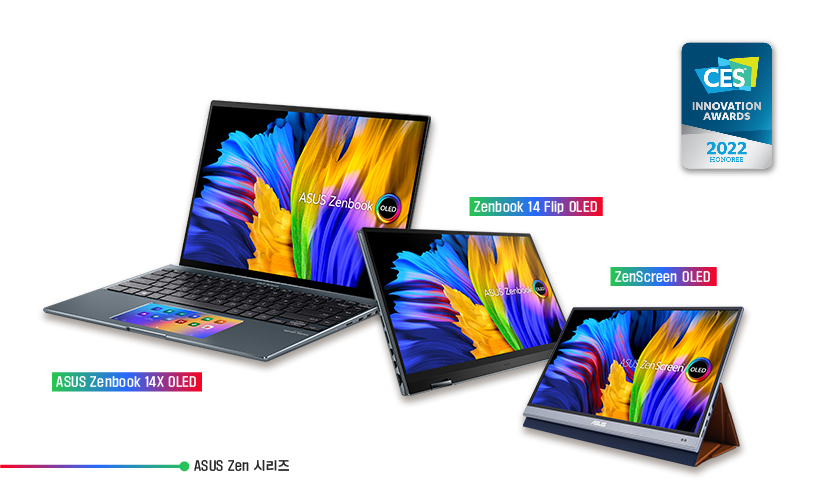 ▲ ASUS Zen Series
By taking the lead in featuring OLED display for its laptop line-up with Zenbook 14X OLED as the starting point, ASUS had its OLED products such as Zenbook 14 Flip OLED and ZenScreen OLED all receive the CES 2022 Innovation Awards. In concentrating on users' needs, Asus's laptops with OLED displays as part of the groundbreaking ultraportable design have elevated image quality with ultra-high contrast ratio and wide color gamut.
All Eyes on Monitor & TV Innovations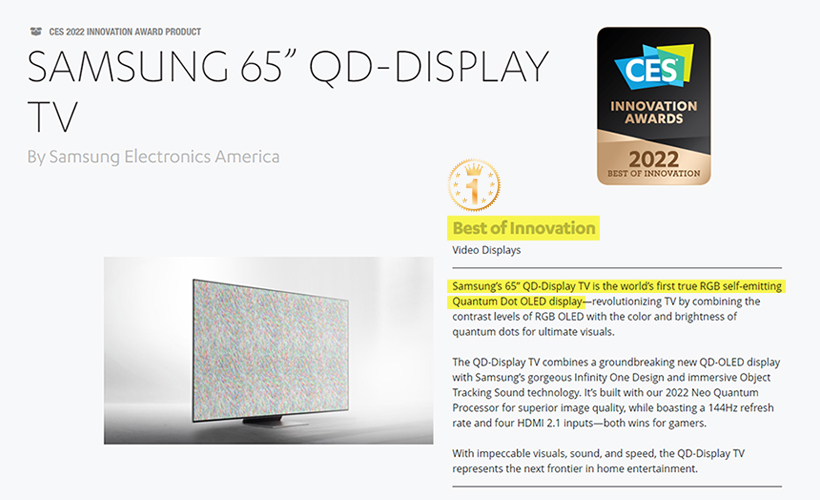 Samsung's 65" QD-Display TV was a sensation at CES 2022 with its implementation of RGB self-emitting Quantum Dot OLED display. CES noted its superior image quality as one of the key reasons why the QD-Display TV represents "the next frontier in home entertainment."
With pure blacks and a wide range of color expressions, the Sony 65A95K TV is Sony's New Flagship Master Series boasting its brilliant picture quality. It also provides blur-free picture quality in fast-moving sports and movies powered by XR OLED Motion* technology.
*Moving images are precisely controlled to minimise blur so that pictures remain true with less loss in brightness during high speed scenes (Sony)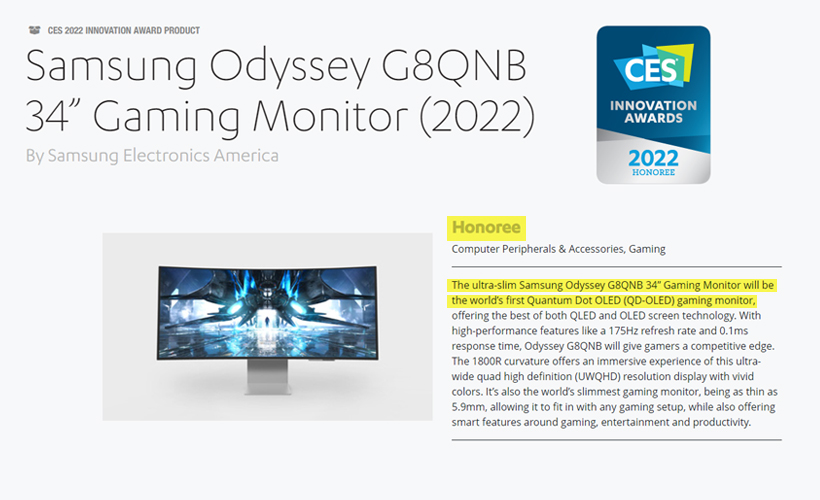 Samsung Electronics' Odyssey G8QNB 34" Gaming Monitor is another product with QD-OLED showcasing exceptional performance of 175Hz refresh rate and 0.1 millisecond (ms) response time.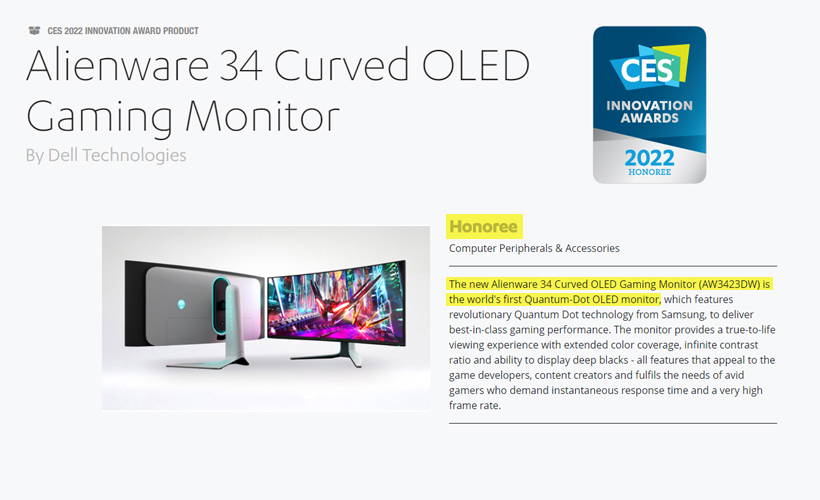 CES 2022 Innovation Award Honoree for Computer Peripherals & Accessories goes to Dell's Alienware 34 Curved OLED Gaming Monitor. Its deep black, infinite contrast ratio, wide color coverage and lifelike viewing experience provided by QD-display delivers "best-in-class gaming performance".
We've taken a look at some of the display products that earned Best of Innovation Award at CES 2022. As articulated above, what sparked as a smartphone display industry innovation has entrenched into laptop, tablet, TV and gaming monitor markets. As 2022 begins, we hope that this article helps you envision the various lifestyle impacts expected from these sensational innovations.