Life at Samsung Display is a bimonthly introduction of exceptionally talented employees at different campuses around the world.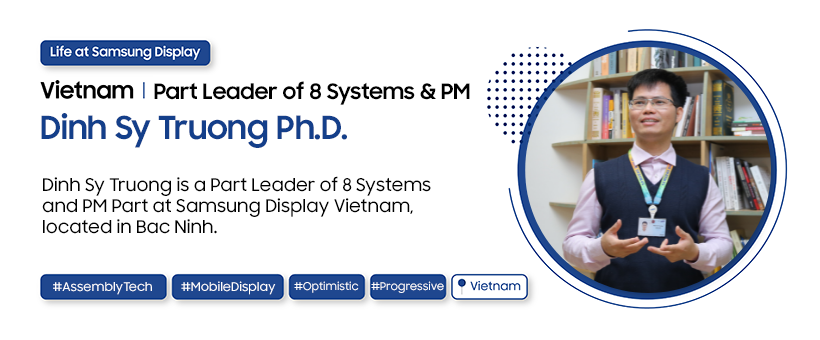 Tell us about yourself.
My name is Dinh Sy Truong, and I am the Part Leader of 8 Systems and Preventive Maintenance (PM) Part at Samsung Display Vietnam. I've joined the company in October 2020.
Before work, I wake up at 5AM for a run every day; it's a routine of mine since 2009. At work, I always attempt to solve a complicated problem by finding the simplest and most effective approach. After work, I enjoy reading political books and playing with my six-year-old son An, who by the way speaks fluent Korean after living in Korea for six years!
Waking up at 5AM for 13 years sounds impressive! Can you tell us more about your life before joining Samsung Display?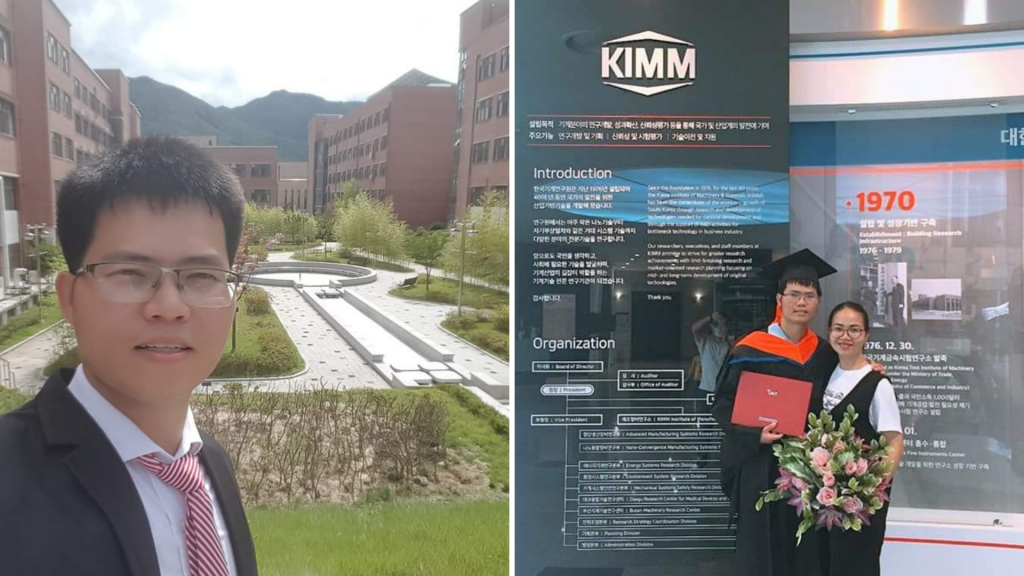 I studied Mechatronics at Hanoi University of Science of Technology as an undergraduate student. Then I moved to Korea after getting a scholarship to pursue my Master's Degree in Kangwon National University (KNU) and Ph.D Degree at University of Science and Technology (UST), in the campus of Korean Institute of Machinery and Materials. My thesis on bearing and motor presented the dynamic characteristics of a high-speed spindle with angular contact ball bearings. 
Between my Masters and Ph.D, I spent seven years studying in Korea: I am now familiar with Korean culture including food and travel spots. I traveled a lot, especially Jeju, which is the largest island in Korea well known for its hiking trails and beaches. I lost track of how often I went, but I have probably visited Jeju more than twenty times by now. I love it because Jeju Island is so peaceful.
People often ask me for recommendations before going to Korea and I always tell them to experience the winter season and Kimchi. One of the most unforgettable memories I have is the freezing cold weather of -20°C (-4°F) in Chuncheon* during my Master's Degree. As a way to endure that freezing cold, I used to love eating Kimchi Jjigae**. In fact, I still eat Kimchi at the Samsung Display Vietnam cafeteria because of my fond memories.
*Capital city of Gangwon Province, South Korea
**Stew made with Kimchi (a fermented vegetable dish), pork/seafood, scallions, onions and diced tofu.
What are your daily responsibilities at Samsung Display?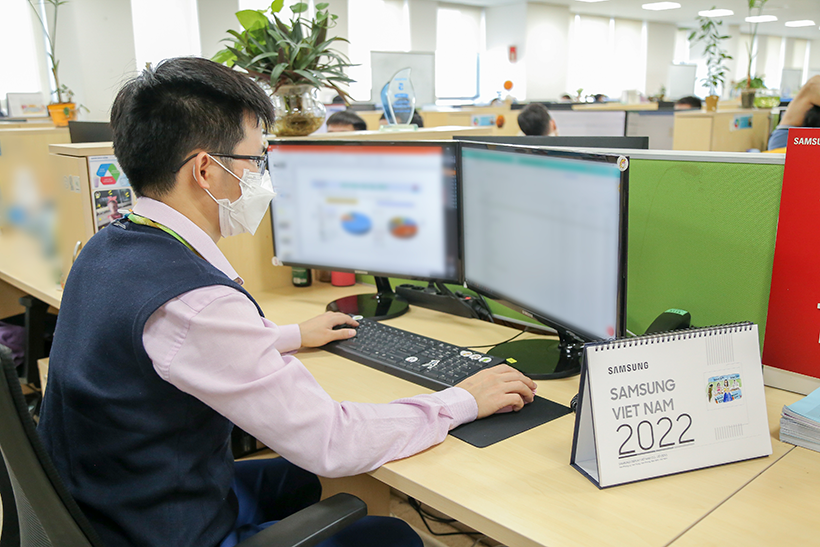 What happens when a sensor is not working properly or a machine operates at a velocity that tends to cause problems? At Samsung Display, there are basic eight issue management criteria when running equipment: Assembly, Lubricant, Motion, Transfer, Pneumatic, Electric, Control, and Management. For example, when one machine malfunctions, I analyze the cause of the error and prevent other machines with the same structure from recurring problems: At work, we call this Tool to Tool Matching (TTTM). Also, as the Part Leader of Preventive Maintenance Part, I help predict and repair issues of machines. It's important to understand "why" certain issues occur and try to prevent them from happening to ensure quality and efficiency of production in the long run.
We heard that you won first place last month at the annual competition? What was the experience like?
Yes, I won first place at the 8 Systems & 3D5S Contest, which is an annual competition to foster talented engineers who demonstrate exceptional knowledge. In the contest, our team presented two projects: (1) Establishing a standard operating procedure for improving tension belts in a robot and (2) Analysis of motor problems by measuring motor temperature. For the second project, finding a correlation between the motors problems and the temperature was a very tricky part. However, thanks to the study of the relationship between the temperature of the motor and the operation of bearings in the University of Science and Technology (UST), I accumulated abundant experience, and thus, I could establish the mechanism. As I emphasized earlier, asking "why" is crucial since it lets us dive deeper into the problem compared to a short-term "fix". I believe this logical reasoning was why our team's work stood out.  
What do you think are the most necessary competencies and qualities to succeed at your job?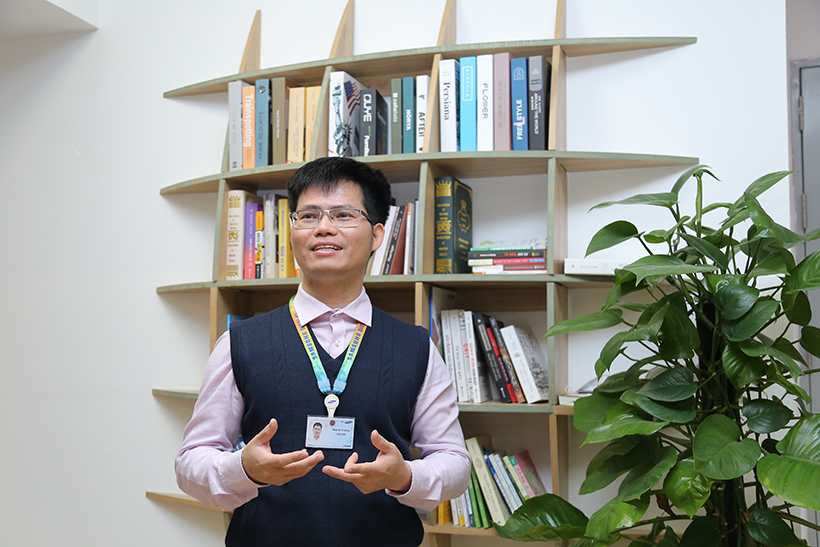 I believe there are mainly four traits that will make you successful as part of the 8 Systems and PM team: (1) Apply your knowledge into actionable tasks at work, from the laboratory to machines in factory lines, (2) Learn to communicate well so that you can transfer knowledge to other engineers and technicians, enabling them to solve problems, (3) Remind yourself constantly of what we have to do to achieve our KPI at Samsung Display, and last but not least (4) Strategize how you will achieve your KPI with the given manpower and deadline.
Personally, I believe the most important factors are KPI and action items. For example, let's say that the efficiency goal of Samsung Display Vietnam in 2022 is 85%. Samsung Display Part Leaders need to think about specific action items to achieve beyond that goal because they think about what the team has to achieve in increments - next week, month, 3 months, 6 months, and even years. Therefore in the previous example, Part Leaders will strategize to reach 85, 90, 95% efficiency instead of 80%.
Other factors to consider, which I regard as necessities, are professional skills and Korean language proficiency. You need to be confident about your technical background since without the professional skills, Part Leaders cannot approach the technology at Samsung Display. Korean language proficiency comes in handy when you are communicating with your Korean managers. At times, it is difficult to fully comprehend the work situation/issues since translators often struggle with tech terminologies that they are unfamiliar with. If you want to be exceptional at your work, going the extra mile with work efficiency is highly recommended.
Sounds like you work closely with Korean managers.
I do. Many of them are my mentors including current Group Leader JM Koo and previous Team Leader Sungjin Ahn. Sungjin Ahn is no longer with us in Vietnam because he moved back to Korea, but he has been so supportive of my journey within the company: For instance, he was the one who encouraged me to be a part leader for 8 systems one month after I joined. It wouldn't have been the same without him and I wish him all the best in Korea. It would be great to see him again in the future. Furthermore, Group Leader JM koo is also providing various ideas and items, which lead to my success at work. Thanks to Group Leader JM Koo, the knowledge I acquired from Ph.D has been applied effectively at Assembly Group.
What do you like the most about working at Samsung Display?
What I like is that Samsung has many high technological machines since the company produces cutting-edge technology. For example, I'm fascinated by bending machines. Our panels have a flexible electrical circuit, such as FPCB that needs to be bent, and the mechanism of the vibration controlling system in the bending machine is honestly a sophisticated machine with cameras and robots, which from the technical side is really impressive.
Also, this environment teaches me how to work with other people because team-working is very important at Samsung. Individuals cannot solve a bunch of issues at many lines, machines and sites by themselves.
Any last words for those reading the article?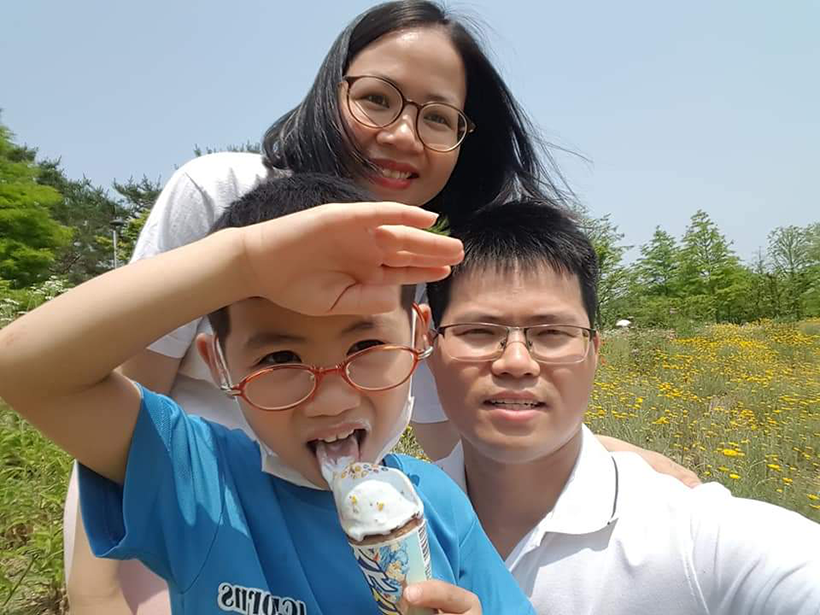 There is a slang used by people at Samsung Display Vietnam: "Samsung People". This usually refers to very busy people at Samsung Display who spend most of their time at work sacrificing personal time. However, I learned that this is not necessarily true. I recommend working smart - think about your action items for the development of the company.