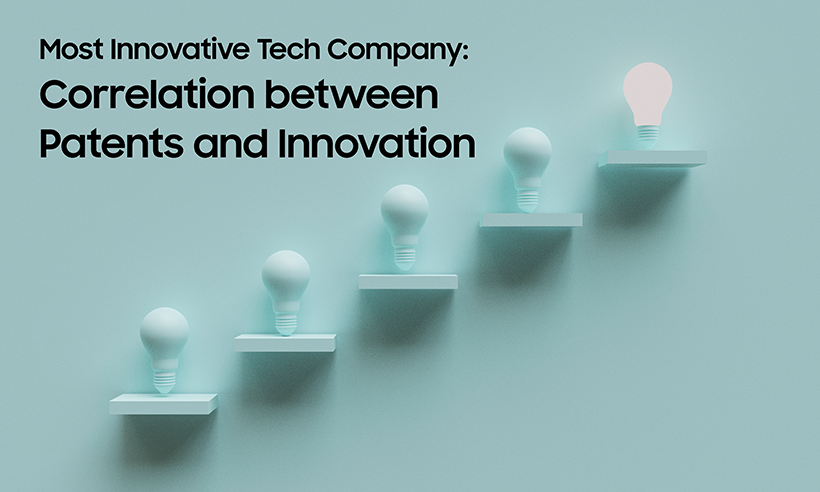 What makes a tech company innovative? Different metrics may be considered, but according to Capital on Tap*, the number of patent applications filed by tech companies is a strong indicator. After analyzing more than 2.6 million patent applications, Capital on Tap ranked Samsung Display as the 8th most innovative technology businesses in the world in 2021.
What makes Samsung Display innovative? Continue reading to learn more about the correlation between patents and innovation and Samsung Display's patent history!
* Global Business Tech Awards 2021 'Fintech Company of the Year' awardee
Relationship between Patents and Innovation
"Patents grant exclusionary rights to an invention – a product or process that is a solution to a specific technological problem. They can be seen as an indicator of innovation, to track rates of technological change or progress, or monitor the health of research and development."

– Statista –
Do patents really promote innovation? While there is an active discussion about this topic, people like Marshall Phelps, former chief of global intellectual property operations for IBM and Microsoft, believe that patents are strongly correlated with innovation. In his Forbes article, Phelps argues that academic research and real-world economics provide evidence that patents foster innovation: For example, a study entitled 'R&D and the Patent Premium' found that "the patent premium for innovations that were patented is substantial" and a study by the Organization for Economic Co-operation and Development (OECD) found that "stronger levels of patent protection are positively and significantly associated with inflows of high-tech product and expenditures on R&D". While the correlation may be contested, generally, the potential of the patent has been recognized in the context of dynamic innovation activities (World Intellectual Property Organization).
Samsung Display's Patents
As mentioned earlier, Samsung Display ranked 8th by Capital on Tap as the most innovative technology company in 2021, filing 3,524 patent applications in 2021 and holding 26,219 in total. It also ranked 13th on the 2021 Top 50 US Patent Assignees by IFI (a global patent database) and has been named for 9 consecutive years. Considering the fact that Samsung Display was officially launched in 2012*, this is a remarkable feat as it has been making a mark as one of the most innovative companies within the US intellectual property area every year since 2013.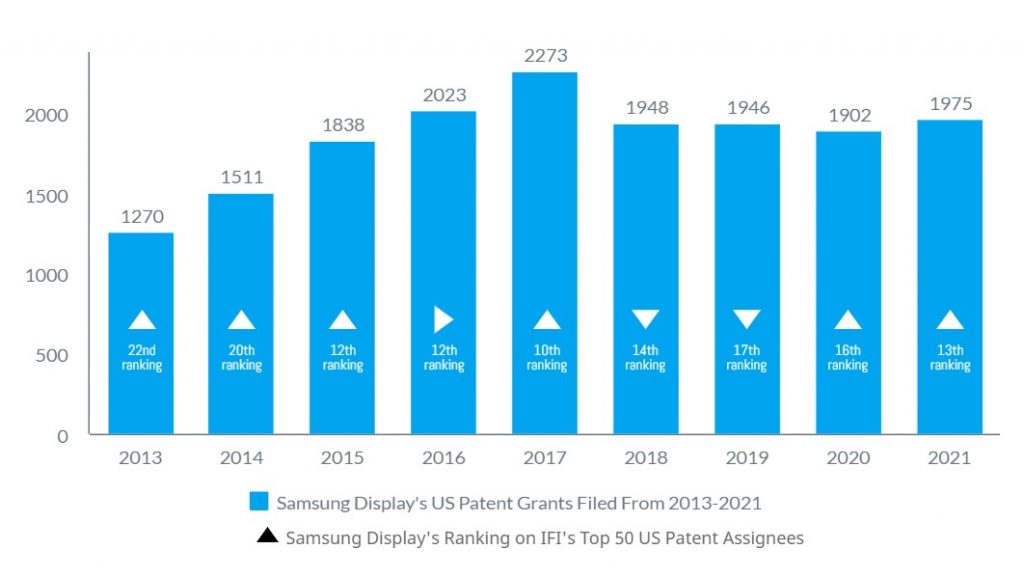 * Samsung Display began as an R&D arm of Samsung Electronics in 1991 and officially separated as a new corporation in 2012.
The Korea Intellectual Property Office (KIPO) also recognized the Samsung Group as a key contributor of OLED display key technologies (panel compensation and correction): KIPO rounded up numbers between 2011-2020 in five of the most advanced countries for patent systems (Korea, US, China, Europe, and Japan) and announced that Samsung logged 2,786 applications, ranking 1st globally. Samsung's performance also helped South Korea rank 1st in the world; South Korea had 5,384 total patent applications in key OLED technologies (43%), followed by China (26%), Japan (20%) and the United States (5%).
Samsung Display and Innovation
Since its mass-production of the world's first OLED displays in 2007, Samsung Display has maintained technological leadership in the small-and-mid-sized OLED display industry. With exceptional design and innovative functionalities, Samsung Display's products – ranging from flexible OLED to glass-based OLED – receive global recognition as state-of-the-art technologies adopted in the latest smartphones. As the industry leading company, Samsung Display strives to constantly push its best performance to the next level with trademark registered breakthrough innovations such as Diamond Pixel™ and Samsung Eco² OLED™.
With more than 17 million views on YouTube, the 'OLED World by Diamond Pixel™' video provides viewers with a stunning visualization of the leading advanced technology applied to modern display devices. First introduced by Samsung Display in 2013 on OLED panels of the Galaxy S4 series, Diamond Pixel™ has become the standard on all Samsung OLED as it optimizes the pixel structures of RGB color material by considering color sensitivity: For example, the human eye sees green better than any color in the spectrum, which explains why the green screen dots are smaller and densely populated in Diamond Pixel™. Since 2020, nine trademark patent applications including 'Samsung Diamond Pixel™', 'Diamond Pixel™', and 'Diamond Pixel OLED™' have been submitted in ten countries (Korea, US, UK, etc.) and registered in five countries.
Likewise, Samsung Eco² OLED™ and Under Panel Camera (UPC™) are some of the many patented technologies that were introduced to the public last year, revolutionizing the industry standards for IT devices. Eco² OLED™ refers to the elimination of an additional polarizer layer on displays, which improves light transmittance by 33% while consuming up to 25% less power. Under Panel Camera (UPC™) embeds the front camera of a smartphone underneath the display panel, which eliminates the camera hole and realizes a full screen with higher screen-to-body ratio.
Foldable display technology has also been a notable accomplishment backed by years of research culminating into the commercialization of Galaxy Fold series. The first release of Galaxy Fold in 2019 and Galaxy Z Fold and Z Flip in 2021 have captivated global users. Market research firm Omdia predicts that Samsung Display's overall market share within the foldable OLED panel industry reached 89% in 2021, with a 100% market share in 2021 Q3.
According to the Korean Intellectual Property Office, both Samsung Electronics and Samsung Display ranked 2nd (21.2%) and 3rd (21.1%) in terms of foldable display related patent applications filed between 2012-2019. Outside of Korea, Samsung Display has shown new foldable screen prototypes during SID 2021 and CES 2022, and upcoming trademark patents such as Flex Note and Flex Slidable have been submitted in ten countries (US, UK, India, etc).
Samsung Display will continue to invest in research and development to uphold its global reputation as a highly innovative company. We hope you'll stay focused throughout 2022 as Samsung releases more news about its exciting new technologies.