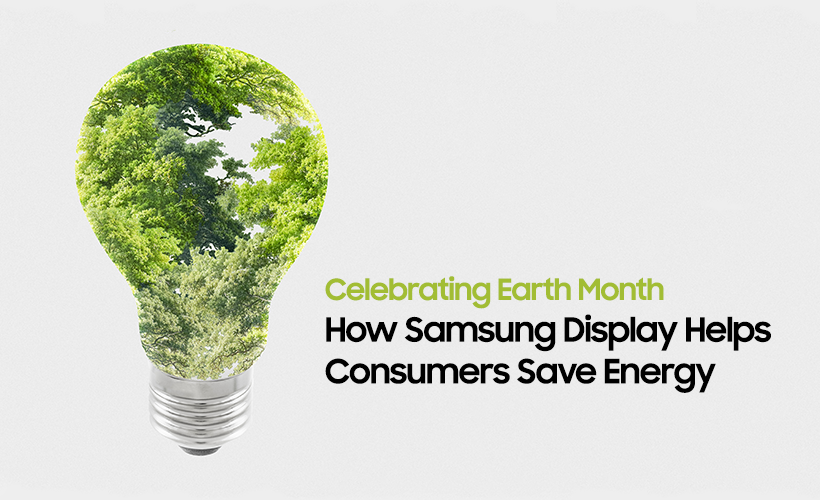 Developments in OLED technology aim to reduce greenhouse gas emissions
To meet the increasing demand for more efficient tech products that consume less power, Samsung Display has invested heavily in sourcing cutting-edge global material companies and tapping talent to support its development of low-power OLED technology over the past ten years.
Thanks to the latest innovations in OLED technologies, such as enhancing OLED organic materials by increasing luminous efficiency and developing 'Adaptive FrequencyTM' that help reduce power usage up to 22% through enhancements to refresh rates when streaming content, in 2020 alone, the total power consumption from OLED panels for smartphones, laptops and smartwatches were reduced by 30% compared to 2017, which saw approximately 239GWh of power usage.
In total, these efforts have prevented over 110,000 tons of greenhouse gases, which is equivalent to the amount of carbon that can be absorbed by 17 million pine trees within a forest the size of 5,600 soccer fields.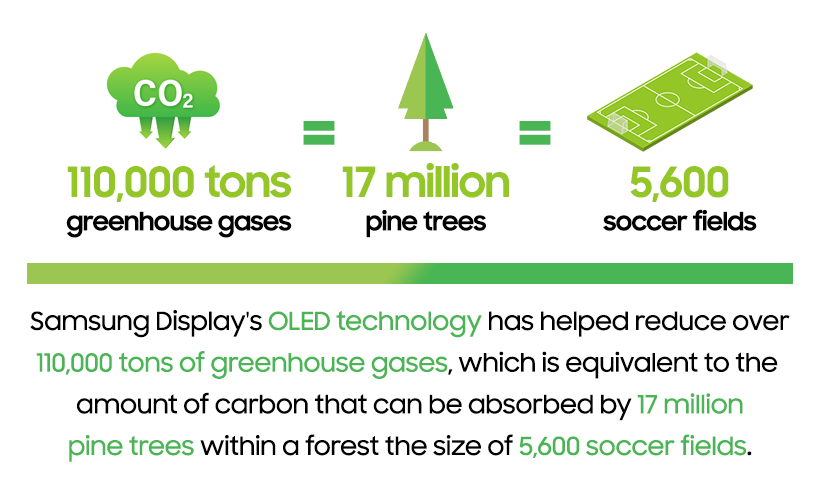 Anyone can contribute to reducing the greenhouse gas emitted by using personal tech devices by utilizing Samsung's OLED technology. For example, if the 230 million LCD units sold annually were switched to OLED, disposal costs would be reduced by $5.7 million. If a single tree costs $100 to plant, 57,000 trees could be planted, resulting in a forest of trees that can reduce 2,200 tons of C02 annually.
Greenhouse gas reduction during production processes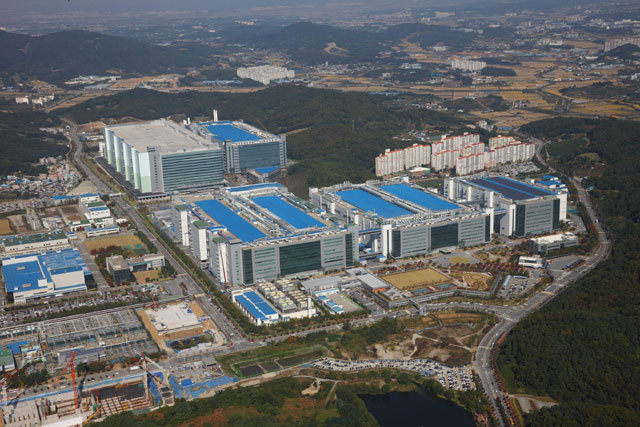 △ Samsung Display's Asan Campus
Since 2019, efforts have been made by Samsung Display to identify and control greenhouse gas emissions from production processes. The company has reduced the greenhouse gas activities across its production lines by tapping alternative gases, operating GHG reduction facilities and making necessary adjustments where needed.
In 2020, approximately 440,000 tons of greenhouse gas emissions have been reduced compared to 2018. For comparison, this reduction is equivalent to creating a forest of 66.7 million pine trees, assuming each pine tree absorbs approximately 6.6kg of CO2 each year. Samsung Display's goal is to develop new technologies and add more high-efficiency treatment facilities to cut air pollutants in half by 2023, compared to 2018.
Circular Economy I: Resource circulation through recycling of waste
In its efforts to identify beneficial ways to recycle waste, Samsung Display strengthened its process of separating and sorting industrial waste generated from large-scale constructions and demolitions. Through this, Samsung Display was recognized and awarded with the 'Zero Waste to Landfill' platinum certification, an international standard that evaluates recycling levels of waste generated at business sites, in December 2021 by UL, a global safety certification company.
Additionally, since June 2021, Samsung Display ramped up efforts for its 'Project to Recycle Waste Etchant Solution', which contributes to the environment and reduces costs by recycling 'etchant', a chemical solution used during the production process to make displays thinner. Tons of etchant solution are discharged daily, and approximately 300g of silver (Ag) are present in that waste. If extracted yearly, 2.5 tons of silver can be saved and reused.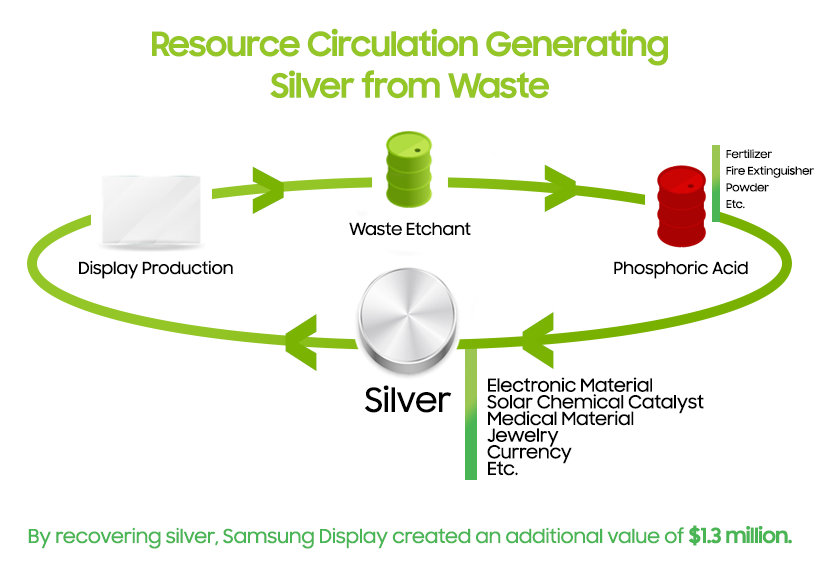 Silver is an important material in OLED panels and is used as a component of 'micro-cavity', of which the light reflection characteristic is used to show bright and excellent image quality with low power. However, it was very difficult to extract the silver that exists in the ionic state within the etchant in the form of a metal. After careful consideration and diligent research, Samsung Display developed a method to extract high-purity silver which can be used in electronic, solar, and medical materials. From silver extraction, Samsung Display creates an additional added value of approximately USD 1.3 million annually.
Circular Economy II: Carbon-neutral TF alongside the international community
In line with the international community moving toward carbon neutrality, last year, South Korea submitted the '2030 National GHG Reduction Goal' and '2050 Long-Term Low-Carbon Development Strategy' to the UNFCCC* secretariat (UN Climate Change).
*UNFCCC stands for United Nations Framework Convention on Climate Change.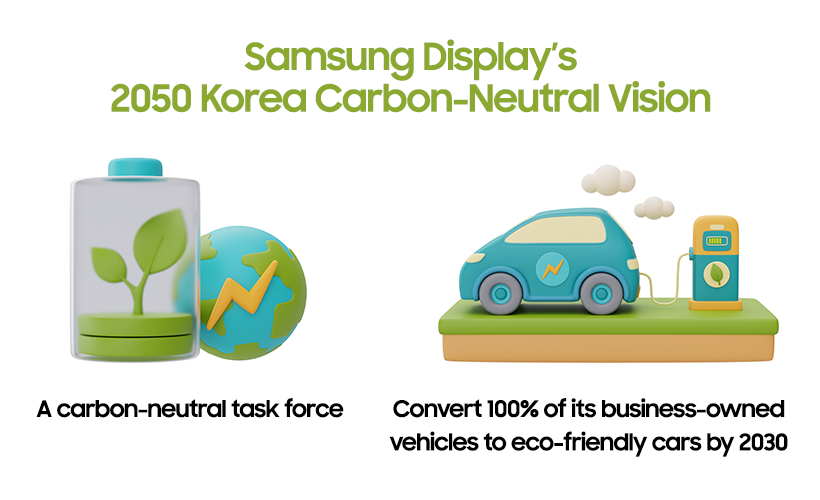 Additionally, Samsung Display formed a carbon-neutral task force in February 2021 in accordance with the Korean government's declaration of the 2050 Korea carbon-neutral vision. Samsung Display also promised to convert 100% of its business-owned vehicles to eco-friendly cars by the year 2030.
Joining the RBA for ESG value management
In February of 2021, Samsung Display joined the RBA (Responsible Business Alliance) to ensure the ESG value management is in line with global ESG standards. Currently, Samsung Display has laid the foundation for systematic ESG management by establishing mid to long-term goals for five key areas: climate change, resource circulation, sustainable products, fair partnership, and local communities.
As a result of an on-site evaluation of compliance with the RBA Code of Conduct, the Asan 2 Campus (OLED production line) in Chungnam, South Korea and Samsung Display facility in Dongguan (SDD, OLED module line) in China were awarded the highest RBA Platinum grade, recognizing Samsung Display as world-class company in social responsibility.