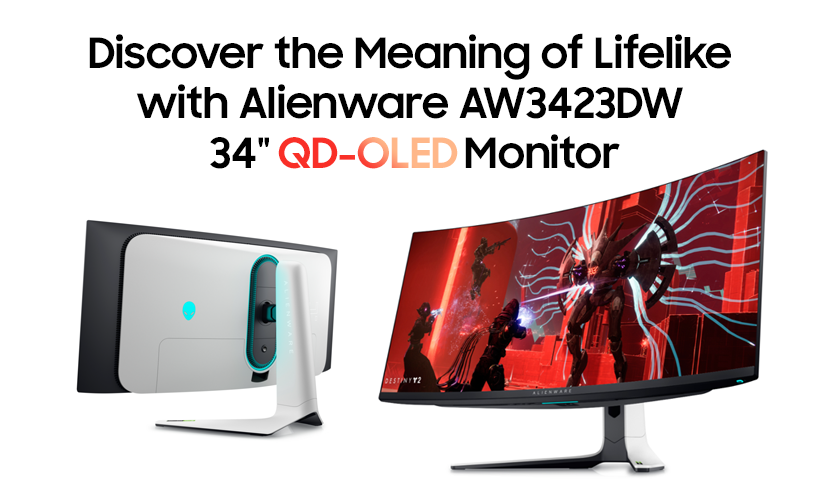 If you're a gamer looking for a gaming monitor, what factors influence your purchasing decision? Refresh rate, response time, aspect ratio, display resolution, HDR, and color gamut might be good indicators of what you're looking for… But what happens when you encounter a completely new technology on your next gaming monitor? Meet the world's first QD-Display gaming monitor – Alienware AW3423DW 34″ QD-OLED Monitor!
What is QD-Display?
"QD-OLED could be the only display type we're playing on five years from now."

– PC Mag –
As mentioned in the video above, the asks for gaming monitors are getting tougher with 8K on the rise. Delivering clearer, faster, and more lifelike images on display is a real demand not just in the gaming industry but for the IT industry in general.
QD-Display uses quantum dot technology to convert light into primary RGB colors – which are shown on the screen as an image – when quantum dots meet the light source from a self-emitting blue light layer. Quantum dots(QD), nano-sized particles, emitted different colors of light according to their sizes. The primary RGB colors expressed by quantum dots have a narrow band of wavelength so that the color is very pure, and when combined, the colors are portrayed more accurately than in other technologies.
Therefore, QD-Display could meet consumer's demand by producing purer colors without losing any of the outstanding performance of OLED panels. Based on the advantages of QD-Display, it has helped Samsung Display receive the following five certifications from SGS in less than a year: ① Pro Gaming Verified, ② True Color Tones, ③ Pure RGB Luminance, ④ Ultrawide Viewing Angle, ⑤ Eye Care Display.
In particular, QD-Displays receiving the highest rating Platinum level in Pro Gaming Verified has proven to be a significant upgrade in display reflectance, refresh rate, viewing angle, light leakage and color performance.
Best performance leveraging the advantages of QD-Display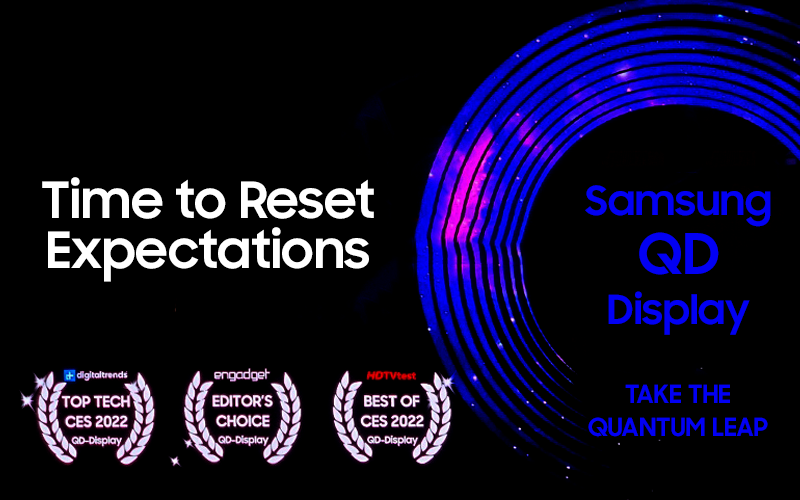 "Best gaming monitor." (Best of CES 2022)

– CNN Underscored –
It was during the CES 2022 event in January when Dell first announced the launch of the Alienware AW3423DW 34″ QD-OLED Monitor – world's first QD-Display gaming monitor. Is it a surprise that numerous tech reviewers recognized QD-Display as one of the best technologies at CES? The monitor was also recognized by several tech sites – PCWorld, PCMag, CNN underscored, etc. – and as one of the CES 2022 Innovation Award Honorees for Computer Peripherals & Accessories.
Alienware AW3423DW 34″ QD-OLED Monitor
"The Alienware 34 Curved Quantum-Dot OLED gaming monitor is one of the most amazing displays we've ever seen. I know that sounds like hyperbole, but this thing is really astonishing in person."

– Tom's Guide –
"Put simply, the Alienware 34 AW3423DW sets new standards for contrast, HDR performance and response."

– PC Gamer –
"It lives up to Samsung Display's promises by delivering a brighter picture than we've seen before in OLED TVs."

– The Verge –
Since its debut at CES 2022, the Alienware AW3423DW 34″ QD-OLED Monitor has been winning hearts of various tech reviewers globally. In the video above, Digital Trends reviewer says that playing games with QD OLED "feels like you're seeing the game the way it was meant to be seen, and that's all thanks to QD OLED working with HDR." What else should you know about the Alienware 34 Curved Quantum-Dot OLED gaming monitor? Here are quick facts that you should know about the world's first QD-Display gaming monitor:
① 0.1ms Response Time: How fast can a pixel change from one color to another? If it's slow, that's when you experience "display ghosting" when you see a trail of pixels behind a moving object (also known as motion blur). A typical LCD response time is under ten milliseconds (10 ms), but with QD-Display, you reduce that time all the way to 0.1ms. That's not only 10 times faster than any LCD monitor in the market but also the industry's fastest: It's simply the best performance you can get.
② 175Hz Refresh Rate: According to PC Gamer, for that ultra-smooth gameplay, the standard for gaming monitors is 144Hz. Fast refresh rate is any gamer's dream. Imagine gaming at 175Hz refresh rate with the first high refresh OLED panel: GG (Good Game)[1] !
③ Wide Color Gamut: True-to-life image makes gamers enjoy a more immersive gaming experience and a wide color gamut enables this. DCI-P3 and sRGB are two color gamuts or color spaces and DCI-P3 offers a wider color range. QD-OLED monitor can cover 99.3% of the DCI-P3 color gamut and 149% coverage of the sRGB color space. Discover the meaning of lifelike!
④ 1,000,000:1 Contrast Ratio: Are you into HDR gaming? In order to deliver a perfect HDR experience, the display should be filled with high contrasts and ultra-bright colors. QD-Displays can produce a close to infinity contrast ratio so that it helps to represent whites brighter and blacks darker. luminance of the brightest white and the darkest black compare? Visualize the brightest and the darkest colors across your screen!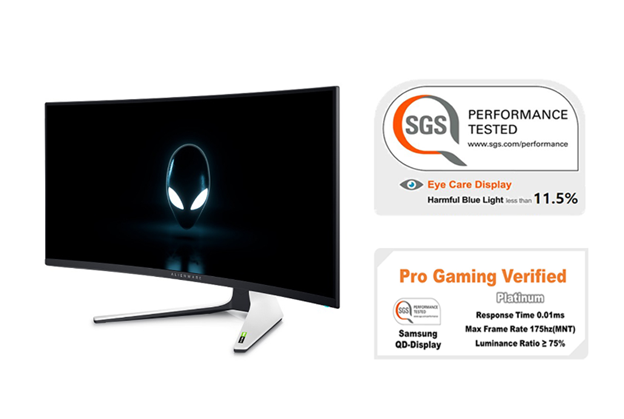 Future of Gaming with QD-Display
"The Quantum Dot enhanced OLED panel feels like nothing short of a peek into the future of where gaming monitors are going, and is an absolute joy to use."

– IGN –
The global gaming market size has been on a continuous rise, expecting to reach nearly $546 billion by 2028. With more gaming demand, more innovations are necessary to ensure the best gaming experience. Displays are a big part of that future, and we hope you are excited about the introduction of QD-Display gaming monitors with Dell's Alienware AW3423DW 34″ QD-OLED Monitor.