As the first display maker to attend Gamescom, Samsung is targeting the gaming market by providing experiential events alongside its latest TVs, monitors, and laptops in the game zone
Samsung Display announced today that it would participate in Gamescom 2022, one of the biggest global video game trade fairs, taking place in Cologne, Germany from Aug. 24 to 28.
The company will collaborate with Pearl Abyss, a Korean game developer, to showcase OLED and QD-OLED products as the best gaming display and present various experiences to gamers around the world.
Samsung Display has prepared 'Black Desert,' an MMORPG game by Pearl Abyss, and will provide gamers who visit the OLED and QD-OLED game zone of the exhibition booth with an opportunity to enjoy 'Black Desert' on high-definition displays.
In addition, the company plans to launch a stamp-collecting challenge consisting of four different tasks at its exhibition booth, including a gaming experience with OLED/QD-OLED display, display quality experience, future technology experience and photo zone shooting. Participants who complete all four tasks can win various 'Black Desert' prizes.
"Since its launch in 2014, 'Black Desert' has been steadily growing its user-base thanks to its vibrant in-game landscape and realistic characters," said Kevin Kim, Chief Business Officer of Pearl Abyss. "Gamescom will be a perfect opportunity to fully enjoy Black Desert's colorful graphics on OLED and QD-OLED displays that show a wide color gamut, infinite contrast ratio, and fast response speed."
Jeeho Baek, Executive Vice President and Head of Mobile Strategic Marketing at Samsung Display, added, "As the gaming industry gets more sophisticated and expands from PC to laptop, mobile and various form factors, it is inevitable that consumers will demand a high-resolution and fast response speed gaming display. To meet this demand, we will provide gamers worldwide with the opportunity to experience the superior quality of Samsung Display's OLED and QD-OLED displays through co-marketing campaigns with various content-making companies."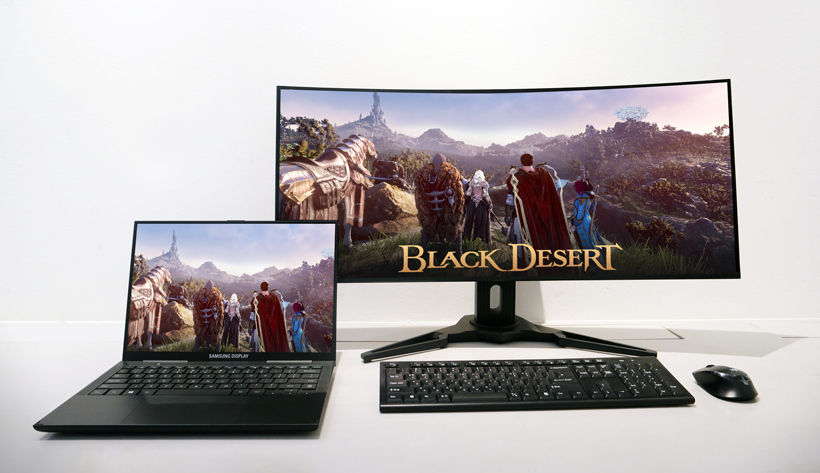 [Terminology]
– Massively Multiplayer Online Role-Playing Game (MMORPG) refers to a type of role-playing game in which thousands, even millions, of players may participate online together by assuming different character roles.