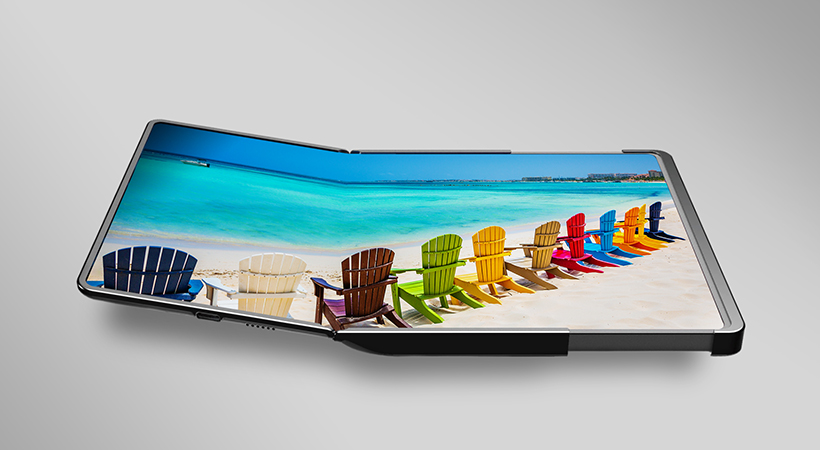 Flex Hybrid display combining foldable and slidable capabilities for future laptops, new QD-OLED innovations and bendable displays for automotive digital cockpit make their debut at the most influential tech event in the world
Samsung Display is heading to CES 2023 with innovative products that hint at the future of OLED technology.
The company will hold an invitation-only exhibit January 4-7 under the theme, "Disruptive Tech Journey Unlocks Sustainable Futures" at CES, the first fully in-person event since 2020. Samsung Display is bringing innovative OLED products of all sizes, small, medium and large, to provide a glimpse into the future of displays. Among the innovations will be 'Flex Hybrid' which combines both foldable and slidable capabilities into one display and large-screen slidables, which will be the prototype of future laptops. And QD-OLED 2023 will feature brighter and more realistic image quality thanks to the advanced optimization algorithm, IntelliSense AI and new OLED HyperEfficient EL material.
Future of Smart Mobile Devices: Slidable
Samsung Display has been introducing next-generation foldable and slidable products through various exhibitions in the past. At CES 2023, the company looks to showcase its future smart mobile device, Flex Hybrid, which combines two innovative technologies into one. Foldable technology is applied to the left side of the screen with slidable technology on the right side of the Flex Hybrid. Users can enjoy movies and videos on the 10.5-inch display in aspect ratio of 4:3 or on the 12.4-inch larger screen in 16:10 screen ratio.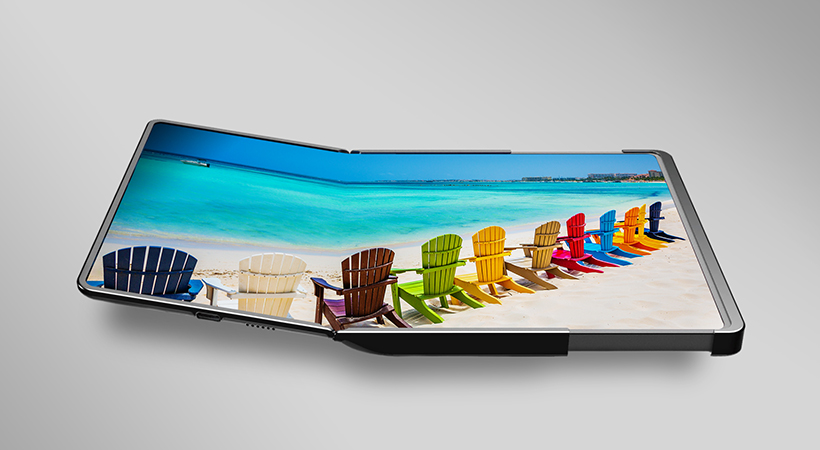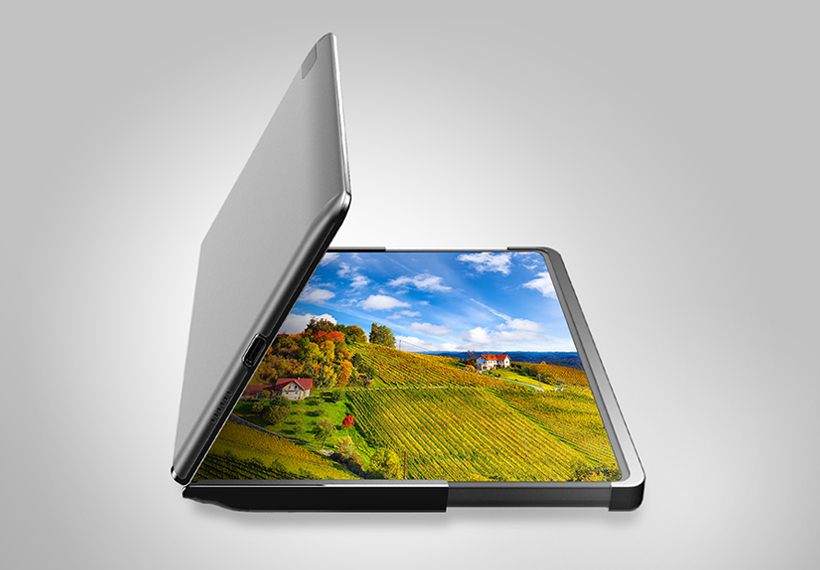 ▲
Samsung Display's 'Flex Hybrid' combining foldable and slidable
The 17-inch large-screen slidable display, which was previewed at Intel Innovation 2022 by Samsung Display CEO JS Choi in September, will make its first public appearance at CES. The slidable display has two concepts, Flex Slidable Solo, which can expand the screen in one direction and Flex Slidable Duet, which expands the display in both directions. The display is very portable at only 13-14 inches but can be expanded to 17.3 inches for multitasking purposes, playing games, or watching movies.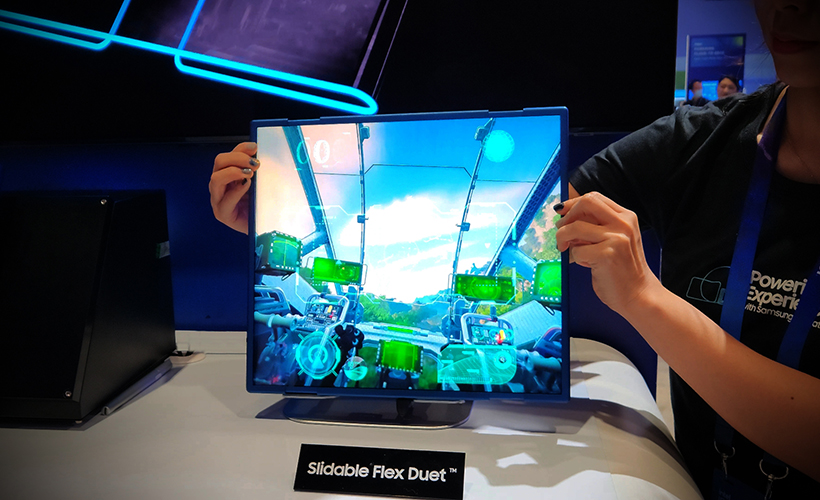 ▲
Samsung Display's 'Flex Slidable Duet' expanded in both directions
'QD-OLED 2023' with advanced AI algorithm and HyperEfficient EL material
QD-OLED display technology, which first appeared at CES 2022 to surprise consumers with its unprecedented color and the best image quality without distortion at any viewing angle, will make it to CES again as an upgraded version, 'QD-OLED 2023'.
Samsung Display completed its 2023 lineup by adding QD-OLED displays to the super-large 77-inch TV, the largest in the QD-OLED family that also includes 55-, 65-, 34-inch displays as well as a 49-inch ultra-wide monitor. In particular, 2023 lineup products are applied with advanced optimization algorithm IntelliSense AI and new OLED HyperEfficient EL material improving the color brightness of each RGB. As a result, the maximum brightness of combined RGB color brightness becomes more than 2,000 nits realizing overwhelming image quality once again.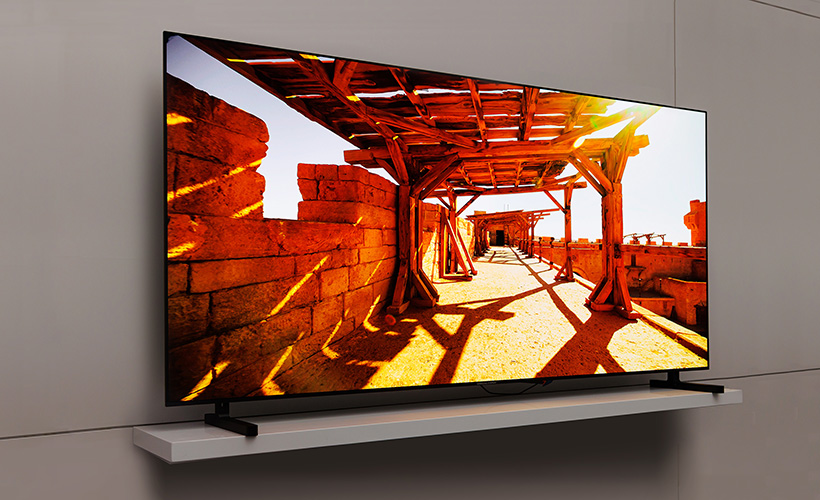 ▲
Samsung Display's Super Large 77-inch QD-OLED for TVs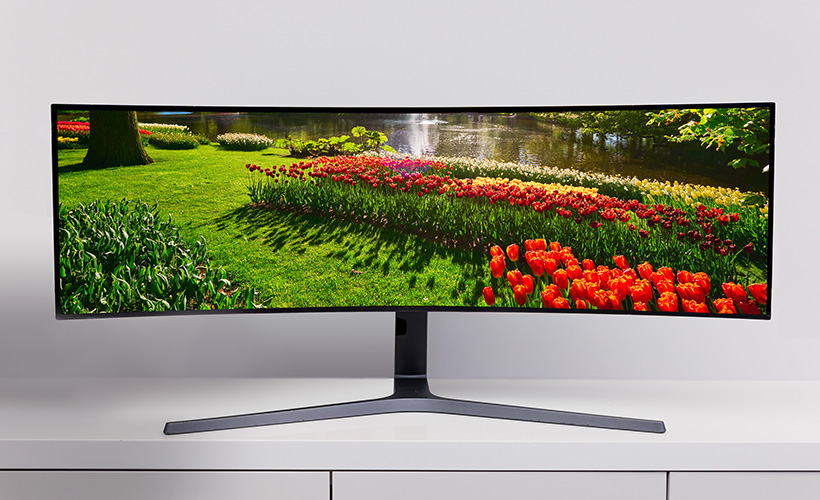 ▲
Samsung Display's Ultra-side 49-inch QD-OLED for monitors
Samsung Display explained that AI technology based on big data collects information on each pixel in real-time and uses it to precisely control light, allowing viewers to enjoy outstanding image quality and panel efficiency has been greatly increased with advanced AI technology.
In addition, the efficiency of the light source is increased with the new OLED HyperEfficient EL material applied to the blue emitting layer of QD-OLED. As a result, RGB light that passes through the QD color conversion layer is much brighter and the colors much clearer.
The company announced that QD-OLED 2023 has reduced power consumption of 2022 model up to 25 percent by applying high-efficiency organic materials and more advanced AI technology. The consumers will be able to enjoy accurate colors and richer picture quality on bright screens as well as dark screens while reducing power consumption.
New Digital Cockpit: Unlocking next-level experiences in self-driving vehicles
Samsung Display is unveiling for the first time a product for automobiles, New Digital Cockpit, targeting the self-driving vehicle market which is expected to grow rapidly in the future.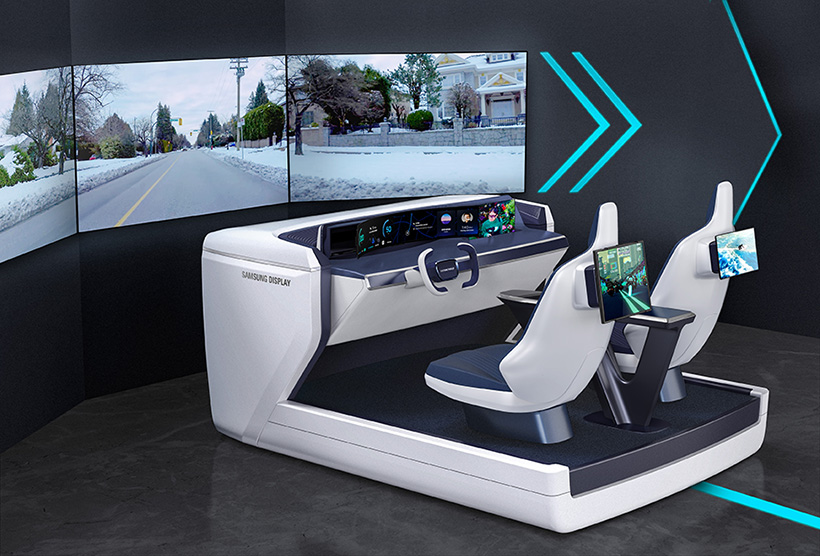 ▲
Samsung Display's 'New Digital Cockpit' targeting the self-driving vehicle
This product is a display designed for automotive digital cockpits combining a 34-inch display with a 15.6-inch display. The large screen can be used as a display for entertainment in autonomous driving mode. The 700R curvature of the cockpit display delivers the optimal viewing experience in driving mode, which helps the driver focus on the road.
"OLED is in the limelight as a key part of luxurious car interior design as it adds 'perfect black expression' to design." said a Samsung Display official, "With Samsung Display's flexible and curved design products, we're able to offer a variety of automotive solutions."
Samsung Display's exhibition space also introduces eco-friendly technologies for a sustainable future. In the OLED Grows Green zone, eco-friendly and low-power technologies that reduce greenhouse gas emissions are introduced, while the process of recycling glass, an irreplaceable resource in the OLED production process, is explained in clear detail.