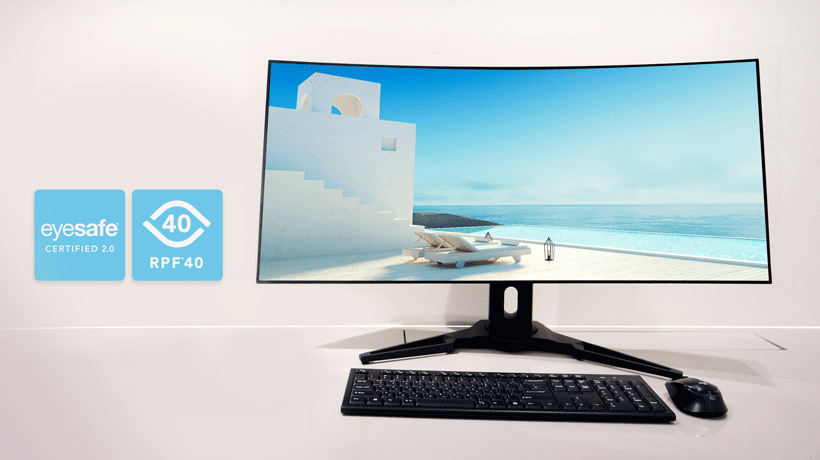 Highest color expression with less harmful blue light emission,
QD-OLED is an optimized display for user's eye health
Samsung Display announced today that its 34-inch QD-OLED display achieved Eyesafe® Certified 2.0. Featured in several high-end monitors, Samsung's popular display emits far less blue light, meaning more comfort and confidence for users concerned about eye safety.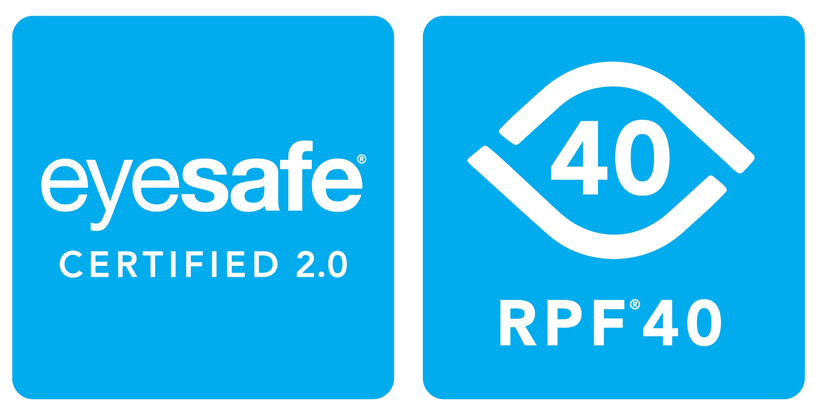 Eyesafe is a certification system jointly developed by TÜV Rheinland, a German testing and certification company, and Eyesafe Inc., a U.S. certification organization specializing in eye safety. The system measures harmful blue light emitted in the visible light spectrum and awards certification only to products with a Blue Light Toxicity Factor (BLTF)* of 0.085 or less.
Typical blue light reduction technology can often force users to compromise on picture quality, causing color distortion resulting in a yellowish glow on the screen. Through advanced material research, Samsung Display developed a solution that minimizes harmful blue light emission while achieving high color purity to deliver over 99% of the DCI-P3 color gamut, the highest among OLED monitor displays currently on the market.
Eyesafe® Certified 2.0 introduces the RPF, or Radiation Protection Factor, to provide a more intuitive and granular view of verification results compared to the previous version. Similar to Sun Protection Factor (SPF), a higher RPF number indicates that less blue light is being emitted. The QD-OLED 34-inch monitor qualified for the RPF 40 rating, indicating a BLTF between 0.079 and 0.083, exceeding the requirement of RPF 35.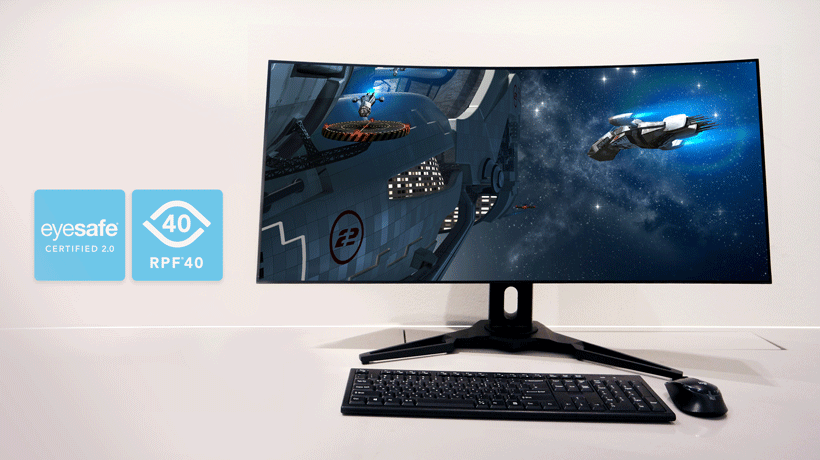 In 2022, QD-OLED received Eye Care Display certification by the world-leading certification company, SGS. According to SGS's test results, the 34-inch QD-OLED had the lowest harmful blue light emissions of any gaming monitor display larger than 31.5-inch.
"Eyesafe® Certified 2.0 confirms once again that QD-OLED is recognized as a superior display not only for its stunning picture quality but also for its eye health benefits," said a Samsung Display official. "We are confident that QD-OLED is the optimal display for consumers who enjoy long hours of gaming and high-definition content."
"We congratulate Samsung Display on meeting Eyesafe® Certified 2.0, the internationally recognized gold standard for measuring blue light and color performance in a display," said Justin Barrett, CEO of Eyesafe. "Achieving this certification demonstrates Samsung Display's ardent commitment to human health and user experience. We look forward to seeing more of their displays meet the Eyesafe Standard in the future."
[Footnotes]
* Blue Light Toxicity Factor (BLTF) refers to the weighted hazardous blue light ratio compared to display luminance calculated according to the toxicity weighting function.