Featuring experiential booth, 'Dr. OLED's Weird LAB,' which demonstrates
the excellence of Samsung OLED
Samsung Display announced its participation in MWC 2023 from February 27 to March 2 under the theme of Hyper-Connected through OLED. After a five year hiatus, Samsung Display is returning to the Barcelona, Spain event with a special exhibit that will showcase the lightweight, durable and water-resistant properties of Samsung OLEDs through entertaining experiments.
At the world's largest mobile technology trade show, the company will introduce next-generation form factors such as foldable and slidable displays in the Foldable Experience Zone. The IT Experience Zone will demonstrate the advantages of OLED for laptops and tablets optimized for videophiles and gamers. And the Automotive Experience Zone will deliver a fun look at the vehicle interior of tomorrow.
Proving Samsung OLED's Excellence through Entertaining Experiments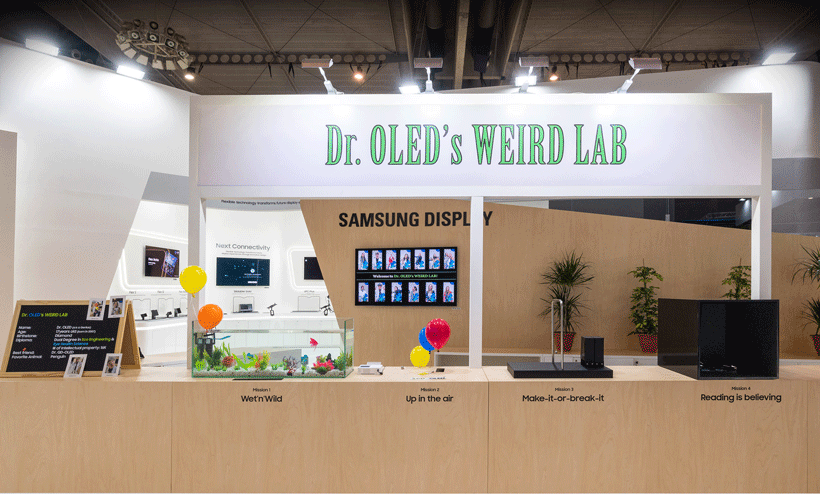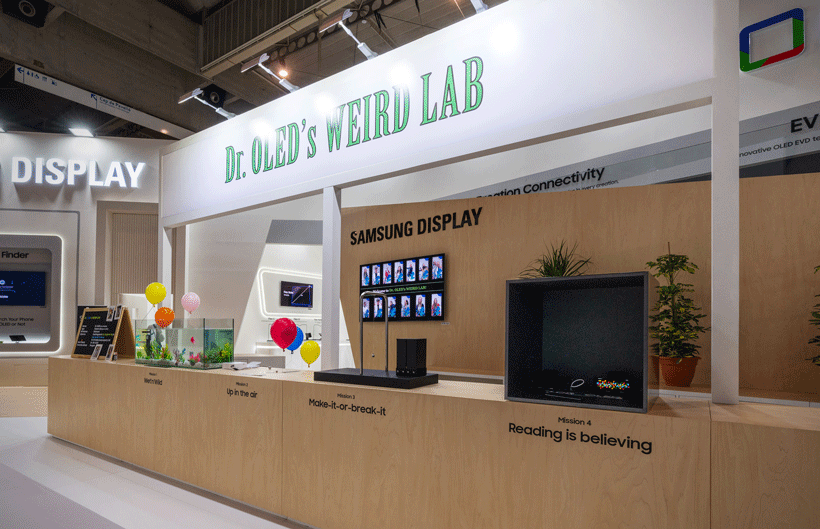 ▲
Samsung Display's Dr. OLED's Weird Lab at MWC 2023
Dr. OLED's Weird LAB is one of the most interesting zones in the Samsung Display booth. The company explained that Dr. OLED's Weird LAB was designed to easily inform visitors of the excellent benefits of OLED – water-resistant, durable, and lightweight - with special programmed hands-on experience.
Visitors can experience OLED's waterproof performance by taking photos with fish using a Galaxy Z Fold4 submerged in a fish tank. Guests can also learn OLED's blue light reduction capability by finding hidden letters using a special filter that only shows harmful blue light. By hanging an OLED panel to a helium balloon, visitors can find out lightness of OLED. In addition, the durability of OLED will be demonstrated via a fun test by hitting an OLED panel with steel marbles.
"The idea for Dr. OLED's Weird LAB was born out of the challenge of how to make the excellence of OLED for consumers to easily understand," said a Samsung Display official. "We hope that many visitors to be captivated by the charm of OLED."
World-top Market Share of Samsung Foldable OLED, Demonstrating Differentiated Durability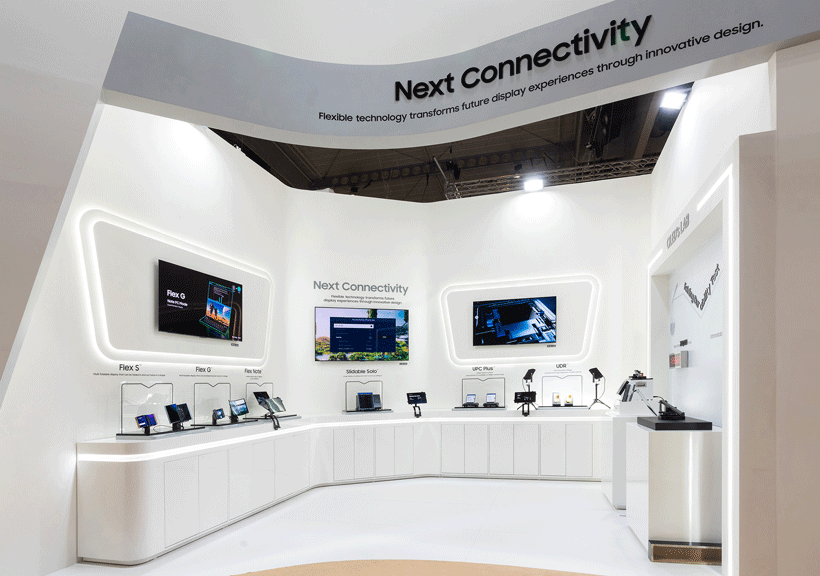 ▲
Samsung Display's Foldable Experience zone at MWC 2023
At the Foldable Experience Zone, visitors can experience the durability of Samsung's foldable OLED, as well as foldable and slidable concept products that incorporate Samsung Display's future technologies.
The durability of the foldable OLED, which has been certified by global certification organization Bureau Veritas, has been proven to fold for more than 200,000 without any defects. Samsung Display's proprietary Ultra Thin Glass (UTG), a super-thin foldable tempered glass that covers the display and is resistant to cracks even under force, is also demonstrated live.
Like at CES, Samsung Display is showcasing a number of futuristic mobile concepts at MWC that hints at the future of the electronics industry, including the 17-inch Flex Slidable Solo that expands the screen in one direction, multi-foldables that can take on the shape of 'S' and 'G' and the 17.3-inch Flex Note, a foldable laptop.
OLED Image Quality in Laptop, OLED Area for IT devices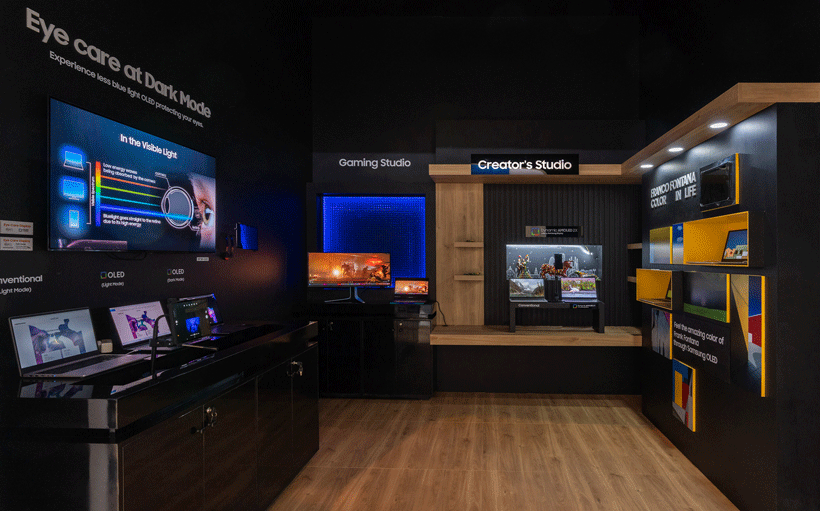 ▲
Samsung Display's IT Experience zone at MWC 2023
The IT Experience Zone exhibition space is constructed with dimmed lighting to maximize the quality of OLED's vivid colors. The space showcases the advantage of OLED for IT device in comparison to LCD, such as OLEDs that are easier on eyes especially utilizing scenarios of a photo and video editing studio and OLEDs that are specialized in gaming. Samsung Display explained that demand for OLED has increased dramatically in devices such as laptops and tablets due to OLED's outstanding image quality and eye-care feature, which is not only welcomed by video content creators, but also by users who enjoy gaming and video content.
For those who get used to outstanding image quality and seamless videos on their OLED smartphones, the IT experience zone is expected to capture visitors' attention to make them experience the same excellent features on IT devices. Visitors will have the opportunity to compare and contrast the different qualities of images and videos taken with a Galaxy S23 on both LCD and OLED laptop 'Galaxy Book 3 Pro' screens.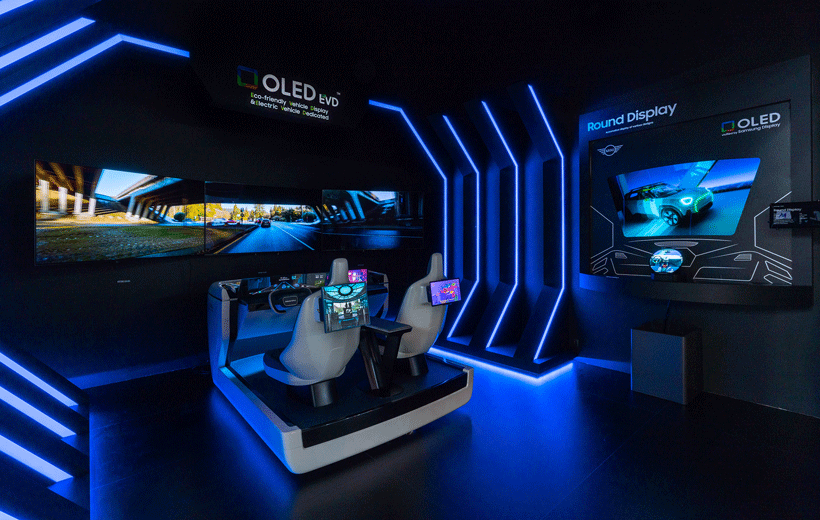 ▲
Samsung Display's Automotive Experience zone at MWC 2023
Finally, the Automotive Experience Zone will feature the 34-inch display of a digital cockpit from the driver's seat of a futuristic autonomous car, which usher in a future where automotive displays become large-sized and multi-screen. A 13.4-inch round car display that complements a chic design will also be on exhibit for visitors to see.
"Along with CES 2023 this past January, we created this special exhibition for MWC 2023 so visitors can experience the excellence of Samsung OLED in person," said Dennis Choi, executive vice president and head of Mobile Strategic Marketing at Samsung Display. "Displays are extremely important in many of today's electronic devices and often determine the high quality and design of the finished product. We want everyone to be able to experience the benefits of OLED technology and will continue to create a more powerful OLED ecosystem in all areas of daily life, such as smartphones, laptops and automotive, all connected as one world."