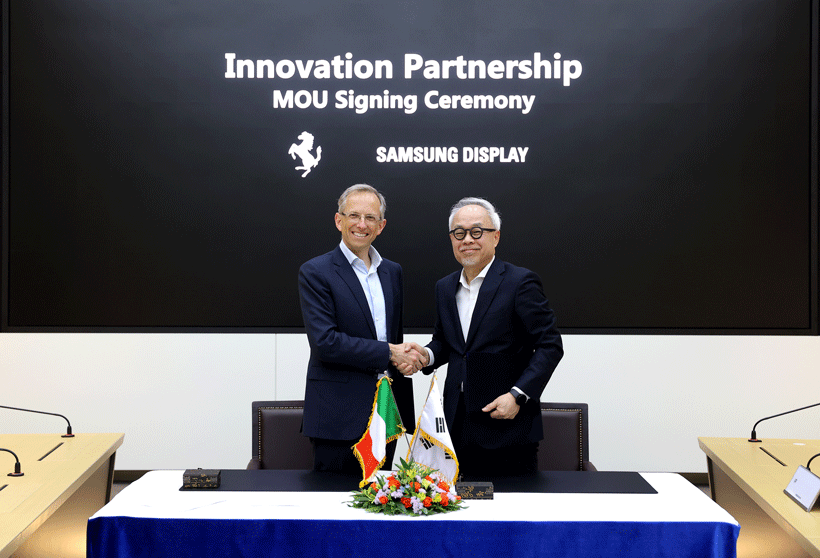 Samsung Display and Ferrari to develop the latest display solution to be implemented on
Ferrari's next-generation cars
Samsung Display announced today that the company has signed a memorandum of understanding (MOU) with Ferrari at Samsung Display's Asan campus in Korea to develop a display solution for implementation in Ferrari's next-generation models. JS Choi, President and CEO of Samsung Display, and Benedetto Vigna, CEO of Ferrari, attended the signing ceremony.
With this MOU, Samsung Display will develop an innovative automotive display solution befitting a luxury supercar brand with world-leading OLED technology in order to support the seamless digital transformation of Ferrari.
Over the past decade, Samsung Display has been leading the technology transition in the premium smartphone market from LCD to OLED. As an industry leader in the premium display market and pioneer of revolutionary OLED technology since 2007, Samsung Display is now actively targeting the automotive display market which is an important technology and business platform.
At CES 2023, Samsung Display unveiled its New Digital Cockpit with a 34-inch slim bezel display and bendable technology that creates 700R curvature during the driving mode.
The lightweight, slim structure and the thin bezel of OLED panels allow for high levels of design freedom and its true black and high-contrast capabilities satisfy the design needs of leading automakers. Moreover, OLED's low power consumption offers even greater benefits, since every watt saved improves the car's efficiency and sustainability.
"In the luxury sector, elevating the client's experience is key," said Benedetto Vigna, CEO of Ferrari. "Through this strategic partnership with Samsung Display for the dedicated development of bespoke OLED technology display solutions, we will make a significant step forwards in the digital environment of our next-generation models."
"Based on our extensive expertise in OLED technology, we are poised to introduce cutting-edge display solutions that meet the Ferrari standard," said JS Choi, President and CEO of Samsung Display. "We are certain that our collaboration with Ferrari will provide an exciting opportunity to apply our strengths to the supercar field and reinforce our position in the automotive OLED market, enabling us to reach ever new heights."