Revolutionary 'Rollable Flex' and World's First 'Sensor OLED Display' among the innovations on display in LA
Samsung Display today announced it will exhibit a variety of paradigm-shifting, next-generation OLED technologies at the SID Display Week 2023, May 23-25, at the Los Angeles Convention Center in California.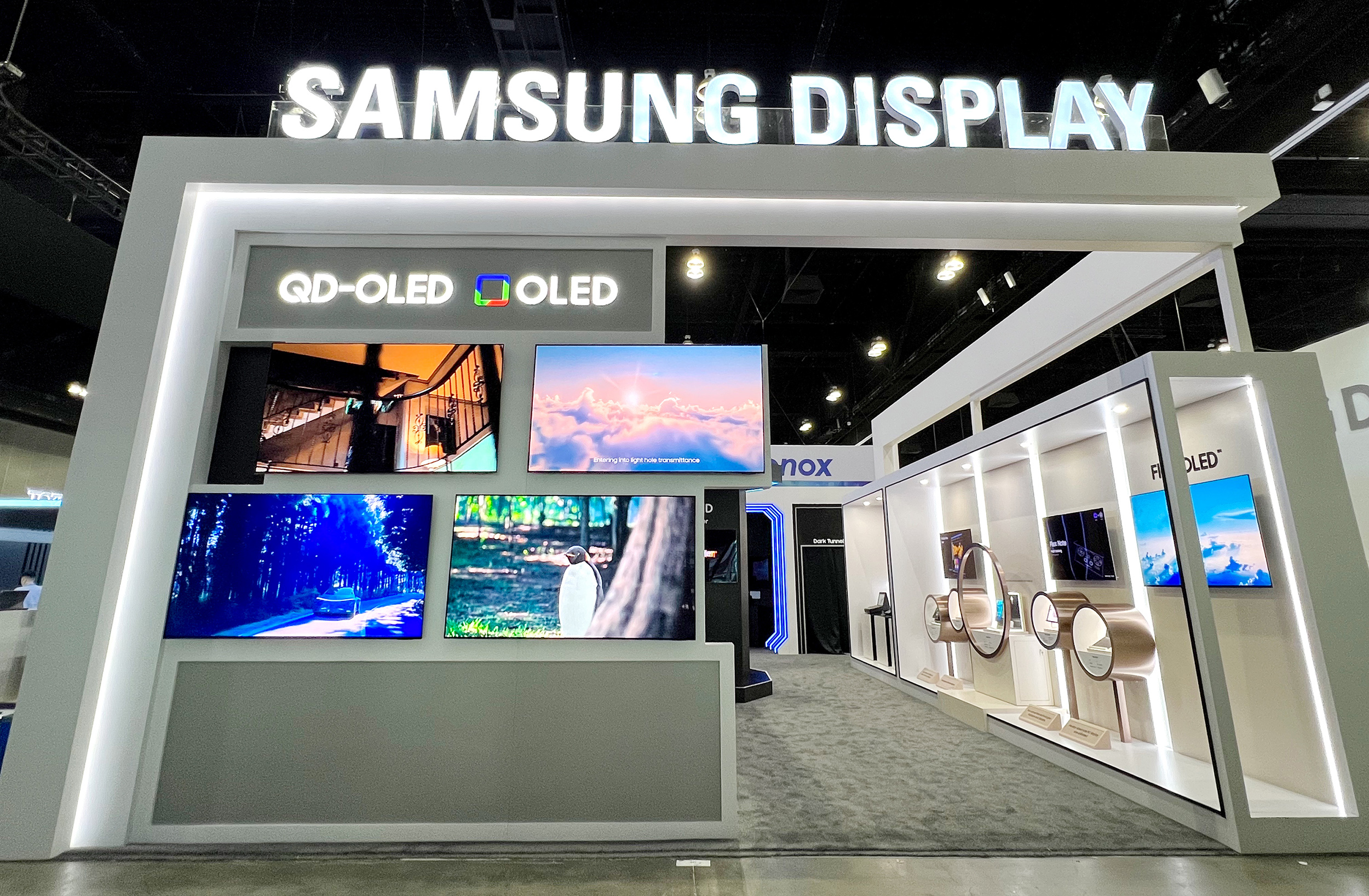 ▲ Samsung Display's exhibition booth at SID Display Week 2023
At the event, Samsung Display is unveiling Rollable Flex, which aims to revolutionize the portability of tablet PCs or laptops, and Sensor OLED display, which provides new usability by embedding fingerprint and blood pressure sensors in panels without attaching separate modules. With these and other OLED innovations, Samsung is demonstrating its drive to create and lead new market segments.
Now in its 60th year, Display Week by SID (Society for Information Display) is the world's largest professional display event held annually in North America, featuring international exhibits, symposiums and seminars.
Display expands five times its vertical length to use as a monitor, rolls up like a scroll
Perhaps the most eye-catching product at the show is Rollable Flex, which expands more than five times, from 49 mm to 254.4 mm in length. While conventional foldable or slidable form factors offer up to three times the scalability, Rollable Flex overcomes such limitations by enabling the display to be rolled and unrolled on an O-shaped axis like a scroll.
"The biggest feature is that we were able to turn a difficult-to-carry large-sized display into a portable form factor by making it rollable," Samsung Display explained.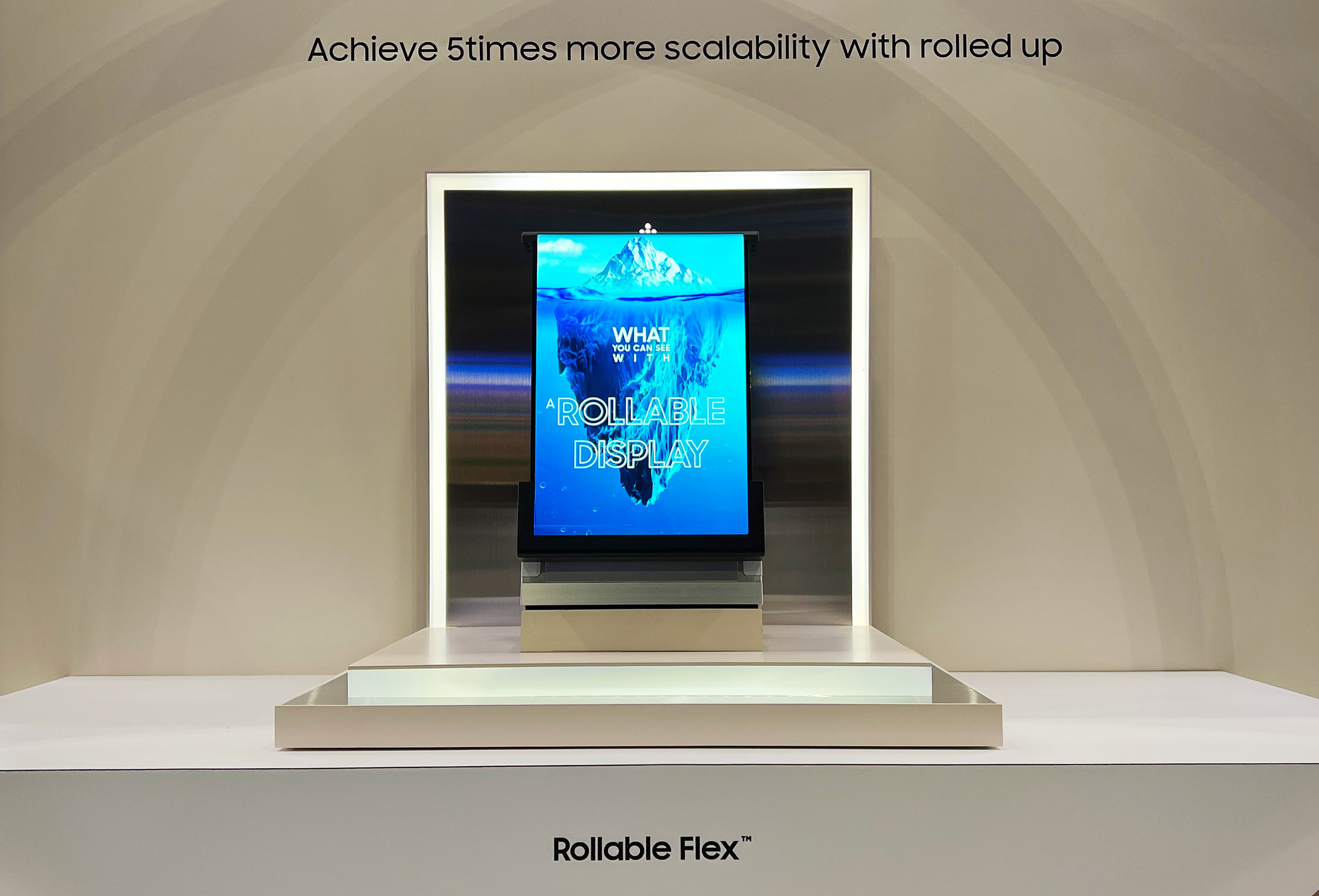 ▲ Samsung Display's 'Rollable Flex' at SID Display Week 2023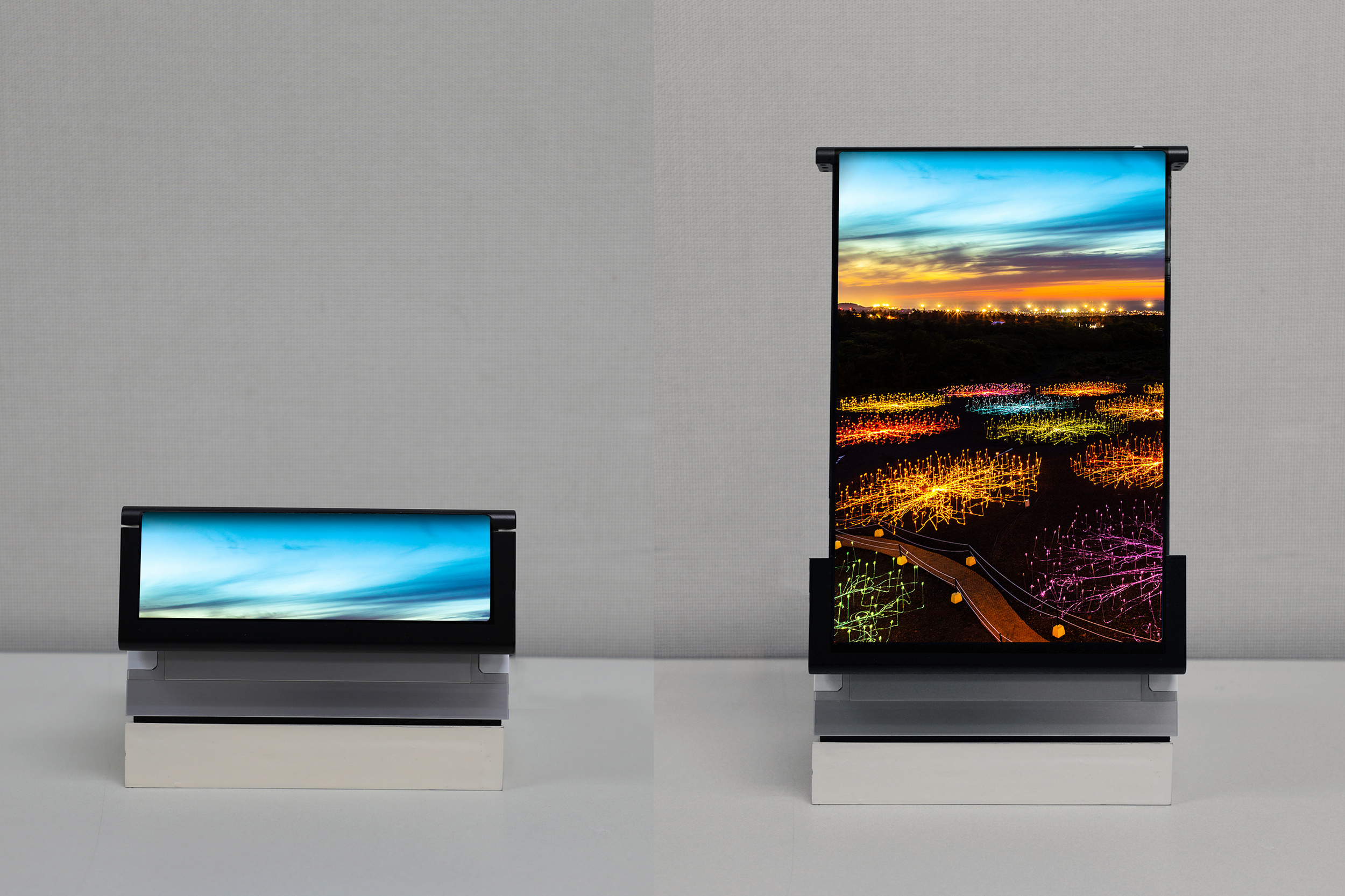 ▲ Samsung Display's 'Rollable Flex' that stretches from 5cm to more than 25cm in size at SID Display Week 2023
Samsung Display will also introduce Flex In & Out, a new foldable phone concept that can be folded both inward and outward 360 degrees. The 'in-folding' form factor, which can only be folded inward, requires a separate external panel to view information while folded, but the Flex In & Out is able to overcome that, opening up the possibility of lighter and thinner foldable phones.
In addition, Samsung Display will also introduce new form factor products, such as Flex Hybrid, which combines both foldable and slidable technologies, and Slidable Flex Solo, which expands from a 13-inch tablet to a 17-inch screen.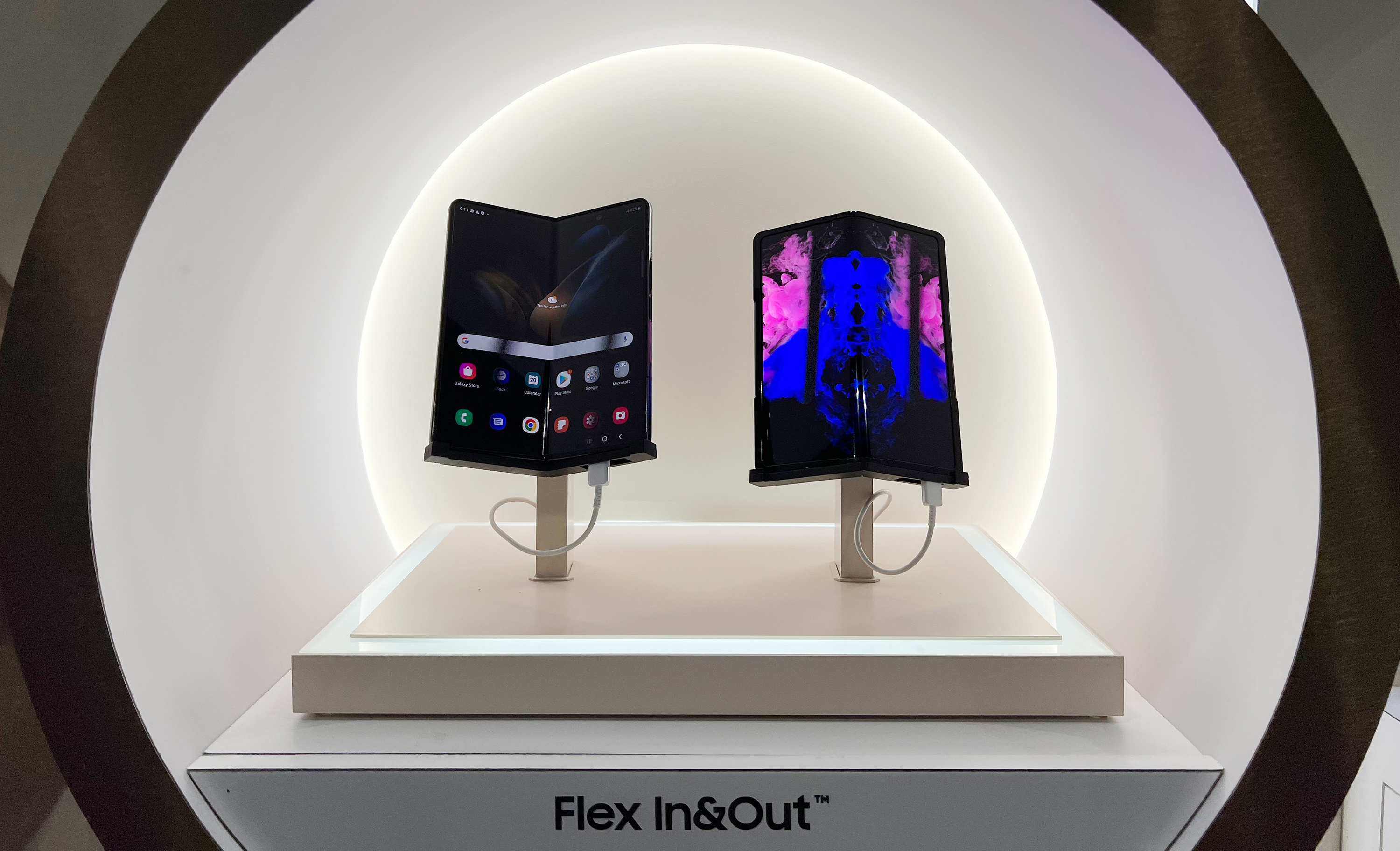 ▲ Samsung Display's 'Flex In & Out' at SID Display Week 2023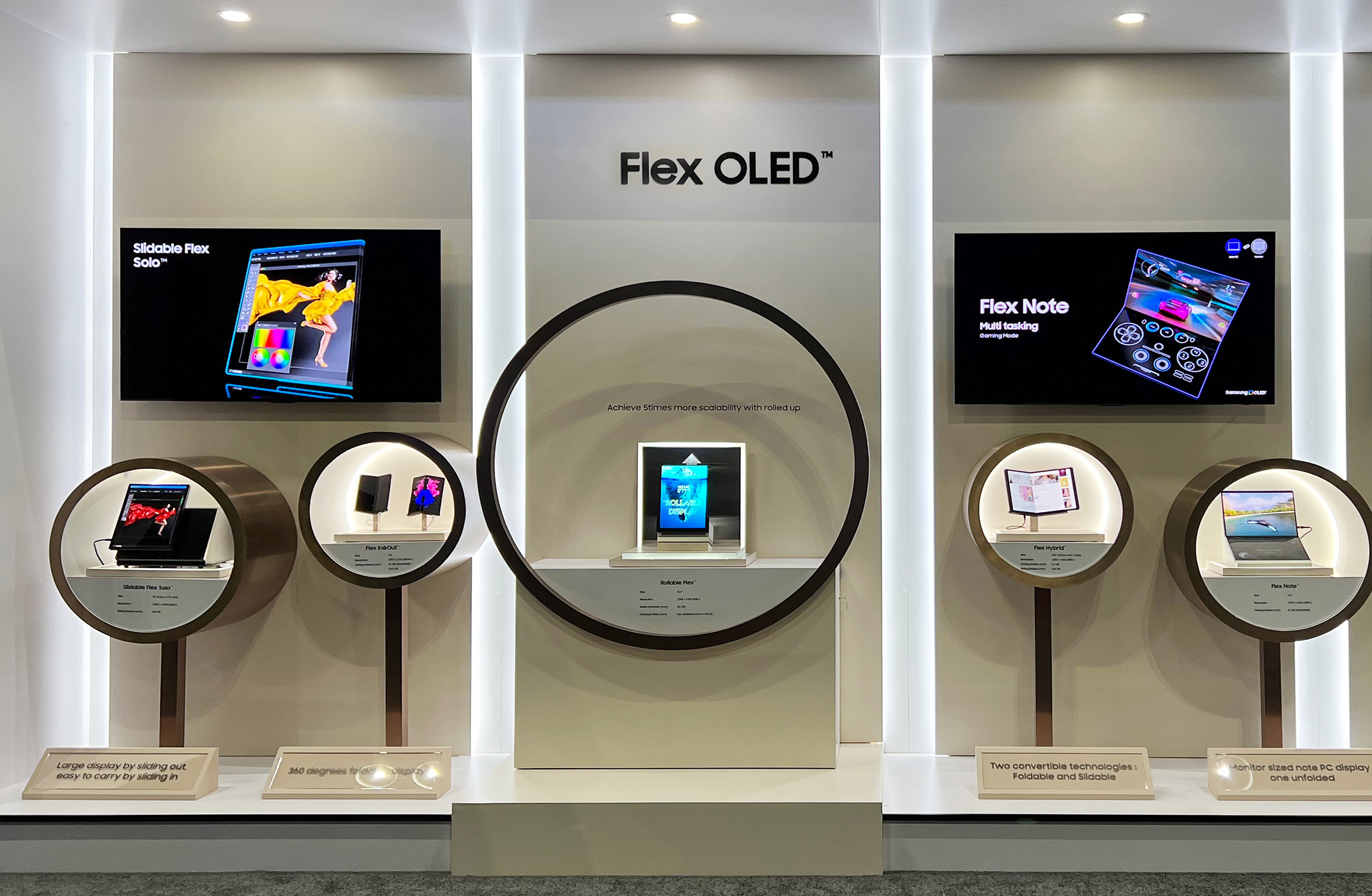 ▲ Samsung Display's OLED Flex zone at SID Display Week 2023
World's first fingerprint biosensor-embedded panel measures blood pressure with OLED light
Samsung Display will also unveil a new Sensor OLED Display that can recognize fingerprints anywhere on the screen and even check cardiovascular health. Typically, fingerprint sensors in smartphones are attached under the panel as a separate module from the panel, but Samsung Display embedded the light-sensing organic photodiode (OPD) into the panel itself.
Sensor OLED Display can measure the user's heart rate, blood pressure and stress level simply with the touch of two fingers. OLED light is reflected differently depending on the contraction and relaxation of the blood vessels inside the finger, and when it returns to the panel, the OPD recognizes it and converts it into health information. Samsung Display is the first to unveil panel technology that can simultaneously sense fingerprints and biometric information.
"To accurately measure a person's blood pressure, it is necessary to measure the blood pressure of both arms," said Samsung Display. "The Sensor OLED display can simultaneously sense the fingers of both hands, providing more accurate health information than existing wearable devices."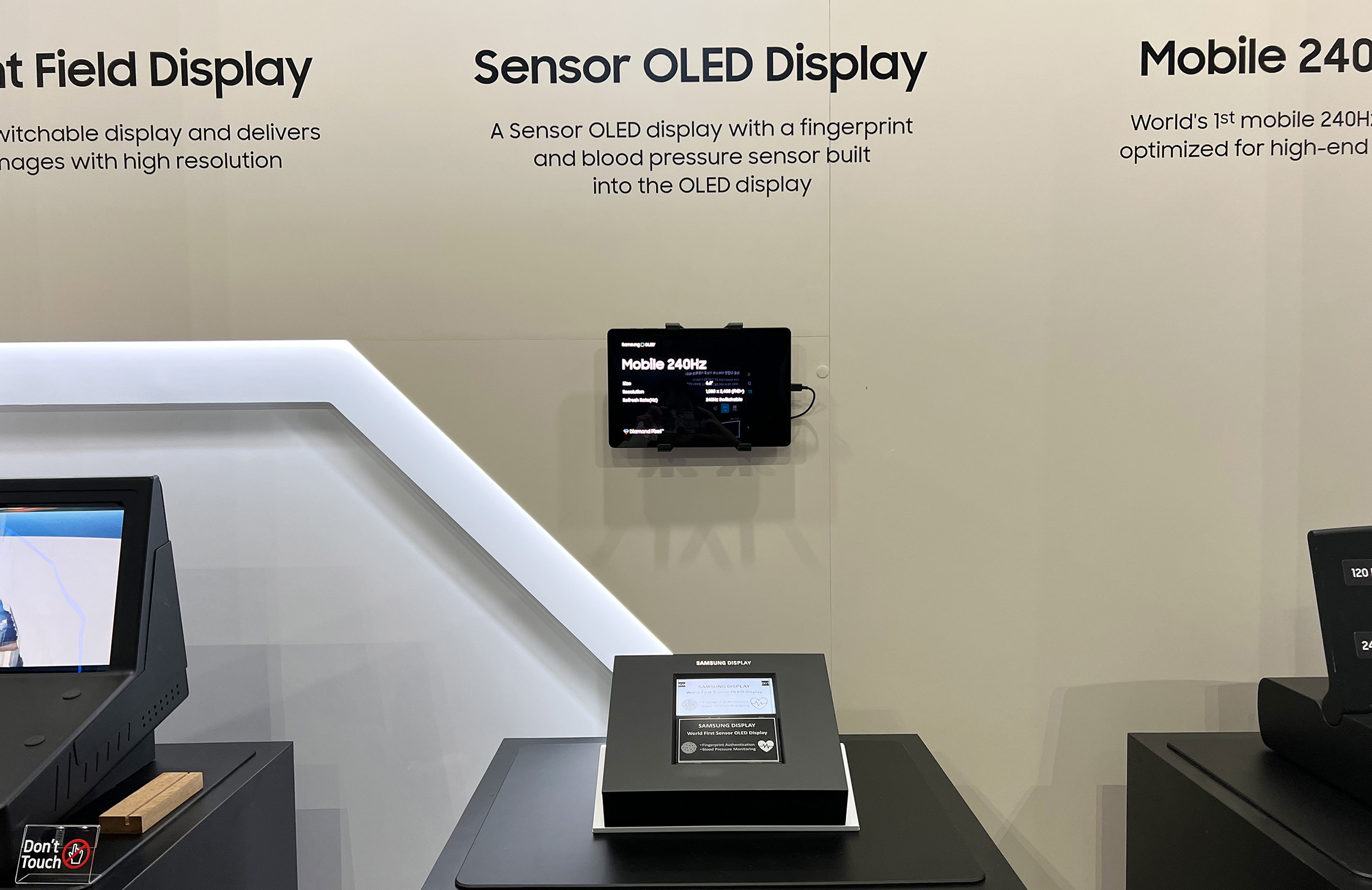 ▲ Samsung Display's 'Sensor OLED Display' at SID Display Week 2023

▲ Samsung Display's 'Sensor OLED Display' that measures blood pressure and heart rate at SID Display Week 2023
QD-OLED, the ultimate in picture quality, is even brighter and has earned 'Display of the Year' honors
QD-OLED, which first debuted at CES 2022 and wowed the world with its unprecedented color and image quality, will also be on display at Display Week 2023.
QD-OLED takes advantage of the optical properties of quantum dots, which produce different colors depending on their particle size, unlike traditional large OLEDs that rely on color filters to achieve color. It delivers the most accurate representation of a content creator's intended colors of any display available today. In recognition of this excellence, QD-OLED won 'Display of the Year,' the most prestigious of SID's Display Industry Awards (DIA).
The newest addition to the TV panel lineup, the 77-inch model, will be displayed at the exhibition this year, giving visitors the experience of being in a movie theater. Another key attraction is 'The QD-OLED' zone, where visitors can see sharper and brighter images than last year thanks to the application of the HyperEfficient EL materials to the blue light source of QD-OLED. Visitors also will be able to experience the 34-inch monitor, which global certifiers have recognized as a superior display for eye health due to less blue light emission, and the 49-inch monitor that enhances work productivity and an immersive gaming experience with its 32:9 ultra-wide aspect ratio.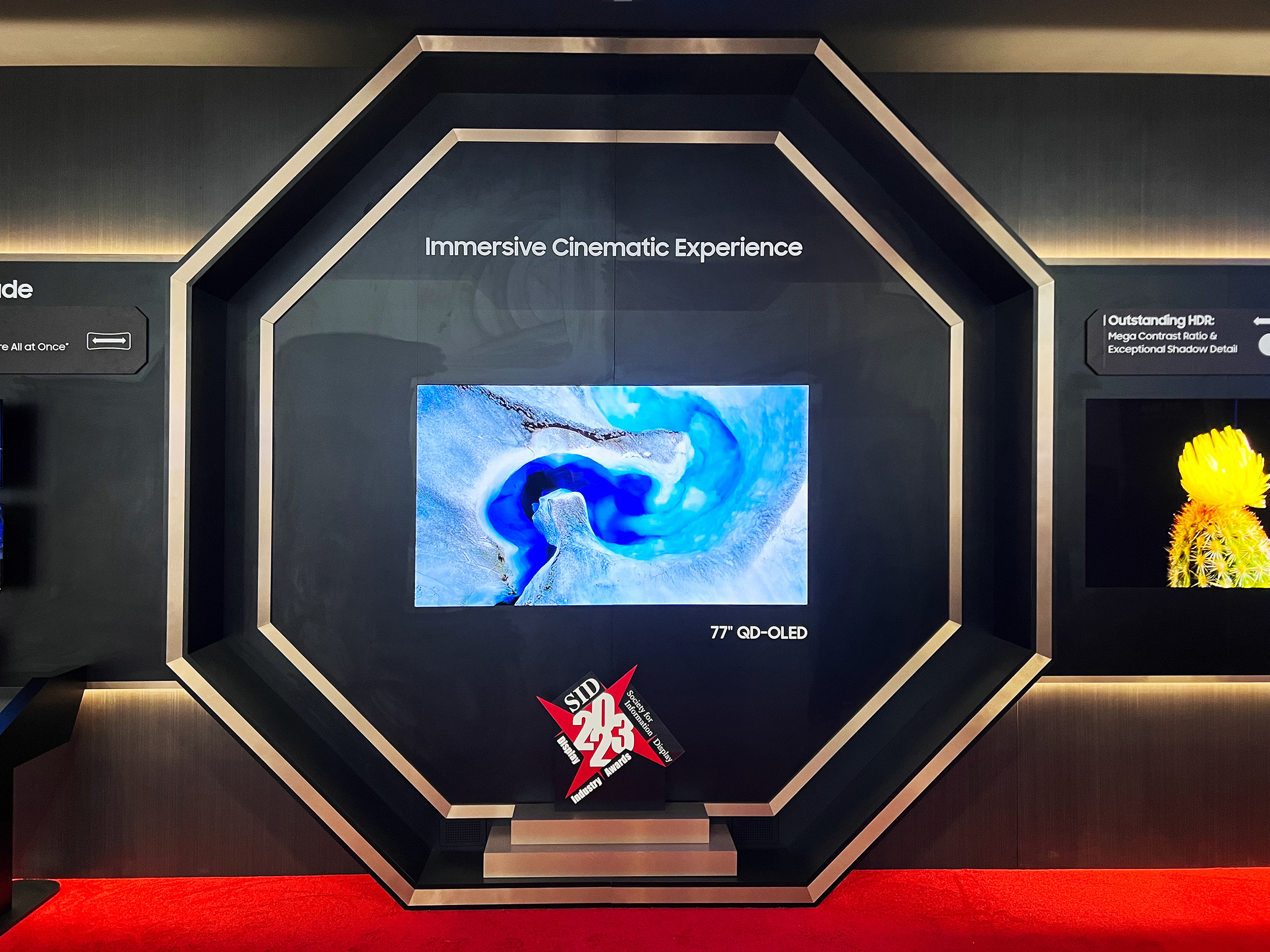 ▲ Samsung Display's ultra-large 77-inch QD-OLED TV at SID Display Week 2023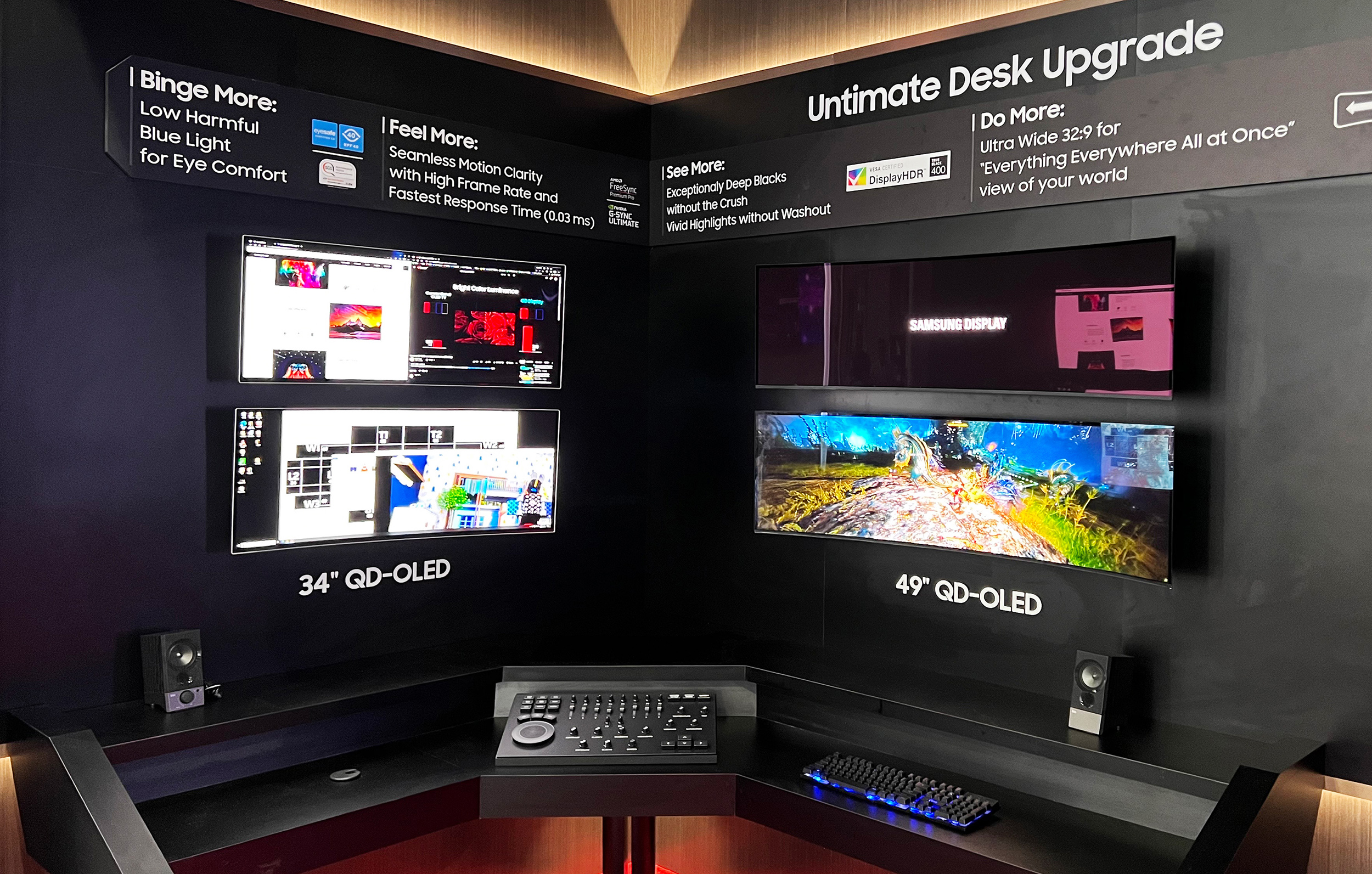 ▲ Samsung Display's 34, 49-inch QD-OLED monitor at SID Display Week 2023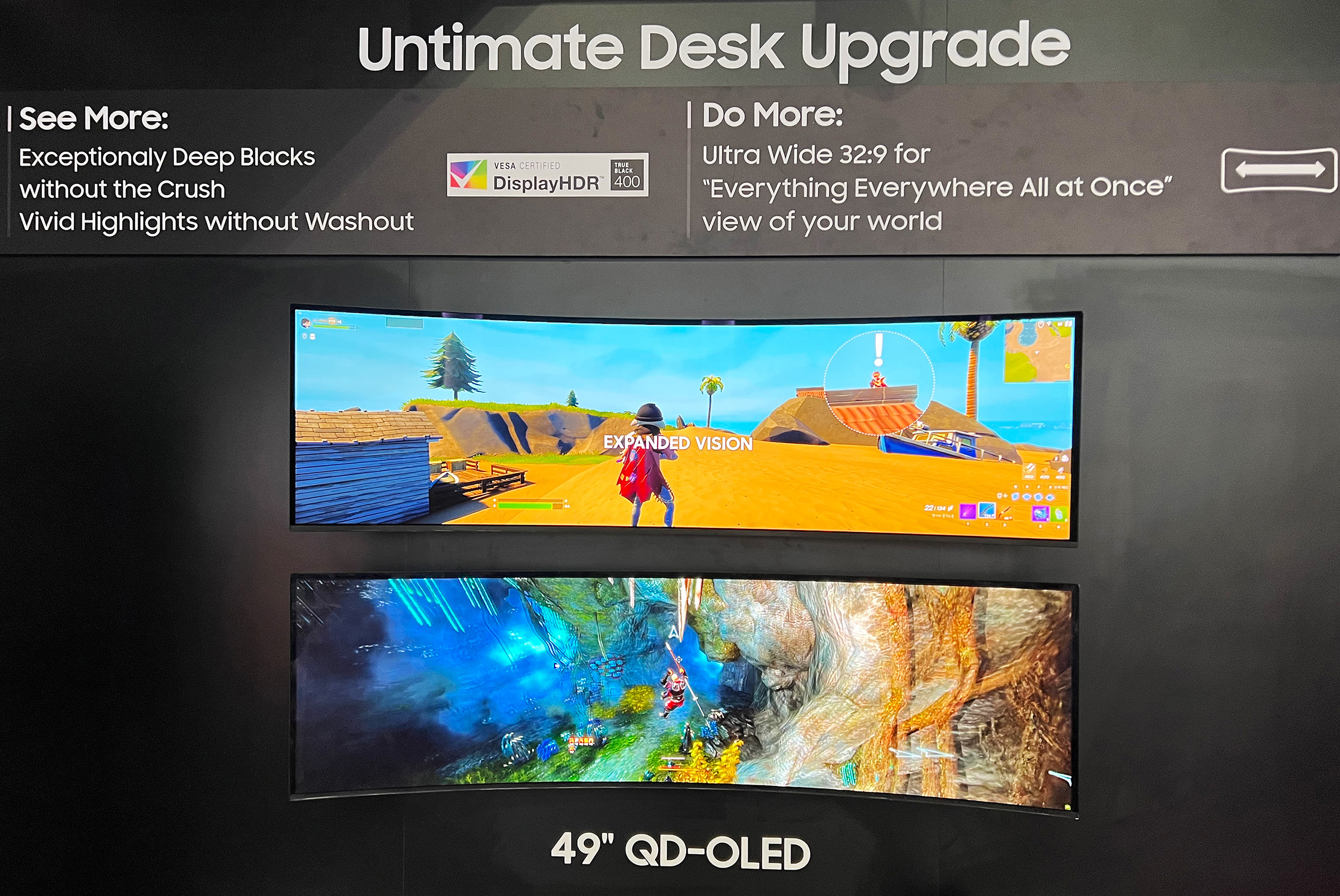 ▲ Samsung Display's ultra-wide 49-inch QD-OLED monitor at SID Display Week 2023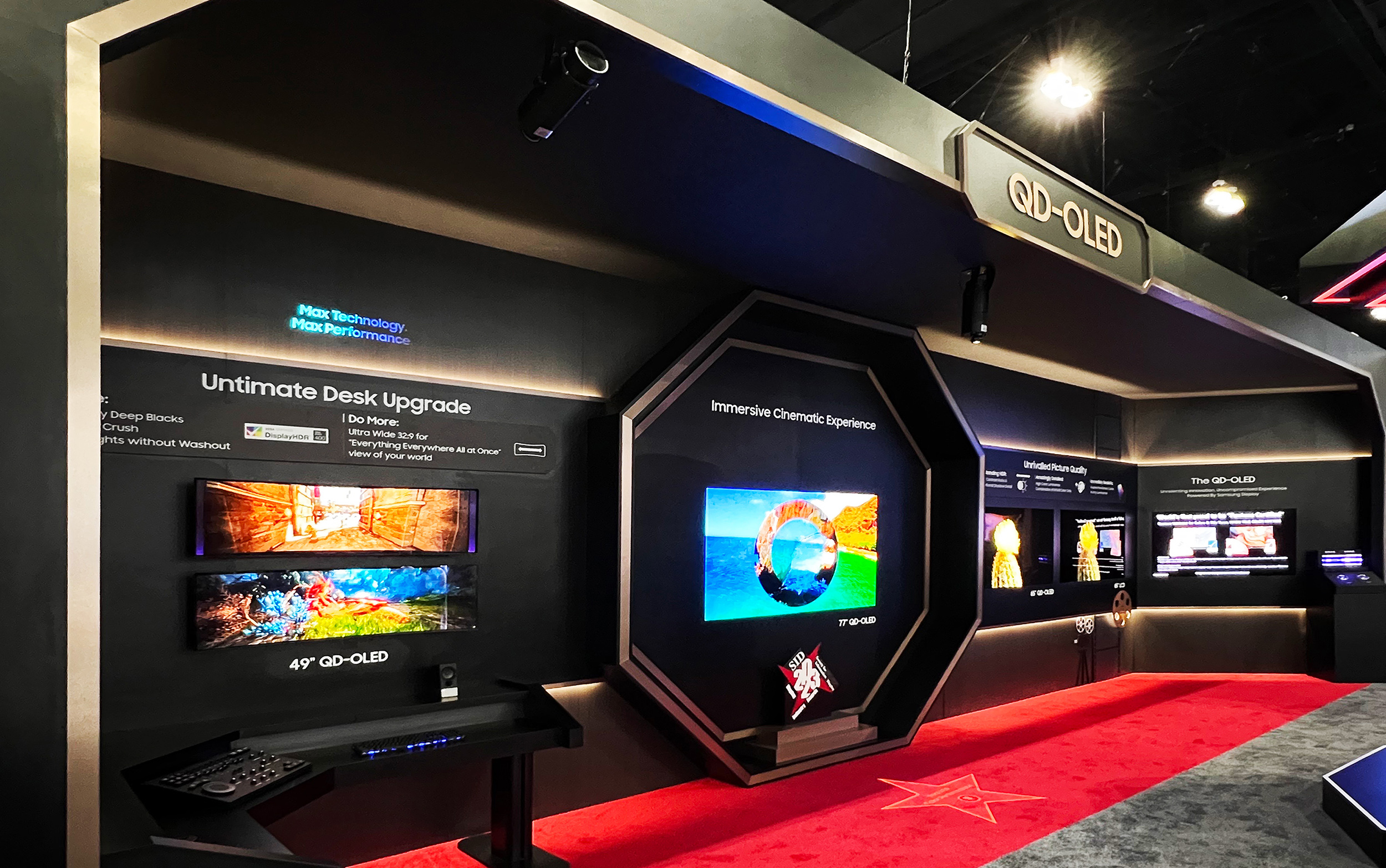 ▲ Samsung Display's QD-OLED zone at SID Display Week 2023
Are you using Samsung OLED? – Experience Samsung's OLED Finder
To promote its leadership and product competitiveness in the small and medium-sized display market, Samsung Display is also spotlighting its OLED Finder (oledera.samsungdisplay.com/oledfinder), a search site launched in March. Visitors can enter the brand and model name of their smartphone to see if it features Samsung OLED technology.
OLED Finder provides information and services beyond the search function. For example, it provides content highlighting the features of Samsung OLED, such as diamond pixel, plastic reduction, low blue light, and wide color gamut. In addition, the site recommends the latest smartphone equipped with Samsung OLED and provides a link to the official website of its smartphone brand. Samsung Display plans to add more models to the list in the future and expand the search to other product categories, such as laptops and tablets.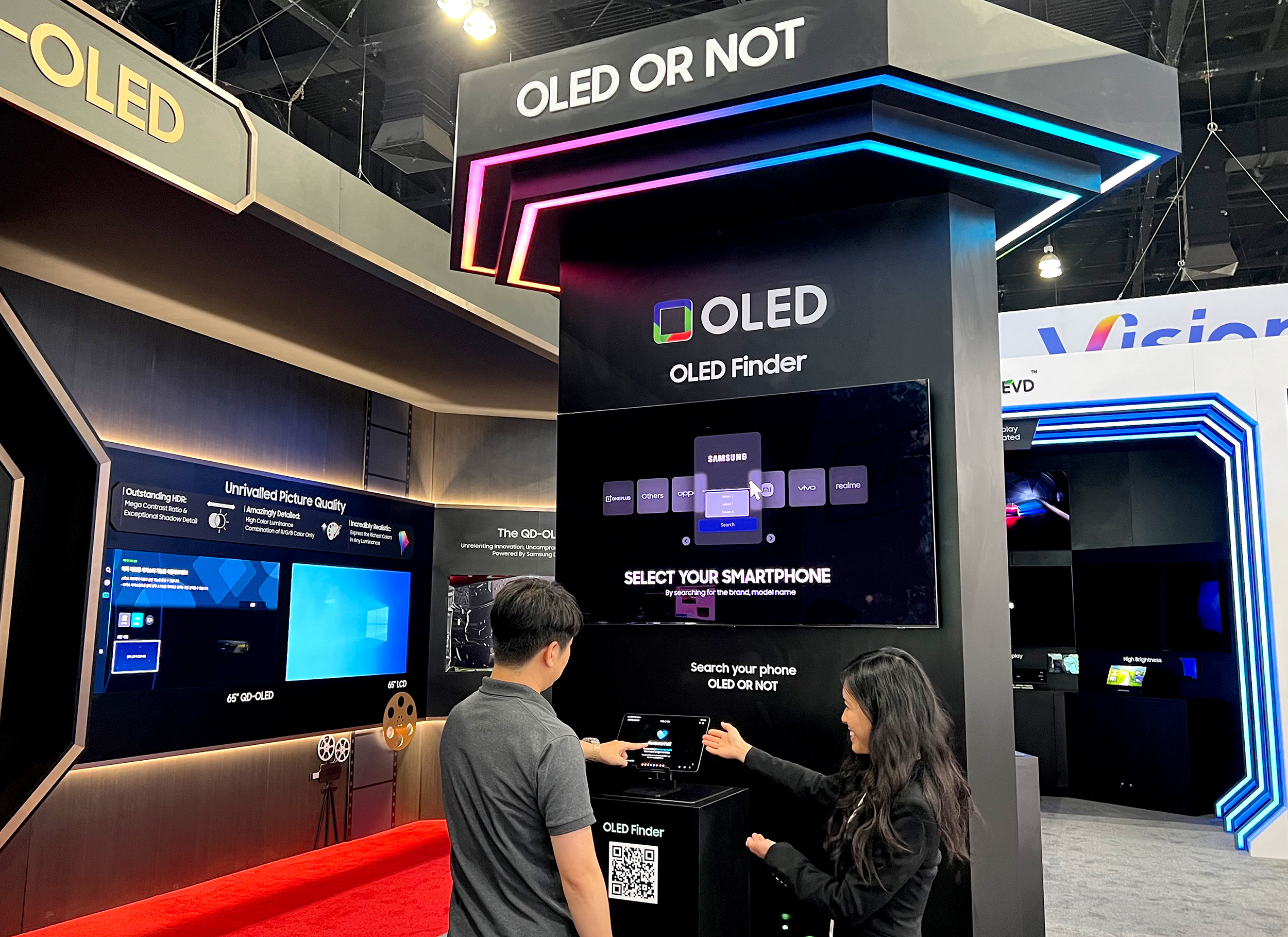 ▲ Samsung Display's OLED Finder zone at SID Display Week 2023
Samsung Display to participate in Business Conference, share insights about its QD-OLED 2023
During Display Week 2023, Samsung Display also will showcase the excellence of its new QD-OLED 2023 by participating in the SID/DSCC Business Conference, where industry leaders will share their insights. Utilizing advanced optimized algorithm, IntelliSense AI (artificial intelligence) technology and the latest organic materials, the QD-OLED 2023 is characterized by an increase in the maximum brightness of the RGB color channels by combining over 2,000 nits. It is superior in terms of power consumption, meeting the energy efficiency standards of Energy Efficiency Index (EEI) by the European Union (EU).
"We look to show that the paradigm of the display industry can evolve once again at SID, where industry players, media and consumers come together," said Samsung Display. "Visitors can see our vision of the future OLED industry through our technology."