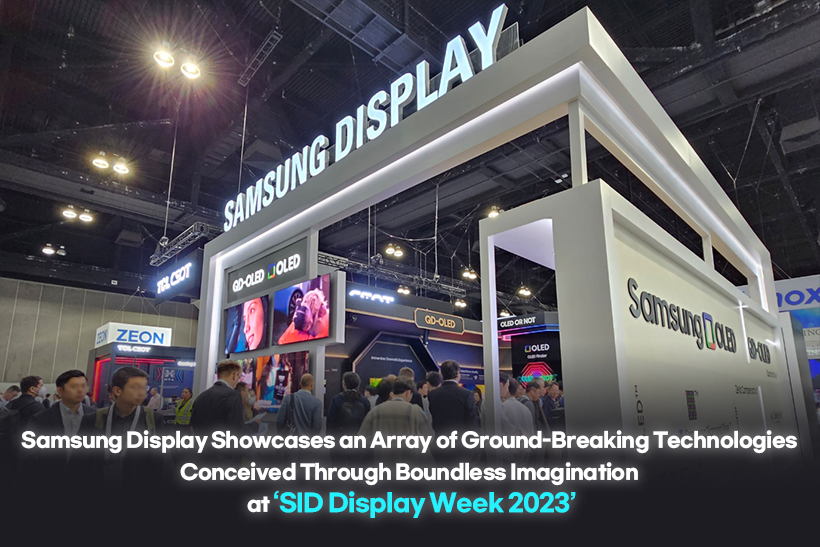 Cutting-edge display technologies from around the world gathered in one venue! Display Week 2023, a prestigious academic event organized by the Society for Information Display (SID), the world's largest display forum, was held on 23 May in Los Angeles, US. Samsung Display unveiled innovative technologies that are the result of new ideas and bold endeavors. Introducing Eunyoung You at Samsung Display. She will give you a behind-the-scenes tour of Display Week 2023, uncovering the boundless potential of displays.
A Spectacle of the Latest Innovations in Display Technologies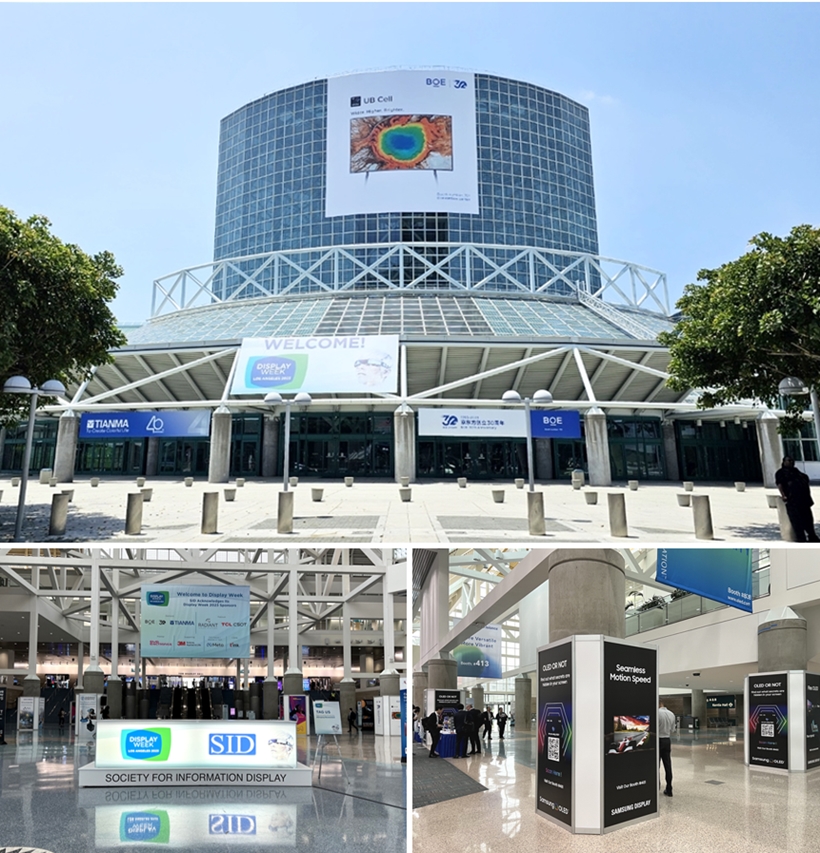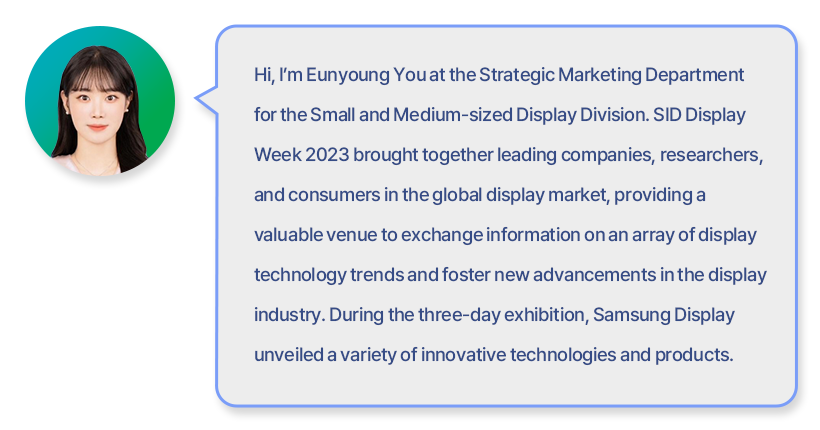 A hands-on, immersive venue demonstrating the boundless potential for next-generation displays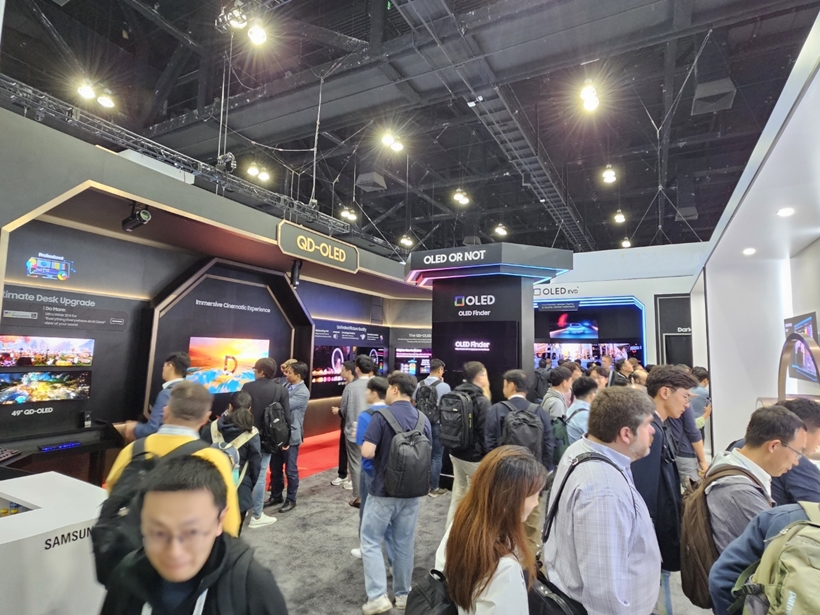 ▲ Samsung Display booth
Samsung Display set up a total of five zones within the exhibition booth, each serving as a distinct zone to showcase Samsung's OLED technologies. As visitors entered the booth, we captivated their attention to a display wall featuring four mega-sized QD-OLEDs. This awe-inspiring arrangement not only demonstrated the sheer excellence of Samsung's OLEDs but also left visitors anticipating what awaited them in the other zones.
[Flex OLED™ Zone] Cutting-Edge Flexible Displays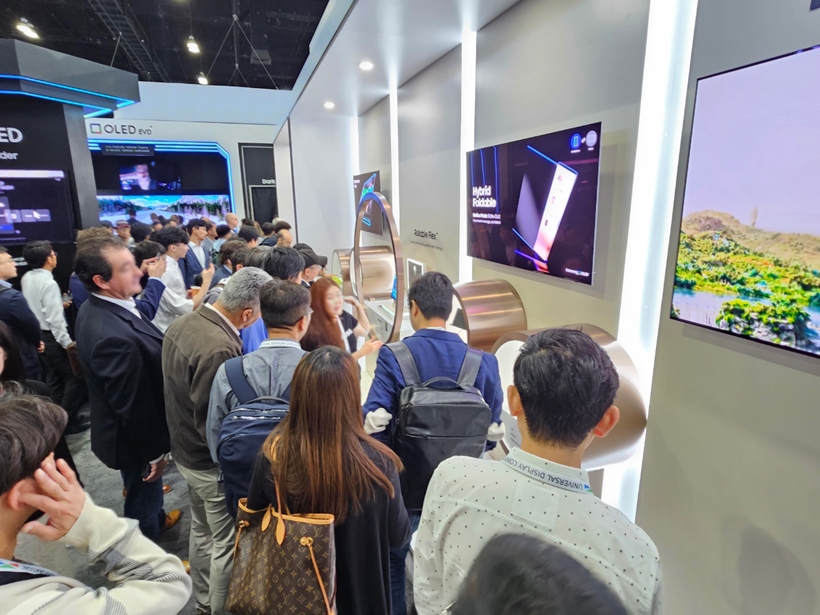 ▲ Samsung Display's Flex OLED™ Zone
The Flex OLED™ Zone featured cutting-edge flexible displays including the groundbreaking Rollable Flex™ product. Unlike traditional foldable or slidable devices that offer a 2-3 times increase in screen size upon unfolding, the Rollable Flex™ expands by over 5 times, stretching from 49 mm to 254.4mm. This remarkable transformation is achieved by wrapping the screen around a cylindrical shaft.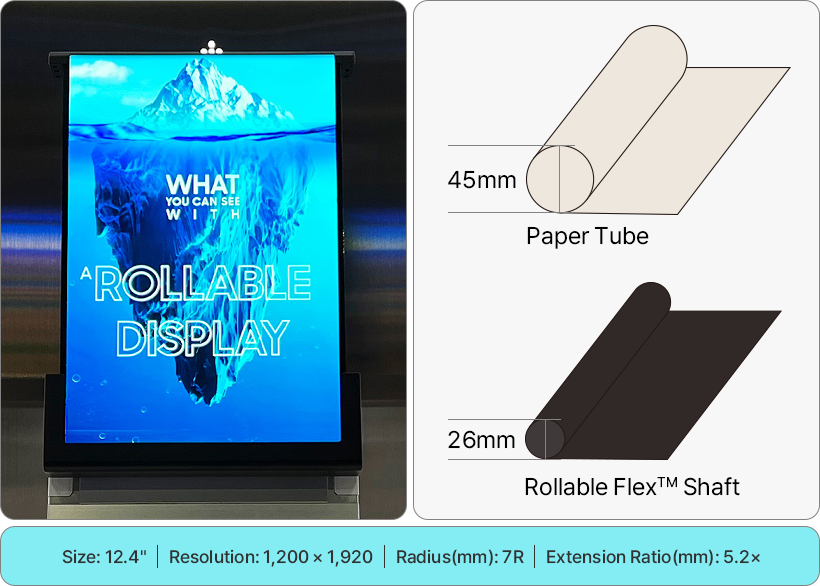 ▲ Samsung Display's Rollable Flex™ (left) and shaft diameter comparison with a toilet paper roll (right)
What sets this product apart is the ability to minimize the diameter of the axis, or the cylindrical shaft that wraps around the screen. If the shaft's diameter were as large as a rolled-up toilet paper, it would be excessively bulky and less than optimal in terms of portability. However, despite having a 12.4-inch screen, the Rollable Flex™ achieves a remarkably slim diameter of only 26mmm when the screen is wrapped around the shaft, including the thickness of the display. The significant reduction in thickness and overall volume dramatically enhances its portability. This breakthrough enables the creation of portable monitors that were previously unimaginable, attracting great attention at the exhibition.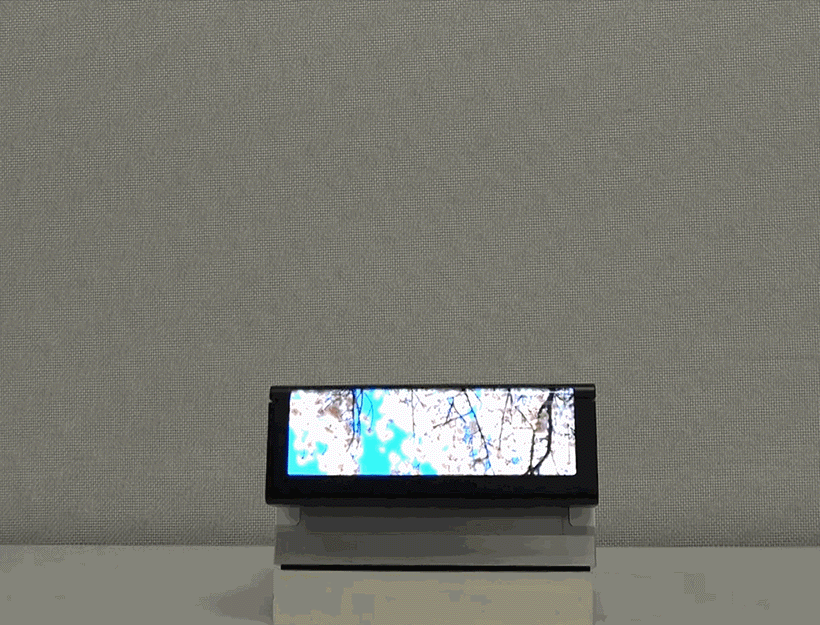 ▲ Rollable Flex
Flex In & Out™ is a new type of foldable product that allows for simultaneous in-folding and out-folding, resulting in a 360-degree folding motion. Unlike typical foldable products, which require an additional external panel to view information when folded, this product overcomes such limitation. It showcases the potential for lighter and thinner foldable phones.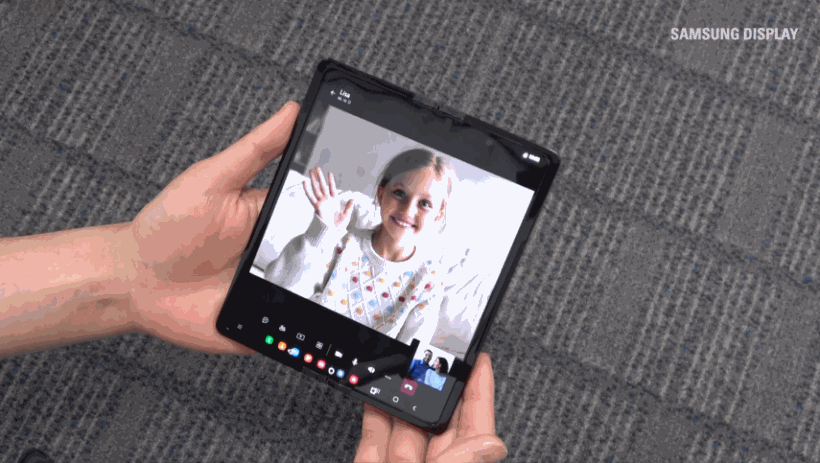 ▲ Flex In & Out
Differentiating the aspect ratios based on usage enables users to enjoy existing smartphone functions and diverse content on a large screen. Additionally, this feature enhances user convenience by providing display protection during transportation. The availability of a range of flexible display options expands the choices available, catering to diverse user preferences.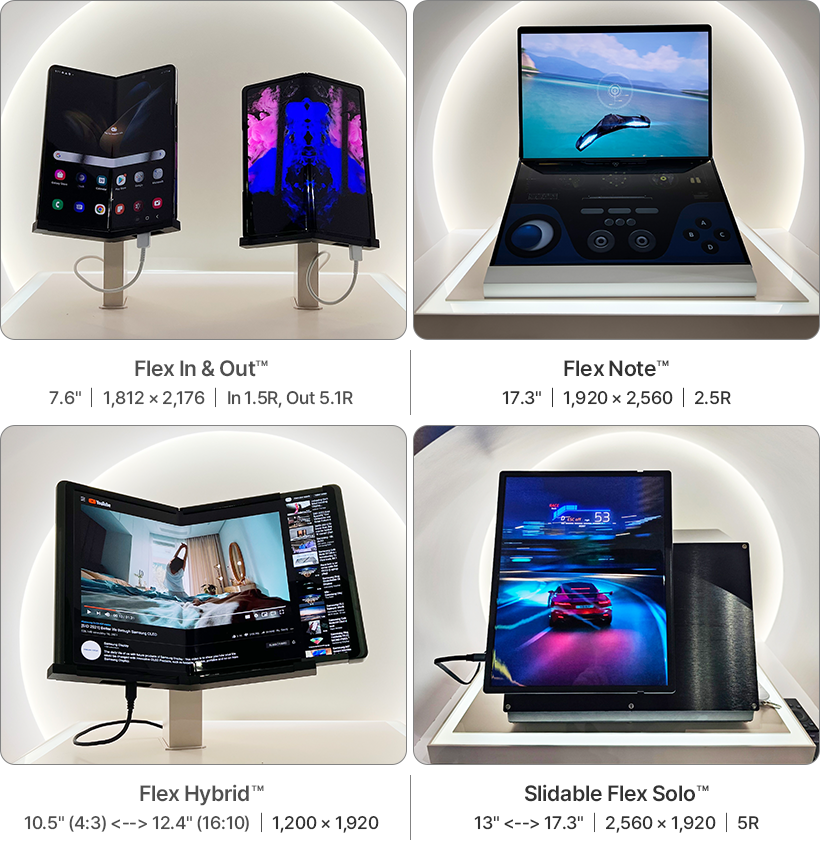 [Samsung Display Research Center's New Technology Zone] Pioneering Technologies Poised to Reshape Future Markets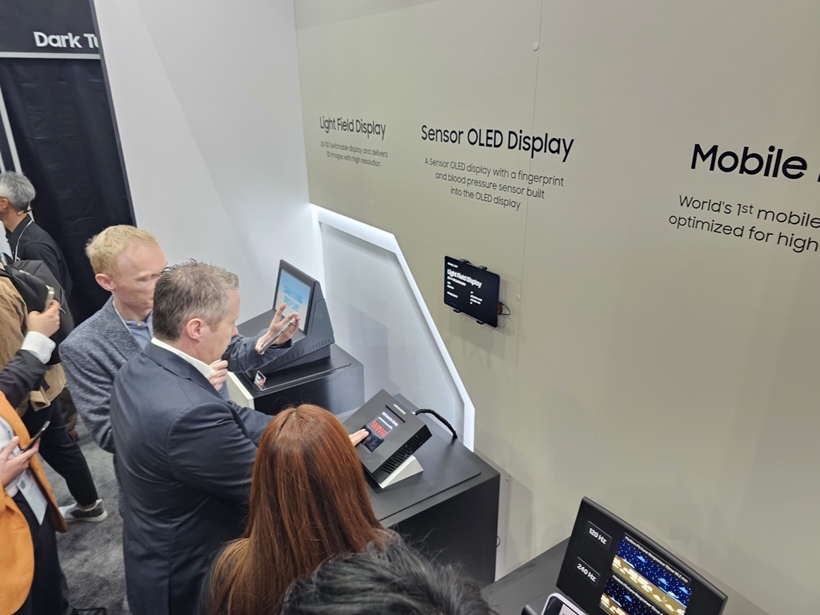 ▲ Samsung Display Research Center's New Technology Zone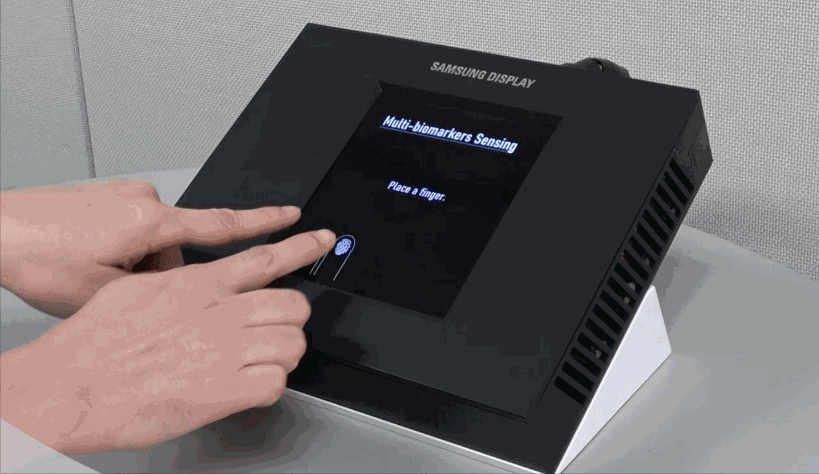 ▲ Samsung Display's Sensor OLED Display
Visitors at the Samsung Display Research Institute's New Technology Zone had the opportunity to experience novel breakthroughs that are reshaping existing models. The Sensor OLED Display is a revolutionary integrated sensing technology that can identify fingerprints on a screen and monitor cardiovascular health. Unlike the conventional fingerprint sensors that are attached as a separate module beneath the OLED panel, Samsung Display has ingeniously embedded an organic photodiode (OPD), a light sensor, directly into the panel itself when depositing the OLED organic elements. This breakthrough development enables the detection of fingerprints and blood pressure readings across the entire screen, granting users the freedom to customize the recognition area according to their preferences.
The OPD-embedded panel can also measure the user's heart rate, blood pressure, and stress level with the touch of a finger. This is achieved by utilizing the reflective properties of OLED light, which varies depending on the contraction and relaxation of the blood vessels within the finger. When the light returns to the panel, the OPD identifies and converts it into valuable health information. In particular, for accurate blood pressure measurement, readings are typically gauged on both arms. However, the Sensor OLED Display integrated in this system can simultaneously detect the fingers of both hands, providing more precise health information compared to existing wearable devices. This breakthrough technology allows for the simultaneous capture of fingerprints and biometric data using multiple fingers.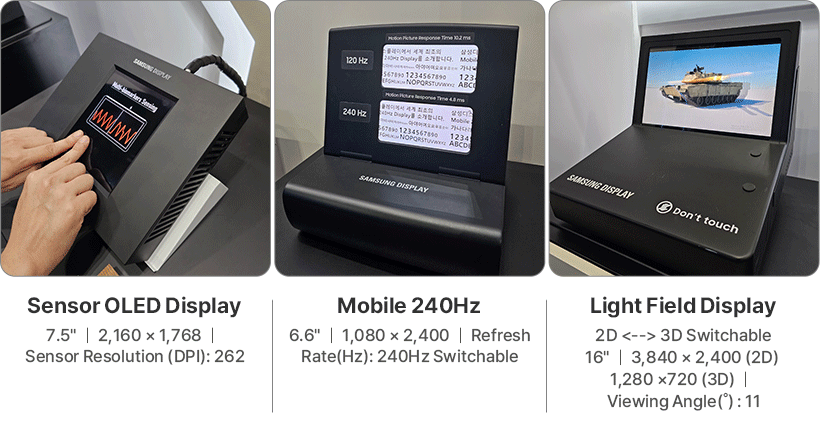 We also presented the groundbreaking launch of the world's first mobile product boasting an extraordinary Mobile 240Hz display. This enhances performance, elevating the mobile user experience to unprecedented levels. By harnessing the power of 240Hz technology, Samsung's Mobile 240Hz display enhances video response speed by over 50 percent. With instantaneous tearing reduced to less than 0.9 seconds, users are able to indulge in a flawlessly smooth and captivating visual experience. In particular, the gaming community will be thrilled as the 240Hz display delivers an unparalleled level of realism and immersion. Even in the most demanding high-end mobile games, users will experience a significant enhancement of picture quality.
Light Field Display, a glasses-free 3D technology, garnered significant attention at the exhibition. This display showcases the varying appearances of how the sides of objects look different depending on the angle from which they are viewed. At the exhibition, a novel lens technology was applied, enabling seamless switching between 2D and 3D modes depending on the applied voltage. As a result, the display presented superior image quality and a deeper stereoscopic range.
[OLED EVD™ & DARK TUNNEL Zone] OLED Innovations Optimized for Future Cars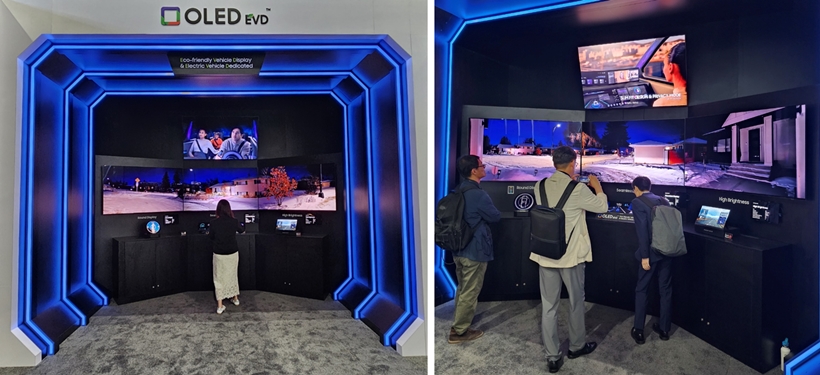 ▲ Samsung Display OLED EVD Zone
At the OLED EVD™ zone, we introduced OLED displays optimized for future automobiles. One of our highlighted products is the Round Display, which harnesses the unique capabilities of OLED technology, or its ability for free-form processing. The Round Display is a bespoke solution offering round and polygonal shapes, addressing the growing demand for non-rectangular display designs. Among the products exhibited, our 13.3-inch round display gained much attention, providing a refreshing alternative for visitors accustomed to rectangular displays.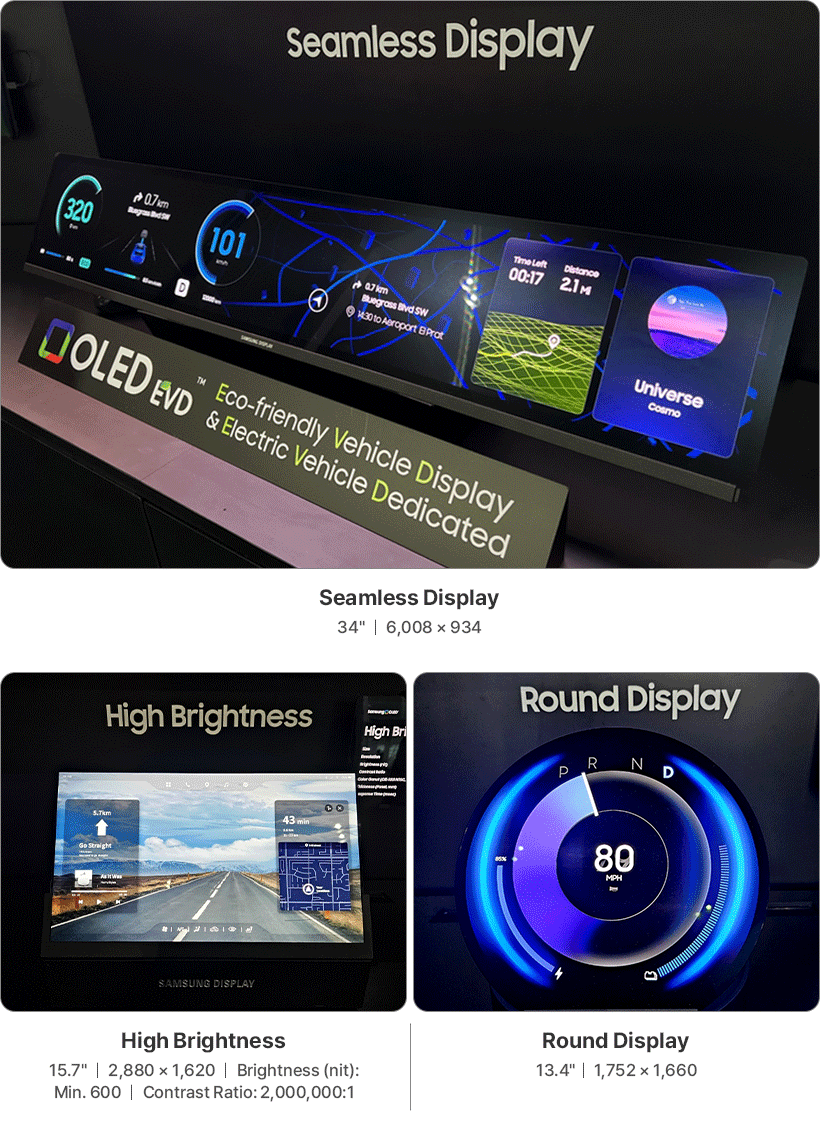 In addition, we introduced the Seamless Display, an innovative digital cockpit inspired by the futuristic designs of autonomous vehicles. The Seamless Display combines 34-inch and 15.6-inch displays to create an expansive and visually captivating screen that spans from left to right. This configuration offers a remarkable visual experience tailored to drivers, ensuring optimal usability, while the 15.7-inch High Brightness for CID (Centre Information Display) effectively presents users with essential information such as media and navigation by leveraging the outstanding features of OLED technology, including its exceptional brightness, wide color gamut, and impressive contrast ratio.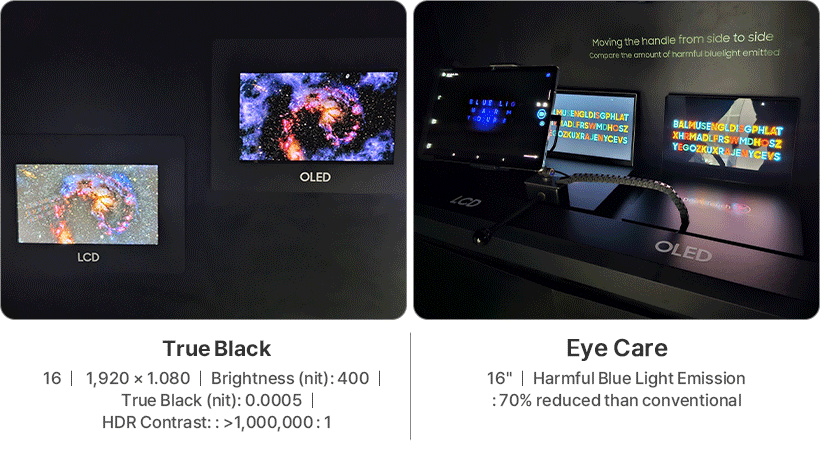 The DARK TUNNEL Zone, designed as a darkroom, brought IT picture quality to life. It gave visitors the opportunity to experience the striking OLED technology known as True Black. This technology enhances the brightness of bright areas and intensifies the darkness of dark areas, resulting in a contrast ratio exceeding over 1,000,000:1. As a result, the colors appear more vivid and distinct. Unlike LCDs, which retain some light even in dark scenes, True Black can create a deeper sense of immersion when watching a film or images on a dark screen.
Next to the DARK TUNNEL Zone, visitors were able to experience our Eye Care technology. Samsung Display successfully reduced the wavelength of harmful blue light emitted by panels by 70 percent compared to conventional LCDs. The efficacy of Samsung's OLED technology has been certified by the globally recognized certification organization SGS, ensuring that your eyes will be safeguarded with confidence.
[OLED OR NOT Zone] Bedazzled by the Samsung OLED in your phone!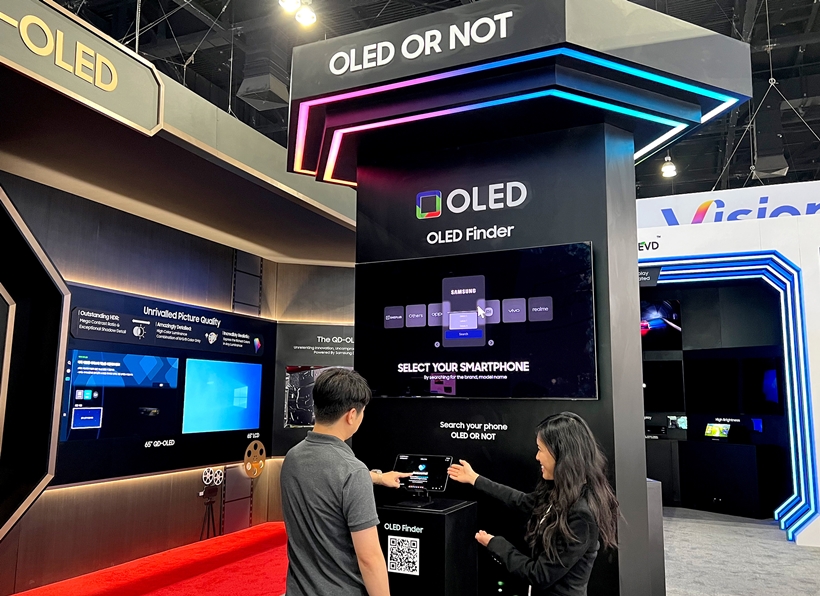 ▲ Samsung Display OLED OR NOT Zone
I now take you to the OLED OR NOT Zone, where you can experience the OLED Finder. Prepare to embark on an exciting experience to discover whether your phone is equipped with the extraordinary power of Samsung OLED! By simply choosing the brand and model name of your smartphone, you'll be able to uncover the hidden truth about its OLED capabilities. Will your device shine with the brilliance of Samsung OLED? It's time to find out!
But wait, there's more! Did you know that over 70% of smartphone users have already embraced the wonders of Samsung OLED? Join the ranks of the tech-savvy and indulge in the myriad of innovative features it offers. Bedazzled by its impeccable image quality, safeguarded from harmful blue light emissions, and revel in the eco-friendly nature of this cutting-edge technology that minimizes the use of plastic.
[QD-OLED Zone] Revolutionizing image quality with maximum color vividness

▲ Samsung Display QD-OLED Zone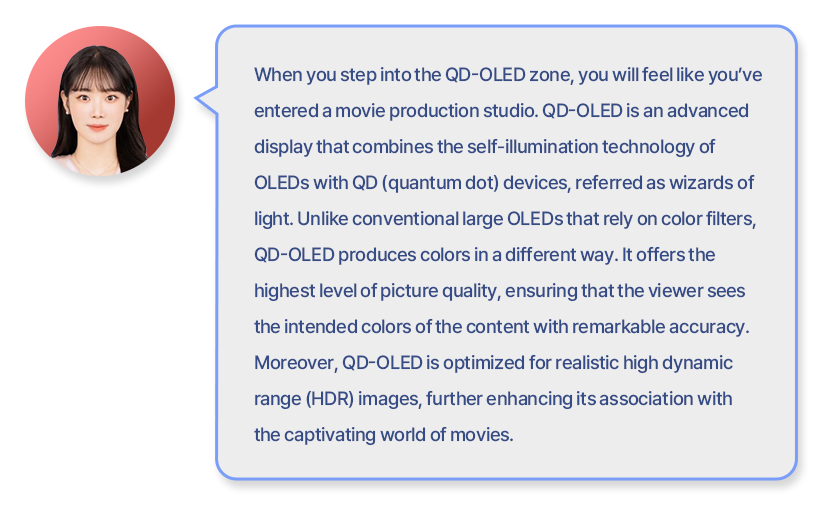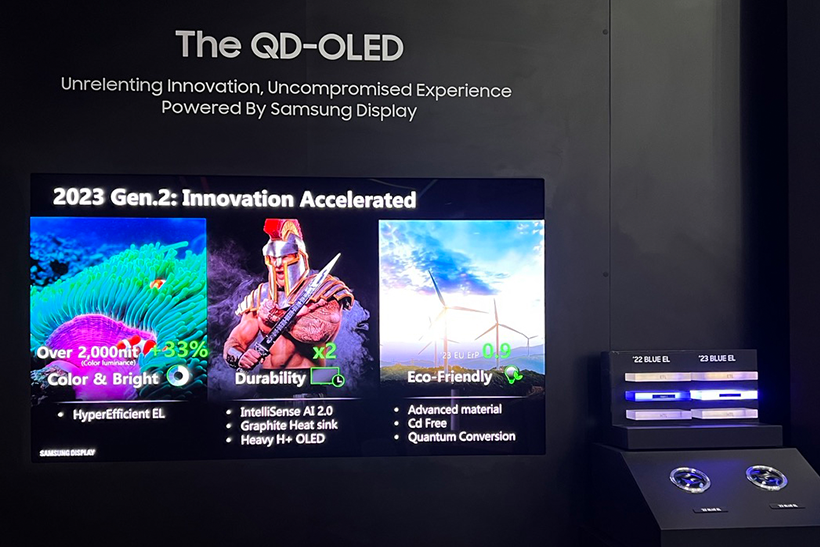 ▲ A hands-on corner to experience the improved luminous performance of the '23 QD-OLED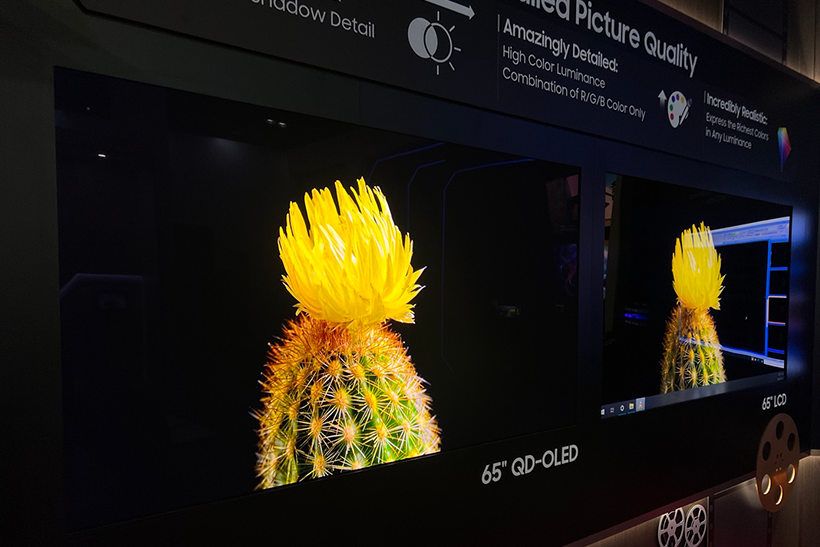 ▲ Comparison of image quality between '23 QD-OLED and LCD
At the QD-OLED Zone, visitors will be able to gain insight into the innovation propelling the enhanced picture quality performance of the '23 QD-OLED. The improvement can be attributed to the utilization of cutting-edge organic materials, specifically designed to enhance the luminous efficiency of the blue light emitting layer. Consequently, this advancement translates to more vibrant and vivid colors in the QD light emitting layer. By utilizing a demo kit that provides actual luminous levels, visitors were able to experience the difference in luminous performance between the '22 and '23 65-inch QE-OLEDs. Furthermore, they were able to observe the significant disparity in picture quality between a large QD-OLED screen and LCD that were provided.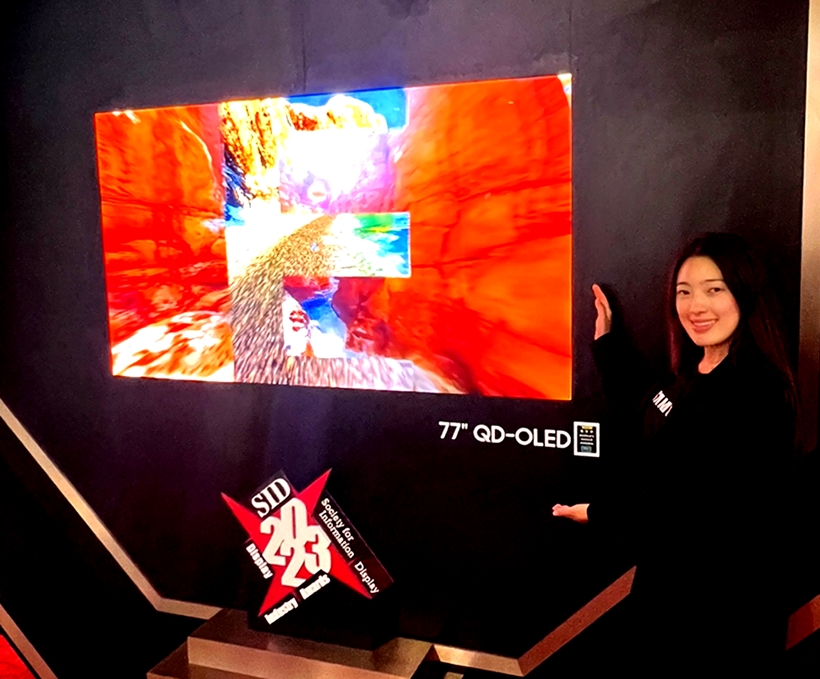 ▲ Samsung Display's 77-inch QD-OLED
The star attraction at the QD-OLED zone was the 77-inch super-large QD-OLED. The jaw-dropping size and exceptional image quality of the QD-OLED create an immersive experience reminiscent of a movie theater. Samsung Display's QD-OLEDs, which have expanded their lineup to include a variety of sizes, have been widely recognized for their outstanding technology and received the most prestigious Display of the Year award at the annual Display Industry Awards (DIA) organized by SID.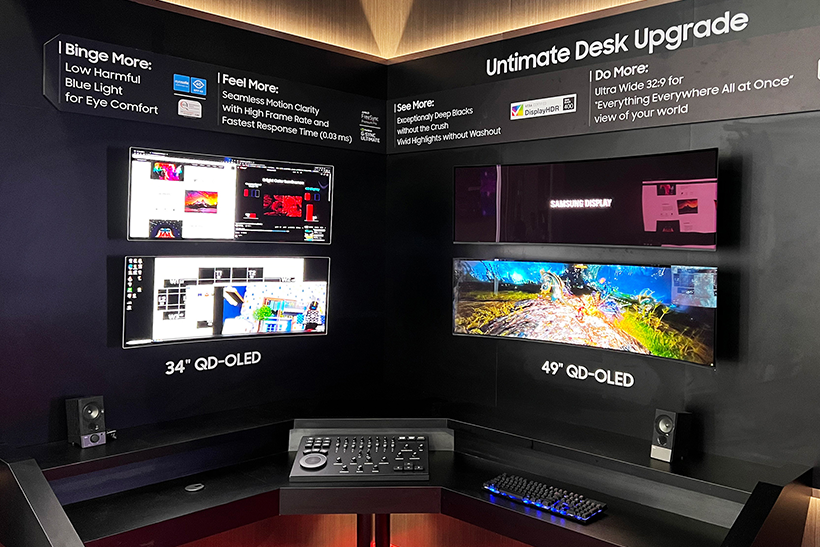 ▲ QD-OLED monitor products displayed in a video editing studio setting
On the other side, a space was set up for visitors to experience the image quality of QD-OLED monitors. The 34-inch monitor on display enabled visitors to explore different applications in fields that demand superior image quality, such as video editing. In addition, there was a 49-inch monitor optimized for gaming and work, featuring a 32:9 ultra-wide aspect ratio.