Industry's highest resolution OLEDs with stunning image quality, low power consumption
and thin, lightweight portability to power new MSI gaming products
Samsung Display today announced that it is accelerating its push into the premium laptop market by supplying its highest resolution 16-inch UHD+ (3840x2400) OLED screens to MSI, a global gaming brand, for its new gaming laptop, the Stealth 16 Mercedes-AMG Motorsport.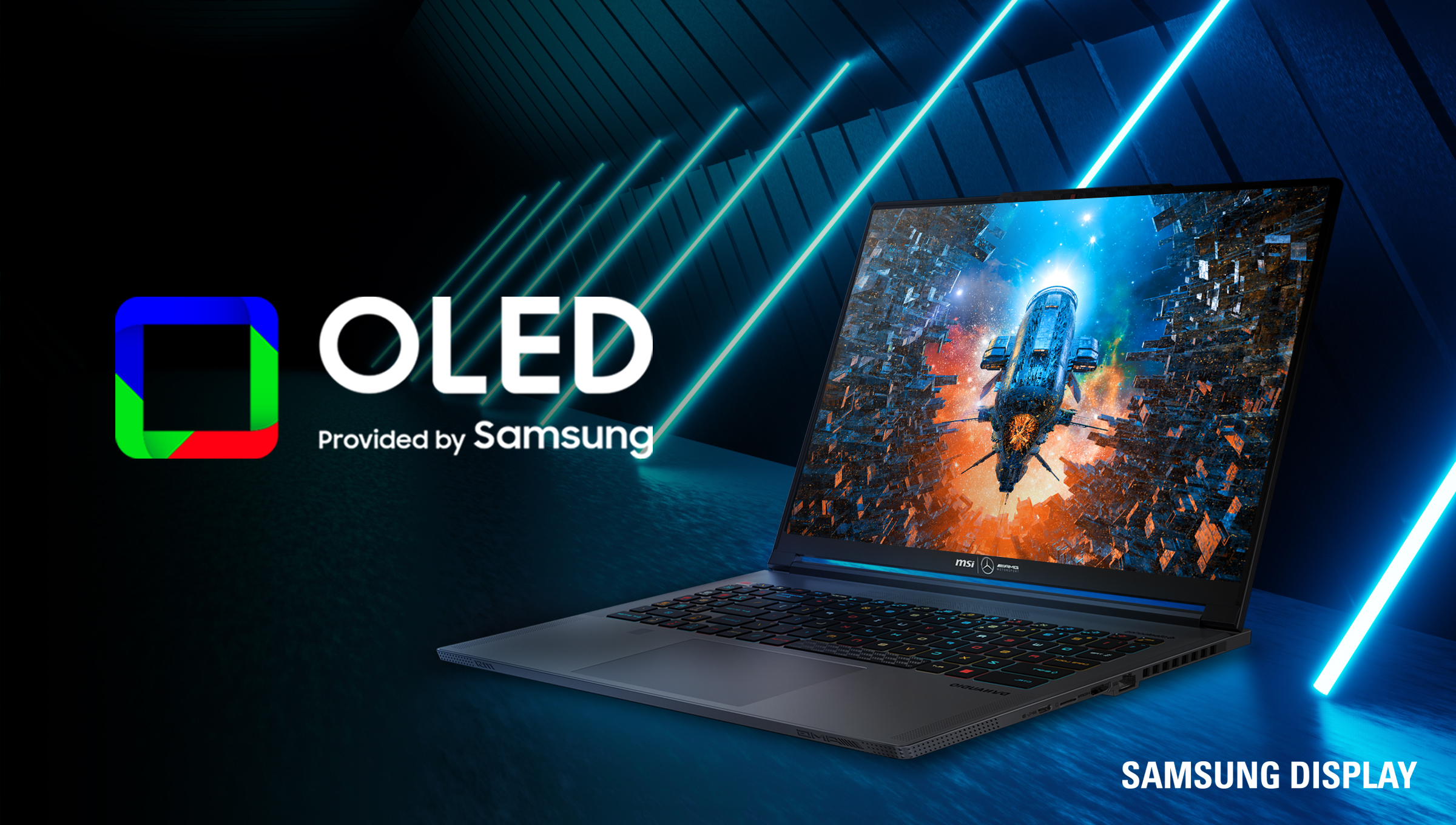 ▲ MSI's 16-inch gaming laptop featuring UHD+ Samsung OLED
Collaborated with Mercedes-Benz's performance-oriented AMG brand, the new premium laptop boasts strong performance and portability thanks to its thin, lightweight body. First unveiled at Computex Taipei 2023, being held in Taiwan, May 30–June 2, the Stealth 16 Mercedes-AMG Motorsport is aimed at both the OLED laptop market and the gaming market, which have been growing recently.
In early April, Samsung Display announced that it would invest 4.1 trillion won ($ 3.1 billion) to build an 8.6-Generation IT OLED production line, formalizing the expansion of its OLED IT business.
"We are supplying MSI with the industry's highest resolution laptop OLEDs so that gaming users can experience the best HDR content on OLED," said Brad Jung, vice president and head of the Mobile Display Marketing Team at Samsung Display. "We will continue to focus on expanding our IT business based on the strengths of Samsung OLED, including wide color gamut, true black enabling infinite contrast ratio, low blue light emission, and low power consumption."
Clark Peng, vice president of MSI Notebook Product Management Division, said, "Gaming laptops demand a high level of display technology that can reproduce powerful driving performance into content." And added, "Samsung OLED is the optimal display to experience the powerful gaming performance of MSI gaming laptops with stunning image quality, low power consumption and thin, lightweight portability."
Since its first launch of OLEDs in the IT market in 2019, Samsung Display has released more than 100 OLED laptops in partnership with 11 global laptop brands. Currently, Samsung Display's market share in the entire global IT OLED market is 76.7% as of 2022 according to Omdia.