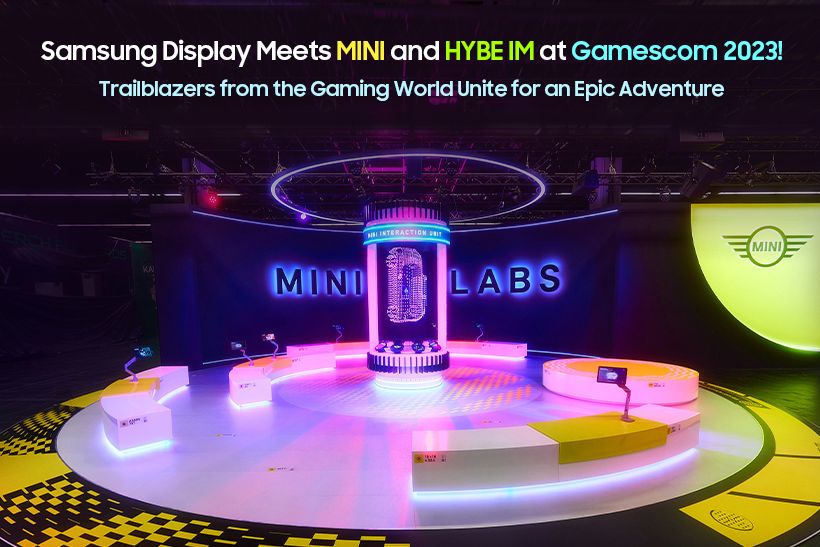 ▲ Photo by: Stefan Grau
Gamescom 2023, recognized as one of the world's top three premier gaming events, kicked off on August 23 in Cologne, Germany! As the world's leading trade fair for digital games, Gamescom 2023 attracted over 1,100 game-related hardware, software and publishing companies.

In 2022, Samsung Display made its debut at Gamescom, becoming the first company in the display industry to set up an exhibition booth and host an experience center. The center allowed visitors to immerse themselves in the realm of game-optimized displays. This year, we have taken our commitment to the next level by partnering with MINI and HYBE IM, a Korean game company. Together, we were thrilled to showcase a range of exciting and exceptional products. We invite you to explore the collaborative exhibition site, tailored for the gaming mavericks from the global community.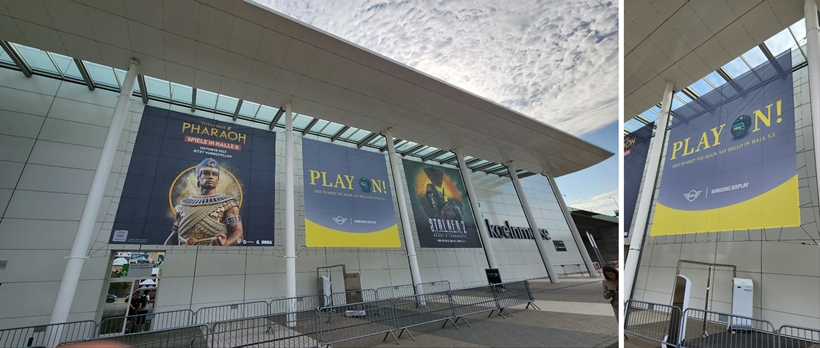 Samsung OLED in MINI Interaction Unit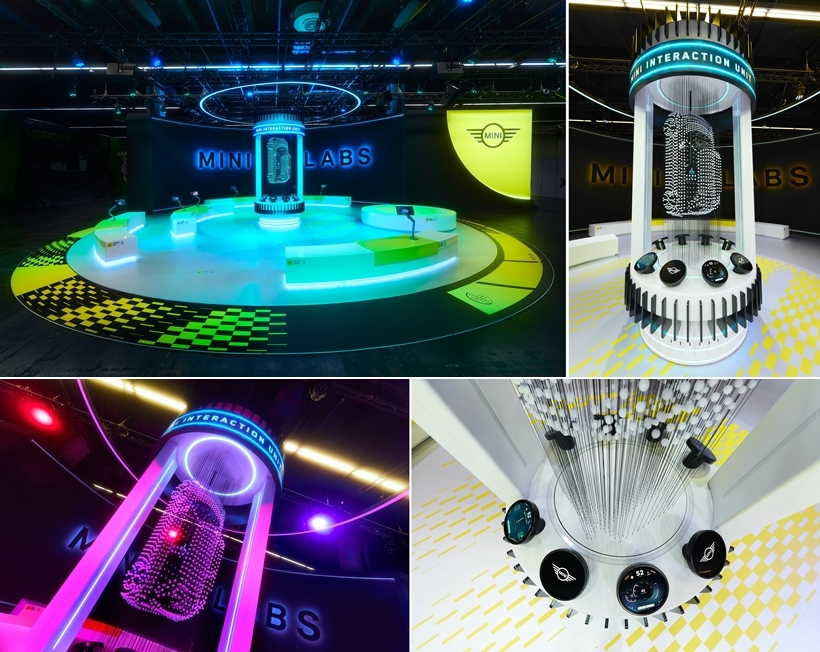 ▲ Photo by: Stefan Grau
MINI participated at Gamescom 2023 as both an official sponsor and a mobility partner for the event. This year, MINI unveiled a booth centered on the MINI Lab theme, offering gamers the opportunity to immerse themselves in a high-tech laboratory atmosphere while experiencing cutting-edge mobility solutions.

In the heart of the booth, the MINI Incubator, a distinctive cylindrical display tower, became an instant focal point. This striking installation featured ten, 9.4-inch diameter round OLEDs, an industry's first developed by Samsung Display. Inspired by iconic futuristic laboratories portrayed in science fiction, the design perfectly encapsulated high-tech innovation.

Samsung's round OLEDs find application within vehicles to create distinctive dashboard platforms, presenting opulent black surfaces and vivid image precision. The displays were showcased in MINI's conceptual vehicle, the Aceman, at last year's Gamescom, sparking high expectations for a new benchmark in the in-car display technology.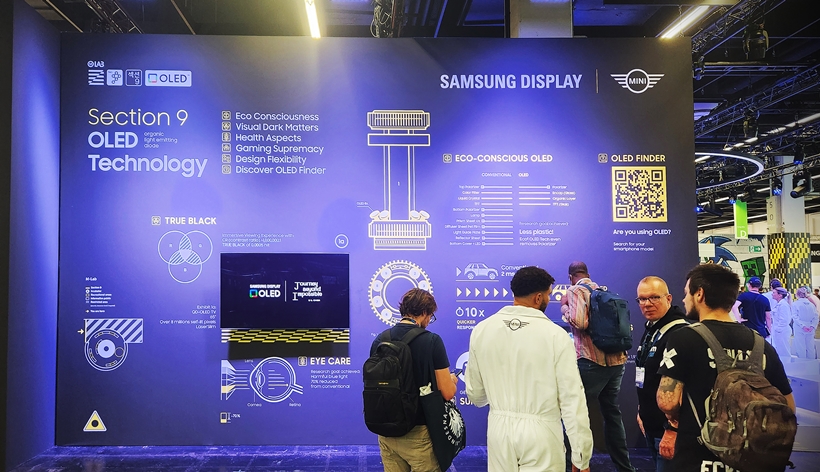 The MINI exhibition hall also showcased a dedicated wall showcasing Samsung Display's OLEDs optimized for mobility. These include OLEDs with eco-friendly panel structure that minimizes the use of plastic, True Black with infinite contrast ratio, design flexibility, and technology that minimizes harmful blue light were highlighted. On one side of the wall, the 12.4-inch Flex S, a multi-foldable product, caught the attention of visitors.

Enjoy HYBE IM's ASTRA: Knights of Veda with Samsung OLED and QD-OLED!

HYBE IM, a Korean gaming company, set up a booth aimed at promoting the upcoming global launch of the game ASTRA: Knights of Veda. In collaboration with Samsung Display, HYBE IM prepared an experience zone featuring monitors with Samsung QD-OLED technology (including 34-inch gaming monitors from Dell and MSI), along with laptops equipped with Samsung OLED displays (the Galaxy Book 3 Ultra). This setup was designed to provide gamers with an unparalleled immersive experience.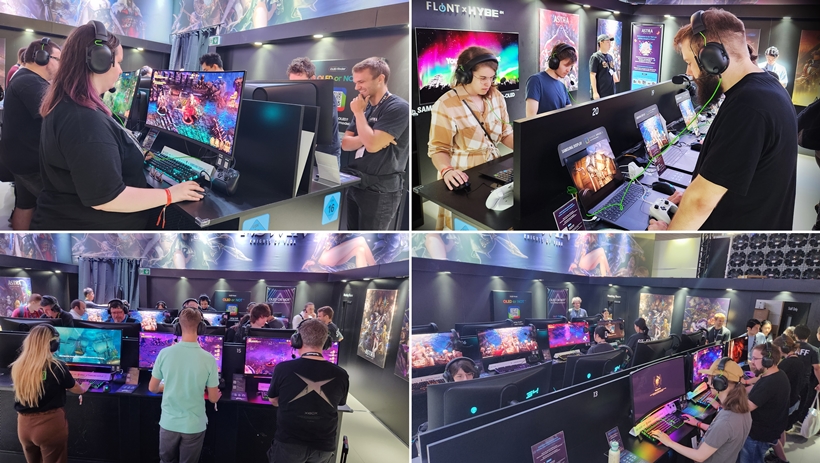 The QD-OLED monitors provided by Samsung Display are VESA certified as DisplayHDR™ True Black 400, while the OLED-equipped laptops have received certification as DisplayHDR™ True Black 500. These certifications recognize the exceptional HDR rendition and detailed black levels of Samsung's displays. Furthermore, the displays have gained recognition as outstanding gaming monitors, delivering a truly immersive experience. It's no surprise that gamers who have experienced games on QD-OLED monitors find themselves unable to leave their seats!
In addition to the gaming experience zone, Samsung Display installed 65 and 77-inch QD-OLEDs on the outer wall of the HYBE IM booth. These displays showcased the stunning graphics of ASTRA in pure RGB colors, capturing the immediate attention of gamers. Adjacent to the booth, an OLED Finder experience zone was set up, allowing visitors to readily determine whether their smartphones are equipped with Samsung OLED by searching for the brand and model name.
From automotive displays to the global gaming market!

We hope you found yourself immersed in the cutting-edge technologies showcased by Samsung Display at Gamescom 2023, the ultimate gathering for game-savvy trendsetters worldwide. From sleek round OLEDs for MINI to mind-blowing Samsung OLED and QD-OLED gaming monitors and laptops, all powered by our collaboration with HYBE IM. The excitement, however, doesn't stop here! This is just the beginning. Brace yourself as Samsung Display dives into the fast-growing automotive display and gaming scenes. And stay tuned as Samsung Display continues to amaze the world through the power of innovation!