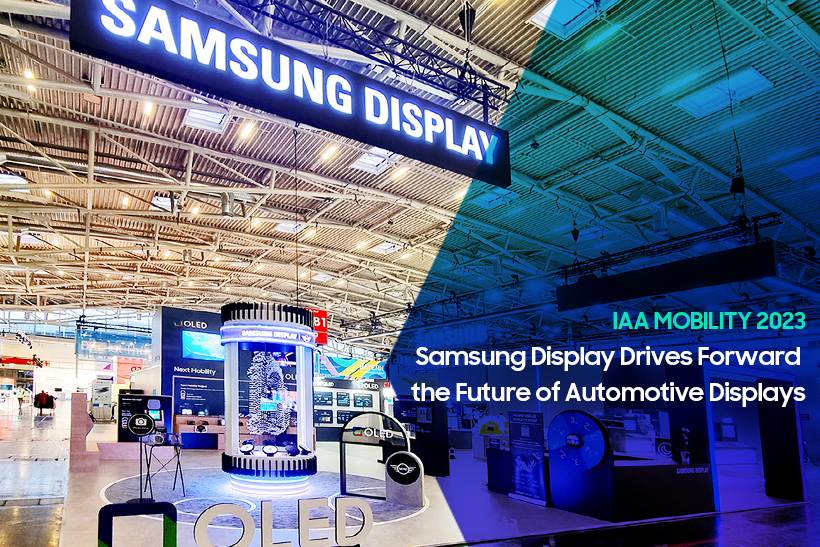 The IAA MOBILITY 2023, which is one of the world's four major auto shows, opened on September 5 in Munich, Germany. This year marked Samsung Display's debut in the IAA, where we presented our cutting-edge OLED technologies poised to transform the automotive landscape. We invite you to explore our OLED solutions designed for the future of automobiles and learn about our vision for driving the automotive industry forward through our products at the IAA.

This year's IAA stands out as the largest event to date, boasting participation from key players in the automotive industry. Notably, major automakers such as Mercedes-Benz, BMW, and Volkswagen are accompanied by semiconductor and IT powerhouses, including Samsung Electronics and Samsung SDI, as well as Samsung Display. The IAA is the go-to venue for unveiling groundbreaking mobility concepts and visions. At this year's IAA, Samsung Display declared its ambition to drive forward the next-generation automotive electronics market, particularly in automotive electrical and electronic equipment, by leveraging its success in leading the transition from LCD to OLED technology in the smartphone market. The IAA MOBILITY 2023 is further amplifying the growing significance of OLED, as they are increasingly embedded in premium cars.
Experience safe driving with OLED at the OLED Safe Driving Center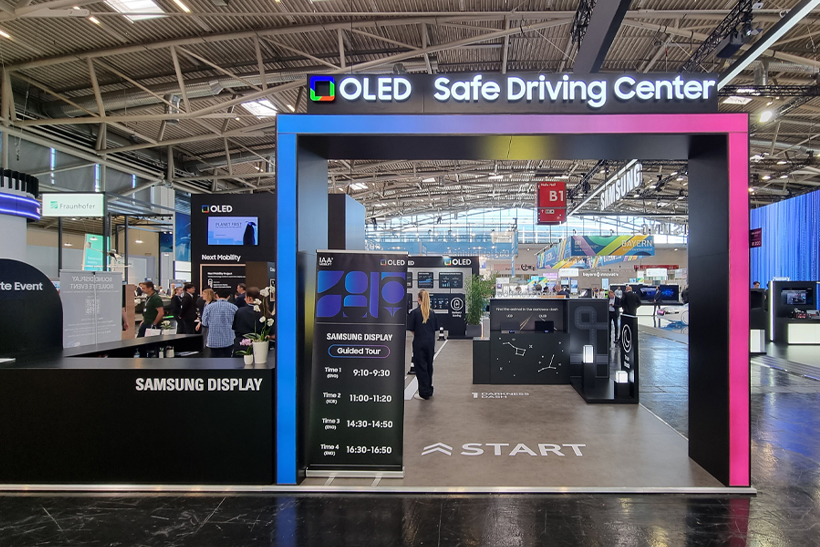 At the entrance of Samsung Display's booth is the Safe Driving Center. At this center, we offered visitors firsthand experience in safe driving with OLED technology, which includes watching two videos demonstrating animals leaping into vehicles during nighttime driving.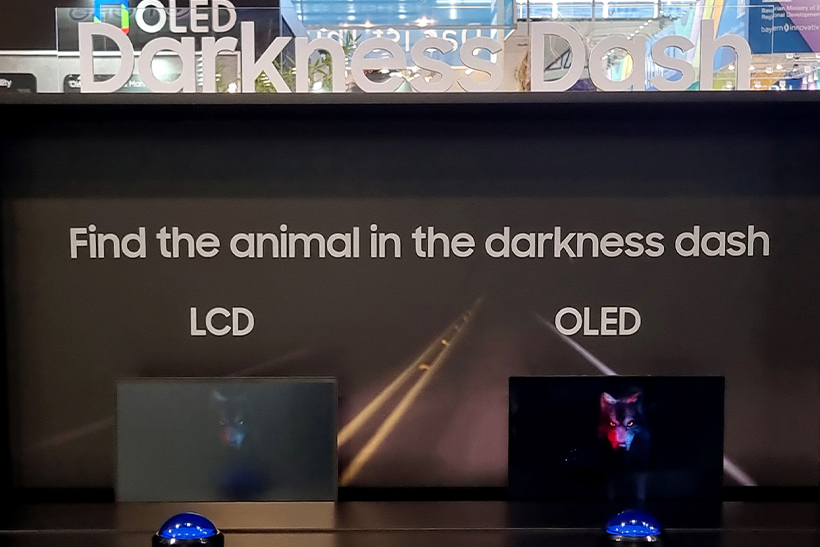 In the above photo, a video is showcased on both an LCD and an OLED screen. The objective is to allow visitors to compare and determine which display renders the animal more vividly. Which screen allows you to perceive the animal more clearly?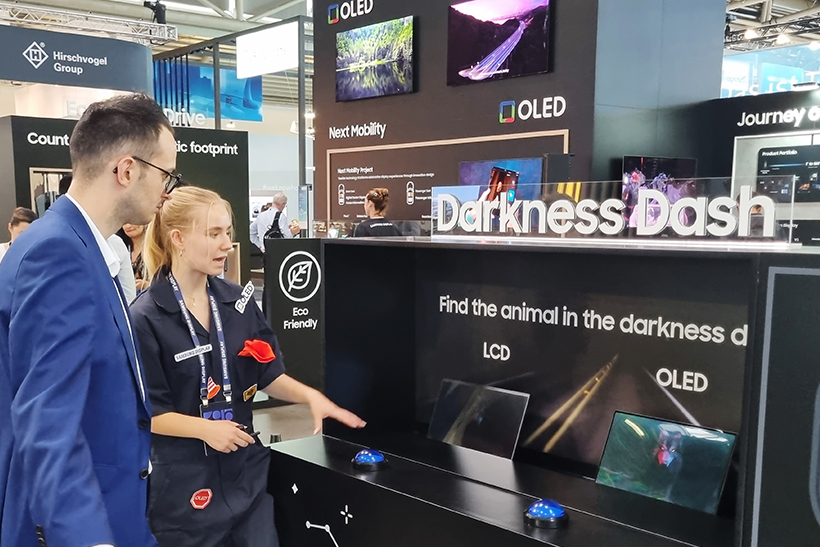 Indeed, OLED emerges as the victor in this showdown, thanks to its spontaneous light emission property, which enables the creation of a significantly richer True Black. You can experience this yourself when looking at a display in your car under low-light conditions, confirming that OLEDs are better suited for safe driving.

▲ Sunlit GPS Zone, where visitors can experience the brilliance of OLEDs that deliver vivid visuals even under the sun's glare and in bright outdoor conditions. At the Less for More Zone, visitors can explore display technologies that enable low power consumption and enhanced battery longevity
We created a dedicated section to help visitors evaluate display performance under intense sunlight when behind the wheel. In the Sunlit GPS Zone, we present the same map screen on both OLED and LCD screens under an exceptionally bright setting. Here, visitors can readily compare and distinguish which display offers superior clarity in such an extreme environment. Whether driving during the day or night, visitors will quickly appreciate OLED's exceptional image quality.
Does better performance equate to higher energy consumption? Each year, Samsung Display advances its technologies through innovation, achieving not only enhanced image quality but also reduced power consumption. In the Less for More Zone, visitors can experience firsthand the remarkable energy efficiency of OLEDs. Unlike LCDs, which require both the activation of the actual colors and their surrounding backlight to display an image, OLEDs only activate the pixels where color is needed, exemplifying an efficient and eco-friendly display that utilizes power precisely where it's required. With the automotive industry integrating a growing number of electronic components, battery consumption typically increases. However, Samsung Display is able to buck this trend and reduce power usage through its OLED technology.
The interiors of Next Mobility are transformed by OLEDs in a diverse range of form factors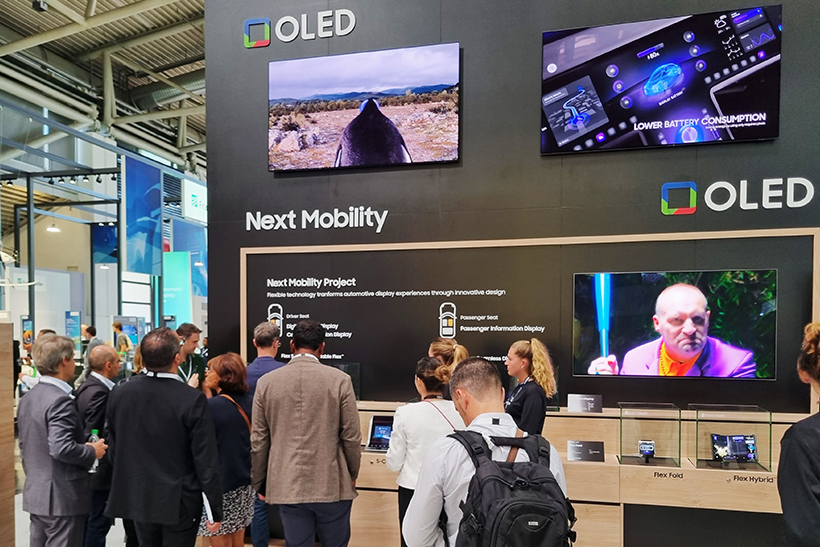 At the exhibition, Samsung Display also demonstrated how automotive OLED technology goes further than just image quality and energy efficiency. Expanding our vision beyond the notion that flexible, foldable, and rollable technologies are exclusive to mobile devices is sparking numerous innovative ideas for future mobility.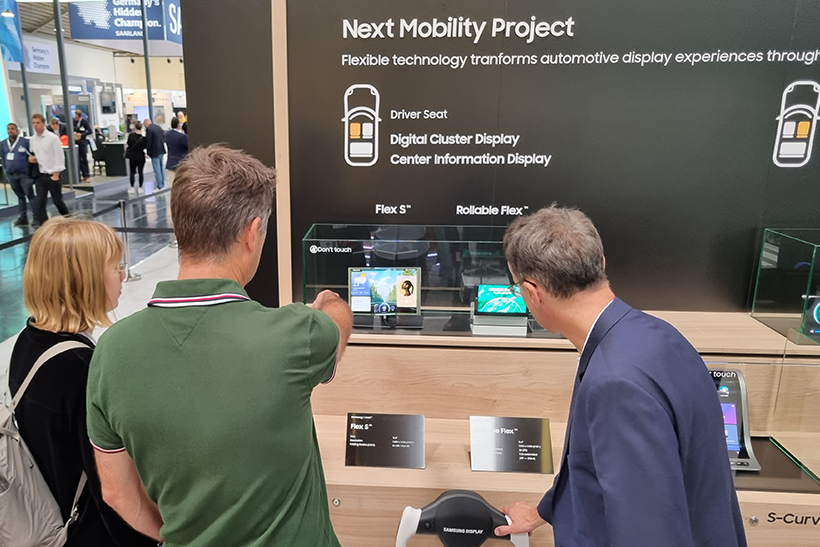 Slidable, rollable, and bendable OLED technologies provide additional freedom to integrate displays into the interior of vehicles. Due to their lighter and thinner profile compared to LCDs, OLEDs offer greater scalability in design. Visitors at the exhibition were able to explore OLED displays in various form factors, including Flex S, Rollable Flex, Seamless Display, and S-Curved displays.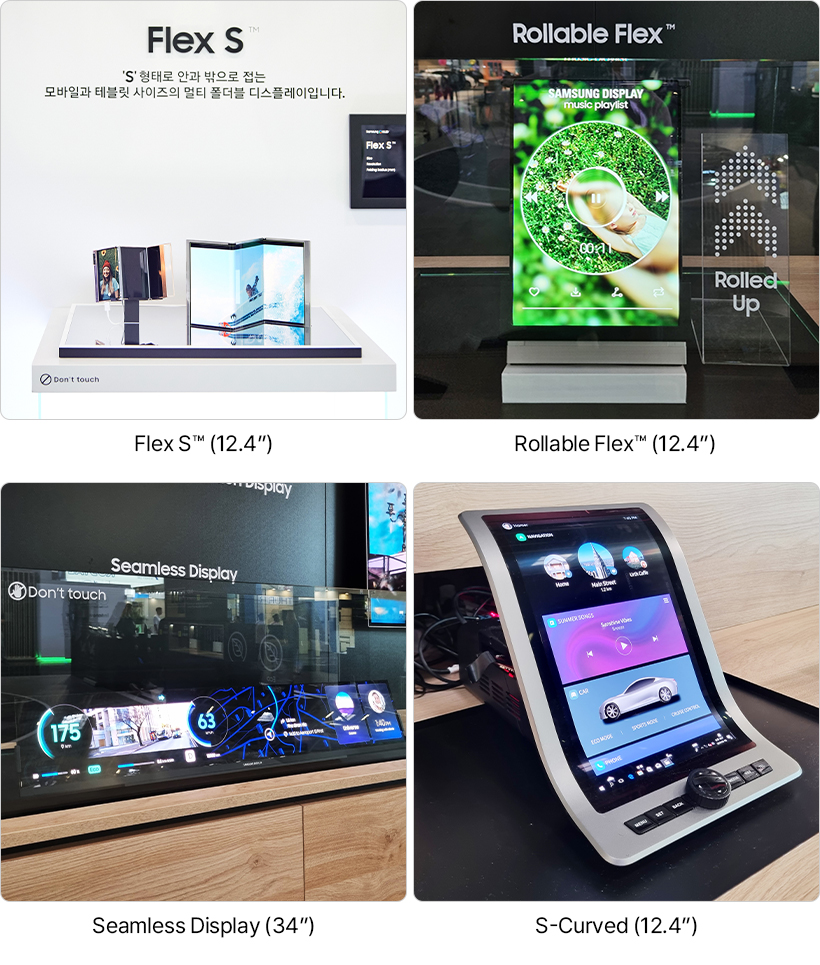 ▲ Innovations for the driver's seat
We also introduced Flex Fold and Flex Hybrid™ concepts. Flex Hybrid™ enables the passenger seat to serve multiple functions, including air conditioning, heating, seat positioning, and video viewing as needed. When unfolded, Flex Hybrid™ offers a 10.5-inch screen, which expands to 12.4 inches when extended with its sliding function. This feature is particularly beneficial for space optimization in cars.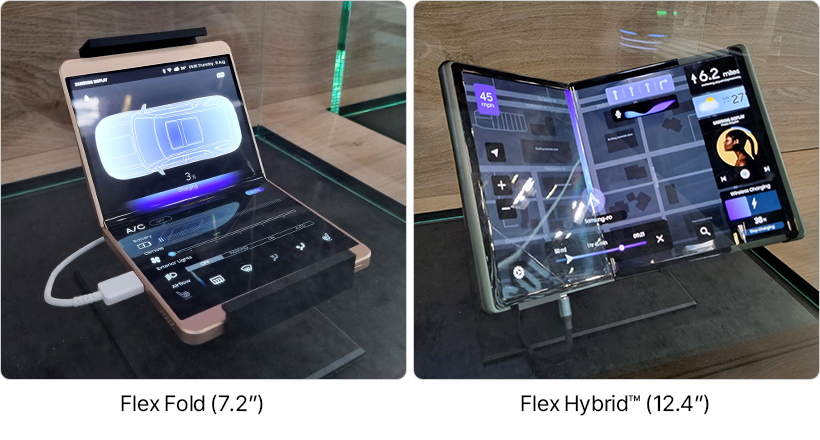 ▲ Samsung OLED for passenger seats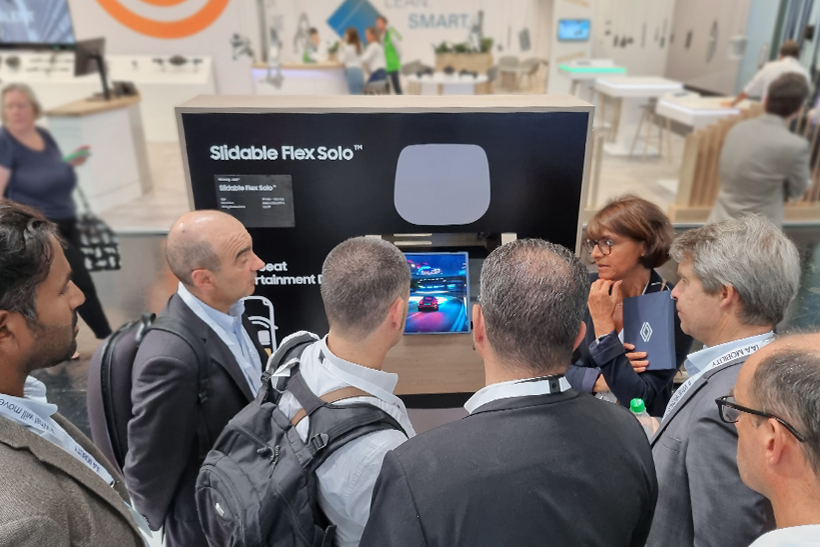 We also showcased the integration of rollable and slidable displays, providing backseat passengers with a diverse range of entertainment choices. The Rollable Flex, for example, can be expanded to over five times its compact size, neatly rolling up when not in use and transforming into a substantial screen for viewing vehicle information or content. Furthermore, the Slidable Flex, with similar dimensions to a tablet, can be extended to a generous 17.3-inch screen to enjoy video content.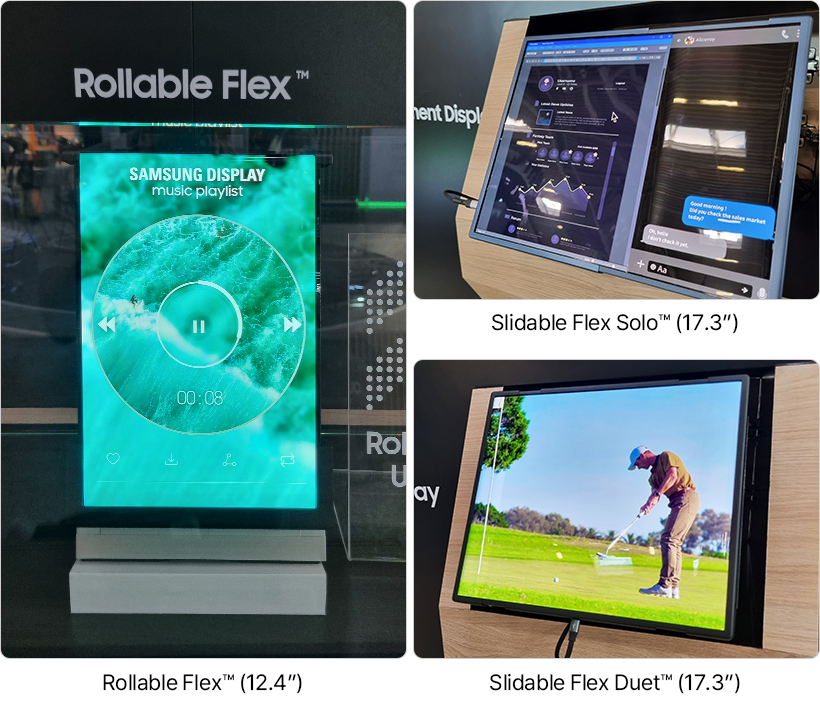 ▲ Samsung OLED for backseat passengers
The game-changing Round Display of the MINI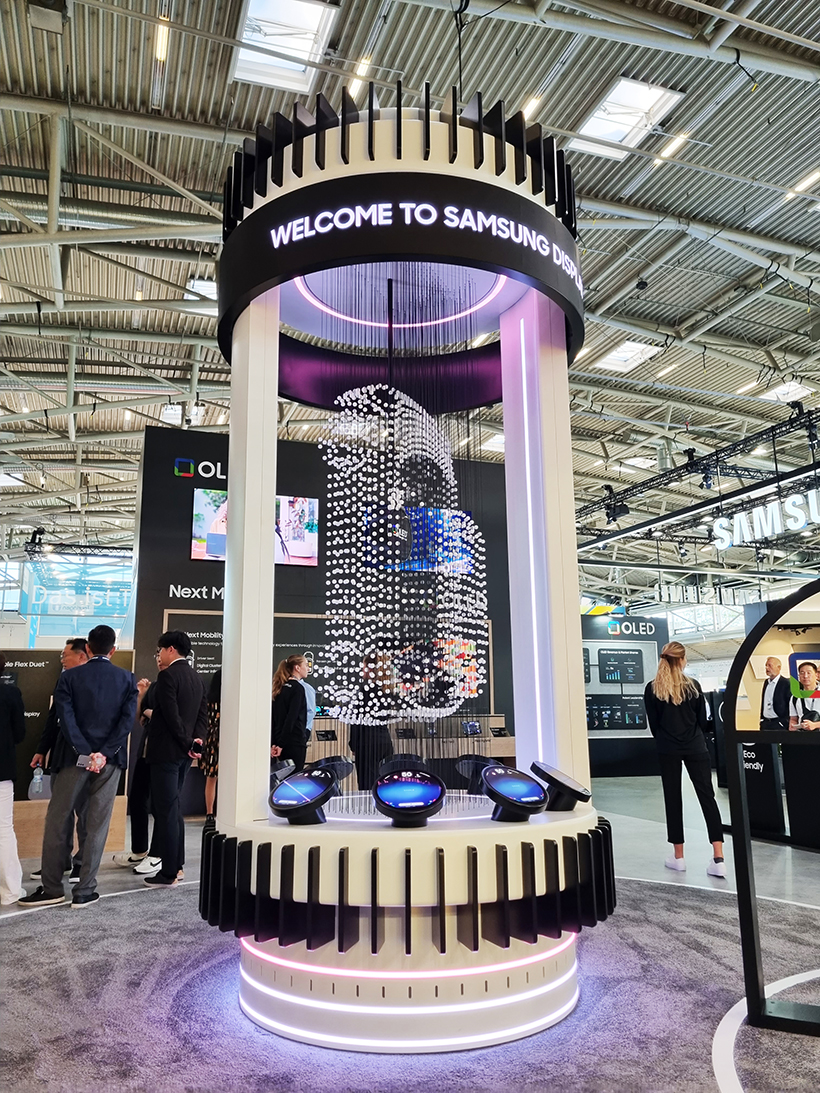 We have now reached the last corner. Here, beyond the OLED structure, you'll find a cylindrical tower that resembles a structure right out of a science fiction movie. This awe-inspiring creation is called the MINI Incubator, and it is constructed using 10 round OLEDs, each with a 9.4-inch diameter. This marks the industry's first application of round displays, thanks to the contribution from Samsung Display.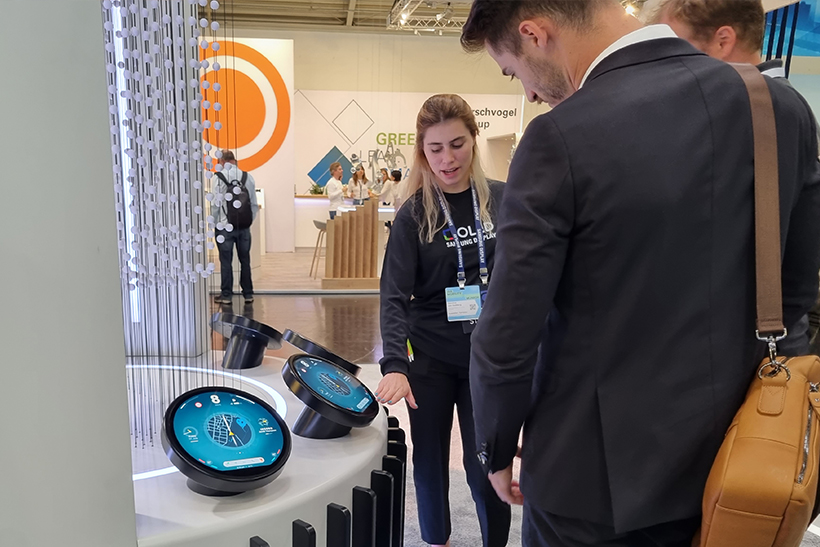 The highly anticipated new MINI family adopted Samsung Display's round display, garnering significant interest among attendees. The departure from the conventional square panel marks the first-ever implementation of a round display for the Central Information Display (CID). This innovative design not only captured the curiosity of visitors but also showcased the versatility of the round display, suitable for a range of user experiences and design applications.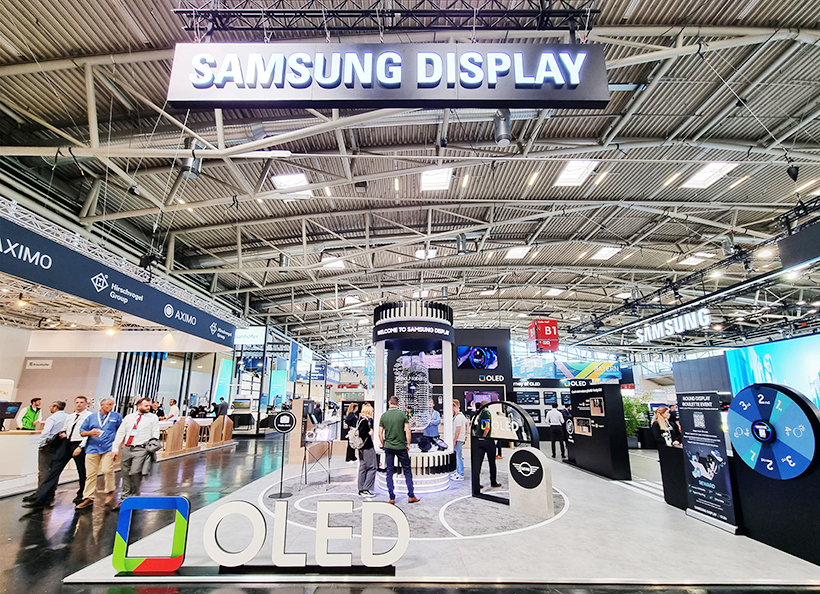 Although this year marked Samsung Display's first participation at the IAA, we believe we left a lasting impression on numerous companies and visitors by showcasing our cutting-edge technology and solutions. We hope we demonstrated how our innovative OLED technology, initially designed for mobile devices, is equally instrumental in the mobility sector. We are thrilled and excited to further advance our OLED technology within the automotive market, as it evolves from the traditional medium of transportation into a versatile mobile space designed to meet the various needs of users.