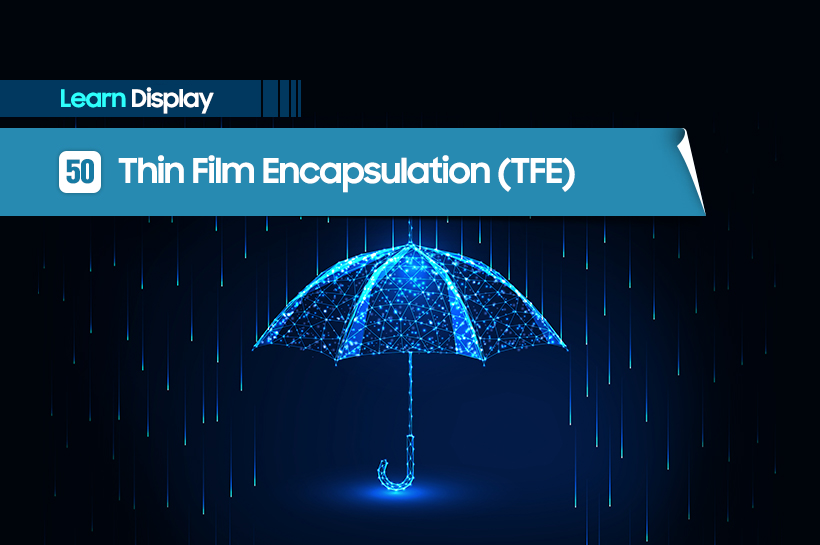 Thin film encapsulation is an encapsulation process for a flexible OLED panel. As explained in the previous Learn Display article, encapsulation is a process that prevents the penetration of oxygen and moisture into the organic layer in an OLED display.
For regular OLED (rigid OLED) panels, glass substrates are used: Therefore, encapsulation for a regular OLED panel requires a glass panel to cover the LTPS substrate complete with the evaporation process, and then the edges are sealed so that oxygen and moisture cannot penetrate. For a flexible OLED display however, it must bend – requiring the encapsulation process to use a flexible polyimide substrate instead of glass. Therefore, unlike regular OLED displays, the encapsulation process for flexible OLED displays must also offer adaptability. This is why thin film encapsulation is needed.
Thin film encapsulation can be seen as an integrated encapsulation process as it encapsulates the panel complete with the evaporation process adding a thin layer. Contrary to the regular encapsulation process with a single layer, thin film encapsulation requires multiple layers alternating between inorganic and organic ones.
The inorganic layer excels at blocking the penetration of moisture and oxygen, but due to the particular characteristics of the material, it contains small particles (or dust). Formations of pinhole defects occur due to these particles, later creating dark spots as oxygen and moisture penetrate fast into the inorganic layered panel. That is why we alternate inorganic with organic layers; separating pinholes in inorganic layers by stacking them every other layer lengthens the route of penetration of oxygen and moisture, preventing them from reaching the light-emitting layer.
In other words, the key role of organic layers is to prevent from creating additional holes on the upper layer by covering particles in the inorganic layer already deposited and flattening the layer.