Leveraging OLED displays in dark mode proven to be the most energy-saving solution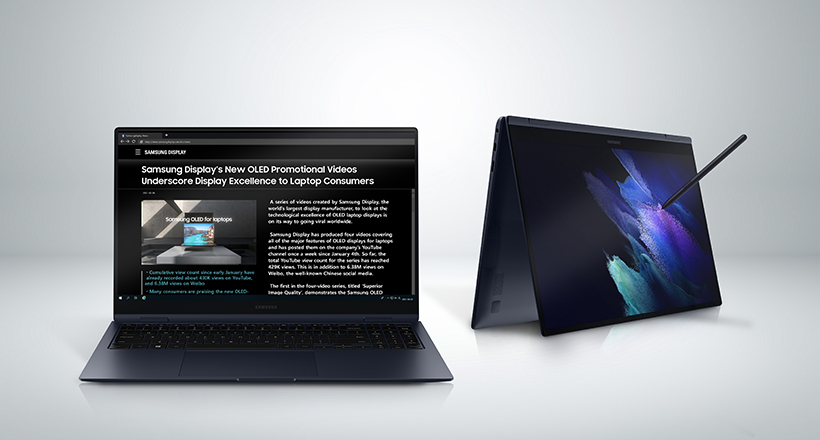 Samsung Display announced today that its OLED laptops are up to 25 percent more energy efficient in dark mode compared to light mode. The company tested its OLED laptops' battery life using the industry-standard MobileMark 2018* and found that battery life averaged 11 hours in dark mode and 9.9 hours in light mode.
By reducing the On Pixel Ratio, or the ratio of working pixels to total display pixels, dark mode was shown to cut down display energy consumption by about 25 percent. Since screens are one of the most significant contributors to battery drain, as a result, Samsung OLED laptops were found to give users an additional hour of power, compared to LCD laptops.
"Low energy technology is vital for improving the portability of mobile devices like smartphones and laptops," says Baek Jeeho, vice president of Samsung Display. "The combination of OLED screens and dark mode is clearly proven to be the best solution. Dark mode also reduces blue light significantly, which is beneficial to users' eyes."
Notably, only OLED laptops can take advantage of the battery savings. Since each pixel on an OLED screen emits its own light, displaying black on OLED screens uses less power because the LEDs that make up each pixel turn off completely. On the other hand, LCD screens require a backlight even when displaying black, so it provides no reduction in power consumption even in dark mode.
In addition to Samsung Electronics, which on Wednesday unveiled its new Galaxy Book Pro and Galaxy Book Pro 360 laptops that automatically turn on dark mode in Window setting, global companies including Apple, Microsoft, Google and Adobe are rushing to implement dark mode in their products.
Samsung Display is continuing to expand its OLED lineup for laptops, many of which still rely on LCD displays, to more than 10 products ranging in size from 13.3 inches to 16 inches. The company expects its display sales to increase five times this year as global demand soars due to the increase in remote working.
*Mobile Mark is a benchmark developed by Business Applications Performance Corporation (BAPCo), an IT industry consortium to develop benchmarks for product performance, to assess the battery life of mobile devices based on real-world applications and real usage patterns. BAPCo released the new standard in 2018, and in 2020 it added a new usage scenario with dark mode.