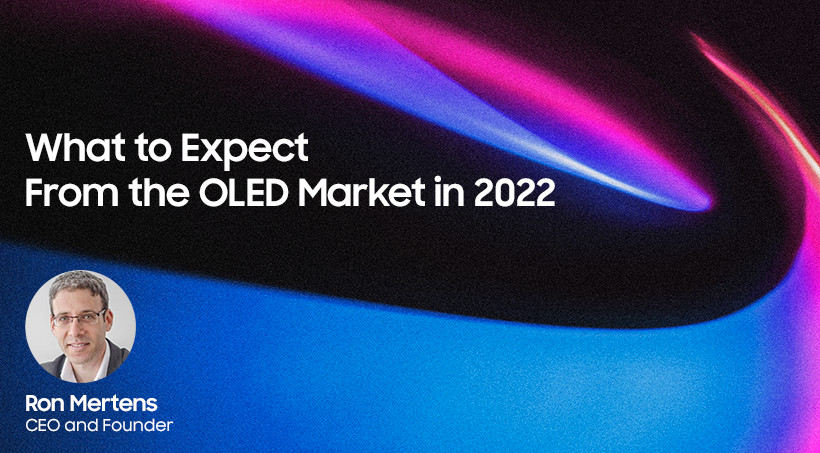 2021 was an excellent year for the OLED industry. Demand for OLED displays remained high in many large markets - such as smartphones, wearables and TVs. In addition, OLED displays have been adopted in many new laptops and tablets, as the global IT devices market sees high demand for new products. Foldable OLED devices, mainly smartphones, are also seeing increased adoption and shipments have risen sharply in 2021.
Unless things take an unexpected turn, it is likely that the high demand for OLED devices will continue in 2022. Consumers are willing to pay a price premium for OLED displays, as they offer better image quality and reduced power consumption. In addition, OLED panel prices are going down due to increased production volumes, which leads to adoption in lower-tiered devices.
The main market for OLED displays is still smartphone panels, and this market continues to grow, even though growth is slowing down as penetration is already over 50%. For mid-tier and high-end phones, the penetration rate is even higher. Apple, for example, is already featuring OLED displays in all of its iPhone devices. The two other large OLED markets, TV displays and wearable displays, are also expected to enjoy another good year.
How will Other Fast-Growing Market Segments Fare in the Near Future?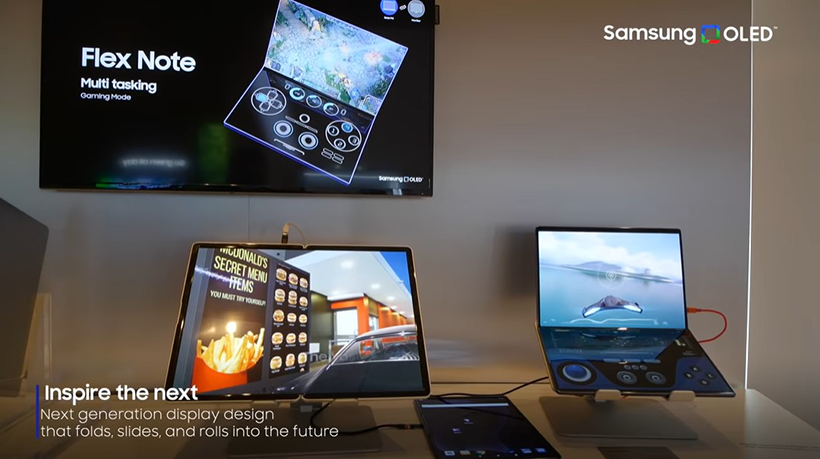 ▲ Samsung Display unveiled the 17-inch foldable OLED demo products at CES 2022 (Source: Samsung Display)
The IT market, mainly laptops and computer monitors, had an expectedly good couple of years, as the global pandemic increased demand for work-from-home and study-from-home devices. OLED displays have been introduced into this market in 2019 (led by Samsung Display), and this has been excellent timing for the OLED industry. Companies such as Samsung, Asus, HP and Lenovo started adopting OLEDs in mid-tier laptops and tablets, which led to higher demand. OLED producers are now considering building dedicated OLED production lines for this market, which will reduce production costs to further increase the potential market.
The first foldable OLED devices appeared in 2019, but it wasn't until the second half of 2021, when Samsung introduced its third-generation devices (the Samsung Galaxy Z Fold3 and Galaxy Z Flip 3), that consumers took real notice - as foldable devices are getting more durable and also cheaper. Market analysts expect the market to grow by over 100% in 2022 (growth in 2021 was estimated at over 200%).
▲ Samsung Display's Rollable Phone showcased at CES 2022 - Hands On Video (Source: TechTalkTV)
The next step in flexible OLED evolution is the rollable display panel, which is more demanding to produce compared to a foldable OLED, as tension is present over the entire panel. But advances in material R&D have reached the point where commercialization is possible. In fact, the first phones were planned to be released in 2021, but sadly this did not happen. We hope that we'll see the first devices in 2022. It is likely that, as always, costs will be high, volume will be low, and functionality will be limited - but as device makers will gain experience and panel makers increase performance, rollable OLEDs could make a meaningful impact on several markets, such as smartphones, tablets, wearables and even TVs.
Another market worth mentioning is the automotive market - seen by many as a high potential market for next-generation displays. The near future of the automotive market is exciting, with electric cars becoming mainstream and autonomous vehicles seen as a potential game changer.
▲ Audi e-tron features "virtual exterior mirrors" as an option, which use exterior side cameras instead of traditional side mirrors to display outside views in 7-inch OLED screens placed above the door handles (Source: Samsung Display)
Audi was the first company to adopt AMOLED displays back in 2018, in its A8 (5.7-inch FHD OLED in the rear seat remote) and the virtual side mirrors in the E-Tron SUV (7-inch OLED). Several premium cars adopted OLED displays, and in November 2021, Continental announced its first major order (around €1 billion) to supply OLED displays to a global vehicle maker. The automotive market is a natural fit for OLED displays that offer improved image quality, flexible designs and high durability: The perfect black and high contrast turn the display itself into a luxurious design element. We should expect to see more new car models with OLED displays announced in 2022.
Conclusion
As OLEDs provide better image quality and new design factors, the technology is expected to continue to grow and open up new applications for displays in 2022. The traditional OLED markets (smartphones, wearables and TVs) are expected to increase, while new markets, such as foldable devices, laptop displays and automotive displays are expected to enjoy high growth rates as adoption is just starting. It is going to be an exciting year!
※ This article holds the editor's opinion, and Samsung Display Newsroom's stance or strategies are not reflected.
---
Ron Mertens is the founder of Metalgrass LTD, provider of emerging technology industry knowledge hubs, and provides valuable insights in OLED, MicroLED, Graphene and Perovskite industries and markets.