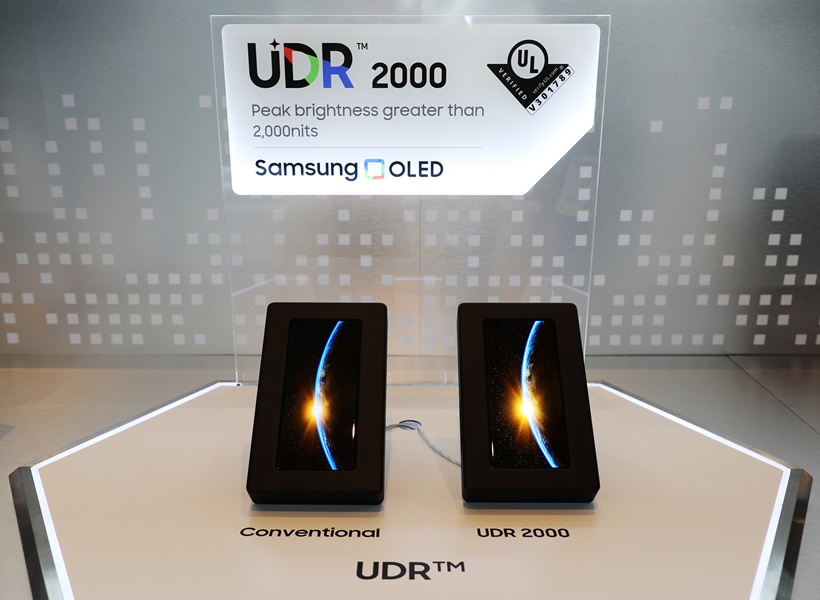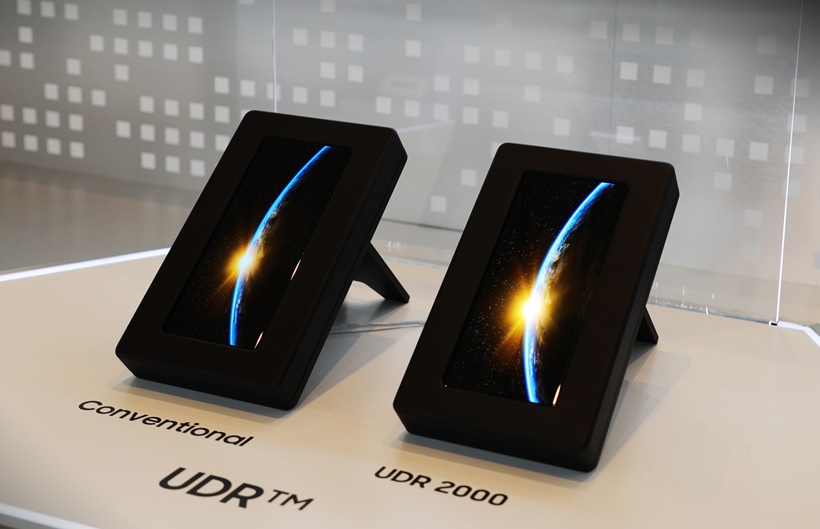 ▲
Samsung Display is comparing a 'UDR 2000' OLED, an ultra-high bright OLED panel that achieved a peak brightness of 2000 nit, against a regular OLED panel at the 'CES 2023' booth.
• Samsung achieves industry's first 'UDR (Ultra Dynamic Range)' luminance performance through verification by UL Solutions, a global safety science company
• Samsung smartphone OLED with UDR mark proved to be an ultra-high-brightness product capable of up to 2,000 nit of brightness
• The company showcases the excellence of smartphone OLED's brightness at CES 2023
Samsung Display announced today at CES 2023 that the company gave the Samsung Display's proprietary UDR™ (Ultra Dynamic Range) to its OLEDs for smartphones as it is recognized for its high luminance of 2,000 nits by UL, the global safety science company, for the first time in the industry.
Samsung Display's UDR™ is a trademark for products that are certified for superior luminance. The company demonstrates that its OLEDs for smartphones can achieve ultra-bright up to 2,000 nits and use both 'UDR1500' and 'UDR2000' trademarks for its products.
With ultra-high-definition content on the rise, a screen's brightness range and ability to sustain it has become one of the key performance metrics for displays. Samsung Display's high-brightness products show more realistic quality with rich color expression that adds to the user's enjoyment.
In addition, the brightness of a smartphone screen is more important than the brightness of TVs, monitors, and laptops, because smartphones are frequently used outdoors as well as indoors. For better screen visibility on smartphones when used under daylight conditions, Samsung Display improved display brightness while maintaining the efficiency of power consumption and organic material.
"The brightness of a display is a factor that has a great influence on the consumer experience of smartphone image quality and performance," said Hojung Lee, Head of Product Planning Team for Small and Medium-sized Display Division at Samsung Display. "With its distinctive technology and business experience in the OLED field, Samsung Display will continue to lead the market with differentiated products based on consumer-oriented technology."