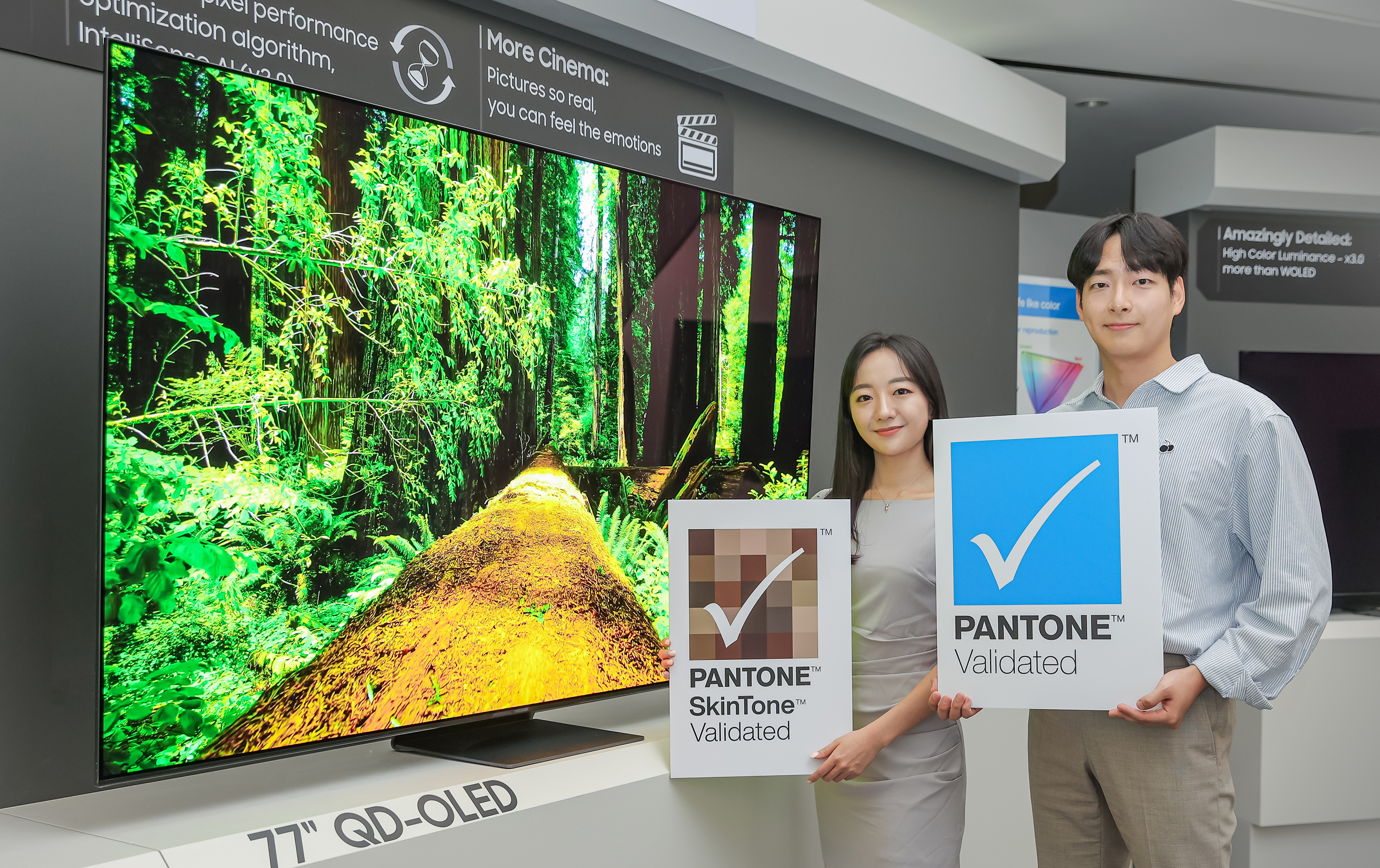 ▲
Samsung Display employees hold up the Pantone Validated and Pantone SkinTone Validated logos in front of a QD-OLED
QD-OLED's accurate color rendition has been recognized for its excellence by PANTONE,
the global color expertise company that provides color standards worldwide
Samsung Display today announced that its 77-, 65- and 55-inch QD-OLED TV panels have earned 'Pantone Validated' and 'Pantone SkinTone Validated' seal of approval. With the first Pantone Validated recognition in the display panel industry, QD-OLED's unrivaled color reproduction has been recognized yet again.
Pantone is renowned for its Pantone Matching System (PMS), the universally accepted color standard. Each color is assigned a unique alphanumeric code to ensure that the same color is represented anywhere in the world and in any medium. Any industry that requires precise color distinctions — from product design to content industries, such as video and gaming — relies on Pantone standards. In order to receive 'Pantone Validated' for consumer products, a display needs to accurately produce more than 2,000 specific colors based on PMS and satisfy Pantone's strict criteria.
Also, to receive 'Pantone SkinTone Validated,' an accurate representation of the 110 skin tones found in the Pantone SkinTone Guide is required. The Pantone SkinTone Guide reflects thousands of physical measurements of real skin tones across ethnicities, geographies, ages and more, making it the first of its kind in the industry to have a scientific foundation.
"We're very proud to have Samsung Display be the world's first display panel partner to pass our rigorous testing and calibration standards," said Jan Keller, Vice President of OEM Sales at X-Lite. "Achieving Pantone Validated status for both PMS colors and skin tones allows their customers to view and design with the highest level of color confidence, providing a true-to-life visual color experience," he added.
QD-OLED is characterized by embedding quantum dots that produce different colors depending on particle size, unlike conventional large OLEDs that implement colors with separate color filters. Due to the high color purity of each pixel, there are fewer colors mixed with the surrounding hues that enable more pure and accurate color expression. As a result, QD-OLED is able to express true-to-life colors with more accuracy, which has been difficult to achieve in the past.
"With the continuing growth in ultra-high-definition (UHD) content consumption, it is increasingly important to express rich colors accurately," said a Samsung Display official. "We look forward to establishing QD-OLED as an irreplaceable choice for customers and content creators who want to express the colors that exist in nature most accurately."
With the attainment of Pantone validation, Samsung Display expects to further establish a strong position in the premium TV market with QD-OLED. In May, QD-OLED was recognized for its accurate and true-to-life color representation and won 'Display of the Year,' the most prestigious of the Society for Information Display (SID)'s annual Display Industry Awards (DIA).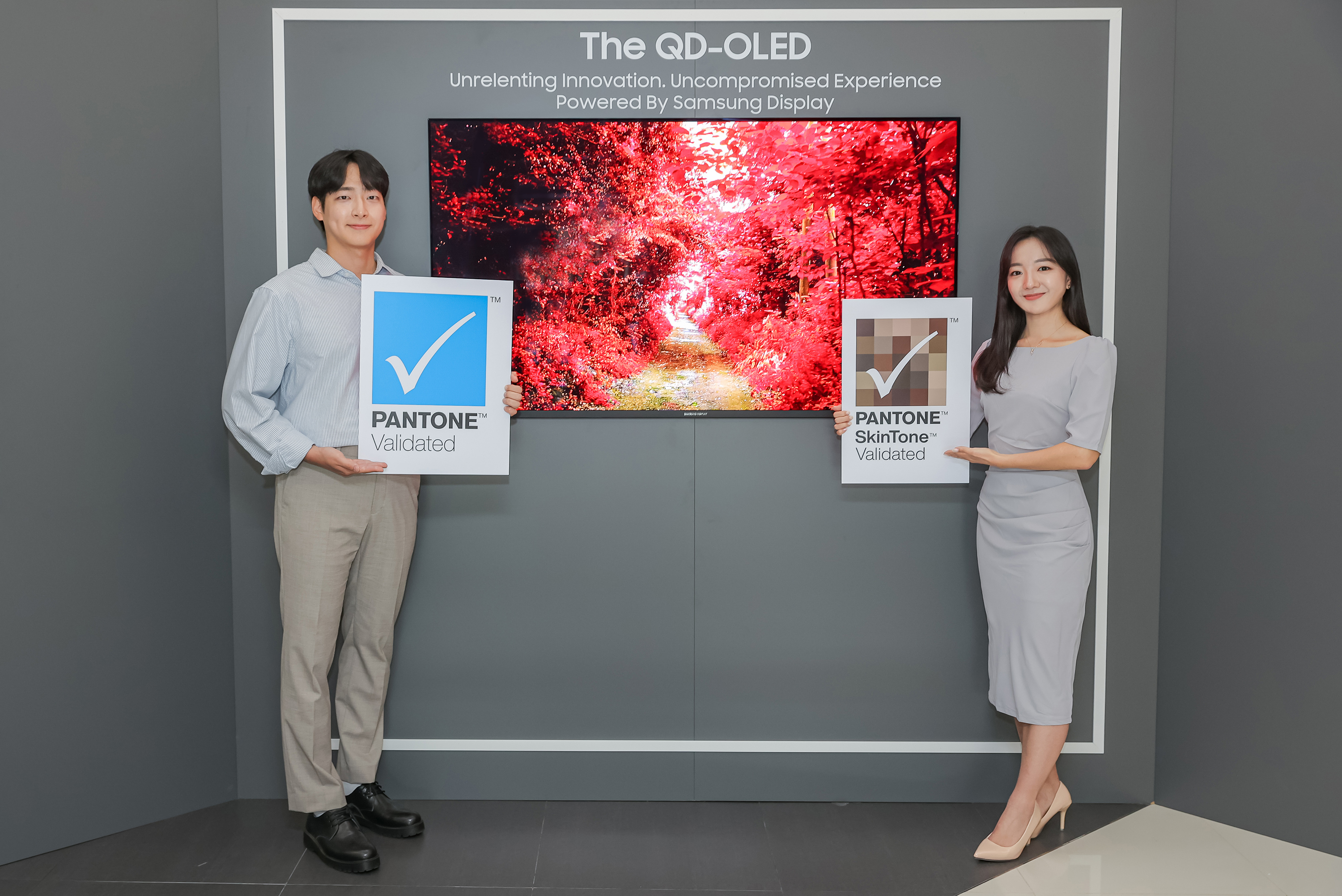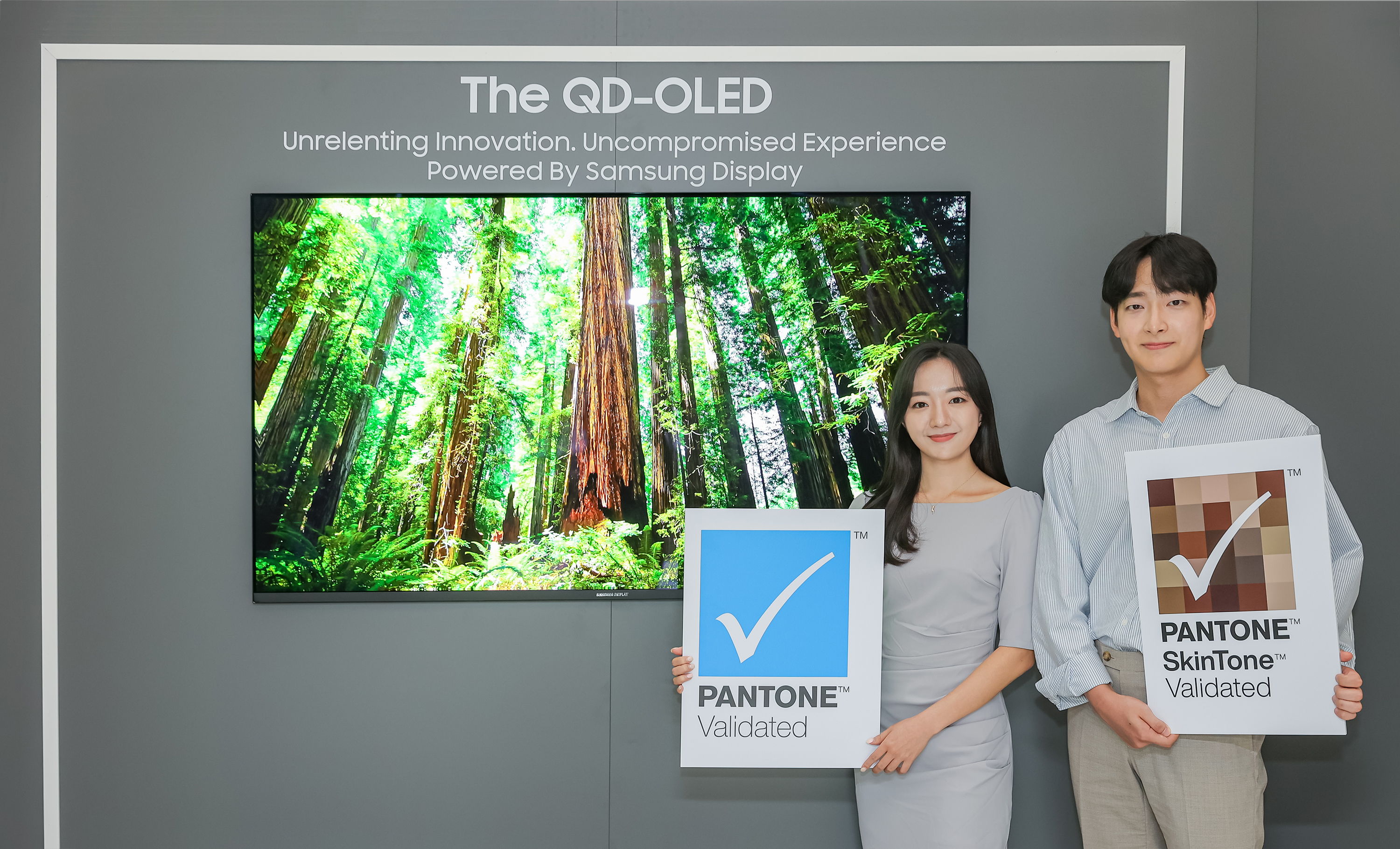 ▲ Samsung Display employees hold up the Pantone Validated and Pantone SkinTone Validated logos in front of a QD-OLED